10 Exciting White Wines at Vinisud 2016
Last week I was at Vinisud 2016 – the three day exhibition in Montpellier focusing on wines of the Mediterranean. This is a vast fair, making it impossible to taste all the wines I wanted. Many gems I wanted to taste and never reached – but here are 10 whites which stood out. In some cases, a producer had different white wines or appellations which were also excellent – but I have restricted the choice to one from each domaine and from each appellation. A number of trends I found particularly interesting:
Using concrete egg vats for fermentation and/or aging, whether on their own or with oak and stainless steel. These appeared to make a significant difference on the texture of the wine and are something to look into further. Sally Easton MW wrote a good article Concrete eggs in winemaking (2011).
The number of different grape varieties, none international 'superstars', which are promoted by the Wine Mosaic association.
The age of the wines. Half were from the 2014 vintage. The rest were from 2013, 2011, 2010 and two from 2008, suggesting a great potential for well-made white wines with age.
(I will write a later post of reds and rosés – more were tasted, so they take longer to sum up.)
My 10 exciting white wine finds
(listed in a random order) Pantaleo Greco Bianco 2014, Cincinnatto, Lazio, Italy. This old variety, Greco Bianco, has orange must and a high tannin content in the skin. A dry white wine with an amazing floral aroma, rich ripe lemon fruit, long crisp mineral acidity, with a fine salty finish, and just a hint of tannin giving weight and texture. Grand Vin 2014, Château d'Anglès, La Clape. (member of The Outsiders) Made from 85-year old vines – Bourboulenc, Grenache Blanc, Roussanne and Marsanne. Aged in used barrels, giving extra weight and softness. Ripe toffee-apple fruit with herb-garrigue notes and a savoury character balancing the ripe fruit. A beautiful well-integrated wine.
Me and Katie Jones Barrique Blanc 2010, Domaine Jones, Fitou. Only one barrel made, and originally intended for blending into the main white wine, but it tasted too good. Made from Grenache Gris, and aged for four years in new oak, it defies expectations. Full creamy texture, fresh, crisp and clean acidity and softly matured fruit with hints of smokey oak.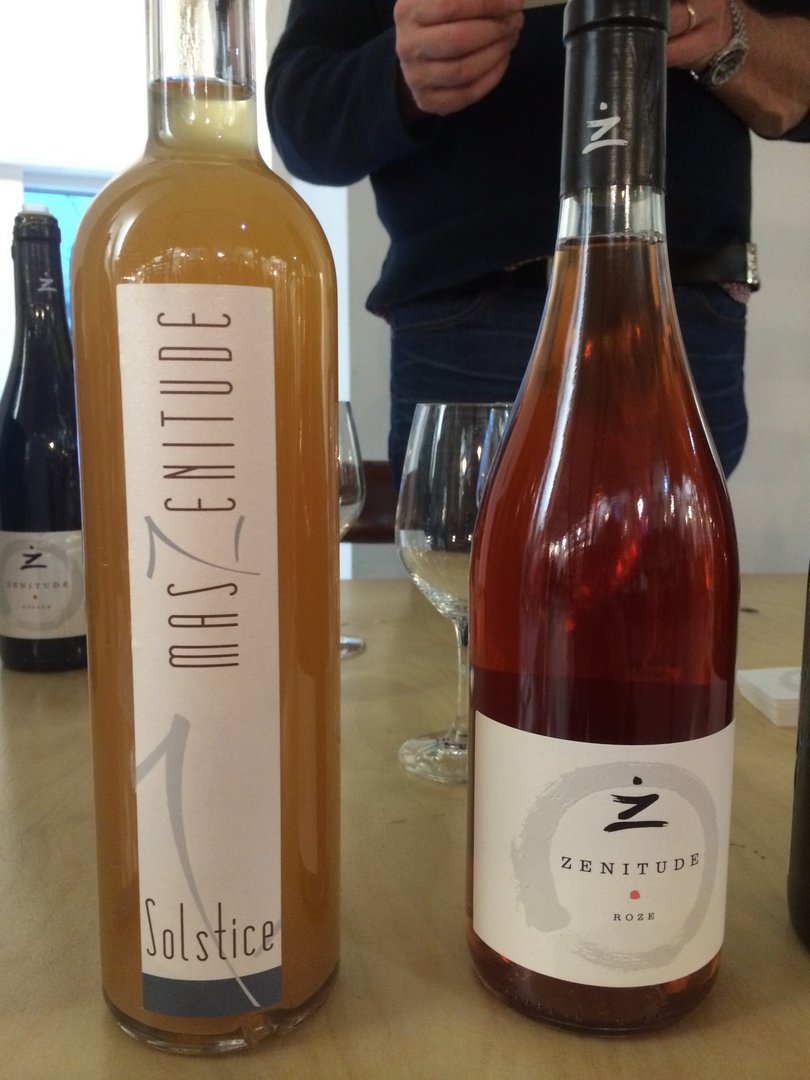 Solstice from Mas Zenitude (at right) Solstice 2011, Mas Zenitude, St Jean de Fos. Clairette and Grenache Blanc. I am not usually a fan of orange wines, but this worked for me. A half-day skin maceration, battonage and malolactic fermentation with no sulphur or filtration has resulted in a wine which has good weight, balanced fresh acidity, almond and orange fruit, a hint of tannin and a long dry finish. Bomont de Cormeil 2014, Domaine Mascaronne, Provence. Viognier is slowly gaining ground in Provence, moving eastwards as Rolle/Vermentino moves westwards. This beautifully perfumed Viognier has lovely ripe weight, hints of roses and long crisp mineral acidity. Bel Arme 2014, Clos Ste Magdaleine, Cassis. Made from Marsanne, in a concrete egg. The round creamy fruit, gentle herb notes and long dry finish had a weight and texture similar to that gained from oak ageing but with a different freshness and purity of fruit.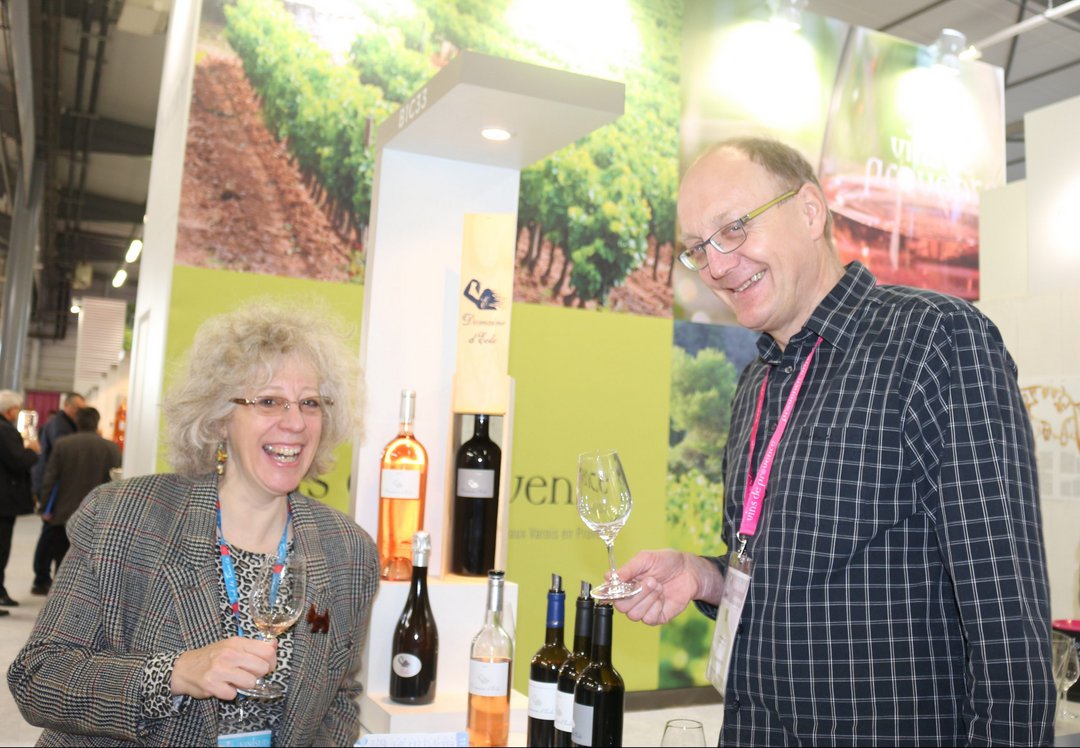 With Matthias Wimmer, winemaker at Domaine Eole Domaine Eole 2014, Côteaux d'Aix. 100% Vermentino, aged in concrete eggs on the lees. Firm acidic structure, mouth-watering salty minerality, with hints of passion fruit and a broad attractive mouthfeel.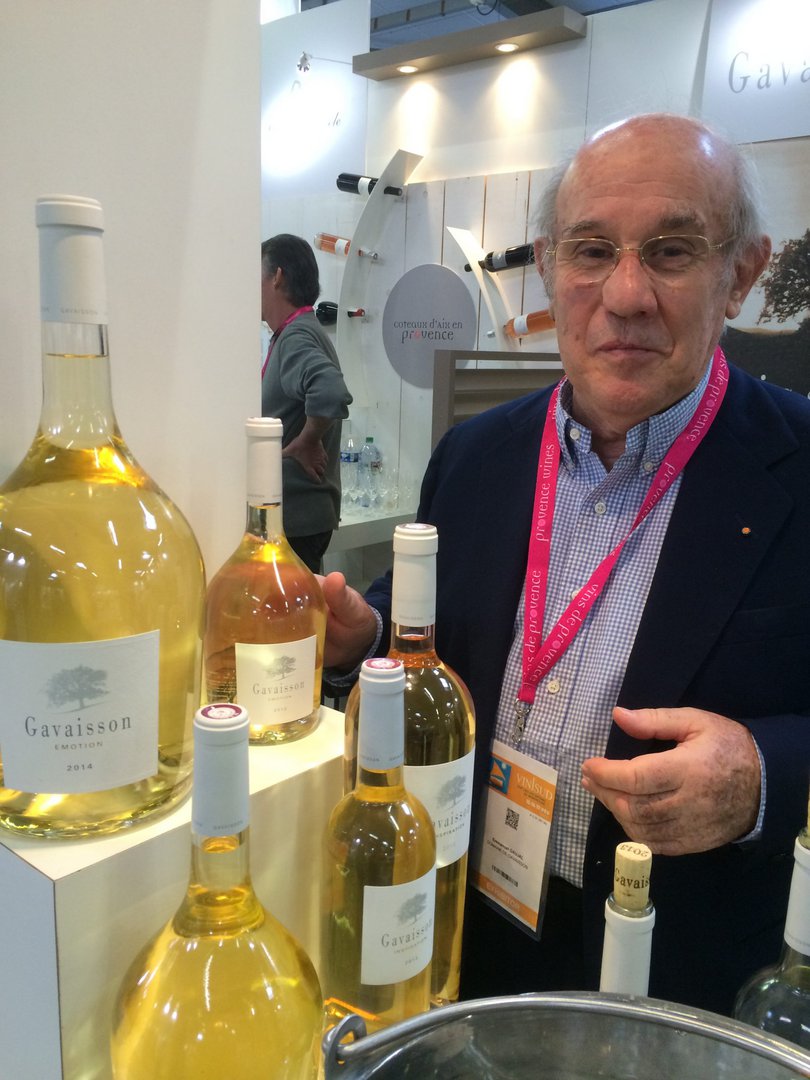 Emmanuel Gaujal of Gavaisson Emotion 2013, Domaine Gavaisson, Côtes de Provence. 100% Vermentino, aged in concrete egg, barrique and stainless steel. Hints of nuts (from the oak), fresh crisp acidity (from the stainless steel) lovely intense roundness (from the egg). Very fresh, very long, gentle and balanced. A winning combination.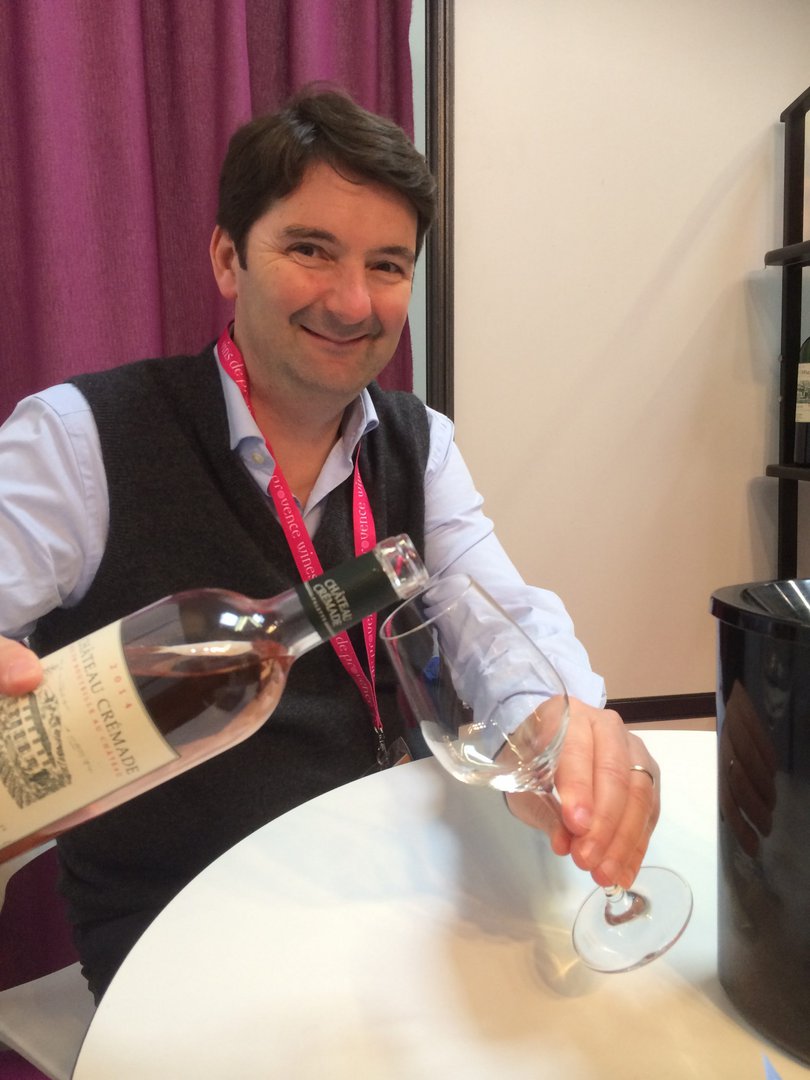 Philippe Moquet of Château Crémade Château Crémade, 2008, Palette. Just under 50% from Clairette, Grenache Blanc and Ugni Blanc, with the remaining percentage a mix of 9 or 10 other varieties, all fermented together. 14 months in barrique (10% new). Crisp and fresh acidity, long dry finish and full of nuts, dried fruit, apricots. Altogether delightful. Domaine Ligier 2008, Arbois. Made from Chardonnay and Savagnin. A lovely intriguing and mouth-watering blend of salty marmite, crisp lemon acidity and honey. Lovely, unique. This was tasted outside of Vinisud itself at the party celebrating the 80th anniversary of the first wine appellations Arbois, Cassis, Châteauneuf-du-Pape, Montbazillac and Tavel.