3 styles of sweet rosé that prove that pink doesn't have to mean dry
Thinking (not) of Valentine's Day and how everything mid February seems to be pink, sweet or bubbly we are looking at pinkish (in its widest possible sense) sweet wines. These are great wines as we move out of the season of heavier reds into spring and summer, and, as we discovered, make for wonderful gastronomic pairings as well as long cold drinks. As beautiful in the glass as all other rosé wines, these wines range from the palest of pinks to ruby, amber and gold.
Sweet pink wines find themselves today at the intersection between a trendy, booming sector of the wine market, and another sector that has been declining in popularity for a very long time now. Will sweet wine's rosé-ification save sweet wines?
Sweet pink covers a vast range of styles, but we have focused on three very different types of pink sweet: the pink version of Port, fortified Grenache VDN from Rasteau and pink Muscat de Beaumes de Venise. When we started writing this, we set out to include a few other sweet pinks - but in the end decided that fortified rosé deserves an article on its own!
The trendiest place to be in the sweet pink world is undoubtedly the Douro, where Pink Port has been capturing bartenders' imaginations since Croft's pioneering 2008 release.
Within the rosé Port world there are two key categories. The millennial-focussed sweet 'pink port' cocktail ingredients, and the darker, more serious 'rosé port' fortified wines. We had thought the wines might give a clue with their terminology on the label - but sadly this was not the case, as with Syrah and Shiraz. The dark ruby reds tended to be fruitier, fresher, more simple sweet styles, while the more tawny salmon and pale red wines were more complex styles.
'Pink' ports tend to be destined for the export market, whilst the pale red 'rosés' rarely leave Portugal. The locals seem to know a thing or two - these wines are darker, more structural, and gently tannic, a pattern we have seen reflected in dry rosés where the darker styles seem to remain in Iberia and the pale, more international styles are exported.
The fresh fruity pink ports tend to have more primary red fruit: cherries and strawberries, and were good chilled while some, if too warm, take on herbal medicinal flavours. However, while a large ice cube, which melts more slowly, with a zest of orange peel and rosemary garnish or the addition of tonic was was good, over diluting with ice and soda seemed to wipe out all the fruity charm. Maybe we have yet to find the perfect cocktail recipe - but happy to keep trying! Quevedo's comment "If you are not too conservative about Port you may really like it." is telling - there will be purists out there who may be horrified by the thought of pink port but innovative marketing is reaching out to a new and more youthful market.
Some of these wines were tasted with Master of Port Julia Scavo.
Of the three main styles of fortified rosés, port has the highest alcohol, ranging from 18% to 19.5%. Pink port is fortified earlier in the fermentation process than French Vin Doux Naturels, and with more mutage spirit, albeit usually at the lower concentration of only 70% abv. Grapes include variations of Tinta Cão, Tinta Roriz, Touriga Franca, Touriga Nacional, Tinta Barroca and Mourisco. Because of the earlier fortification, these wines have more primary red fruit aromas, and less of the well-developed secondary aromas of the others. Unlike red and white port, these are rarely oaked, again helping to emphasise the primary fruit aromas. We tried all the wines in a variety of glasses, but settled in the end for Rona's Orange wine glass, which was especially useful in balancing primary fruit aromas with the more oxidative notes.
David Guimaraens, who created Croft's original pink port, was responding to the need to offer a much lighter, fruitier style for summer drinking, and its creamy almost floral cherry fruit and silky sweetness, delivers a classic and attractive wine which can attract a younger market. Its back label gives serving suggestions "It makes a sensational base for original and stylish cocktails. It can also be enjoyed on its own served chilled or over ice, as an elegant and distinctive aperitif. Or try it as a refreshing summer spritzer with soda or tonic water and a zest of lemon." They also make a Pink and Tonic in a can which has a slightly more sweet Negroni style herbal character.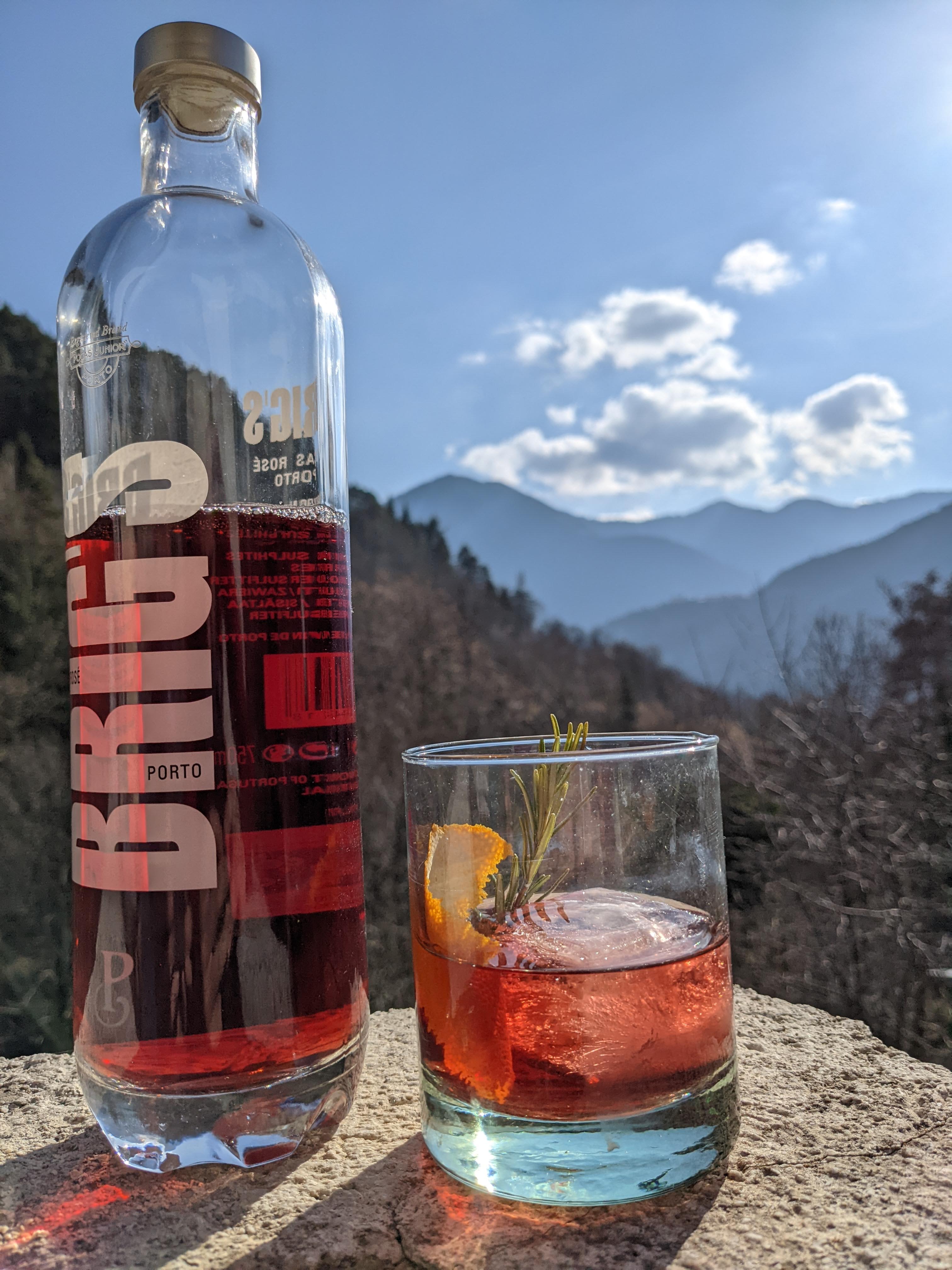 Brig's Pocas Rosé was similar in style. Easiest and most commercial with its fun bottle shape and screw cap. Interestingly - no serving suggestions on the bottle. A dark ruby pink the cherry and strawberry fruit is rich and full bodied, sweet with soft acidity and rather lovely on ice while Barao de Vilar's pink port, in a lovely old style squat 50cl bottle with a white stencil label, made by Álvaro van Zeller, was particularly unctuous, with white chocolate richness, raspberry and strawberry fruit with a touch of red wine restraint giving it complexity and seriousness.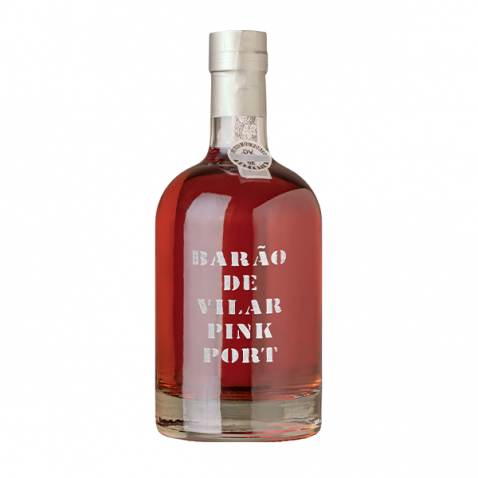 Slightly heavier, with more herbal notes giving a sweet sour combination, these became more herbal, Negroni in character with the addition of tonic. Dalva was a pale red colour with intense cherry aromas, creamy red fruit and herbal notes. Cruz was more ruby pink again with intense cherry and herbal flavours but a little heavier with some balsamic notes. Heritage, the only one in a clear glass 50cl port bottle. We liked the back label (in Portuguese) discussing the history and heritage of port wines. Pale red. Full bodied cherry and strawberry fruit with a touch of herbal undertones and floral notes (a touch of VA in our bottle?) Sweet and fruity. Dow (the only one with a wine cork), was more salmon pink colour, and had a serious, more tannic structure, similar to its red ports.
Our three favourite pink ports, however, are beautiful on their own, and even shine served with food, whether tapas style anchovies and olives or with cheese.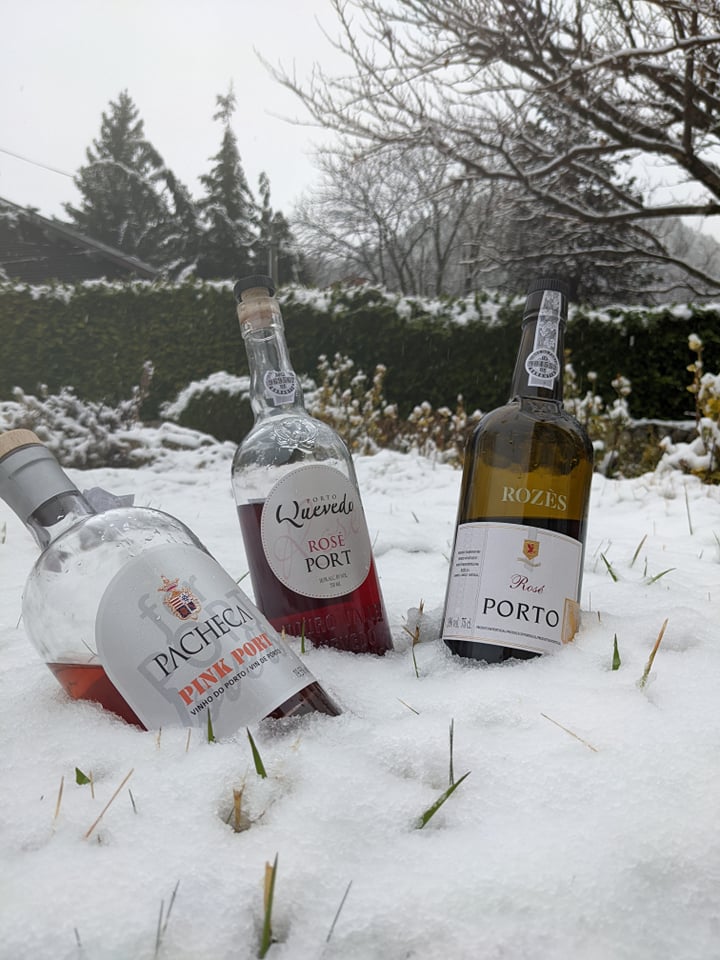 Pacheca
In an attractive squat bottle. Made with old vine Tinta Roriz, Tinta Barroca, Touriga Nacional and Mourisco. Winemaker Maria Serpa Pimentel. Lighter in colour it was the most salmon pink of all the sweet pink ports. On the nose there were herbal vermouth aromas. On the palate there was some lovely complexity of bitter Seville oranges, a lovely savoury grip, fresh acidity and some herbal tannins. Despite the sweetness (101g/l), this seemed a more flexible gastronomic pink port although its back label only suggests serving on ice or in cocktails, which to our minds would be criminal! We took the cheese matching one stage further and found it was particularly good with a strong aged cheese mac'n'cheese!
quintadapacheca.com
Quevedo
In a clear glass port bottle.This family owned vineyard with winemaker Cláudia Quevedo. Pale red. The nose is deceptively delicate and fresh before opening up to more intense flavours on the palate. Silky smooth raspberries, cherries and cranberries, rich and creamy leading on to darker black fruits of intense kirsch, bitter cherry fruit and delicate tannins. Gentle, generous, serious with a lovely balance of fruit and gentle jamminess with beautiful sweetness (85g/l) and excellent acidity (3,74(g/l) TA 3,3 pH) that just keeps everything ticking along in the background unnoticed. The website describes this as a fun port and gives a recipe for a fruit cocktail.
quevedoportwinecom
Rozès
Rozès, made by Antonio Saraiva (part of the Vranken Pommery group) does not seem to be widely available outside of Portugal and is not present on their website. It was the only pink port to come in a dark port bottle. A pale red brick, it had dark berry fruit, cranberries, cherries, red fruit, hints of soubois, liquorice and sour berry minerality, slightly chalky acidity and fine, delicate tannins... An almost red wine character beautifully balanced by the sugar. A very serious, classy light dark pink wine, really quite lovely. It would be criminal, as suggested on its back label, to put ice cubes in.
rozes.pt
The very nature of Port viticulture means that the wines (unless single Quinta) are usually a blend of grapes from different sites along the Douro valley. The larger the port house, the bigger the range of sites. The vineyards lie on the steeply terraced slopes and the soil is largely schist with some granite. Exposure and altitude are important, playing a role in deciding which variety, ripeness and freshness. Quevedo's rosé, for example comes from the Quinta da Trovisca, located in the upper reaches of the Douro valley, where the temperatures are hotter and more continental.
"young vines at an altitude of over 548m; possibility to achieve over ripeness maintaining a good acidity. But the most important reason to choose Trovisca's grapes was the varietals we decided to use for our rosé Port: Touriga Nacional, Touriga Franca and Sousão. If the first two varietals are consensual due to their flowers and fruity flavours, Sousão is more mineral and well known by its colouring "skills". At the end, in the final blending, We decided to use 30% of Sousão, which could give us a plus of acidity, 40% Touriga Nacional and 30% Touriga Franca."
Moving away from the Douro valley and towards the Rhone brings us to Rasteau, the famous but rare Grenache-based fortified wine, is in fact 60% rosé! Admittedly, even 60% of 20,000 bottles isn't much... Most of France's fortified wine comes from the Roussillon, where similarly to Port, red dominates - making Rasteau a rosé oddity.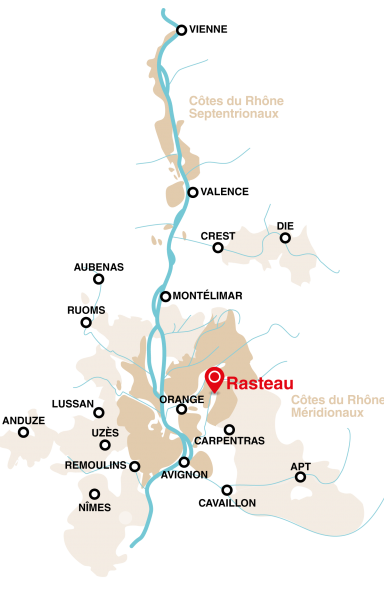 While 17% abv fortified wines might not seem like traditional Provence or South-of-France rosés, these wines are as traditional as they come, are absolutely scrumptious, and are absolutely definitely rosés.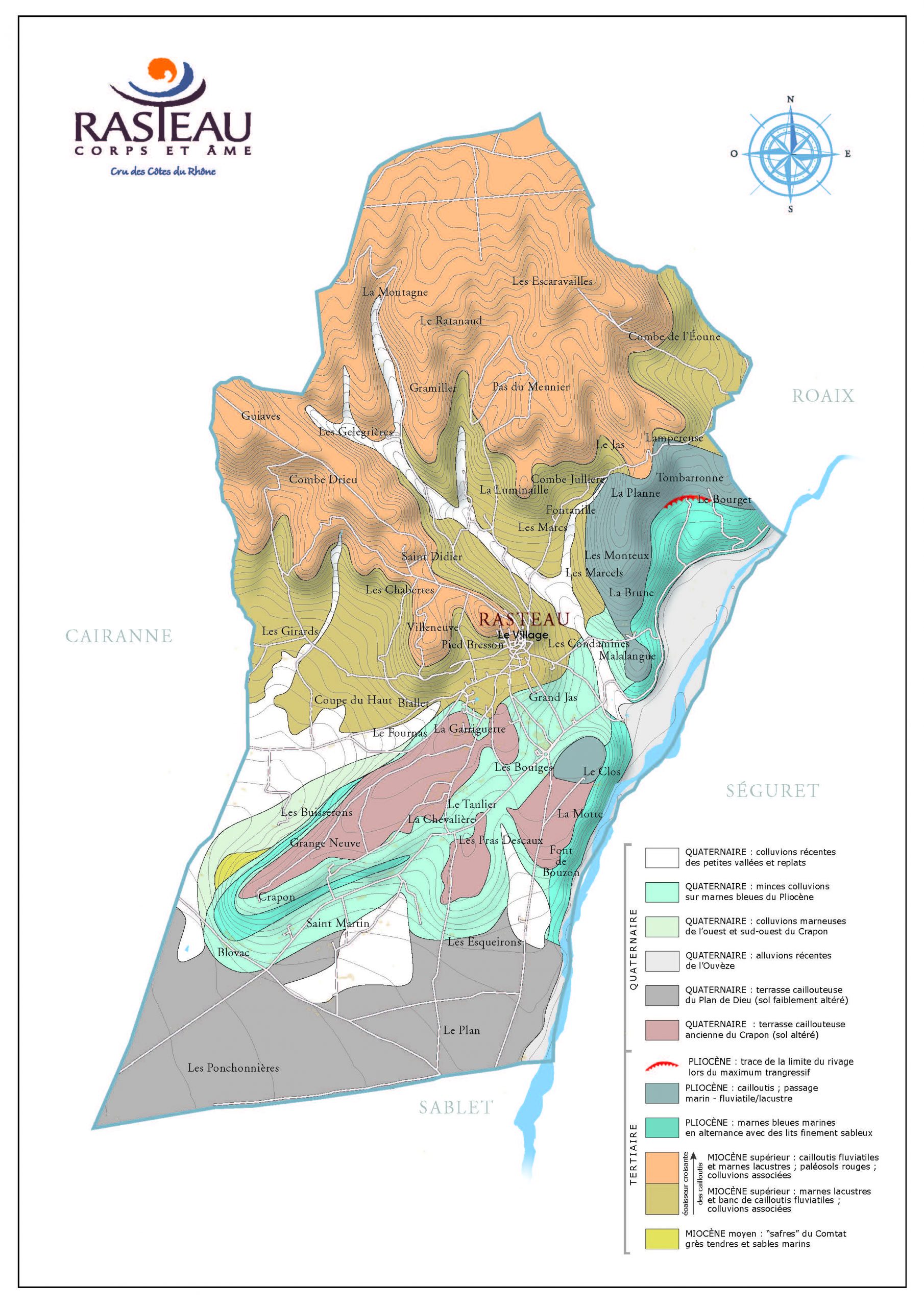 Somewhat similarly to Port, after either a short maceration or direct press, the Grenache Noir is fermented and then fortified with 95% spirit (80% for port, also added in greater quantities earlier in the fermentation process). These wines are almost always aged in oak, typically for at least three years. The oak is old and large, leading to gentle micro-oxidation rather than any new oak flavours. The alcohol must be a minimum 15% and a minimum of 45g/l sugar, making them the driest of all of the wines tasted.
Unfortunately for rosé and dessert wine lovers, the overwhelming majority of Rasteau's production nowadays (98%+) goes to the reds. Rasteau itself is surrounded by the others Crus and Villages of Gigondas, Sablet, Seguret, Roaix, Cairanne and Plan de Dieu - all coming with a solid red wine pedigree - although clearly capable of producing great rosés as well. The Rasteau Vin Doux Naturel AOP does actually extend to include a few of these neighbouring villages, but in practice most in made within Rasteau itself.
Most of these wines (and indeed of Rasteau's quality production) come from the southern slope of the Ventabren ridge, which also protects the area from the Mistral's excesses. The soil in the area is the classic argilo-calcaire.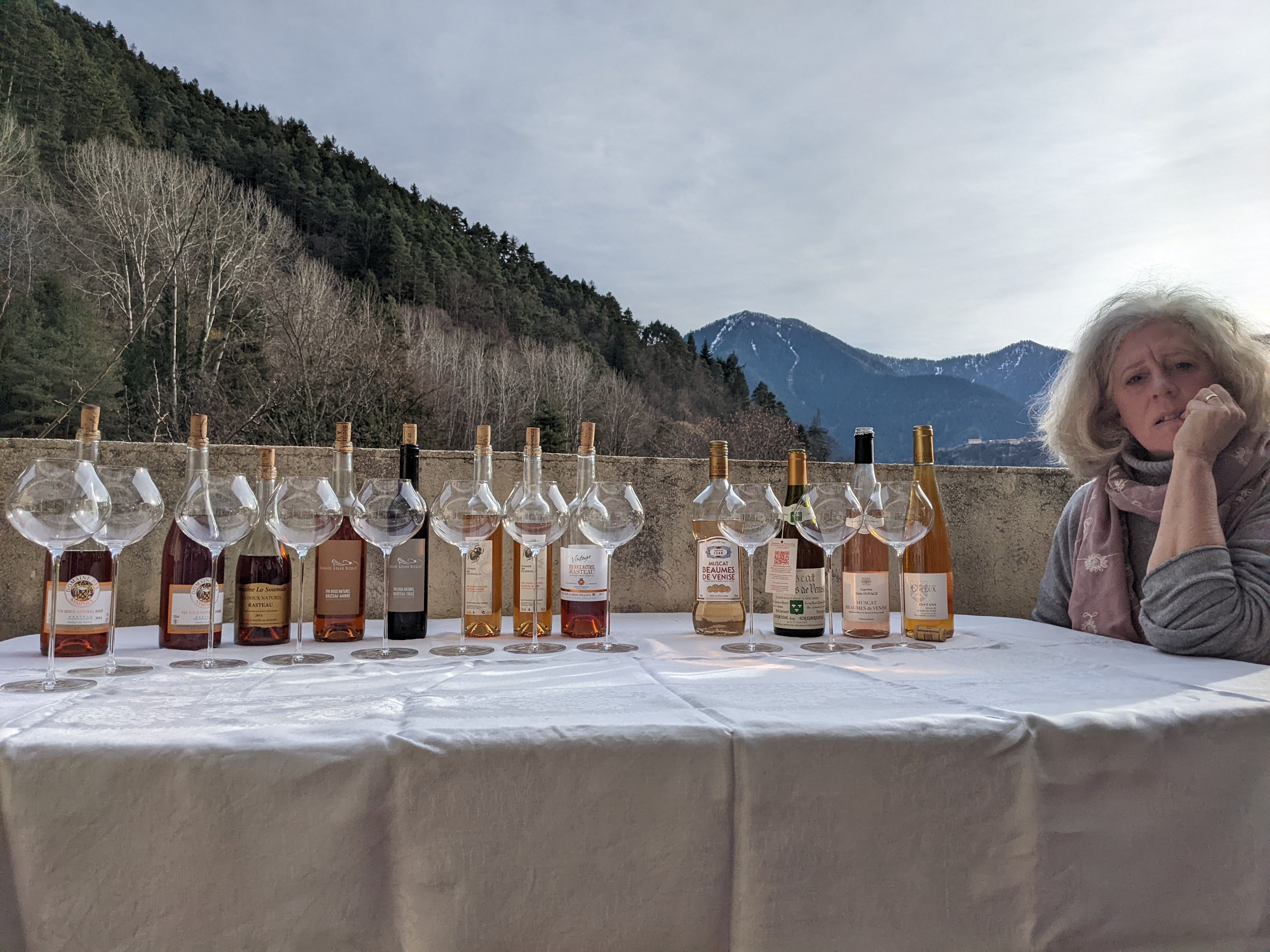 Once again, the terminology can be confusing. A Rasteau rosé can only display 'rosé' on the label if it is bottled in the year following the harvest. Following that, it must be bottled as 'ambré' - even if it is still technically a rosé by my definition. Bottle-aged rosé (see Domaine des Nymphes) may still be called rosé. The same is true for reds (grenat -> tuilé) and whites (blanc -> ambré). Confusingly, both whites and rosé evolve into ambré giving them all more golden amber colour, and after a couple of years in barrels, look identical - but taste very different. Whites, however, are extremely rare, so most ambré wines are in fact rosés, made using direct press and fermented as a dry rosé until fortification. Almost all of the Rasteau recommend serving with foie gras - we've found them to be a bit more versatile and you can absolutely enjoy these wines without resorting to animal cruelty. Agro-dolce sauces work well, and light salads with a honey dressing really play on the wines' sugar-and-acidity balance.
Domaine Grand Nicolet Ambré
Tawny orange with noticeable red-pink-hues. Dried apricot, honey with hints of barley sugar and raisins in brandy on the nose. On the palate smooth and luscious with white chocolate richness and an almost creamy florality giving an ethereal lightness. Long burnt orange acidity and an element of nuttiness and dryness reminiscent of an Amontillado sherry. Incredibly charming.
domainegrandnicolet.fr

Domaine des Escaravailles TPMG Ambré
This one is not strictly a rosé, but… Escaravailles make two VDNs, one made from 100% Grenache Blanc, and one from Grenache Noir. The long barrel ageing (5 and 2.5yrs respectively) have given them both the pale \[rosé\] orange tone. Does colour matter? Fresh floral and herbal aromas (hints of dill and pine) continue on to the palate with creamy apricots and caramelised orange giving a golden richness. The fresh herbal dill character and citrus acidity keeping it light and fresh. Nutty and intensely oxidative - crescendos to almost sherry or rancio levels towards the finish.

instagram.com/escaravailles

![](/assets/media/rasteau/escaravailles-tpmg.jpg)
Domaine des Escaravailles Ambré
As with TPMG, from a single parcel in the "Combe de l'Eoune" of clay and limestone at 320m which contributes great freshness, and aged for 30 months in barrel. Pale orange. Darker fruit on the nose. On the palate red fruit, rich, much darker, burnt red fruit jam, with some tannic edge and barely perceptible oak. Similar in style to the Rozès pink port, although this has more oxidative notes with saline, mineral notes on the finish. Long lasting, beautiful acidity, crisp and still somehow capturing red fruit juiciness. Surprisingly different to the Grenache Blanc.
instagram.com/escaravailles

Domaine la Soumade 2014
Tawny coppery onion skin colour. Desiccated coconut, toasted nutty aromas. Very smooth, mellow - showing maturity - beautifully integrated and avoiding the spirituous quality of the younger wines. Bitter orange, red cherries, raspberry jam, opening up to digestive biscuits and herbal notes and again a hint of coconut. Really stunning acidity, structure, perfect fruit with gentle tannins keeping things up. Beautifully balanced. Magnificent with very old old gouda - brings out the juicy red fruit.
domainelasoumade.fr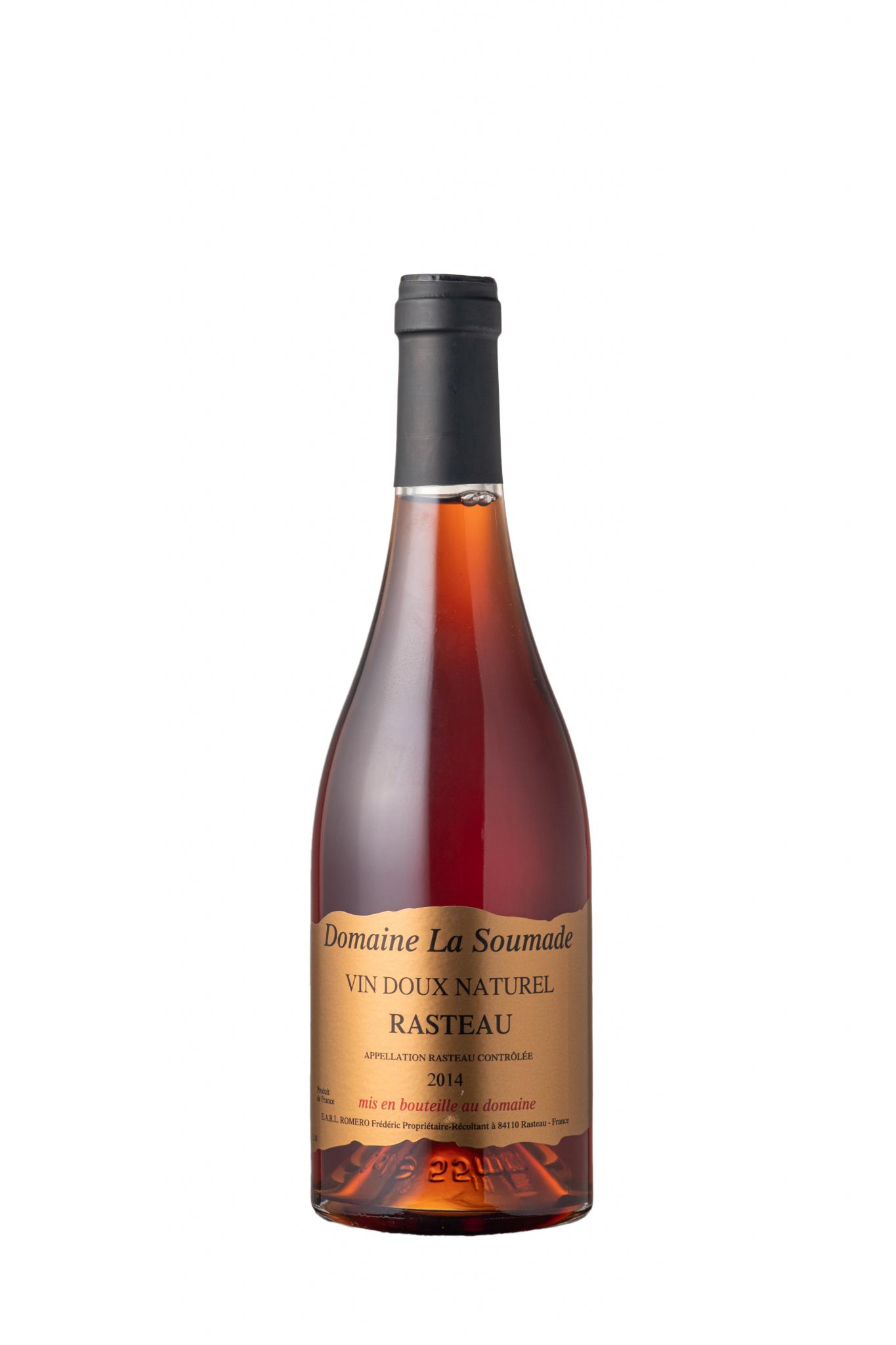 Domaines des Nymphes Ambré
Tawny brown orange. Resinous and almost leafy aromas. Smooth, savoury, chewy acidity. Mouthwatering freshness, some tannins but that mineral acidity is amazingly surprising and vibrant. Lovely balance, sweetness playing with an almost chilli-spice on the palate. Acidity is fantastic. Interesting and unusual.
Domaine des Nymphes Rosé 2014
Pale pale red orange. Aromas of sweet cherry juice, very fruity. This is one of a very few rosés we have ever tasted to develop curry plants, rosehips and cherries on the nose as it opens in the glass, a combination of flavours which matched well with the sweet saltiness of soy sauce in Chinese food.
Ortas 2016, Cave de Rasteau, Rhonea
Only made in exceptional years. This is made using saignée rather than direct press with 50% aged in barrels for a year. Light copper red. Sweet red cherry compote and jam with hints of Seville orange marmalade and herbal notes on the nose. On the palate, beautifully rich white stone fruit, mineral and saline with gentle oxidative marmalade notes with muscular, savoury structure. Not dissimilar to the Pacheca but with slightly more tannic grip. Really excellent. For food, pair with more savoury foods such as pissaladiere and anchovies as this can overwhelm delicate cheeses.
rhonea.fr/nos-terroirs/vdn-rasteau
Domaine Grand Nicolet Tuilé 2004
Dark bottle. Unfiltered. Garnet-brick-pink. Aromas of smoky dried figs. On the palate this wine is rich and smooth with bitter black chocolate, dried figs, Christmas pudding, salty twiglets and marmite, hint of toast and smoke finishing with fresh bitter orange acidity. Almost dry with that savoury Madeira umami combination and great with salty crisps, olives, nuts and aged cheese! Exceptional.
domainegrandnicolet.fr
The lowest in alcohol of our trio of fortified pinks, at around 15%, comes Muscat de Beaumes de Venise, also in the southern Rhone, near Rasteau. Beaumes de Venise is a little further South, and nestled into the Dentelles de Montmirail and the Plateau de Courens - see our upcoming guide to The Rosés of Southern France for more detailed maps. It is a more immediate neighbour of Gigondas and Vacqueyras.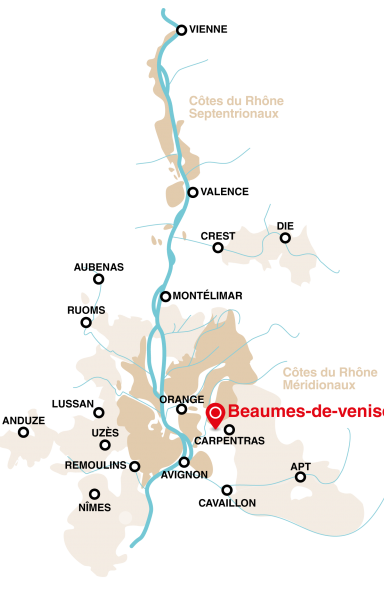 Most people know this wine as being a sweet white wine made with Muscat blanc à petits grains and which must be a minimum of 110g/l residual sugar and a minimum alcohol of 15%. However, mutation of this variety has resulted in Muscat rouge à petits grains growing in the region - and now make up around 4% of plantations. For most producers who have this mutation, any hint of pink is subsumed by the vast majority of white grapes, but a few are allowing the red version to shine, resulting in pink muscat wines. Uniquely, co-planting the white and black versions is explicitly allowed here. Most do not exceed 25% red grapes, leading to a very pale pink indeed.
Although equally age-worthy, these rosés tend to be sold younger and without extensive barrel ageing or oxidativeness. Similarly to Rasteau, the vines are well-exposed, although the soils are sandier and better draining. As with Rasteau, an increasingly large share of the production is nowadays going to the reds.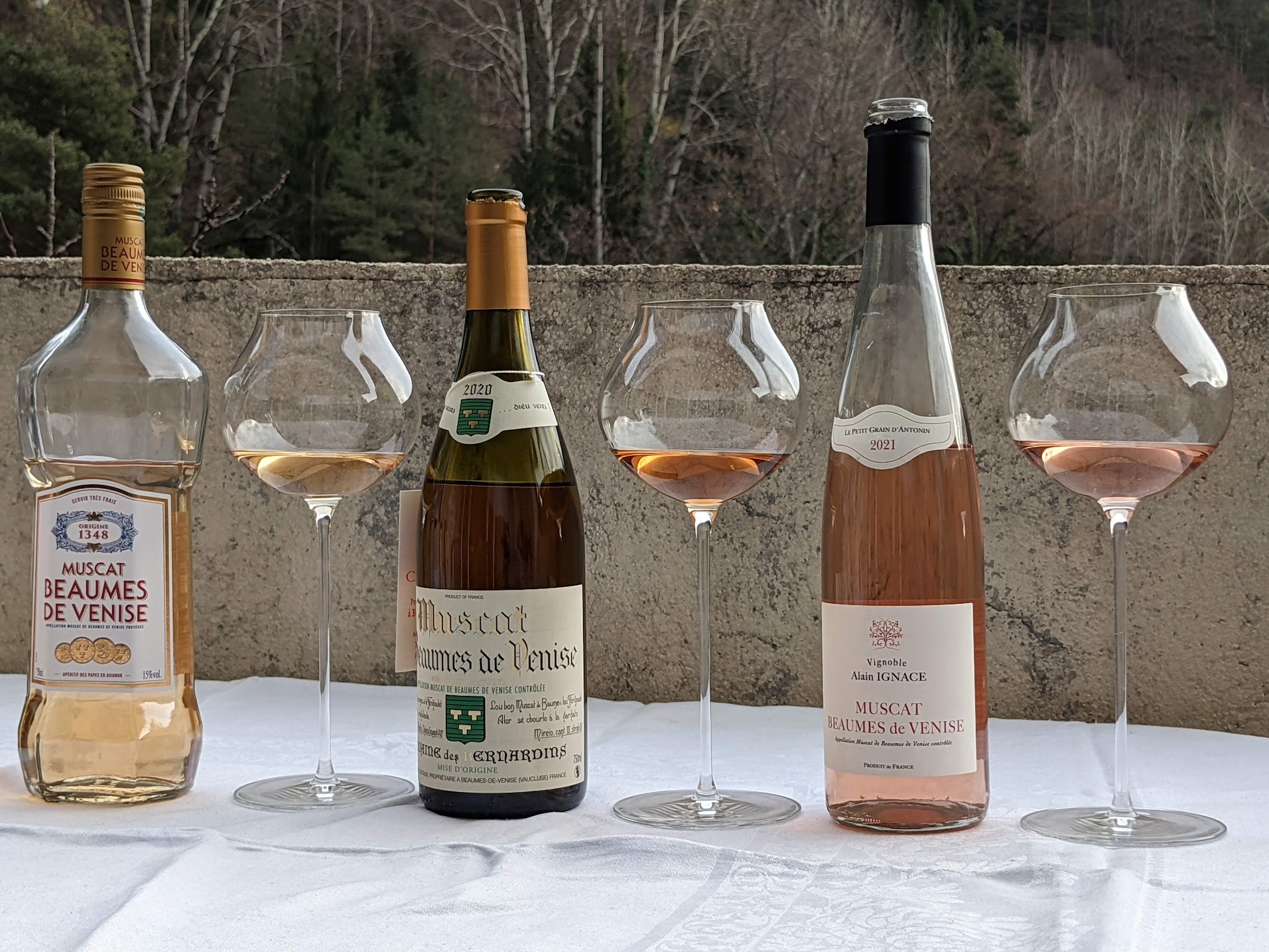 Origine 1348
From the cooperative Rhonea is available in France in the distinctive bottle shape - a rectangular hexagon - associated with their Muscats de Beaumes de Venise, but in a Bordeaux bottle in the UK. Perfectly pale rosé pink made with 100% Muscat rouge Delicate hint of golden pink. On the nose classic notes of Muscat grapes, ginger and orange blossom. On the palate a combination of fresh and fruity, sweet and rich. Its rosé character shows delicate hints of dark jammy fruit and notes of Creme de cassis with lovely fresh leafy acidity and a twist of orange. Anyone looking for a sweet easy-drinking muscat that has fruit to hold up to dessert too will be happy while the tech sheet says it can be used for cocktails.
rhonea.fr/nos-terroirs/vdn-muscat-de-beaumes-de-venise
Domaine des Bernardins 2020
, Cave Castaud comes in a green Burgundy bottle with a very traditional label. Only 25% of the grapes used are Muscat rouge, enough to give a whisper of golden salmon pink. Delicate floral aromas melting into buttery honey richness. On the palate toffee, butter, stem ginger and honey with notes of black pepper and allspice in the delicate phenolic finish. No red fruit though and just fresh leafy acidity.
domaine-des-bernardins.com
Le Petit grain d'Antonin 2021, Alain Ignace
In a clear glass Tavel style flute. From a single plot with co-fermented Muscat blanc and Muscat rouge from 35 year old vines with a low yield of 25hl/ha. A bold and confident pink colour. This was a pink muscat to make your heart sing with almost exotic rose petal aromas, red fruit and a touch of aniseed. On the palate, the rosé red fruit character shone through with concentrated red fruit with strawberries and berries with fresh, delicate grapefruit acidity. Concentrated red fruit, honey and perfumed fruit make this an outstanding rosé Muscat. Alain recommends drinking with blue cheese or fruit. This one stole our heart for being unashamedly 'rosé' just as much as it was fortified.
vignobleignace.com
We will be looking into the rosés of Rasteau and Beaumes de Venise in greater depth in our forthcoming book The Rosés of Southern France due out in June 2022.
If you're still not convinced by fortified pinks and only want a pink cocktail, don't forget pink vermouth! Lustau of sherry fame make a particularly interesting one, which, similarly to the ports, we found worked best on its own rather than in cocktails - letting the herbals really shine.