353 Shades of Rosé
Last month I had the exciting – and rare – opportunity of tasting an amazing selection of 353 still rosés from around the world. This proved a glorious spectacle of the most amazing shades of pink – forget 50 – this was far more dazzling. The range of colours was an easy reason why this sector of the wine market has so attracted the consumer; who is not enchanted by a glass of shell-like pink or glowing ruby wine, lit up by sun- or candle-light?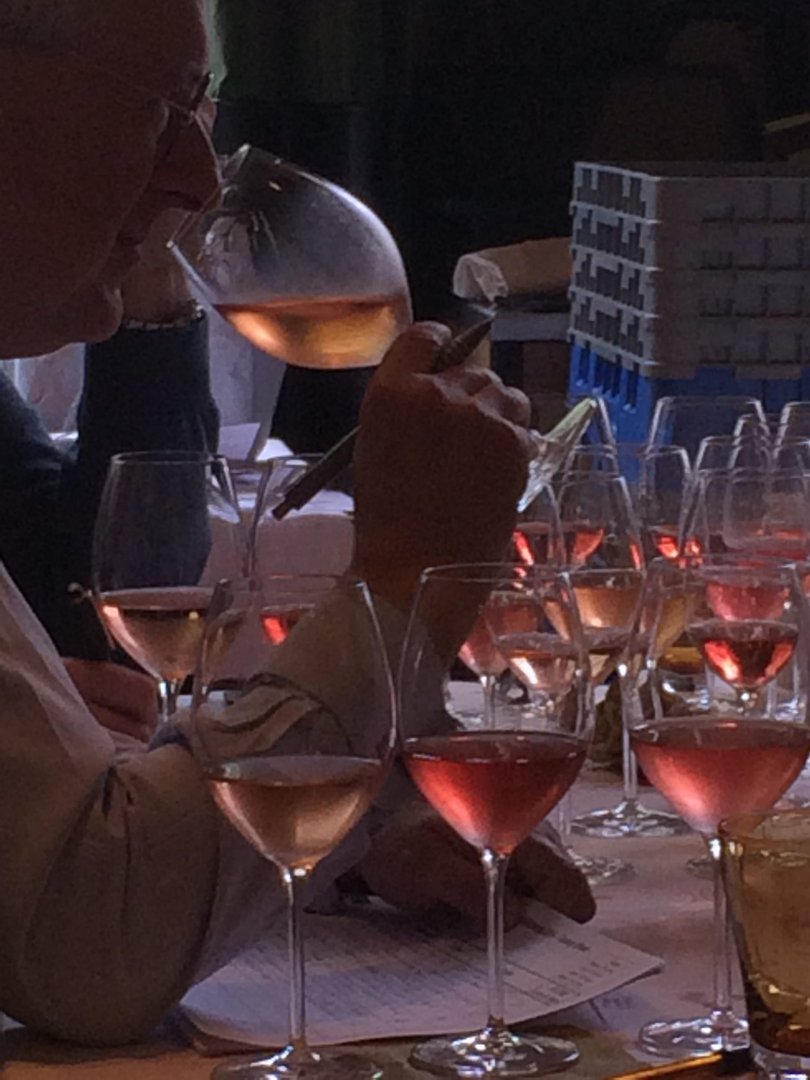 Jonathan Pedley MW tasting Rosés at The Drinks Business Rosé Masters A few years ago I would never have thought that enough rosés would be available on the UK market for five days of tasting, still by no means including all those on sale in the UK. But rosé production is growing around the world in response to consumer demand. Though two-thirds of the wines submitted to the tastings were French (France is the world's major rosé producer), there were exciting rosés from elsewhere too, so I think the number and range of styles of rosé wines will continue to grow.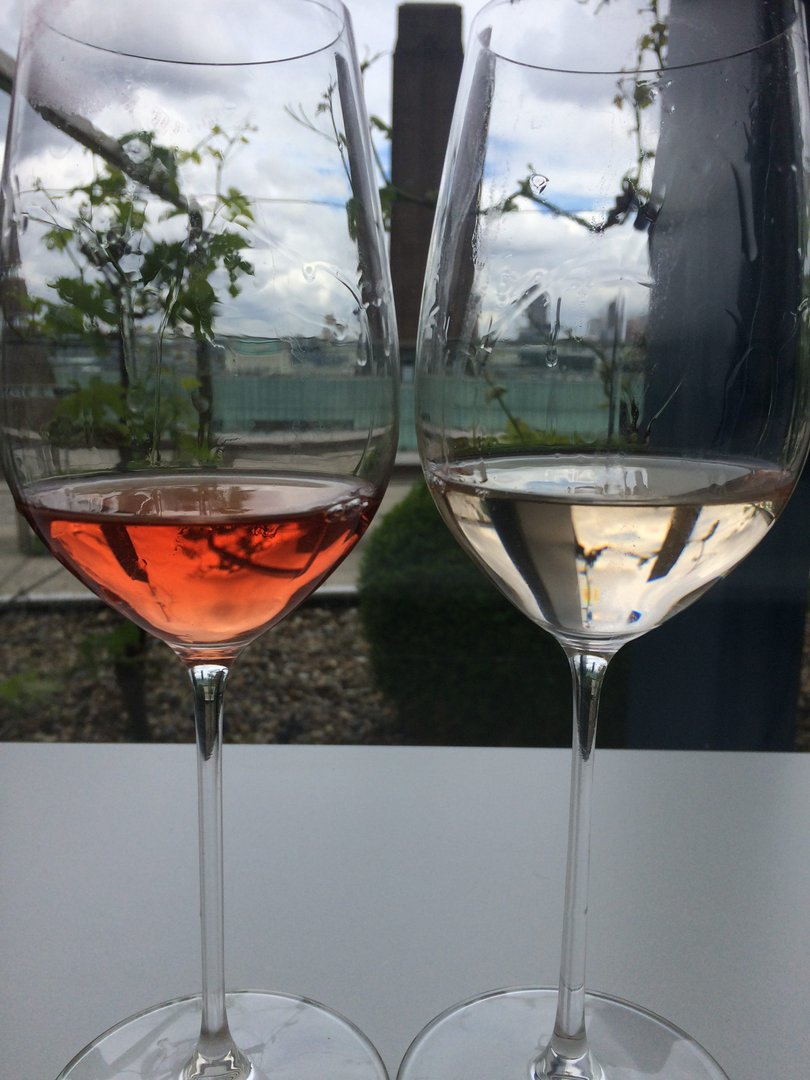 Rosé colour extremes from one of the darkest to lightest at Decanter While writers such as Anthony Peregrine laud rosés for being fun, frivolous and sensual, I found myself searching for those which showed extra dimensions, complexity and even, dare I say it, 'seriousness', which has been, for so long, denied rosé wines. Indeed, looking at my notes for my highest-scoring rosés, the range of flavours and structural nuances show the enormous potential for a style of wine which can combine the fresh acidity of a white and the fruit flavours of a red. It is no coincidence that my favourite wines had far longer tasting notes than those with simple notes reflecting just the fruit and charm of a pink wine. I have grouped the rosés into broad styles, with the top wines in each, to give an idea of the range, variety and quality of wines tasted. Nearly all the rosés were from the 2015 vintage, a few from 2014, 2013 and with one (southern hemisphere) from 2016.
Charming fresh fruit, balanced by fresh acidity:
Classic rosés
Crisp red fruit and leafy acidity rosés
Juicy, fruity, fun
More complexity, either through age, use of oak, varietal character or other wine-making differences:
Complex or structural gastronomic rosés
Time in oak
Aged rosés
1. Classic rosés Pretty, floral, fruity rosés, often including descriptors such as peach, creamy, fresh red fruit are found in these classic Provence-style rosés. Free-run juice (which in effect makes the wine a blanc de noir) or minimal skin contact results in very pale pink wines. These, at their best, showed great elegance, although they were often so pale they could be mistaken for white wine. Font du Broc 2015, Côtes de Provence Very pale creamy pink. Good weight, creamy ripe peach fruit with hints of nuts and long fresh acidity. Ephemeral. 94 points. Expression 2014, Château la Grave, Minervois Pale orange salmon pink. Ripe red fruit, with creamy ripeness. Fresh and zesty acidity. Summer pudding richness with lovely balance, length and vibrant appeal. 93 points 'R' 2015 Château Spencer la Pujade, Corbières This Grenache-based rosé has a charming Peach Melba character with soft peachy creaminess balanced by vibrant red fruit acidity. Fresh and charming and perfect for easy summer drinking. 92 points. Cottanera 2015, Etna, Sicily 13.5% Pretty shell pink. Lovely chewy acidity, crisp, creamy silky peach and redcurrant fruit complimented by a nutty edge and crisp acidity. Similar to a Provence rosé with extra minerality and structure from the volcanic terroir of Sicily. Made with the local variety Nerello mascalese. 91 points.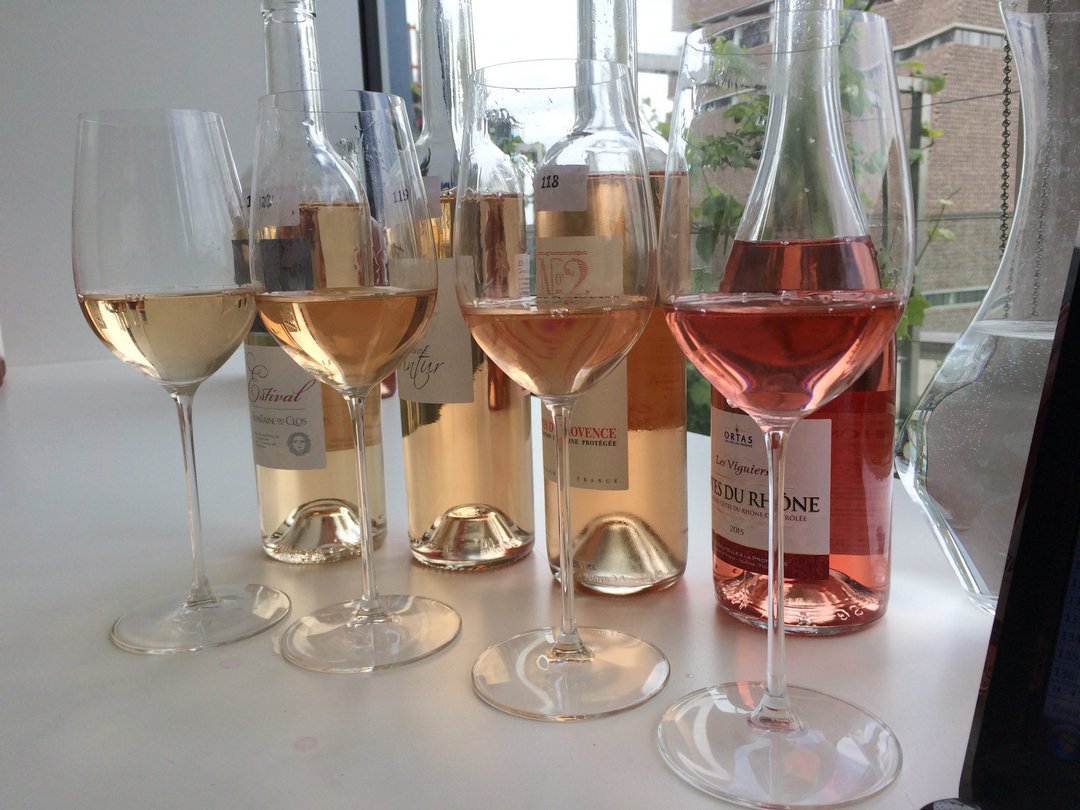 Rosé selection 2. Crisp red fruit and leafy acidity rosés These wines are more evidently pink in colour and have more overt red and black fruit and vibrant leafy acidity. They have far more fruit character, making them more like fresh summer light red wines, without the tannins. A fraction longer maceration on the skins contributes this extra fruitiness. A cooler climate gives all of these wines their extra lively freshness. The two Provence rosés illustrate the coolness of the sea-breeze cooled vineyards of Cassis and the northerly location and altitude of the Vignelaure; Zalze is cooled by maritime winds. Domaine Delaporte 2015 Chavignole, Sancerre Bright, perfumed, intense and attractive summer pudding red and black fruit on the nose and palate, underlined by a leafy character and a long lively and zippy acidity. Lifted by an attractive tart sourness on the finish. 94 points Pascal Jolivet, Sancerre 2015 Ripe red berry fruit, fresh leafy acidity, vibrant, elegant and delicate, but also a more serious, less fruit driven style with some distinctive mineral characters on the palate. The extremely appetising fresh leafy acidity adds to the elegance and delicacy, finishing very clean and fresh on the palate. 93 points. Domaine Clos Sainte Magdeleine 2015, Cassis A slightly different Provence style from this predominantly white wine producing appellation. The juxtaposition between sweet ripe strawberry, red currant and blackcurrant fruit, spicy, leafy herbal notes and zesty acidity gives this elegant rosé great charm. 93 points. La Source 2014 Château Vignelaure, Coteaux d'Aix en Provence Lively! A good deal of weight and concentration on the palate of red currants and red cherries and spice with, leafy zestiness and a mineral finish. 92 points. Kleine Zalze 2015, Stellenbosch, South Africa A very different style from the summer quaffing rosés, this rosé has serious weight. Made with a blend of Cabernet Sauvignon and Syrah this wine has succulent juicy redcurrants and raspberry fruit, backed by fresh leafy acidity, elegant structural minerality and a faint whiff of dryness on the finish. 92 points. 3. Juicy, Fruity, Fun The best wines in this style were, on the whole, not French. The best examples were balanced by vibrant acidity. These may not be the most complex of rosés (reflected in the slightly lower marks), but I loved their exuberance and feeling of summer. Some in this category had a touch higher residual sugar which heightened the fruitiness. The least successful lacked sufficient fresh fruit and acidity to balance the sweetness; a good tip if the rosé is a little too sweet for your taste, is to serve it ice-cold with ice. As the ice melts, it helps reduce the sweetness. Colours ranged from light to dark ruby or cherry pink. La p'tite Soeur 2015 Chateau Spencer la Pujade, Corbières Vibrant red cherry and raspberry fruit, zesty acidity, hints of spice and minerality. Not complex but charming. 93 points. D&B Woodside 2016, Bird in Hand , Australia. Off-dry with red berries and peach fruit red peach. Fresh leafy zippy acidity. 90 points. Nelson Estate 2014, Paarl South Africa A real crowd pleaser with juicy sweet ripe strawberry and cherry fruit with fresh green leaf notes adding to the summer garden complexity and mouth-watering chewy acidity. 90 points. Blaufränkisch Reserve 2015 Gunter & Regina Triebaumer, Rust, Burgenland, Austria Ripe rosehip and sweet Morello cherries, juicy with a hint of rhubarb and spice and a vibrant acidity. 89 points. Santa Digna Reserva 2015, Miguel Torres, Central Valley, Chile Juicy strawberries, fresh leafy notes, mouth-wateringly attractive with vibrant acidity. A touch of residual sugar makes this a great rosé for drinking cold with ice cubes. The complete antithesis to a Provence rosé. Rich, fruity delicious. 90 points.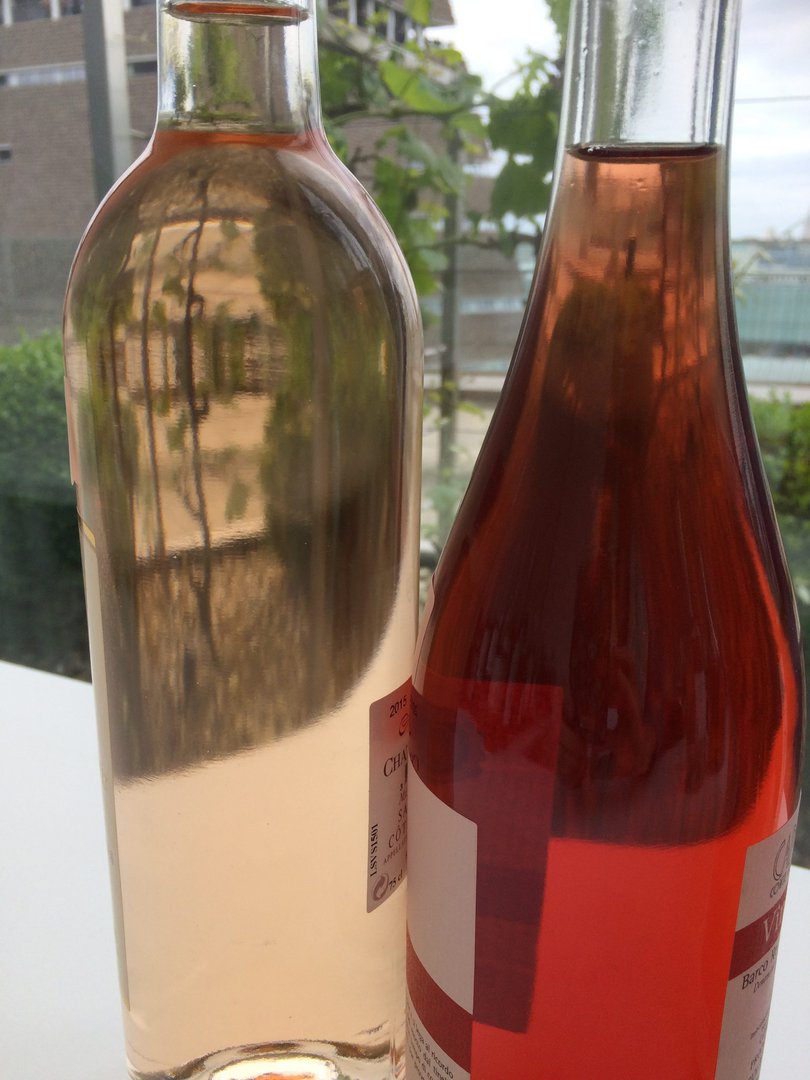 Shades of pink 4. Complex and or structural gastronomic rosés My overall top marks went to gastronomic rosés, with good weight, long fresh acidity and fruit complexity, with longer tasting notes. Descriptions show a complex 'fruit bowl' of aromas and flavours, juxtaposed with sweet/fruit-salty/savoury umami-style notes as seen in these six wines. Some also show greater weight and structure. Incidentally, all are from south-eastern France. Roche d'Enfer 2015 Château Gasqui, Côtes de Provence This bio-dynamic estate makes a a slightly atypical Provence rosé, full of complexity and richness. A full-bodied Grenache-based rosé with a complex combination of wild red berry fruit, with pretty delicate floral notes and perfumed roses balanced by notes of bitter orange peel and a fresh salty, mineral structure. Would be wonderful with food. 95 points. La Petite Reine 2015 Famille Negrel, Bandol, This wine shows a lovely fruit-saline complexity. Floral aromas with hints of strawberries and pot pourri. Mellowed creamy ripe red fruit and a herbal salty freshness, with vibrant structure and chewy acidity. 95 points. Huit 2015 Chateau Les Valentines, Côtes de Provence la Londe Bright and lively, with the typical salty minerality of rosés from the coastal region of la Londe. This wine balances the minerality with the weight of sun-ripened creamy fruit, juicy redcurrants and leafy green freshness. 94 points. Domaine de Fondrèche 2015, Ventoux Chewy acidity, weighty fruit, delicate, peaches and roses. Layered and lifted aromas of spicy, smoky redcurrants and pomegranate. A great deal of interest here, stemming from the crisp herbal acidity, minerality and wood-smoke character, combined harmoniously with peaches, roses and light and fragrant red berry fruits on nose and palate. 93 points. Domaine Lafran-Veyrolles 2015, Bandol, Mourvèdre-based; such rosés are often amongst the more structural. Pale, salmon pink with flecks of orangey peach. Ripe black fruit, apricot, spice and herbs combine to give a concentrated, weighty structure, revealing the Mourvèdre character. Great chewy, mineral mouth-watering acidity contributing a refreshing length. Complexity will come with some age. A beautifully balanced food style. 93 points. La Forcadière 2015 Domaine Maby, Tavel Dark coppery pink. Juicy, bright, spicy strawberry fruit aromas. On the palate firm red berry fruit, with stony minerality and hints of chalky tannin, makes this almost on the border line between light red and dark rosé. A full-bodied style of rosé with more colour, weight and higher alcohol. 90 points. 5. Time in Oak Some oaked rosés were excellent, though others did less well, not necessarily due to the style or quality (although some were far too clumsily oaked for the quality of wine), but because they were too young and needed time to integrate the flavours. Rock Angel 2015 Château d'Esclans Domaines Sacha Lichine, Côtes de Provence Partial ageing for 6 months in French oak. Faint peachy aromas. Vibrant cherry fruit and red berries with long crisp acidity. Charming succulent fruit balanced by minerality and redcurrant tartness on the finish. 93 points. Sainte Cécile 2015 Château l'Ermitage, Costière de Nimes The coppery pink and hints of oak on the nose are the clues to this being an oak-aged (for four months) rosé. On the palate, the well balanced use of oak and full-bodied red fruit, typical of Mourvèdre, make this a delightfully elegant rosé bridging the gap for red-wine lovers. 92 points. Fleur de Pinot 2015 Domaine Sylvain Pataille, Marsannay 18 months in used 500l barrels. Intense cherry fruit with spice and powerful oak character showing. This has real depth and concentration on the palate underpinned by light tannin and vibrant acidity making it textured and long. Interesting and challenging as a rosé style, one that will open out with age. 91 points. Cape Coral Mourvèdre 2016, Waterkloof, Stellenbosch South Africa Fermented in large old oak barrels, Faint black fruit aromas, firm structure, quite a chunky mouth-watering wine with black currant fruit with mineral undertones. Zesty crisp acidity. 91 points. 6. Aged rosés Some rosés need time to develop their full potential, though this is a fairly radical idea. Sadly, I rarely get the chance to taste older vintages of top rosés to evaluate their ageing potential, so finding that my overall favourite, Cuvée Margoton Olivier Leflaive was from the 2010 vintage, and the oldest in the tasting, was particularly exciting. There is still considerable resistance towards older rosés as many lack the ability to age, losing their freshness after a year or two. However, there are a few, and growing number, of rosés which do age beautifully. Wines like Château d'Esclans' Garrus just gets better with a few extra years of maturity and is generally drunk far too young.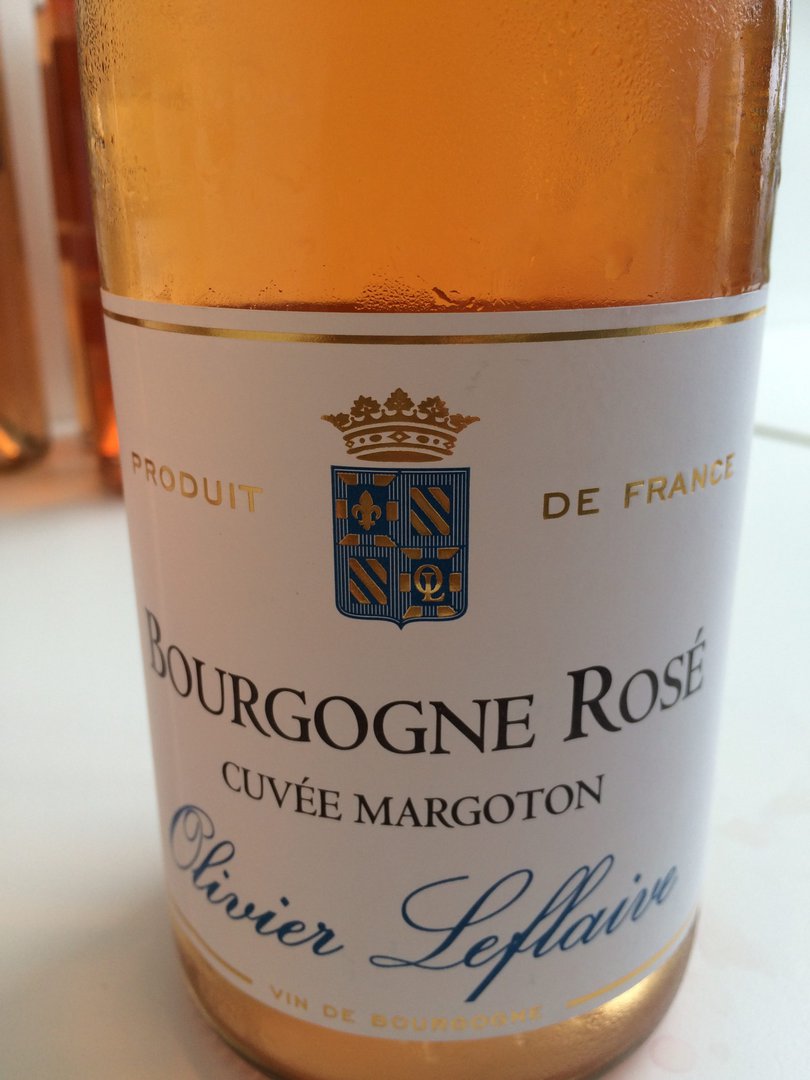 The star of the tasting, Cuvée Margoton 2010 Olivier Leflaive Cuvée Margoton 2010 Olivier Leflaive, Burgundy. Sunset-pink with coppery hints of an older rosé. Delicate aromas full of sun-ripened red fruits, hedgerow berries and nuts. On the palate, a phenomenal example of what a mature rosé can achieve, but so rarely does. Beautiful fresh acidity keeping this wine long and lively, with the fruits and nuts of the aromas spilling into the glass. An absolute delight. A very serious rosé. Drinking advice on label is 2010 to 2015 so expected to age well, but maybe not this well! 98 points. Alain Gueneau 2013, Sancerre Reflecting its age, this wine has relatively evolved aromas with hints of summer fruit. On the palate, it is full of just-ripe currant fruit, soft crushed raspberries and vibrant acidity and sang of summer in a glass. This wine shows how this style of rosé can age – a 2013 vintage that still has decisive fresh minerality and fruit. 92 points.
---
About the tastings These wines were tasted over three sets of tastings:
The Drinks Business Rosé Masters, where I made up one of three teams (which tasted 1/3 of the wines) with editor Patrick Schmitt MW and Patricia Stefanovich MW.
The second and third tastings were for the Decanter magazine September 2016 issue and website: the first two days with Joanna Simon and Andy Howard MW, the next two, on my own. I was the only taster who did all three tastings.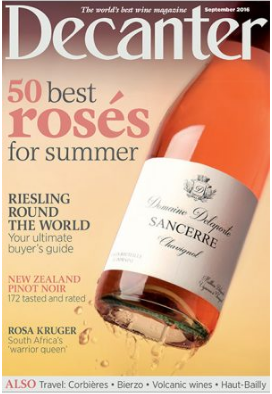 All wines tasted – and described above – had to be available in the UK, and even this wide selection is only part of those available worldwide. The scores used with my tasting notes, follow Decanter's scoring system, which gives 90-94 points for highly recommended, 95-97 outstanding and 98-100 exceptional. The wines were tasted in a variety of competition formats (blind with no indication of origin; blind with indication of origin and varieties; open tasting). These are my personal scores, not the final average which was used to determine the final selection of wines. Many wines scored over 90 points, but with a limit on how many were featured in the top 50 (Decanter) or top 10 (The Drinks Business), not all were featured.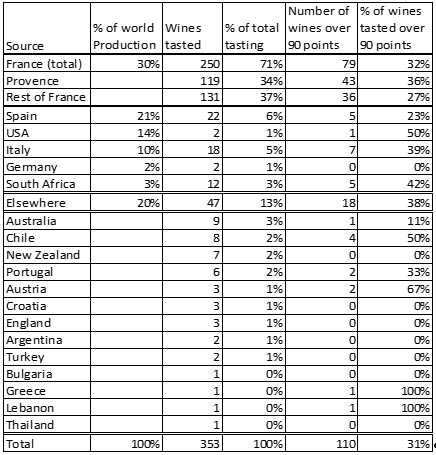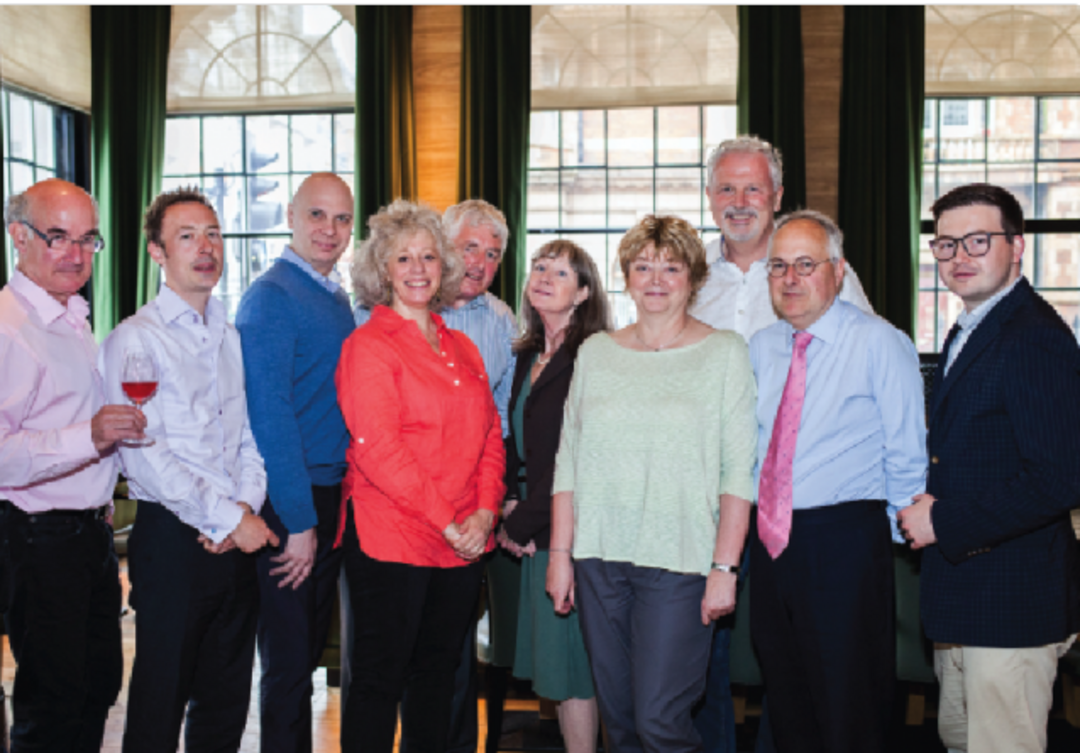 Rosé tasting team from The Drinks Business magazine. From left to right: Hugo Rose MW, Patrick Schmitt MW, Roberto della Pietra, Elizabeth Gabay MW, Sebastian Payne MW, Patricia Stefanovich MW, Beverley Tabron MW, Adrian Garforth MW, Jonathan Pedley MW, Clément Robert MW