A Taste of Modern Cypriot Rosés
Earlier this year I wrote an article on premium rosés. One important point I highlighted was the use of altitude, especially in hot climates, which provides both the ripe fruit character and the crisp acidity essential in rosés. So when fellow MW, Yiannis Karakasis tweeted that he was visiting Cyprus vineyards at 1000m, I playfully tweeted back '… Any rosés?' His affirmative piqued my curiosity, and the following week I received seven Cypriot rosés to taste. Cyprus lies in the Eastern Mediterranean, with nearby wine-producing countries including Greece, Israel, Lebanon and Turkey.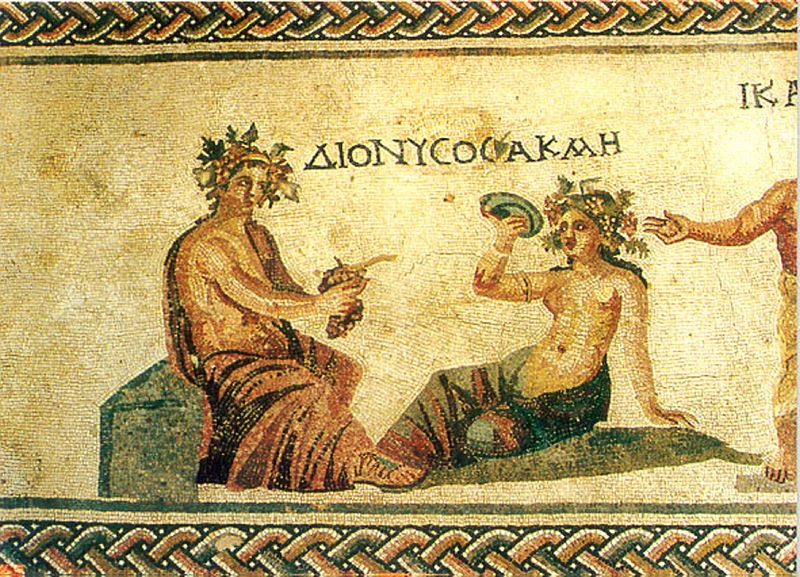 Mosaic found near Paphos showing the god of wine Dionysus, illustrating the ancient history of wine production on the island During the Ottoman occupation of the island, wine production was very limited, although one vineyard, which still exists today, was founded in 1844 by the Haggipavlu family. In 1875 the British leased Cyprus from Turkey for its strategic location. There was little investment in agriculture but there was a growth in small wine estates. Cyprus's isolation protected it when phylloxera struck elsewhere and the island was untouched. Today the island is still phylloxera-free, with older vines on their own rootstocks. A brief boom-time followed for Cyprus, as there was a ready market for their wines while Europe worked to re-establish its wine industry.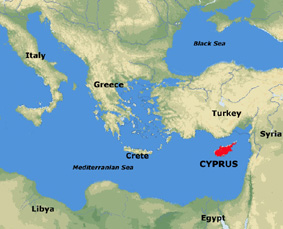 The eastern Mediterranean But the move towards reforming and upgrading the wine industry since the early 1980s, is the most significant factor in this tasting. Government policy to create rural industries away from the seaside tourist attractions gave incentives to create small regional wineries in the hill-villages of the grape growing regions. This had two benefits. Firstly, grapes were no longer transported long distances to wineries on the coast and secondly, it encouraged vineyards and wineries to move to higher altitudes. The number of small producers has increased and the four big producers which had dominated the wine market have downsized over the past fifteen years. Today, Cyprus has around 54 wineries of which 90% are small, family-owned. In order to compete in the wider market, vineyards were given incentives to plant international, varieties. At the same time, wineries returned to old vineyards up in the hills, they re-discovered the indigenous varieties on the island, all growing on their own rootstocks. New plantings of indigenous and international varieties, site selection and choice of rootstock, especially for international varieties to handle chlorosis, work on viticulture and vinification have continued.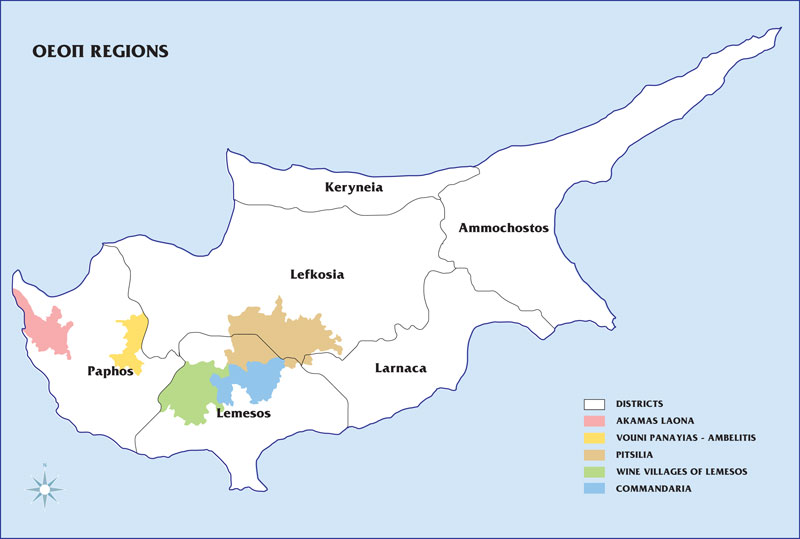 Wine regions of Cyprus New appellations were launched in 2007, encouraging the quality wines of the higher altitude vineyards. Apart from table wine, where no region need be specified, there are three quality appellations.
Indicated Geographic Place (IGP) 85% of the grapes used must originate from the specific geographical regions of Lefkosia, Lemesos (Limassol), Larnaca or Paphos. Paphos, the largest, produces 43% of Cyprus's grapes, over an area of 33 km. Three wines in this tasting were IGP Paphos.
Protected designation of origin Wines with this designation must originate from registered vineyards of an altitude above 600-750m, depending on location. The sun exposure and the poor soils at the higher altitudes produce grapes high in flavour and aroma concentration and of great intensity. Despite some of the rosés tasted coming from higher altitudes, none seemed to carry this appellation.
Commandaria A special wine, referred to as far back as the time of the Crusaders, made with sun-dried grapes, fermented, fortified with grape spirit and then aged in a solera. The opulent result is dark brown, very rich and sweet.
Cyprus has a primarily Mediterranean climate, with hot, dry summers and mild winters tempered by maritime breezes and cool air up in the mountains. Sub-tropical winds from the south can lead to extremely hot temperatures in the summer. There is snow in winter in the Troodos mountains and rain in coastal areas.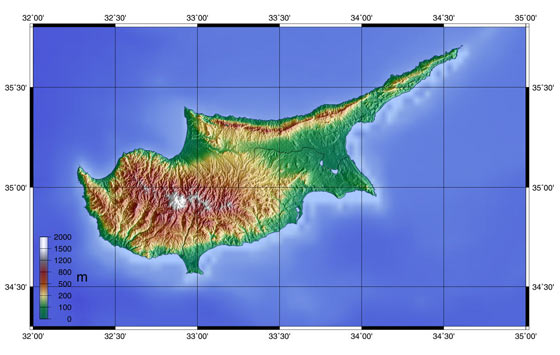 Relief map showing the Troodos mountain range in the western half of the island The wines were tasted in ascending order of weight (following a quick pre-tasting). Three local varieties were included in this rosé tasting, alongside the Bordeaux varieties Cabernet Sauvignon, Cabernet Franc and Sauvignon Blanc and the southern French varieties Syrah, Mourvèdre and Grenache.
Mavro, an indigenous Cypriot variety, which takes its name from its dark colour (from the Greek word for "black") and accounts for 70% of cultivated vines in Cyprus.
Maratheftiko, an ancient grape variety also indigenous to Cyprus, rediscovered around 25 years ago. A low-yielding variety, representing 3% of the grapes cultivated. It requires co-planting with other varieties in order to achieve fertilisation and fruit development. Maratheftiko produces wines with deep, bright red colour, soft tannins, high acidity and dark berry and floral aromas, evident in the Pampella rosé.
Lefkada (aka Verzami), was brought to the island in the Byzantine era. It is mostly found in the Paphos area (Stroumbi, Polemi) and in the wine villages of Malia and Omodos. It requires a full maturation to avoid astringency, with intense colour and fruity aroma.
Many, myself included, have decried the homogenisation of rosé styles – where the market trend is to regard pale, dry rosés as the best – so it is encouraging to taste rosés being made in a distinct regional style. Darker rosés such as Tavel, some Bandol, Loire and Spanish rosés often indicate a rosé with more fruit. All seven Cypriot wines had varying tones of bright pomegranate ruby pink-red, dark enough to almost be pale red wines with pronounced ripe fruit, fresh acidity and a delicate hint of tannin. All but one was completely dry. All were 2015 vintage. It is difficult to tell from only seven rosés whether these are typical of a Cypriot style. I particularly enjoyed the weightier gastronomic wines from Kyperounda, Vasilikon and Keo, which handled a robustly flavoured lunch with ease.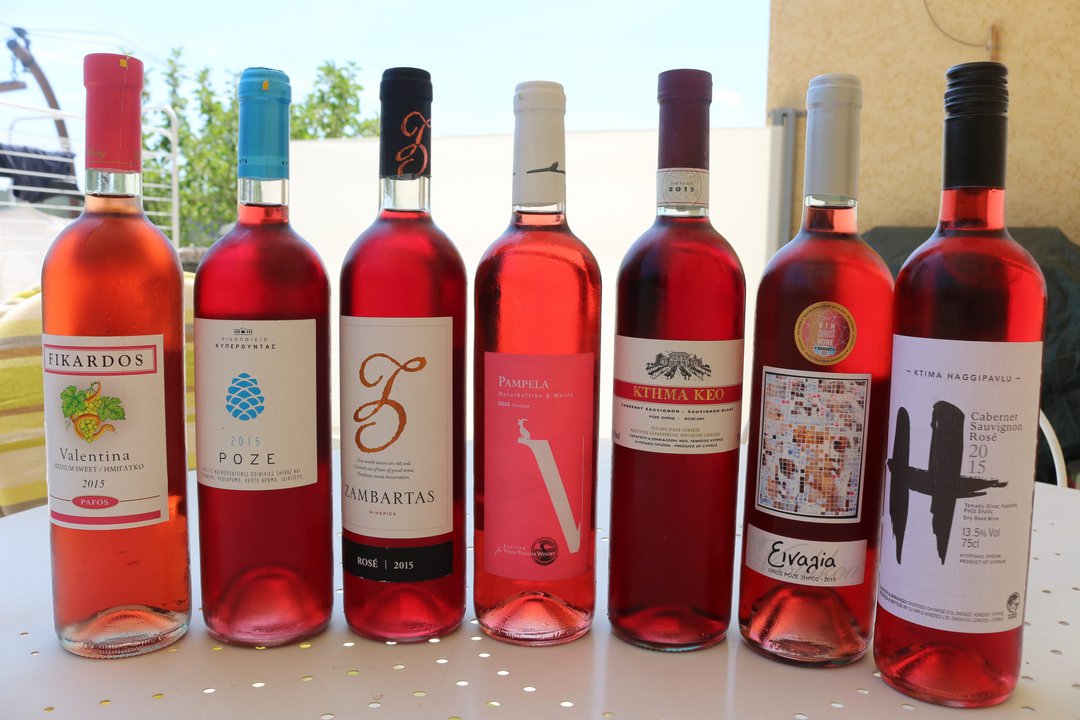 Line up of gorgeous rose pink Cypriot rosés Sarah Jane Evans MW joined me for lunch later in the day and tasted the line-up of rosés too, commenting:
A fascinating tasting of wines that, embarrassingly, were completely new to me and speaks of the current poor distribution of Cypriot wines in the UK. Fresh, deep coloured, full flavoured, only mildly tannic, wines, made to be served cool/chilled. In a world where the fashion is only for the palest of roses, it's very good to see 'claret' colours. A quick note on packaging: some excellent, contemporary label design, and very good to see one wine closed with a screw cap. Cyprus deserves to be better known.

Sarah Jane Evans MW and Elizabeth Gabay MW (me) with some of the Cypriot wines (plus a few others)
Tasting notes for the Cypriot Rosés
One of the oldest wineries in Cyprus. This wine comes from the Limassol area, south of the Troodos mountains. Ktima Haggipavlu 2015, Cabernet Sauvignon, 13.5% alc. Ripe strawberry jam aromas. On the palate, bone dry with a lean, stoney, mineral backbone with delicate strawberry, raspberry and red cherry fruit. The long chewy acidity finishes with a sour pomegranate note. Light weight, simple, fresh and mouth-watering. (screw cap)
Located in the Krasochoria region just north west of Limassol, the estate was created in 2006. This is the oldest vineyard region of Cyprus, with some vines more than 100 years old. The vineyards are on steep-south-facing terraces of the Troodos mountains. between 500-1150m above sea level. The soil is mainly on calcareous and chalk soils which are replaced by richer volcanic soils as the altitude rises. Zambartas 2015, Lefkada and Cabernet Franc, 13.5% alc. Ripe sweet strawberries and raspberries with a jammy lusciousness but not sweet. Firm mineral structure, crisp leafy mineral acidity. Long, fresh leanness.
Established in 1993 by the Kyriakides brothers. Located just outside Kathikas village in Paphos region at an altitude of 650m. Most of the grapes come from their 16ha vineyards with vines ageing from forty to one hundred years old. Vasilikon 'Einalia' 2015, IGP Paphos Syrah and Maratheftiko, 13.5%. Fresh red fruit aromas with hints of toasty lees. Weightier, powerful ripe red fruit, strawberry cordial, hints of dry tannins – much more of a red wine. Wild bramble fruit, fresh acidity. Quite a structural savoury character. A gastronomic rosé.
In 1987, Andreas Kyriakides, established this first private regional winery in Cyprus. It is a family run business with 25ha. This wine comes from the Panayla region at 800-1150m on calcareous soils amongst the pine forests of the Troodos mountains. The vines are planted on their original roots. The soil possesses a mostly clay to gypsum-clay structural composition. Pampella 2015 IGP Paphos, Marathetiko and Mavro, 13% alc. Blue-black fruit aromas with floral hints. On the palate, mineral tannin notes and delicate blue-black fruit with hints of red fruits and luscious strawberry. Backed by fresh leafy acidity.
Founded 1927 and part of a major Cypriot conglomerate, also with breweries. In addition to a winery in Limassol, KEO operates three more wineries situated in the Krasochoria region of the Troodos mountain range. . Keo 2015, Cabernet Sauvignon and Sauvignon Blanc, 14.5% alc. Ripe strawberry jam nose. On palate floral tea-rose aromatics with lots of ripe red fruit. The floral and jam notes suggest sweetness, but the wild berry fruit acidity and mineral tannin notes indicate dryness creating an attractive sweet-sour combination. Amazingly good with dark chocolate.
Created in the late 1990s by a few local grape producers, who in 2000 were joined by a major shareholder which manages the business. The winery runs its own vineyards of 12ha and additionally, it buys grapes from local producers as well as from vine growers of Kilani and as far as the Paphos region. The winery's first wines were bottled in 2003. Located at Kyperounda, in the Pitsilia area of the Troodos range, 75 km from Nicosia and 50 km from Limassol at 1400m, it is one of the highest in Europe. The soil is sandy clay soil with steep slopes. Kyperounda 2015, Shiraz and Grenache, 14% alc. Savoury, red winey aromas. Full of red fruit, redcurrants, wild hedgerow berries overlaying dry mineral tannin notes. Dominated by fruit and lots of chewy mouth-wateringly fresh acidity. Good weight and structure with lovely intense fruit. A good gastronomic rosé.
Located in the Paphaos region with 16ha of vineyards around Pano Arodes and Choulou. The winery has also been working with the same vine-growers since they started buying in grapes from around Tsada, Stroumpi, Polemi, Letimpou, Kathikas and Killi, within a 15km radius of the winery. The vineyards are grown on limestone with some gypsum-clay soil at an altitude of between 400-650 metres above sea level. Fikardos 'Valentina' Medium Sweet 2015, IGP Paphos Cabernet Sauvignon (95%) & Mataro (Mourvèdre), 12.5% alc. Slightly more salmon colour from the Mourvèdre. Subtle garrigue aromas. On the palate, wild red berries and herb character give a fresh balance to this medium sweet wine. Delicious served chilled with ice.