Christmas in Provence Vin Cuit and the 13 Desserts
Vin cuit and the 13 desserts are a traditional combination served at Christmas in Provence. Today, however, the 13 desserts are often only symbolically represented - with baskets filled with a selection of dried and glacé fruits and nuts, available in most food shops around Christmas - and few people know of vin cuit.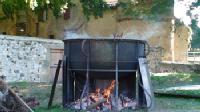 Cooking Vin Cuit at Ch Beaulieu Vin cuit, meaning "cooked wine", has a tradition going back to antiquity, with the method for making this largely unchanged for over 2000 years. Vin cuit wine is made by slowly heating the grape must over a direct fire in a cauldron, and allowing it to simmer, sometimes over two days. Care must be taken not to overcook it, to avoid a burnt or strong caramelised taste. Some 30 to 55% of the juice will evaporate. After cooking, the boiled must is encouraged to ferment. Traditionally fermentation was allowed to continue to a level of 20% alcohol. Now this rarely exceeds 14.5%, where the wine can be considered a table wine, with a lower level of tax. Fermentation can be long, usually 2 weeks to 3 months, but may take up to a year. After fermentation, the vin cuit wine can be matured for one to five years. Younger wines have a fresh grapefruit zestiness, which, with age, will develop a quince jam and orange peel character. Tasting descriptions can include notes of toast, chocolate, liquorice, caramel, spice and cinnamon, prunes and raisins. The colour can range from deep orange to almost black.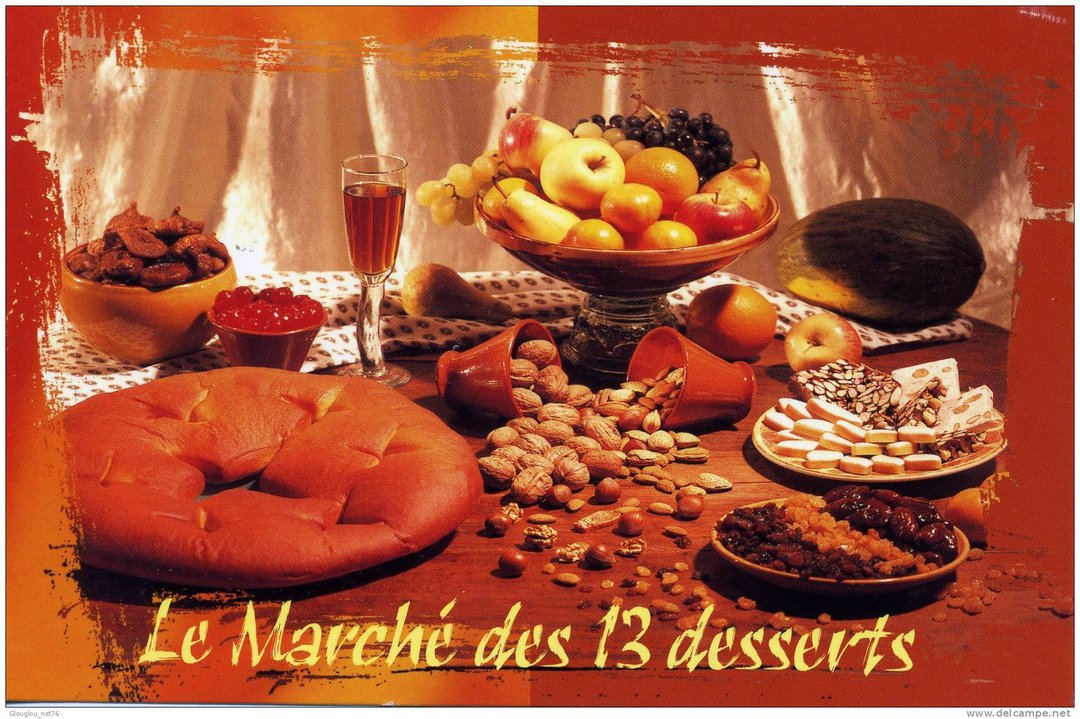 Around the mid-18th century, vin cuit  began to be associated with Christmas in Haute-Provence and in the region around Aix, Aubagne and Marseille. The Comtesse de Lombardon-Montezan mentions drinking vin cuit with  dessert on Christmas Eve in 1761. A local history society  recorded, in 1838, that 'cake and vin cuit' were consumed at Christmas. In the 1780s,  the Christmas desserts included figs, raisins, grapes, prunes from Brignoles, oranges, apples, pears, crystallised lemon, biscuits and nougat. It was not until 1822 that vin cuit wine started to be produced commercially. Production continued to be centred around Marseille. The rise in popularity of vin cuit coincided with the start of the Félibriege movement, which promoted Provençal language and culture. Frédéric Mistral. who led this movement, referred to vin cué (its Provençal name) and its role in the Christmas traditions, although he objected to its commercialisation. Its fame spread, with an English guidebook in 1866 describing vin cuit as resembling the Hungarian wine of Tokay. Commercial production declined and ceased by 1960, but local nostalgia for vin cuit encouraged producers to restart making it in 1975. Around 16 producers now make the wine commercially. A growing reputation for vin cuit is pointing towards a hoped-for appellation status which will regulate production. Most vin cuit is sold locally during the Christmas season. At Christmas, after Midnight Mass, the traditional dinner is served at a table laid with three white table clothes, one on top of another, to represent the Trinity.  Dinner is light, such as an omelette with potatoes, boudin blanc (a white sausage made with pork and no blood) or salt cod and cardoons (an old Provençal dish), without cheese, fat or red meat. The meal is finished with the les calenos, the Christmas dessert of thirteen dishes. These desserts vary from family to family, but generally consist of variations of fruits and nuts.  The first specific mention of the number of desserts representing the twelve Apostles and Jesus, was in 1925. Typical dishes making up the thirteen desserts are:
White nougat, made with beaten egg whites and honey, nuts and candied fruit.
Black nougat, made without egg whites, by cooking honey with nuts and dried fruit. This is firmer than white nougat, often with crunchy texture. Nougat represents the Three Wise Men. The offering of both white and black nougat represents good and evil.
Black Nougat
An orange and anise flavoured bread or biscuit such as gibassié, the thinner and drier pompe à l'huile or the more bready fougasse. [Note that the dessert pompe à l'huile must not be confused with pompe à huile, an oil pump!]
Walnuts and hazelnuts (representing the Augustine monastic order).
Almonds (representing the Carmelite monastic order) served whole or mixed into hard biscuits.
Calissons - marzipan lozenge-shaped sweets from Aix - or just marzipan - sometimes stuffed in the dates (see 10 below).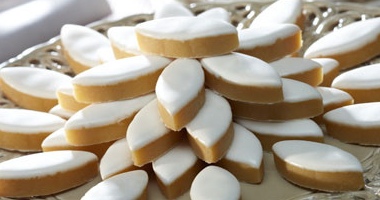 Calissons d'Aix
Christmas melon.
Dried figs (representing the Franciscan monastic order).
Raisins (representing the Dominican monastic order).
Dates -  representing the foods of the Israel where Christ lived and died.
Fruits confits (glacé fruits).
Fruit paste (pâtes de fruit) especially quince.
Fresh fruit such as apples, pears and oranges.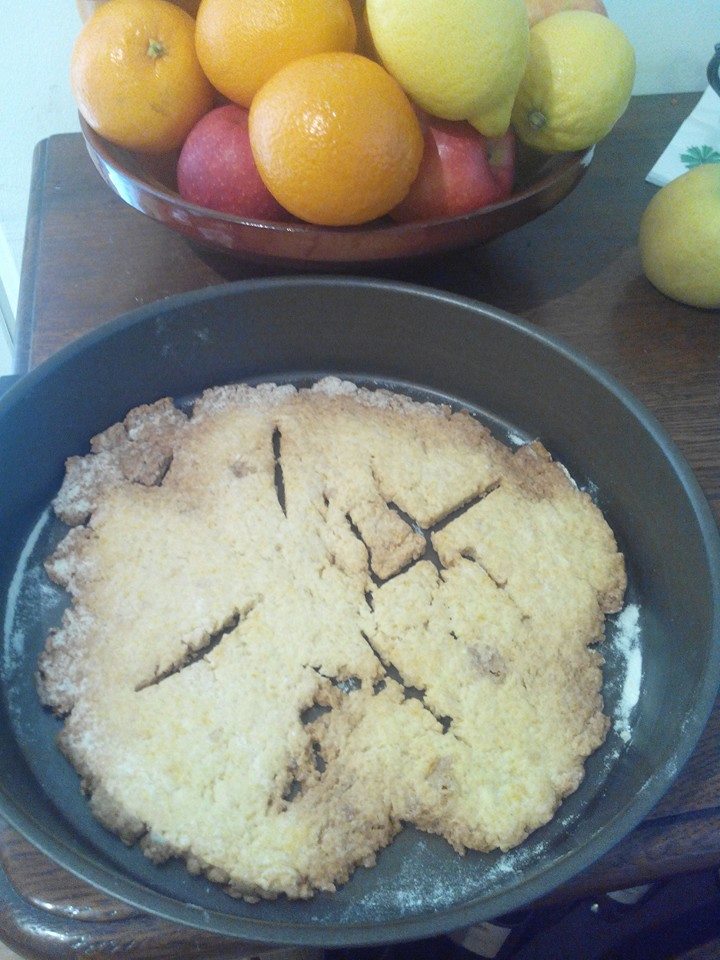 My friend Hélene Martin's gibassié Recipe for Gibassié Enough for one 'cake'.
300g flour
80g sugar
10 tbsp milk
10 tbsp fruity olive oil
4 tbsp orange flower water
1 pinch of salt
orange zest and lemon, and aniseeds - this last giving the distinctive anise flavour.
Mix all the ingredients into a ball and flatten into a large flat biscuit around 6-8mm thickness. Bake for 20 minutes until crisp and golden. For further information on the 13 desserts see Cynthia Bertelsen's blog.