Defining Szekszárdi Bikavér
How often have we read a simple description defining a wine style, only to find that few wines match this? Indeed, with permutations including vintage, winemaker, terroir, how can one description sum up a region? Szekszárdi Bikavér – Bikavér ("Bull's Blood") from Szekszárd in southern Hungary – is often described alongside Bikavér from Eger, 300km to the north, making descriptions even more confusing. Though they share the name Bikavér, and are both based on Kékfrankos, they are inevitably influenced by their different terroirs. Egri Bikavér is often identified as being bigger and more structural, but this difference is often less obvious when taking into account winemaking styles. Indeed, a major challenge facing both areas, is to define the unique qualities of each and the differences between them in the eyes of the international consumer. Kristian Kielmayer has neatly summed up the differences between the Bikavérs in his 2015 review of the annual tasting of the wines from the two regions.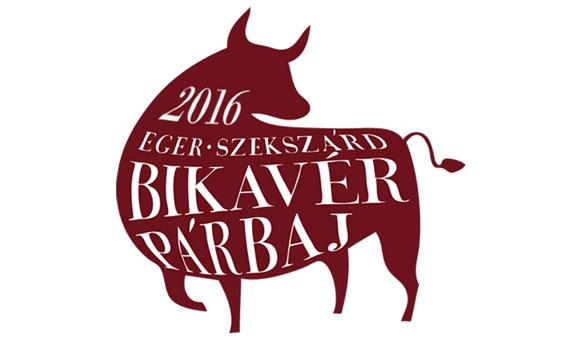 Logo for the annual Eger vs Szekszárd Bikavér tasting In Communist times Bikavér was regarded as a bulk wine, but in the 1990s Ferenc Takler saw its potential and began encouraging producers to recognise its potential and move their blends up-market. Coincidentally, the Takler estate was in the midst of their 20th anniversary celebrations the week I was there. This move up-market is still an on-going development. Szekszárdi producers have come together to establish a classic blueprint for Szekszárdi Bikavér. Wines are submitted for tasting to a panel of local producers, and if the wine is felt to represent the classic style, it can be bottled, since autumn 2015, in the special Szekszárd bottle. For Csilla Sebestyen, sister of winemaker Csaba Sebestyen and part of the region's marketing team, a classic Bikavér 'needs to show its Szekszárd-like character. Good quality wines should be easy to understand, nicely balanced with well-integrated oak, smooth tannins and great acidity level to support.'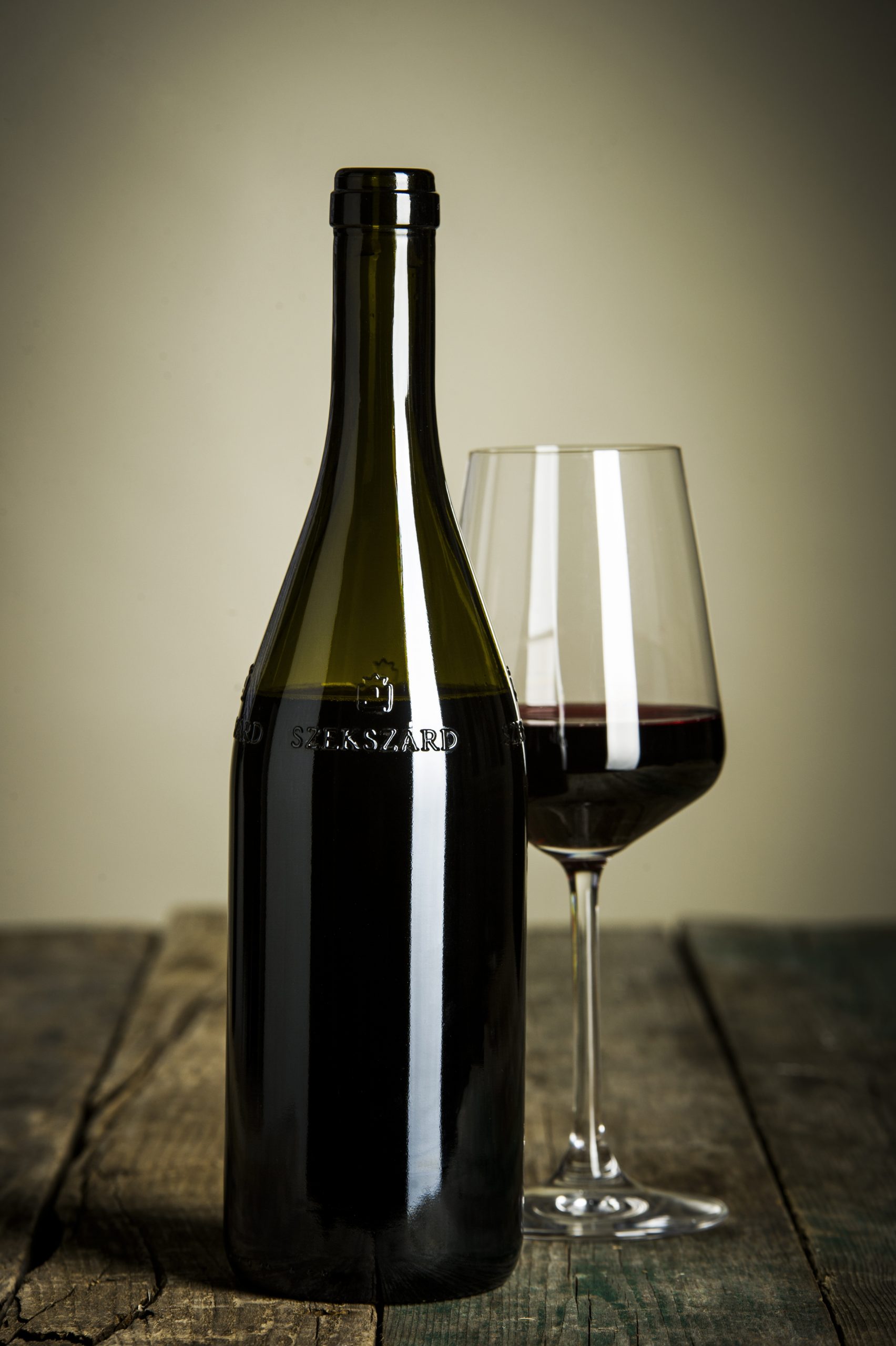 The Szeksárdi wine bottle Descriptions of Szekszárdi Bikavér provided by wine merchants give a loose impression of the wine, saying that wines range from full to medium body, with middle to lively and vivid acid and are relatively tannic with high alcohol. 'Cherry, raspberry, blackberry, rum, chocolate, hibiscus, thyme and many others with overripe fruits' are noted. It is a 'complex and exciting wine' that, according to some, 'generally belongs to the more elegant trend within the world of big red wine, spicy aromatic' and 'richly perfumed… [like a] cool climate Châteauneuf-du-Pape, exotic and with power while remaining light on its feet.' The complex layout of the small Szekszardi vineyards, located on low hills, rising no higher than 250m, facing north, south, east and west along five main valleys in the north and wider rolling hills and valleys to the south with soils primarily of loess and chalky limestone with pockets of red clay, adds to the variety of flavours. Szekszárd is one of Hungary's warmest regions, in the south of the country with a continental climate of hot summers and cold winters.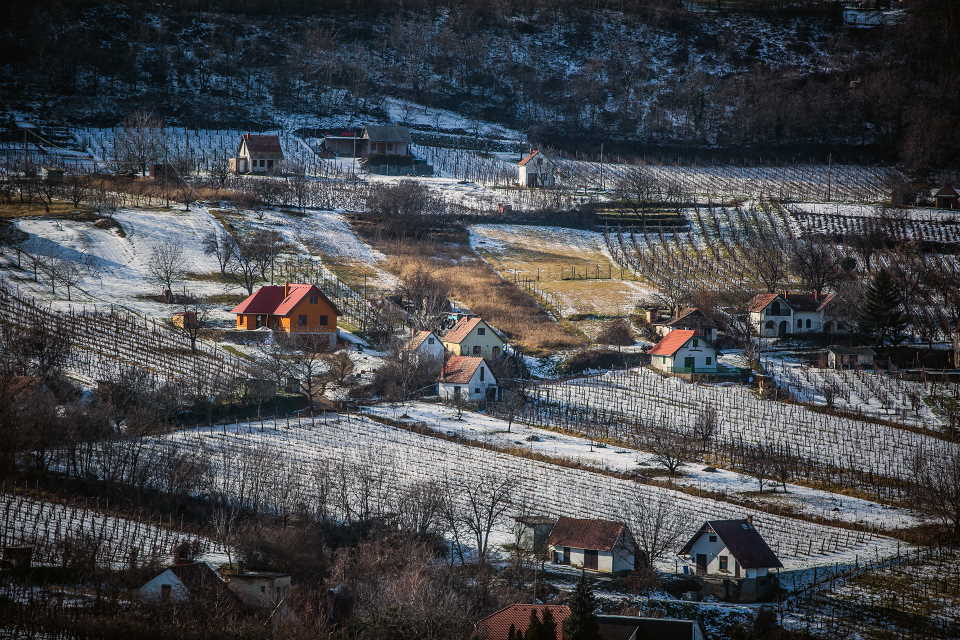 Szekszárd Szekszárd vineyards in the snow from Winesofa.eu Bikavér is always a blend. From 2016 the Bikavér appellation rules state that Szekszárdi Bikavér has to contain a minimum four varieties with a minimum 45 % Kékfrankos and minimum 5 % Kadarka (adding up to a minimum of 50% of the blend). A maximum 10% of Blauburger, Kékoportó, Menoire, Pinot noir, Syrah, Zweigelt, Bíborkadarka, Alibernet, Turán, Tannat, Sagrantino, Malbec and Mészikadar. Cabernet Sauvignon, Cabernet Franc, Merlot cannot individually exceed 40%. The final blend must be aged in barrel for one year before release. Takler has campaigned for many years to encourage producers not to use Bikavér to absorb their lesser wines, instead encouraging them to use their best Kékfrankos, the backbone of Bikavér. Kékfrankos (called Blaufränkisch in Austria) can produce elegant red wine, with black silky tannins, fine mineral structure and great acidity. The fruit can range from sour cherries to ripe blackberries. Kadarka can produce elegant and delicate wines, with floral and spice notes, silky tannins and fresh raspberry and cherry fruit. The proportion of Kadarka in the Bikavér blend is limited because, with age, this variety can (apparently) dominate the blend, adding excessive spiciness. While I was appreciating the differences amongst the Bikavérs from different domains, I was wondering whether I could define a typical Szekszárdi Bikavér and create a benchmark by which I could evaluate the different styles. This is a question not easily defined by words. As every cook knows, you can follow a recipe, but without tasting, it is hard to define the end result. The Szekszárdi producers rose to the challenge of showing the art of successful Bikavér blending, on my most recent visit, by setting up a blending workshop where we could sit together and blend some Bikavérs. This was a first for all of us. While producers blend their own wines, no-one had done a communal blending exercise with common ingredients. The Blending Workshop Twelve of us gathered at the cellars of Anita Schieber, St Gaál, Sebestyen, Heimann, Eszterbauer, Takler, Vida and Schieber were represented.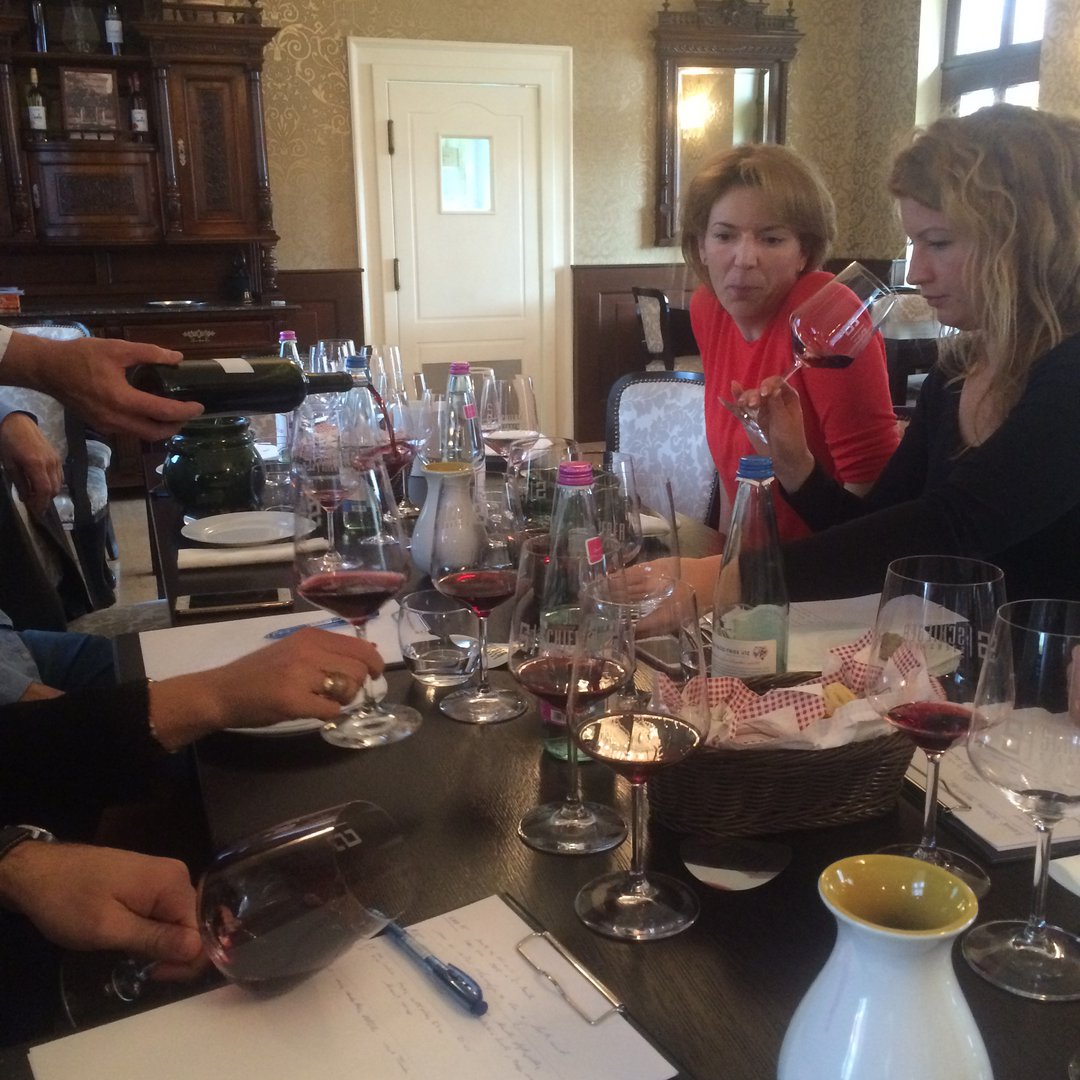 Ilona Posevitz and Ildiko Eszterbauer We tasted the five varieties we were to blend. Ilona Posevitz, the winemaker at Schieber prepared these and explained how the individual components were made and why. For example, her aim was not to make a brilliant Merlot for the blend, but one which, almost invisibly would contribute suppleness. Kadarka 2015. Largely P9 clone, fermented with a selected yeast. Aged partly in 30hl old oak and partly in tank. Typical cherry aromas. Light mineral backbone, cherry fruit and good acidity.
Merlot 2015. Aged in 30hl old oak. Black plum and leafy fruit, mineral tannins. Soft and plummy. Aim to give roundness and softness to the blend.
Kékfrankos 2014 half aged in 3hl and half in 5hl barrels. Vines planted 1989. Very perfumed, spicy, red berry fruit, good acidity. This is to be the base of the wine.
Cabernet Franc 2014 aged in 5hl barrel. Floral, leafy notes. Fresh mineral acidity. Chewy, lean tannins. Aim was to make a wine not over-powered by oak, with minimal maceration to keep elegance and freshness.
Cabernet Sauvignon 2014. Big black spicy fruit. Aiming at a bigger body to balance the fresher more elegant acidity of the Kékfrankos, Kadarka and Cabernet Franc.
We divided into teams and were given 40 minutes to come up with our perfect blend:
Anita Schieber, Ilona Posevitz and József Rappay, winemaker at St Gaál
Peter Vida jr, Zoltán Heimann jr and Ildiko Eszterbauer from their three respective family estates
Csaba Sebestyen and József Gál, the estate director from Takler
And, last but not least, me and Csilla Sebestyen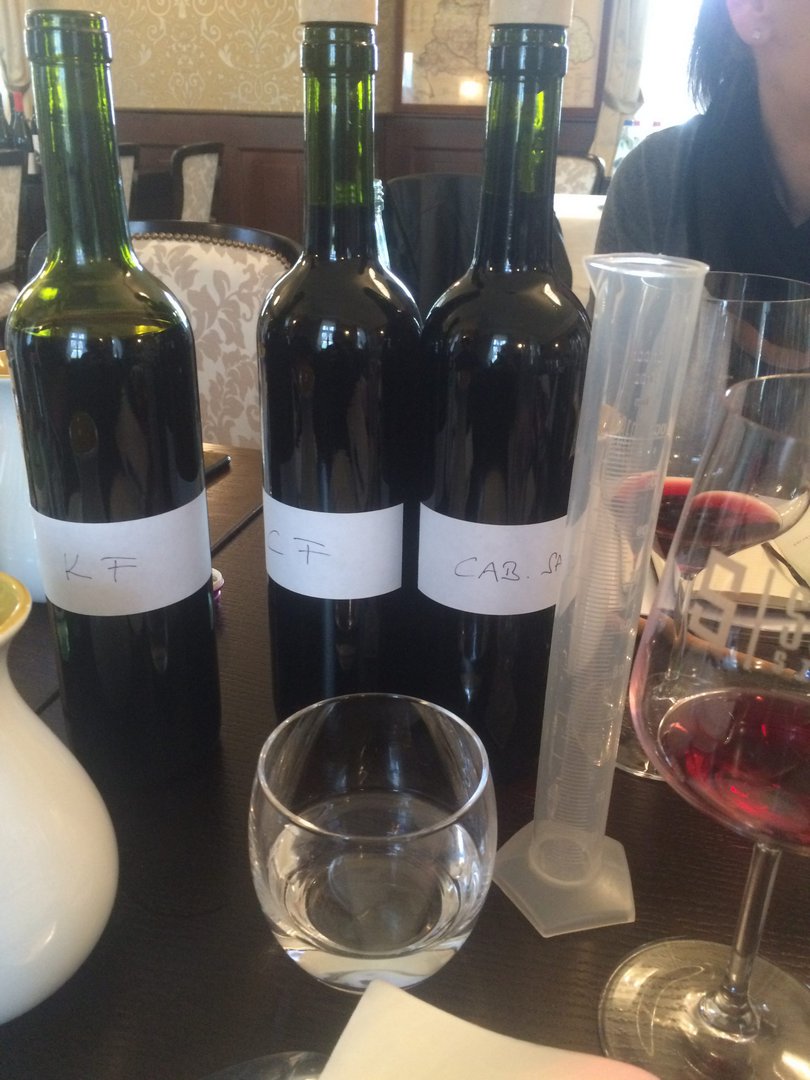 Ready to start the blending I had thought that these Bikavér professionals would take this exercise quietly. But no. The passion with which we all threw ourselves into our blending, measuring our ingredients, blending and tasting became more heated. As discussions within each team heated up, the clock ticked by. I tried four different blends.
45% Kekfrankos, 5% Kadarka, 20% Cabernet Franc, 20% Cabernet Sauvignon, 10% Merlot. This made a nice wine but the Cabernet Sauvignon completely dominated the blend, not what I wanted.
45% Kekfrankos, 5% Kadarka, 20% Cabernet Franc, 10% Cabernet Sauvignon, 20% Merlot. This was more in keeping with how I wanted my Bikavér to be. Nice – but didn't really 'sing'. It had good balance of tannins and acidity but lacked the spice and fruit I wanted.
50% Kékfrankos, 5% Kadarka, 20% Cabernet Franc, 10% Cabernet Sauvignon, 15% Merlot. I tried to give the wine a more Bikavér character and so increased the percentage of the Kékfrankos and decreased the Merlot to reduce the softness. Despite the small difference in blend, the wine came through hard and uninteresting.
With five minutes to go, and the tension in the room increasing (and growing mess!), I returned to my second blend and changed the proportions: 45% Kékfrankos, 5% Kadarka, 10% Cabernet Franc, 20% Cabernet Sauvignon, 20% Merlot. I kept the same proportion of Merlot for softness but increased the Cabernet Sauvignon, with its greater fruitiness, and decreased the Cabernet Franc. The resulting wine tasted how I felt a Szekszárdi Bikavér should taste, so I selected this blend.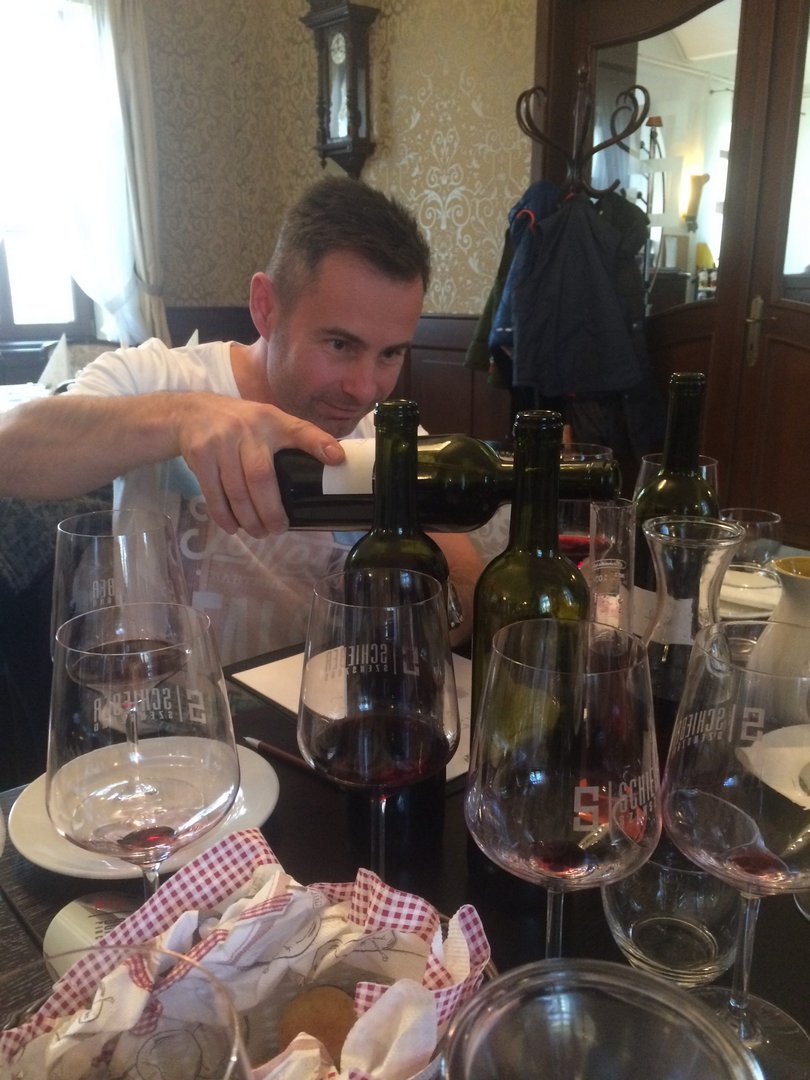 Csaba Sebestyen We then made up our preferred blend into a large enough volume to be tasted by the others, and these were anonymously bottled.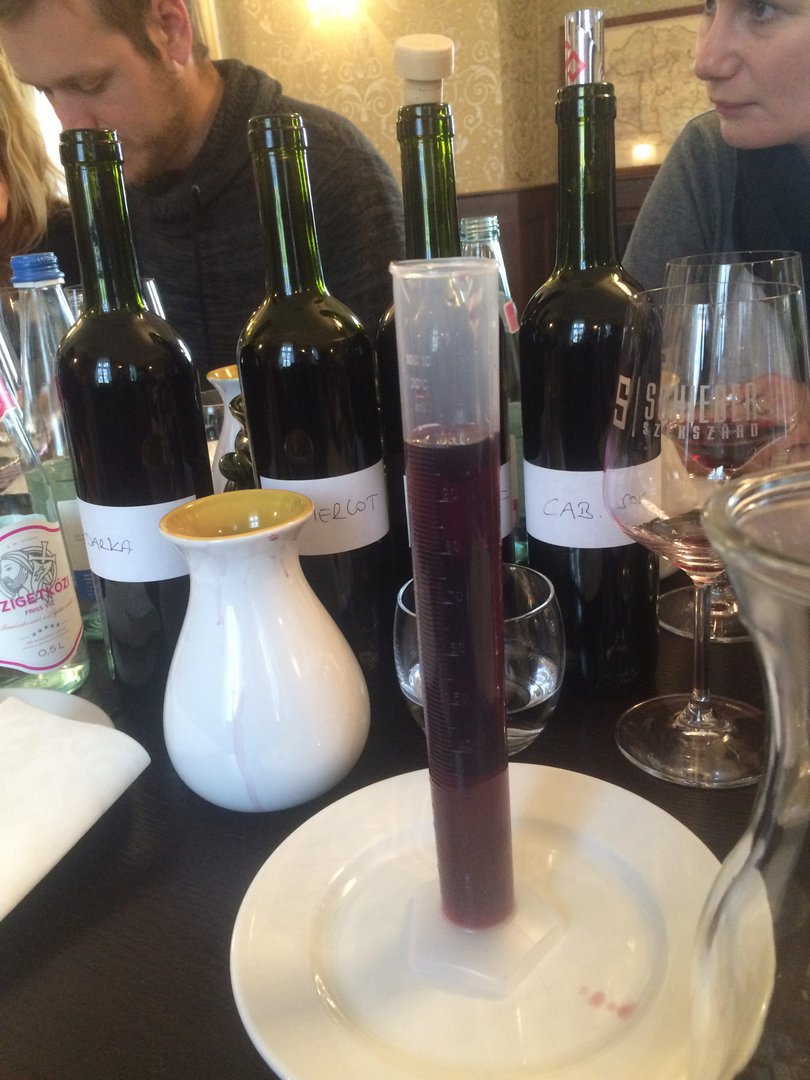 My final blend … with Zoltán Heimann and Csilla Sebestyen With all wines using the same ingredients and following the appellation regulations, how different could they taste?
Wine A. Fresh leafy notes with minerals and spice on the nose. Fresh spice and black fruit, red berries, good acidity, spicy mineral tannins. (45% Kékfrankos, 5% Kadarka, 10% Cabernet Franc, 20% Cabernet Sauvignon, 20% Merlot.)
Wine B. Black fruit and spice aromas continuing on to the palate with firm tannins. (60% Kékfrankos, 5% Kadarka, 15% Cabernet Franc, 5% Cabernet Sauvignon, 15% Merlot.)
Wine C. Spicy perfumed fruit, but a little weak and mineral dominated. (55% Kékfrankos, 7% Kadarka, 5% Cabernet Franc, 13% Cabernet Sauvignon, 20% Merlot.)
Wine D. Dry chewy tannins, good vibrant acidity, fresh red fruit. (45% Kékfrankos, 5% Kadarka,  10% Cabernet Franc, 15% Cabernet Sauvignon, 25% Merlot.)
We tasted all the wines, and voted on our favourite. There was no one wine which we all felt was an outstanding 'best', illustrating our different preferences, but at the same time, one wine clearly won. I nearly fell off my chair when they announced my blend, Wine A, had won! Wine D came second.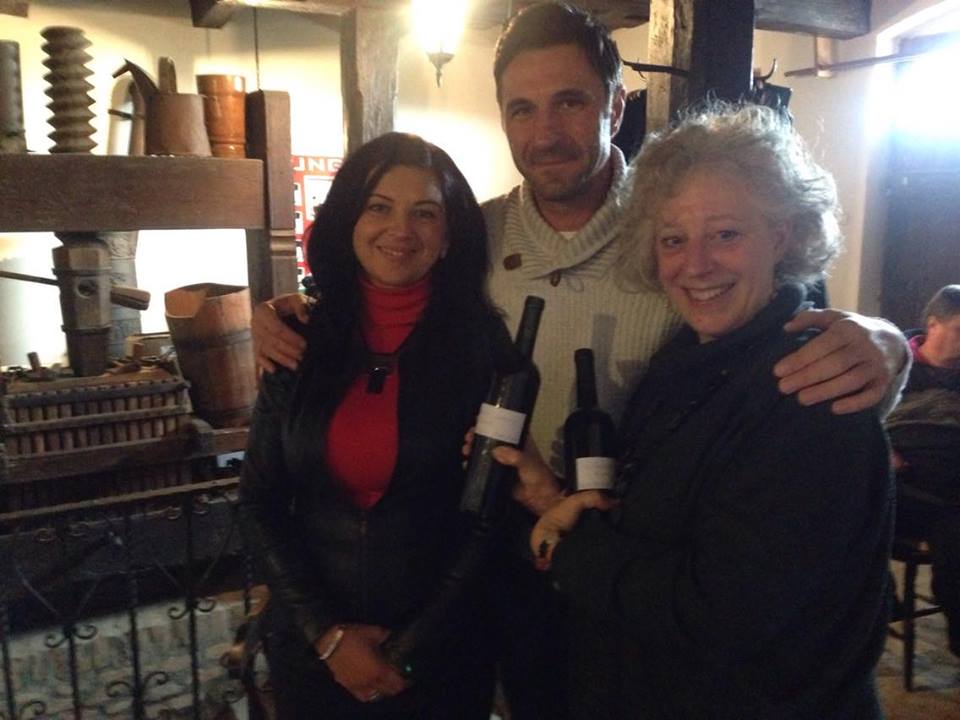 Anita Schieber and Ferenc Kern presenting me with my winning Bikavér With every vintage, parcel and barrel, the blend will inevitably differ, but this blending exercise showed me, in a way no tasting had, how the component parts pull together to achieve the right style. It gave me an appreciation of what to look for in a typical Bikavér: fresh acidity, ripe fruits (including cherries, raspberries, blackberries and spice) and well-integrated silky tannins. Importantly, the different varieties should combine to create rich and complex layers in the final wine, with no-one variety dominating.