Exploring Negroamaro Rosati in Salento
Last year, I went on two short trips to Salento in the Puglian region of Italy, organised by Terre del Negroamaro, an organisation launched in 2008 to increase awareness of wines made from this classic Italian grape.

During my first visit in August 2018, I spent two days tasting and talking about the rosés, including a vertical tasting going back to 1976 and, I admit, my brief knowledge of Puglian rosé had resulted in only a small reference in my book on rosé wine, for which I was teased by Davide Gangi of Vinoways, who compered the event.
These rosé tastings revealed not only a wide range of styles, but also the enormous potential of the Negroamaro variety for making high quality rosé. Despite the improved technology in making rosé wines, the Salento region is more famous for its red wines, which dominate production. For my second trip in October 2019, I was part of the Press Tour 'Negroamaro Stories' organized by the Municipality of Guagnano and in particular by the councillor Antonio Rizzo.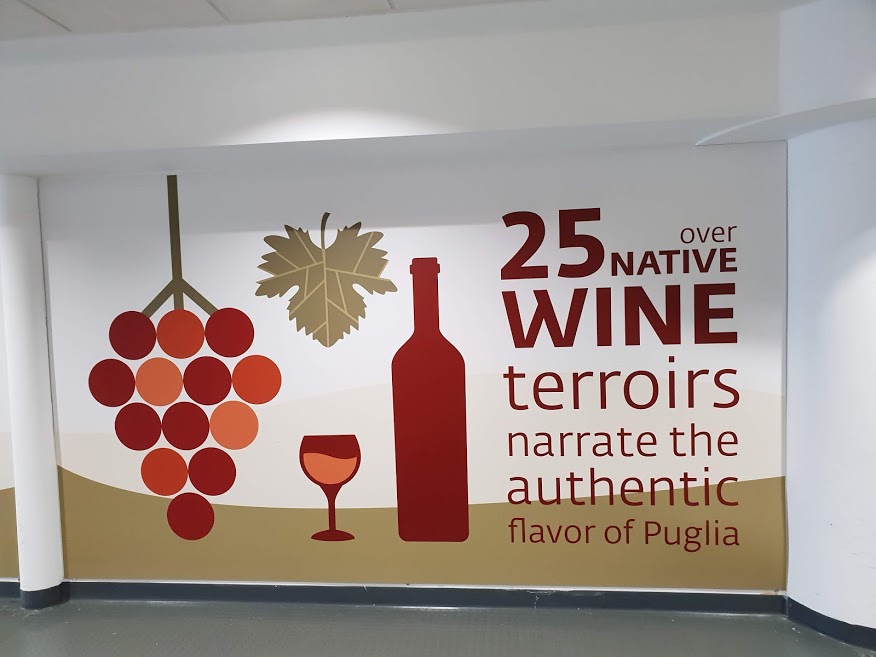 Welcome to Puglia at Bari airport
The Grape and the Rules
Negroamaro is a grape of ancient origin, possibly from when early Greek settlers colonised southern Italy. Its name is possibly a merger of Greek and Latin Negro Mavro, meaning 'black black', or the Latin Negro Amaro 'bitter black'. (Ian d'Agata prefers writing the name as two words). Making up around a fifth of the regions production, it is found in numerous DOC and IGT wines throughout Puglia. Many producers prefer to use the appellation IGT Salento rather than a DOC, as it is easier to sell and explain, with fewer rules and regulations
Negroamaro grapes The appellation Salice Salentino was created in 1976 and has to contain 75-100% Negroamaro with up to 25% Malvasia Nera (in the vineyards around Lecce it is also called Malvasia Nera di Lecce.) This is an historic tradition, from when farmers planted three lines of Negroamaro and one of Malvasia to co-harvest and co-ferment, using the sweetness of the Malvasia to soften the hardness of the Negroamaro. 100% Negroamaro has more austere and structure; some have a softer aromatic character due to some Malvasia in the blend. Indeed, a touch of sugar, upto 10g/l, is allowed in the rosé to balance the acidity and structure. Anticaia from the cooperative San Donaci, with 15% Malvasia, stood out as being much more opulently fruity, with strawberries, red berries and long acidity and less of the more austere structure of 100% Negroamaro rosés.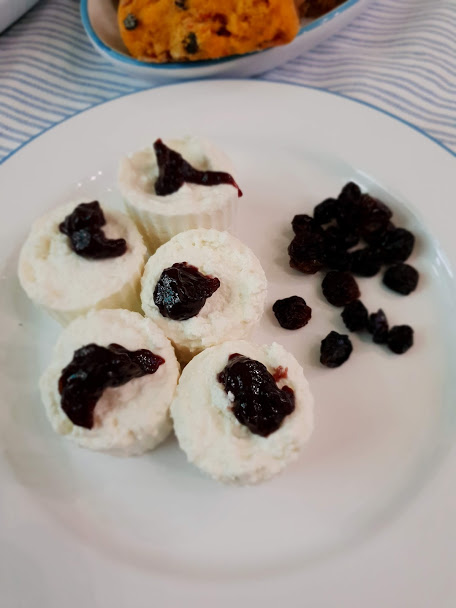 Fresh ricotta with dried Malvasia grapes for breakfast at l'Oriecchieta Negroamaro bunches are made up of small thick-skinned grapes and retain their high acidity late into the autumn. Long maceration is needed to extract the tannins. Traditionally the grapes were allowed to raisin on the vine to concentrate the sugars and break down the skins, a tradition still used by some winemakers. Cosimo Taurino's example Patriglione 2013 was made with 50% of grapes dried on the vine harvested at the end of October. The fruit retained lovely acidity, with the floral element, found on quite a few rosés, quite pronounced, and a fine mineral structure giving elegance to an otherwise big powerful wine with 14.5% abv. This wine is only made in good years, and the 2019 was looking promising.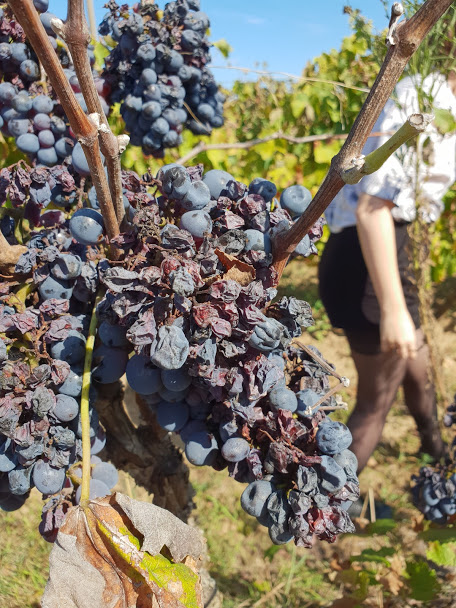 Dried Negroamaro grapes on the vine
The Terroir and History
Terroir is often not mentioned when discussing rosé, but is evidently as important as on red and white wines. The Salento region of the heel of Puglia is unlike many other wine regions: FLAT. Completely flat. With sometimes a slight elevation of a few metres - but otherwise flat. This means that the vineyards are never planted on slopes nor can they use north--facing exposure for cooler temperatures during the hot summers.
Flat landscape - taken from the car - in reality no slope! It is a very narrow peninsula, with the centre no more than 35km to the sea in two directions. Nearer the coast there is more maritime influence - but proximity to the sea means that everywhere has some of this. The eastern coast receives the cooler northerly Bora wind from across the Adriatic. This can lower temperatures and moderate summer heat. The southerly Scirocco wind from North Africa can raise temperatures and occasionally drop red dust from the Sahara. Both can bring humidity. With so much wind, windmills were a major source of power, while today there are an increasing number of solar panel farms.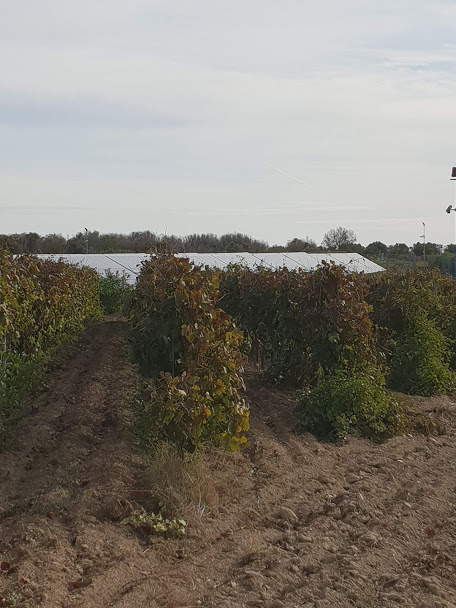 Solar panels behind a vineyard Evidence of diurnal temperature variation can be seen in the almost-nocturnal life during the summer months, when the sleepy towns come alive after 10 in the evening, when the air is a little cooler. Families emerge in town squares, roof-top terraces and in the Roman style courtyards behind the house facades. On my August trip the main tasting took place in Guagnano's town square, with the Baroque church lit up behind us and the streets filled with wine stands. In October we enjoyed a splendid evening tasting, organised by Stefano Spagnolo of the Salento Wine Shop the main sponsor of the press tour, and presented by Fabrizio Miccoli, the President of the Association of Italian Sommeliers (AIS) on the roof-top terrace of the Patria Palace Hotel in Lecce.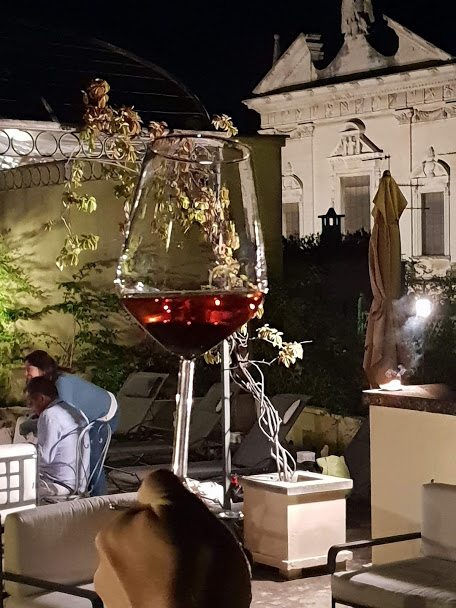 View from the roof top tasting
Between the low-lying villages extensive farms with olive groves, wheat fields and vines produce the three staples of the economy for oil, bread and pasta and wine. In the past the flat lands were more marshy and required drainage, but on the whole the water table is deep, down to around 40m, making wells for irrigation difficult. Old farmhouses known as masseria, can be found where the water table is higher and wells can be dug. Agriculture relied on collecting rainwater (rains generally end around the end of May) and moisture from the maritime winds. Underground rivers flow under the deep calcareous clay and the quality of water is important. We visited the Masseria San Gaetano, which had, at its centre, a 14th century defence tower, converted into a monastery in the 15th century, then closed and transformed into a farmhouse during Napoleonic times.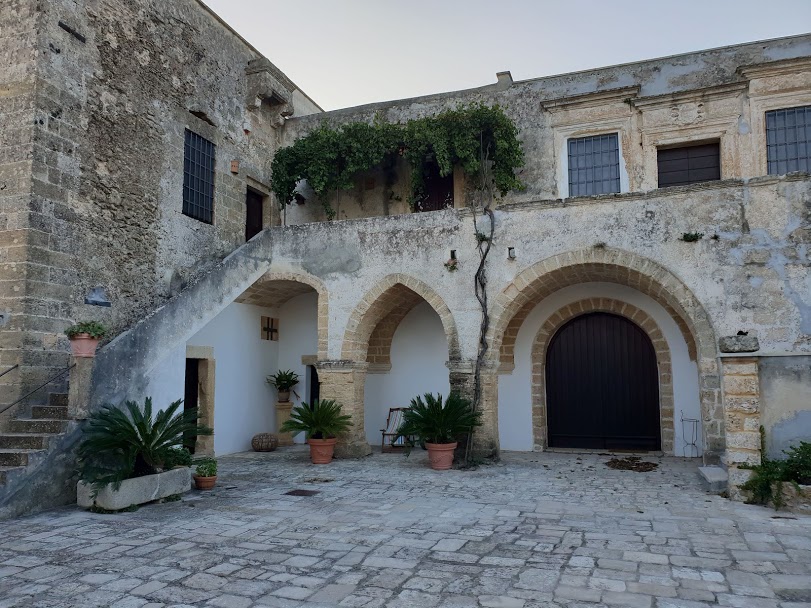 Masseria San Gaetano. Fortified tower to the left The farm grew tobacco, but is now surrounded by vineyards and olive groves. An ice house, proof of the potential for cold winters, was tucked under the outbuildings. The old walled garden was filled with pomegranates, persimmons, figs, grapes, almonds, walnuts, oranges, lemons, olives, mulberries, capers, rosemary.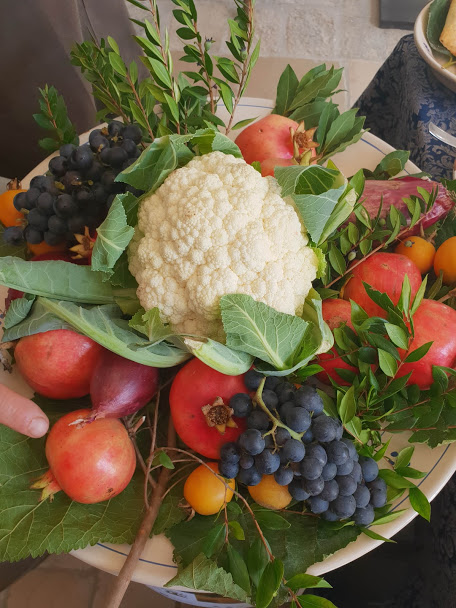 An old local variety, with long, oval, white grapes (whose name in local dialect means 'udder') was trained up the wall, which even in October were still very acidic.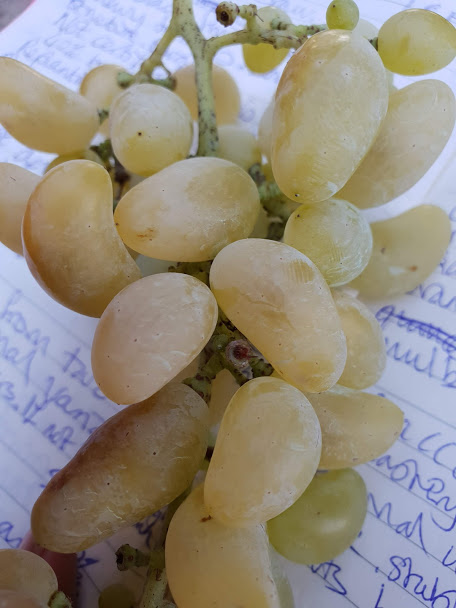 A local white variety As our guide, Alessandro Perrone commented, the region was the 'Florida' of the Roman Empire. With abundant grain, olive oil and vineyards, vast estates brought in wealth. Village churches are imposing in their grandeur, surrounded by simpler village houses, while the city of Lecce, with its Roman theatres, grand baroque houses and magnificent churches covered in ornate carvings in the local limestone, is an architectural gem.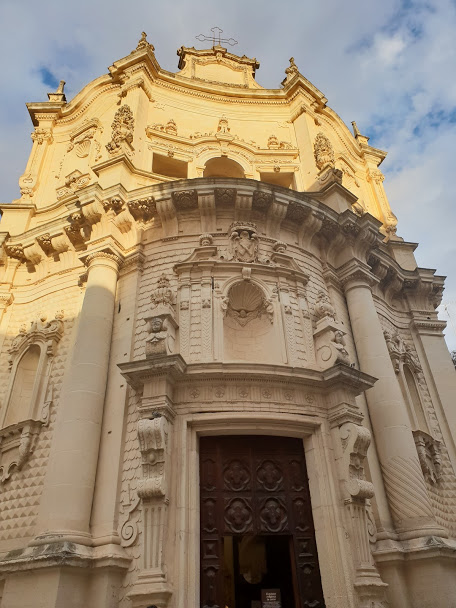 Chiesa di San Matteo, Lecce Local geology is based on calcareous clay (limestone with clay). Vineyards with slightly more limestone produce wines with fresher acidity; those with more clay give more full-bodied robust wines such as Cantele's Rohesia. The clay helps retain water; sites with too much clay are not included in the DOC of Salice Salentino. Iron in the clay soil gives a reddish tinge.In some areas, such as Copertino DOC to the south west, the clay has a higher percentage of iron, giving the wines a more pronounced mineral character. Marulli's  Tenuta Paraida rosato is an excellent example of the pronounced mineral character.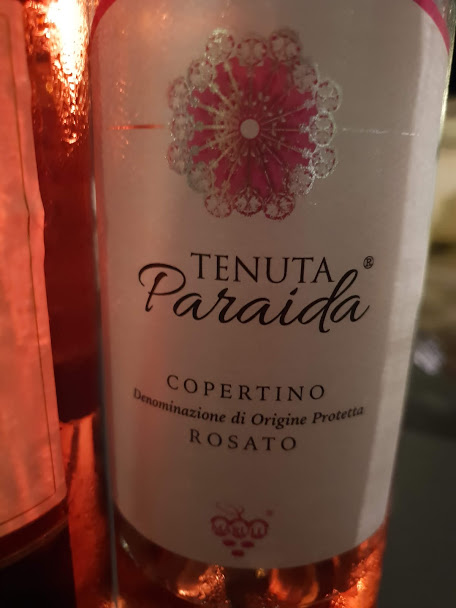 Tenuta Paraida rosé from Marulli in Copertino Vine training is important in this hot, dry region. Traditionally training in the alberelli (little tree) method, a slightly higher form of gobelet, creates a canopy which not only shelters the grapes from potential sunburn, but also creates a microclimate underneath and protects the soil from evaporation. For the same reason, to protect the grapes from sunburn, there is no leaf pruning until just before harvest when the sun is less intense and air circulation is needed to prevent rot from any humidity.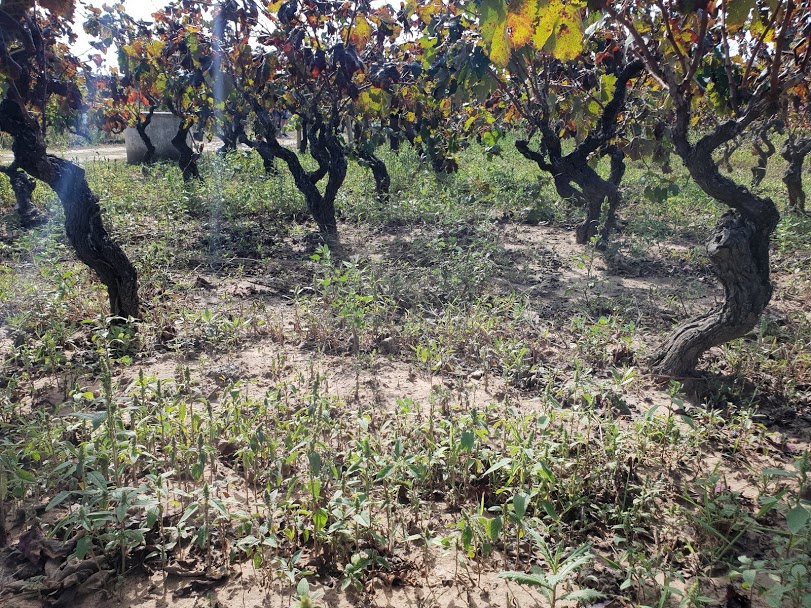 Alberelli vines Shielding the grapes from the harmful summer sun has the side-effect that some grapes do not mature but remain green. One theory is that these less ripe grapes were historically used to make fresh, pale red wines for local consumption during the hot summer. The ripe grapes with high sugar content produced powerful reds which were sent north to boost weaker northern wines.
Rosé Styles and Gastronomy
While in Provence grapes for rosé are usually harvested late August/ early September, Negroamaro, in this much hotter region, is harvested for rosé during the first two weeks of September and grapes for red wines the last week of September and the first week of October. Grapes can be harvested at different times to balance the fruit and acidity, with a percentage harvested earlier for fresh acidity. An advantage of extra maturity is that this allows extended maceration without extracting green unripe tannins.  Guyot is increasingly used for rosés and lighter reds, where higher yields and mechanisation are wanted. This has led producers to adjust rows of vines to benefit from sun and shadow or direction of the wind.  The use of grapes from young or old vines is a commercial battle everywhere. Old vines have lower yields and more concentrated fruit so are often/usually reserved for red wines which can command a higher price. Cosimo Taurino uses 40 to 50 year old vines for his Scaloti rosé, which is only made in good vintages.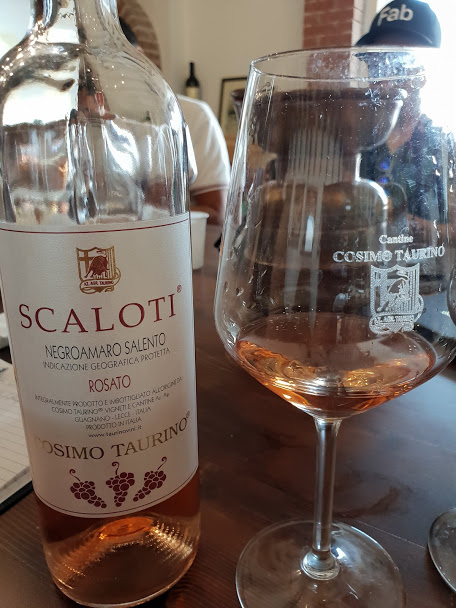 Cosimo Taurino's Scaloti Young vines with less concentration, easy fruitiness and with higher yields are used for rosé until they attain the desired quality for red wine. Leone de Castris commented that the average age for their vineyards is 30 years with rosé production from the young vines. As mentioned earlier, Negroamaro retains its acidity until late in the season which allows for grapes for rosé to be harvested at full ripeness and plenty of fruit. Rosés made in the traditional style, bled (salasso/saignée) off red wines are harvested later. Cantele Rohesia 2018 100% Negroamaro, bled off the red wine (old vines on more clay soil) after 20 hours. A darker copper pink with juicy raspberry and cherry fruit, giving a full, round bodied wine, with vibrant long acidity and a slightly saline finish. Enough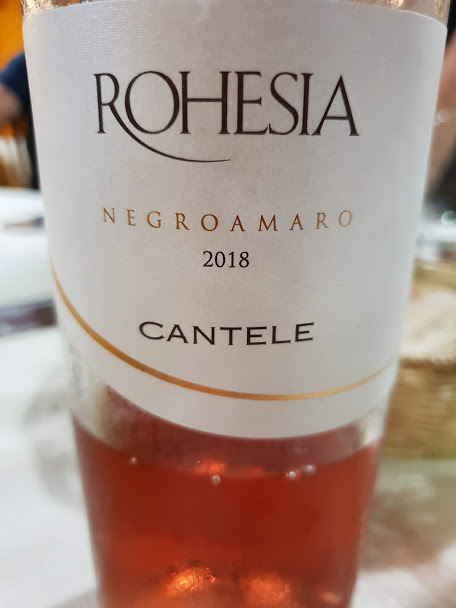 Cantele's Rohesia Some of the rosés were made from earlier harvested grapes but also with long skin contact with a similar length of time to Tavel and clairet wines. Two lovely examples are Francesco Taurino Rosato Espra 2018 100% Negroamaro 24 hour skin contact. Darker brick pink. Perfumed aromas. Lovely weight, with spice and raspberry fruit, balanced by hints of tannin on the finish and long fresh acidity, and Feudo di Guagnano Rosarò 2018 IGP 100% Negroamaro 24 hours skin contact. Copper pink Floral aromas. Floral strawberry ice cream fruit anchored by long, fresh, mineral, saline acidity. A beautiful juxtaposition of floral perfume, ripe fruit and salinity.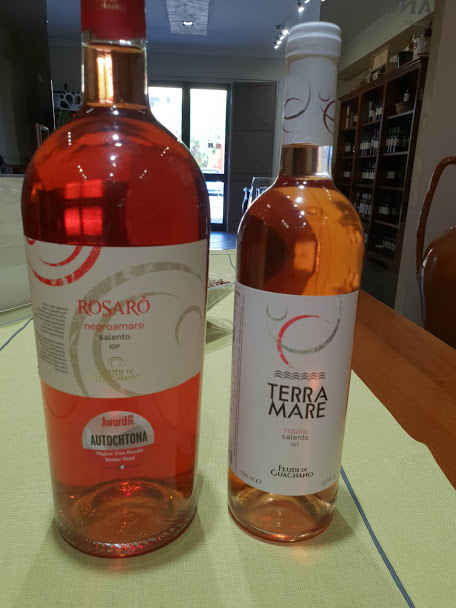 The two rosés of Feudo di Guagnano showing the darker colour of the premium wine. Since the 1990s, an increasing number (now almost all) rosé are made by gentle pressing and shorter skin maceration, often 5 to 6 hours. Lucio Leuci's 'Cisaria' 2018 has ripe cherry, cranberry and orange fruit with hints of honey, a mineral core and long fresh acidity.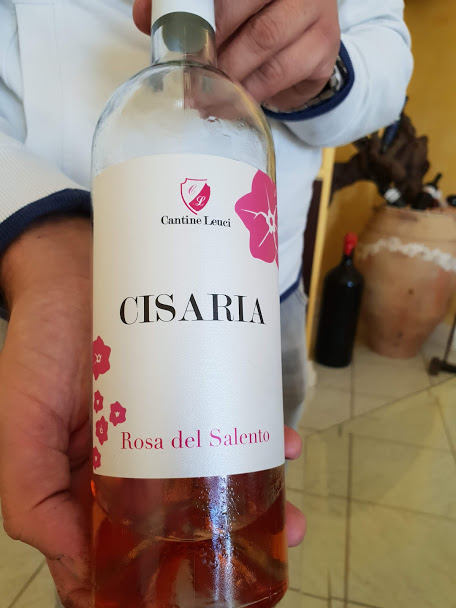 Lucio Leuci's 'Cisaria' kosher rosé The US market in particular asks for blush-coloured wines. Umberto Cantele commented that the darker rosé were harder to sell, with the market still preferring pale pink rosé. The difficult conditions of the 2018 vintage meant their rosé was much paler. The result was that the sales for their paler pink soared. Cantele Rosé 2018 Creamy, peach fruit with red berries - like a peach Melba. Mineral core typical of this variety and region. Quite delicate.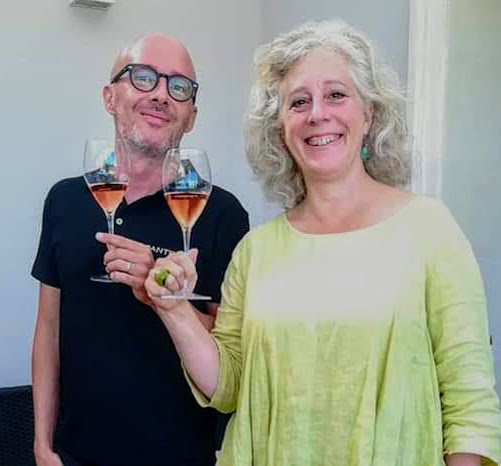 Tasting sparkling rose with Umberto Cantele Oak is rarely used. Massimilliano Apollonio of Apollonio makes an attractive example, Diciotto Fanali, aged in acacia barrels, the acacia giving sweet spice to the orange and strawberry fruit.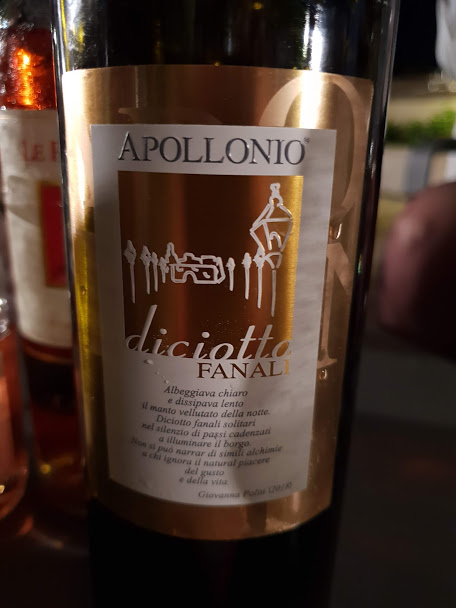 Apollonio's Diciotto Fanali The structure of these rosés create rosés with great ageing potential. At the vertical tasting in August 2018 I tasted Cosimo Taurino's Scaloti 2011 which had aromas of oranges and nuts followed by chocolate, coffee, spice, red fruit, raspberries and hints of raspberry jam. The oldest example came from the private cellars, a 1976 with a crown-capped bottle, made with no temperature control. Chocolate and coffee richness with amazing long acidity and saline minerality. Still very fresh, beautifully balanced and a wonderful gastronomic wine with that counterbalance of chocolate, coffee and salt.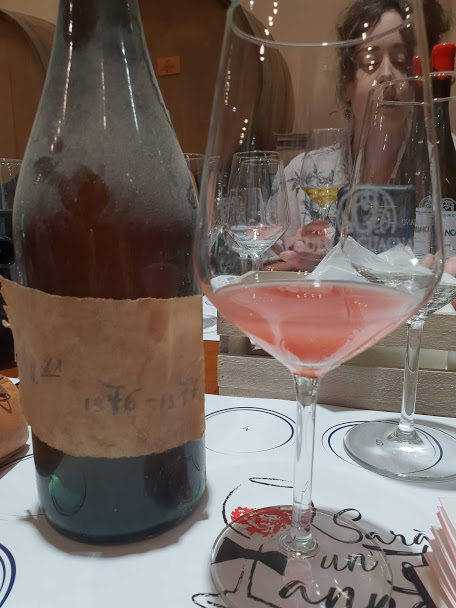 At Feudo di Guagnano, the bottle of the 1976 rose and a tank sample of the 2019 rosé The majority of these rosés are certainly very different from many lighter rosés. They have a coral, salmon, copper, tinge when young with various depth and intensity depending on the length of skin contact, going more pomegranate with age. They can have the weight and structure to be excellent gastronomic wines. An initial taste of these wines can be disconcerting to those used to simpler fruity rosés, but as we found with every meal, it was the rosé that excelled with the food, which was provided by Mino and Simona Rosato of l'Orecchietta in Guagnano.