Grenache Gris (grey, white, pink and orange)
At the recent Grenaches du Monde competition, sponsored this year by IGP Pays d'Oc in Montpellier, in September 2020, we tasted red, pink and white wines made from black, grey and white Grenache. We tasted still, sparkling and fortified and revelled in the range of styles and quality. Sadly, due to COVID, apart from one or two lone bottles, all the wines came from Spain, France and Italy. I have also included some wines tasted on an MW trip to Roussillon in May 2019 and others tasted at home during lockdown in April 2020.
During the past couple of years, I have started to note a pattern emerging in my tasting notes which shows just how much I love Grenache Gris white wines. I love their richness, texture and structure. But I also noted just how few of these wines, in their purist form are available.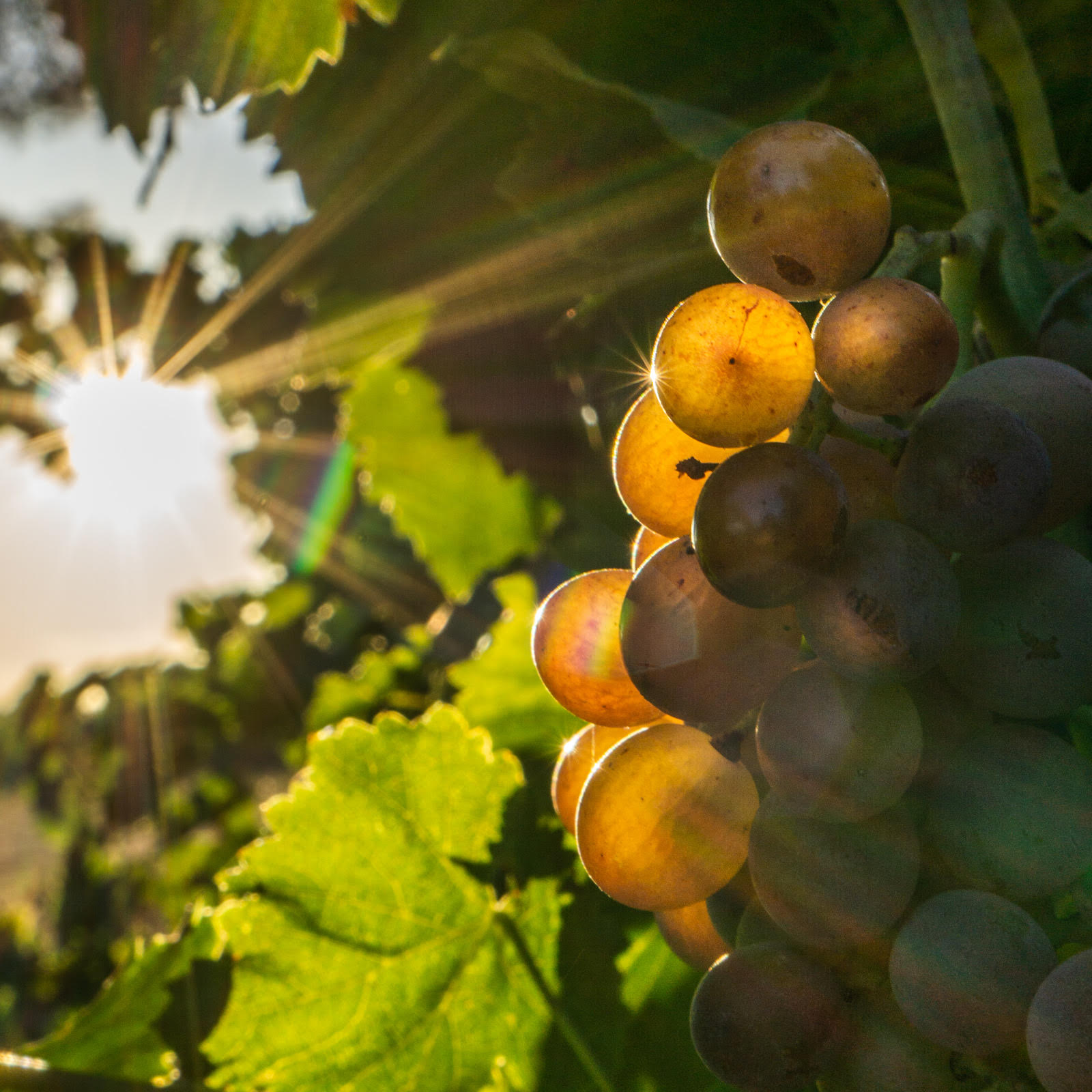 Grenache Gris is an ancient variety, closely related to Grenache Noir, Grenache Blanc and the even rarer Hairy Grenache (Lledoner Pelut). There may be other clonal variations. Randall Grahm remembers how "Years ago I came across a grower in Perpignan who purported to grow something called Grenache Rouge, which he alleged was the most aromatic Grenache of them all. He gave me some cuttings, which found their way back to California. I grew them in a nursery for a few years and they looked just like Grenache Gris. I presume it's a biotype (clone) of Grenache Gris but would appear to be a valuable one." As Grenache Gris is called Garnacha roja in Spain, this may have been a Spanish clone. Most of the current vines in Spain and Roussillon are old and have low yields. Many of the vineyards were abandoned because of their inaccessible location.
As its name suggests its skin is tinged pink. Some suggest it has a thinner skin, making it prone to rot. However, talking to Grahm, one of the original Californian Rhone Rangers, founder of Bonny Doon Vineyard and now the Popelouchum project with over a thousand varieties (including 2.5 acres of Grenache Gris) suggests that Grenache Gris in some situations can have a thicker, more astringent skins, possibly due to the intense Californian sunlight. He has considered spraying kaolinite on the vines to protect them, but is concerned this will cause a diminution in colour and strip out some nutrients. "so could be a bit dicey."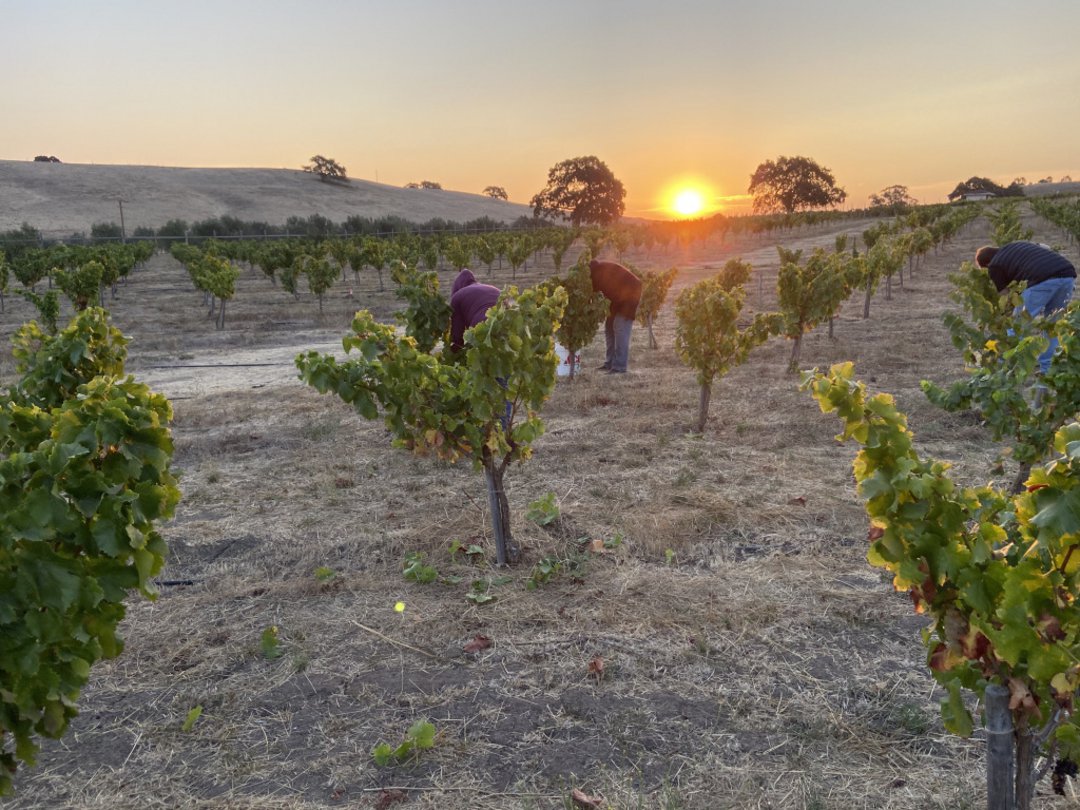 Marcel Bühler of the small Roussillon estate Domaine des Enfants also noted that Grenache Gris can have slightly more tannins (why? thicker skins?) than many white varieties making it more suitable for more structured white wines suitable for ageing.
Grenache Gris, like other members of the Grenache family, has high sugar content, making it prone to higher alcohol levels and is highly resistant to drought. Bühler adds his Grenache Gris into his white field blend along with Grenache Blanc, Carignan Blanc and Macabeu. He explained how only small quantities of these varieties were planted because their role was to be blended into the red wines (no more than 20%) to give freshness and alcohol. The freshness possibly comes more from the Carignan Blanc but Grahm suggests that Grenache Gris also has good acid levels. He describes the character of Grenache Gris as having an "anomalous (high) acidity levels" and many of the characteristics in the Central Coast that are found in France such as the "earthy/mineral aspect, a gravitas, if you will, that you get in Grenache Gris that is lacking in Grenache Blanc. At Popelouchum, (with a climate similar to Roussillon) we get a lot of texture and persistence on the palate, maybe not as much of the oiliness as is found in French example, but maybe that's the lower pH. For reasons that I don't quite understand, Grenache Gris (and Blanc) seem to enjoy preternaturally high acids and low pHs grown in the cooler parts of Monterey and San Benito Counties.  At Popelouchum, it is not unknown to see a pH of 3.2 at 14.5% potential alcohol."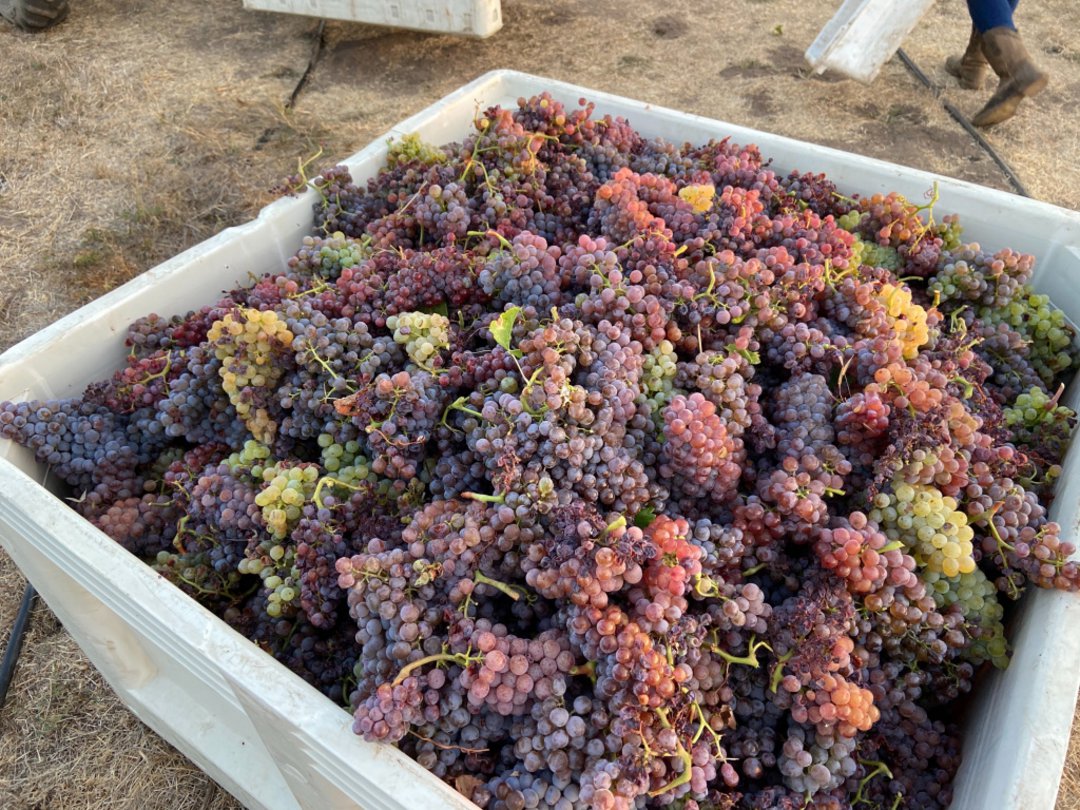 Traditional Oxidative Styles
As well as being blended into the red wines, Grenache Gris was also blended with other white varieties to make wines in an oxidative style.
A traditional example is Dom Brial's Grande Rancio Sec 2000 IGP Côtes Catalans made with 1/3 Grenache Gris, 1/3 Maccabeu, 1/3 Grenache Blanc fermented in cement tank and then six years ageing in barrel. At twenty years of age this wine was full of honey, butterscotch and floral notes with hints of saline savoury nuances. The wine is bone dry with fresh acidity. Salty, citrus, mineral and complex oxidised back layers. Absolutely delicious. (tasted May 2019)
Cave Arnaud de Villeneuve, Rivesaltes Ambré 1988. Grenache Gris, Grenache Blanc, Maccabeu and Muscat aged in barrel. Orange (amber colour). Creamy fruit with hints of burnt orange and fresh orange acidity. A perfect match with orange ice cream and rich enough to handle the chocolate mousse. (tasted May 2019)
Orange Wine
Grenache Gris can also be used as an orange wine where the white wine is fermented on the skins. The natural pigmentation has resulted in a pinky glow.
Amistat Tatsima Gris Orange Sec, Aspres, Vin de France. 90% Grenache Gris 10% Grenache Blanc. A pale pink colour, so appears to be a rosé. On the palate, intense dried peach, apricot and butter with strong phenolic tannic finish and balanced acidity. (tasted May 2019)
Jean-Mark and Justin's Taronja de Gris 2019, IGP Côtes Catalanes Grenache Gris with some Muscat and Viognier fermented on the skins in barrels. 5000 bottles. Tasted in my new orange wine glass from Rona 5 Star glass. In a number of tastings, this glass proved to bring out the a greater intensity of flavours. Deep golden orange pink colour - in the glass this looks like a rosé! The Muscat and Viognier give attractive floral aromas mixed with notes of dried apricots. On the palate there is fresh acidity in balance with the weight and structure. A dry tannic finish gives length and structure rather than dominating the fruit of bitter orange, dried apricots, bitter chocolate and savoury notes. The floral, perfumed notes return on the finish. (Tasted November 2020)
Katie Jones of Domaine Jones is keen to try an orange wine from Grenache Gris as her next challenge. Grahm has not been thoroughly comfortable with skin contact whites (and greys) due to the astringency in the skins in California. 
White Wine
In the Roussillon, until 2015, only 3% of the white wine was dry table wine, by 2019 it had risen to 15% of production. Although Grenache Gris made as white or gris dry wine and rosé is a relatively new innovation, most Grenache Gris wines tasted were white; when served next to a blanc de blanc or white wine made from white grapes, the wines have a creamier, shell like pinkness about them.
Modern dry white wines can be made either with 100% Grenache Gris or blended with all or some other white varieties such as Grenache Blanc, Macaebu and Carignan Blanc. Here I have focused on wines with largely, or only, Grenache Gris. All the wines I tasted had been in oak of various sizes and ages. It is a variety which appears to age well and develop complex richness.
Domaine Jones barrique blanc sec 2011 vin de France Initial fermentation in tank, finished in barrique and ageing. The wine ended up being too oaky to go into the blend and was left in the barrel and forgotten. When after two years, in 2013, Katie Jones tasted the wine she was pleasantly surprised. With 8 years of age, 4 in barrel, the wine was pale gold. Aromas of mature fruit and buttery. On the palate fresh peach fruit, long acidity and fresh balancing citrus notes, hints of fine oak tannins and restrained oak flavour. Gorgeous. This is a very traditional style and Katie was so pleased with it that she now does this wine every year. (tasted May 2019)
The Guardian 2017, Domaine de la Pertuisane, IGP Côtes Catalanes, old vine Grenache Gris, 6 months in barrel of which 10% were new. No malolactic fermentation. Beautifully integrated oak. dry, fresh saline acidity, quite rich structure although the fruit has a restrained citrus, herbal and white fruit character. (tasted May 2019)
Le Cirque 2019, Terres Plurielles, IGP Côtes Catalanes, old vine Grenache Gris on limestone and clay. Gentle pressing of grapes and selection of free run juice, cold temperature fermentation, wine left on lies in vat. The limestone soil seems to give a brighter freshness with juicy white peach and lime acidity. (tasted September 2020)
L'Amourette 2018, Thunevin-Calvet, IGP Côtes Catalanes.  Sixty year old Grenache Gris on schist, clay and granite, fermented in oak, 40% new oak. 50% malolactic fermentation. Aged for 8 months in barrel. This wine showed more perfumed quince and ripe pear fruit with fresh citrus acidity and spice from the oak ageing. (tasted May 2019)
Grenache Gris features in many white wines in the Collioure appellation on the Spanish border. The vineyards are located on steep schist slopes overlooking the sea and are cooled by humid maritime breezes.
Folio 2018, Coume del Mas AOP Collioure, 90% Grenache Gris, 10% Grenache Blanc on schist. Fermented in barrique. Lots of silky, creamy lemon fruit, with ripe apricots, yellow peach and spice. Oak beautifully integrated. (tasted May 2019)
Cap Béar  Blanc 2018, Les Clos de Paulilles, Cazes, AOP Collioure. 100% old vine Grenache Gris, on coastal vineyards. Fermentation in large cement eggs – porosity gives oxygenation. Aged in eggs and demi muids. 14% abv. Lovely saline acidity, peach fruit, fresh, crisp mineral citrus notes, chalky texture and long fresh acidity. (tasted May 2019)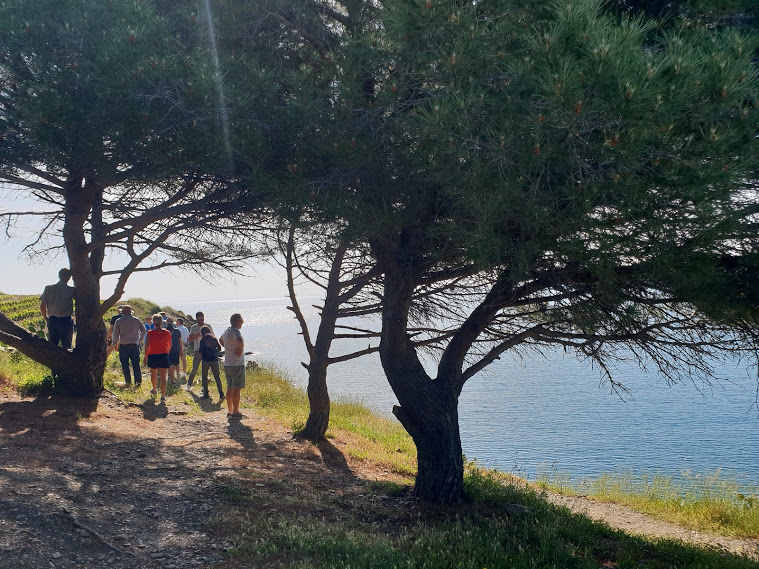 Grenache Gris has lost out in the popularity stakes next to more international varieties. Upto date information on plantings seem scarce. There are more plantings of Grenache Blanc (Wikipedia 5,896 ha in France alone in 2018 and 2,256ha in Spain in 2009) than Grenache Gris (according to Wikipedia there were only 2,634ha globally planted).  There is a limited amount of Grenache Gris found in Mediterranean climate regions such as South Africa (Fram's Grenache Gris Malmesbury, Western Cape and Willie Mostert's Grenache Gris, Voor-Paardeberg, Western Cape – 7 days on skins, natural yeast, 10 months in old oak and California. Grahm notes that "there was (likely still is) a Grenache Gris Vineyard in the Ukiah area that is likely more than 100 years old. Took the folks at McDowell Valley Vineyards a while to figure out what the hell they had but eventually they did." He is "not convinced that UC Davis necessarily brought in the most interesting clone(s) of Grenache Gris but cluster size is not totally insane."
Rosé
Some wines are more distinctly rosé. Technically, wines with this hint of colour are called gris de gris. This can cause some confusion, as it also does with Pinot Gris – another gris variety which can make both white and pink tinted wines: when does a white wine become a rosé? Confusion can sometimes be caused by pale rosés being called 'gris' wine, even if not made with a gris variety.
I called Bruno Mailliard the winemaker for Domaine Royal de Jarras in the Camargue and Chateau la Gordonne in Provence to discover the finer details of when does Grenache Gris become a white or a rosé? "Grenache Gris is the 'jewel in the crown variety for Jarras, in the Camargue, some on its own rootstock and next year (2021) the area will (hopefully) receive its own appellation. The region is quite unique as Grenache Gris is not a permitted variety in the appellations of Provence and is not found in much of Languedoc."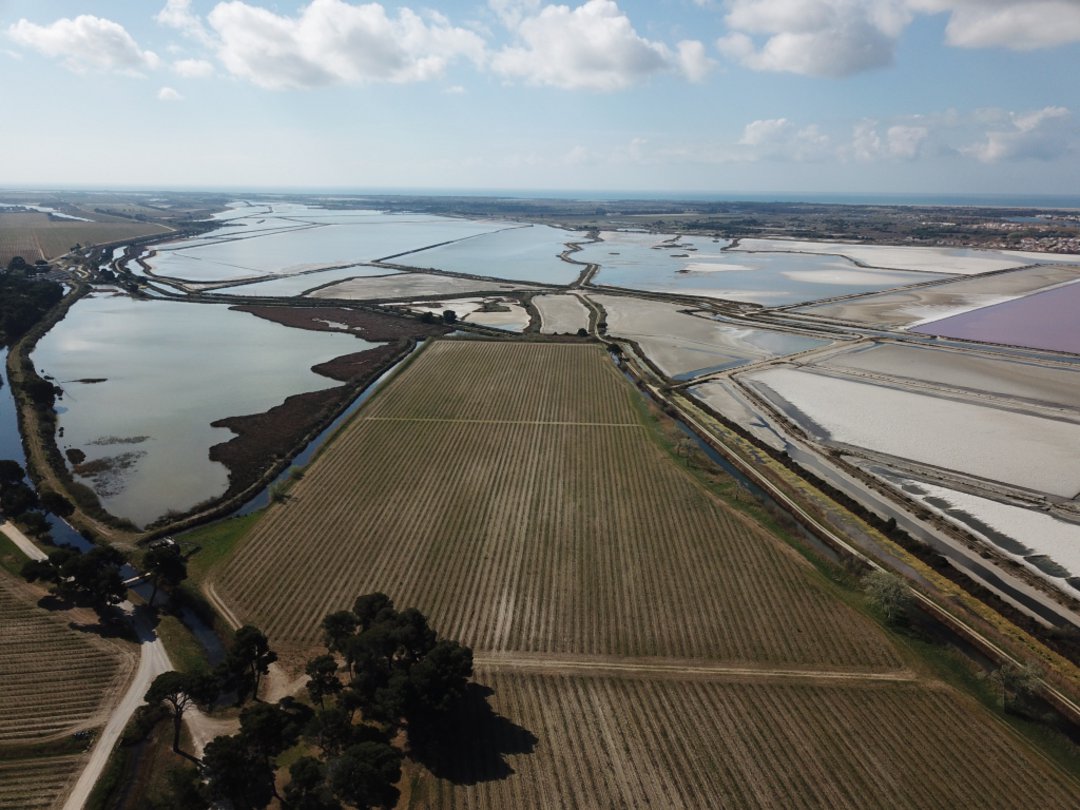 (The Grenache Gris of Jarras are not included here – but will write up a visit planned 2021.)
Maillard explained that there is no legal definition between a white and rosé Grenache Gris. Labelling can be confusing - with some pink Grenache Gris labelled as 'Gris' and some as 'Rosé' or 'Rosado'.
A white wine made with gris grapes will have a greater amount of anthocyanins (the naturally occurring red pigmentation in grapes) than that found in a white wine. It is possible to test whether very pale rosés have had greater skin contact by the amount of anthocyanins. These anthocyanins are more stable at low pH (acidic conditions) which gives a red pigment. Meanwhile, the higher the pH, the greater chance the pink colour will have blue tints.
Mailliard suggests that if a producer wants to make a Grenache Gris rosé with more colour there are several actions which can be taken.
Harvesting a little later to allow greater pigmentation to develop in the skins – although this will never be very pink, and there is a risk of lowering the acidity.
Longer skin contact and more pressed juice. Free run juice will yield more white-cream wines. Grahm suggests it would need quite a bit of skin contact to actually make a pink wine from Grenache Gris, and/or the use of enzymes to extract the color. I would venture at least 12-24 hours, but with enzymes maybe less.
Reducing lees contact. Time on the lees will remove the colour.
Adding a small percentage of a black variety before fermentation.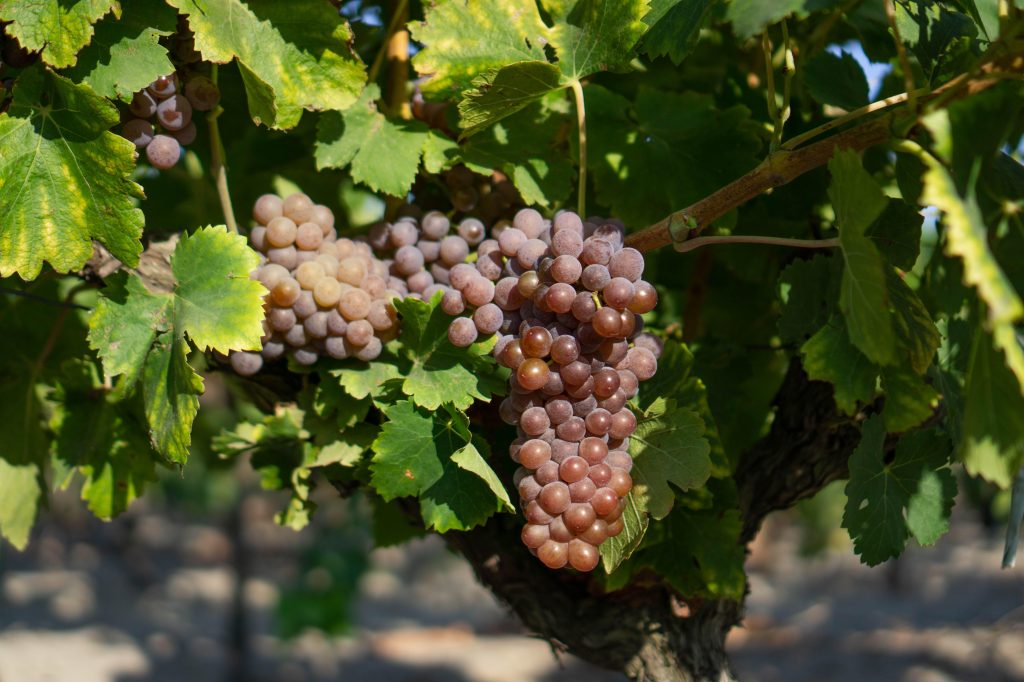 Can the beauty of Grenache Gris white wines, with its great texture and complex, nuanced flavours, also be found in the rosé wines?
Bodegas Salvueros Garnacha Gris rosado 2019 DO Cigales. Cigales, located on the high plateau north of the city of Valladolid, just to the west of Ribera del Duero, in northern Spain, has a long historic tradition for producing Claretes, wines made with a blend of red and white grapes to make light reds/dark rosés. Grenache Gris is permitted, but is an atypical variety in the appellation, although these vines are around 75 years, from the Pago de los Mimbreros, in Mucientes. The high-altitude vineyards contribute to the lovely fresh crisp acidity and long mineral length. Less white peach fruit than some and with a nice intensity of wild berry fruit. (tasted September 2020)
In contrast, the Grenache Gris Belvi 2019 IGP Bajo Aragón, cooperative Bodega San Pedro, lying in a much hotter region, inland from the coast south west of Barcelona 130km from the sea, fermented with local yeast  has an almost peachy colour with creamy apricot fruit and hints of orange with a fine phenolic texture. The cooperative was founded in 1959 and the Garnacha Gris, from an abandoned plot in Matarraña, was planted in 1965. (tasted September 2020)
Ferrer Ribiere rosé 2018 Aspres, AOP Cotes du Roussillon. 85% Grenache Gris and 15% Syrah. Producer would have liked more Syrah – but that would have made the rosé darker and the market wants a pale style. Direct press. Fresh peachy fruit, creamy, good nutty creaminess. Dry. (tasted May 2019)
Arnaud de Villeneuve Le Gris de Grenache 2019 IGP Cotes Catalanes Grenache Gris. Pale gris colour. Creamy white fruit, honeyed ripeness with white nuts and very delicate hints of salty caramel - ripe white fruit and a saline edge. (tasted April 2020)
Vignerons Catalans Saveurs d'Autrefois 2019 rosé IGP Cotes Catalanes Delicate ephemeral whiffs of ripe peach and red berry fruit aromas. On palate creamy white peach fruit with the same delicate perfume and hints of white nuts on the finish making a very pretty rosé. (tasted April 2020)
I questioned why Grenache Gris rosés did not seem to be made with the same concentration and complexity as the white wines. Jones was unsure. "If making a rosé, I think it would be a shame to lose all the potential of the grape as a serious white wine.  The colour of the skins does lend it to making a rosé though, but it would probably be lacking fruit flavours." Mailliard however is convinced it is possible to produce complex and concentrated pink Grenache Gris if the terroir and winemaking is right.
To me Grenache Gris is an amazing, if a somewhat unrecognised, variety. It can produce grey, pink, orange and creamy-white wines in different styles from light and delicate to rich and fortified. Definitely a variety to explore further as well as further discussion amongst winemakers around the world on clones, climate and winemaking.