Island rosés
Desert island rosés"Best rosé for the beach" is a shockingly common Google search, and says a lot about what people look for in a pink wine. It brings a fair amount of traffic to this site, but more often than not, my recommendation goes to wines produced hours away from the beaches and the sea itself. Today therefore we are not talking about "rosés for the beach", but rather "rosés from the beach": a small selection of rosés from Mediterranean islands, and why their island terroir makes them unique and different.
We'll go clockwise around the Western Mediterranean, starting with Mallorca, then Porquerolles, Corsica and Sicily - with honourable mentions for relatively small Elba and Malta. They're all of different sizes, terroirs, and the "island" moniker applies quite differently to each of them.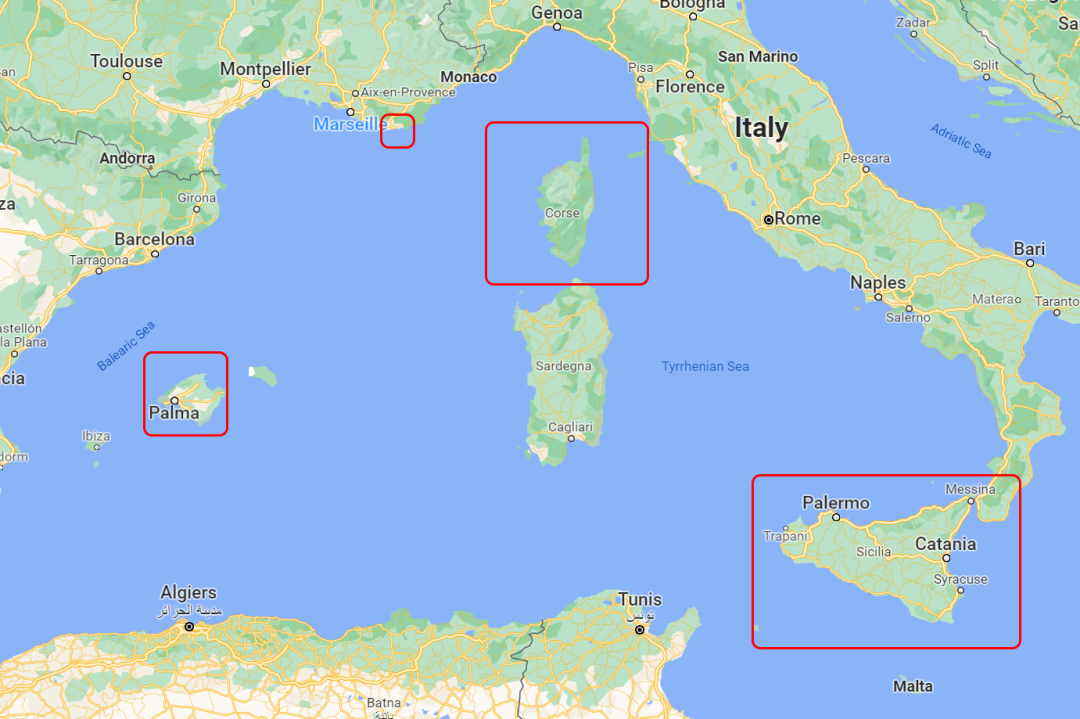 Some, such as Sicily and Corsica, are practically mini-continents, large enough to sustain millions of people and large-scale ecosystems. Others, such as Porquerolles, are their own tiny micro-ecosystem, with limited populations and a limited number (and scale) of micro-climates. Although we're including Sicily and Corsica here, their island status influences the macro-climate of the island far more than the microclimates, and other factors dominate the style of the wine, and we'll only briefly talk about them. Medium-sized islands like Mallorca fall somewhere between the two - large enough to sustain multiple micro-climates, centers of population and wine styles, but firmly insular in their climate.For another large island, Sardinia, check out my article on Grenaches of the Tyrrhenian Sea, and this article I wrote on the Canary Islands (Atlantic not Mediterranean of course), which are again completely unique. We were also tempted to include the Ile de Lérins, a small monastery-island with a rich viticultural history - but the monks cultivate an eclectic selection of international varieties that complicate viticultural conversations there - and no rosé.
Mallorca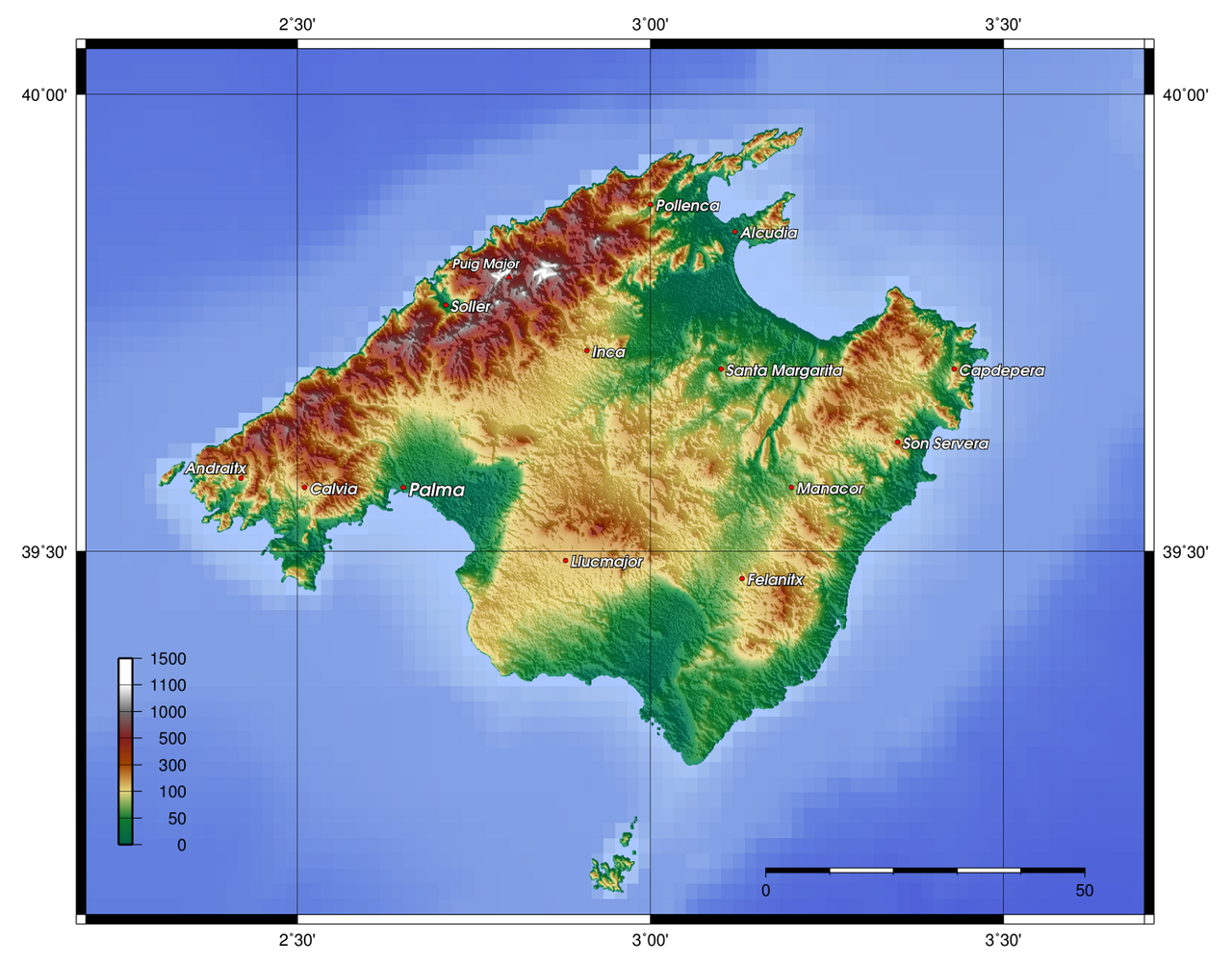 Famed for its viticulture since Roman times, Mallorcan wine rarely escapes the clutches of the island's tourists, and it is remarkably difficult to find the wine anywhere else. I'm not an expert, so I'll let others talk about the island's wines. Some key takeaways are that many of the vineyards are at relatively high altitude, at significant distance from the sea, and that similarly to Sicily, Corsica and even to an extent Porquerolles, a high chain of mountains protects them from cold northern winds, which also means that Mallorca is one of the drier islands. Vineyards are located around the island at higher altitudes, predominantly 70-150m, divided in two DOs: Binissalem in the iron-rich clay-and-limestone centre and Pla I Llevant in the South-East. The northern mountain range, the Serra de Tramuntana, also has a small IGP with vineyards at 400m altitude, and they even make some rosé! Mallorcan sommelier Julio Torres Antolin kindly sent me some examples from Ava Vi.
AVA Avanero Rosato di Mantonegro 2019
A blend of the autochthonous Manto Negro and Callet. Ampelographers believe that Manto Negro is indigenous to Mallorca with DNA profiling suggesting that the grape is a natural crossing of two virtually extinct Balearic grapes, Sabaté and Callet Cas Concos which would make the grape a half-sibling to Callet (itself a cross of Callet Cas Concos and Fogoneu). Additionally, Callet Cas Concos is believed to be a natural crossing of the Sardinian wine grape Girò and the Spanish wine grape Beba which would make Manto negro a grandchild to these varieties. Colour is medium-pale orange. Very expressive oak on the nose - vanilla, oaky, custardy fruit. Quite a lot of dark fruit, dark jammy blackcurrants. Inviting, delicate, not out of balance. Slightly sweet, almost vegetal smoke, more caramel and burnt custard, very evident new, sweet oak on the palate. Really great phenolics, medium acidity, touch of tannins on the tip of the tongue, sweet spice and cloves. Oak a little less well integrated than I might have ideally liked, but the body will without doubt keep up throughout the years, although the acidity might struggle.
AVA Anava 2019
Slightly musty, forest oakiness on the nose, much more subtle than the Avanero. Fresher berry, redcurrants not myrtilles. A touch of barnyardy forest floor. Hint of volatility, but otherwise ok on the nose. A touch of delicate oak. Acidity is really crisp on the palate, really well balanced with the oak. A touch of pippiness on the finish, slightly vegetal. Almost saline with a fair amount of oiliness on the body. Much better balance, more vibrant, more zazzy. Less memorable, even if the Avanero was memorable simply for being over the top. Balanced, pleasant, ready to drink, but won't age exceptionally well. Drink 2021-2024.
Ile de Porquerolles
Porquerolles is the island we'll talk about the most here - we know it best (especially after a recent visit to its Domaine de l'Ile) and its microclimate is so fundamentally linked to the sea that it's a fantastic example of island viticulture.The Mistral's reputation as a cool, dry wind hurtling down the Rhone doesn"t do it justice. Read this article on how it forms for some really essential knowledge on wind formation in the Rhone, Provence, and much of the North-Western Mediterranean. Suffice to say, for now, that the Mistral is forced down the Rhone by the high pressure (anticyclone) of the Bay of Biscay, which blows in a clockwise fashion. It's then accelerated by the Genoa Low (also known as the Depression of the Gulf of Genoa), which circles air anti-clockwise around the Ligurian sea and Piedmont.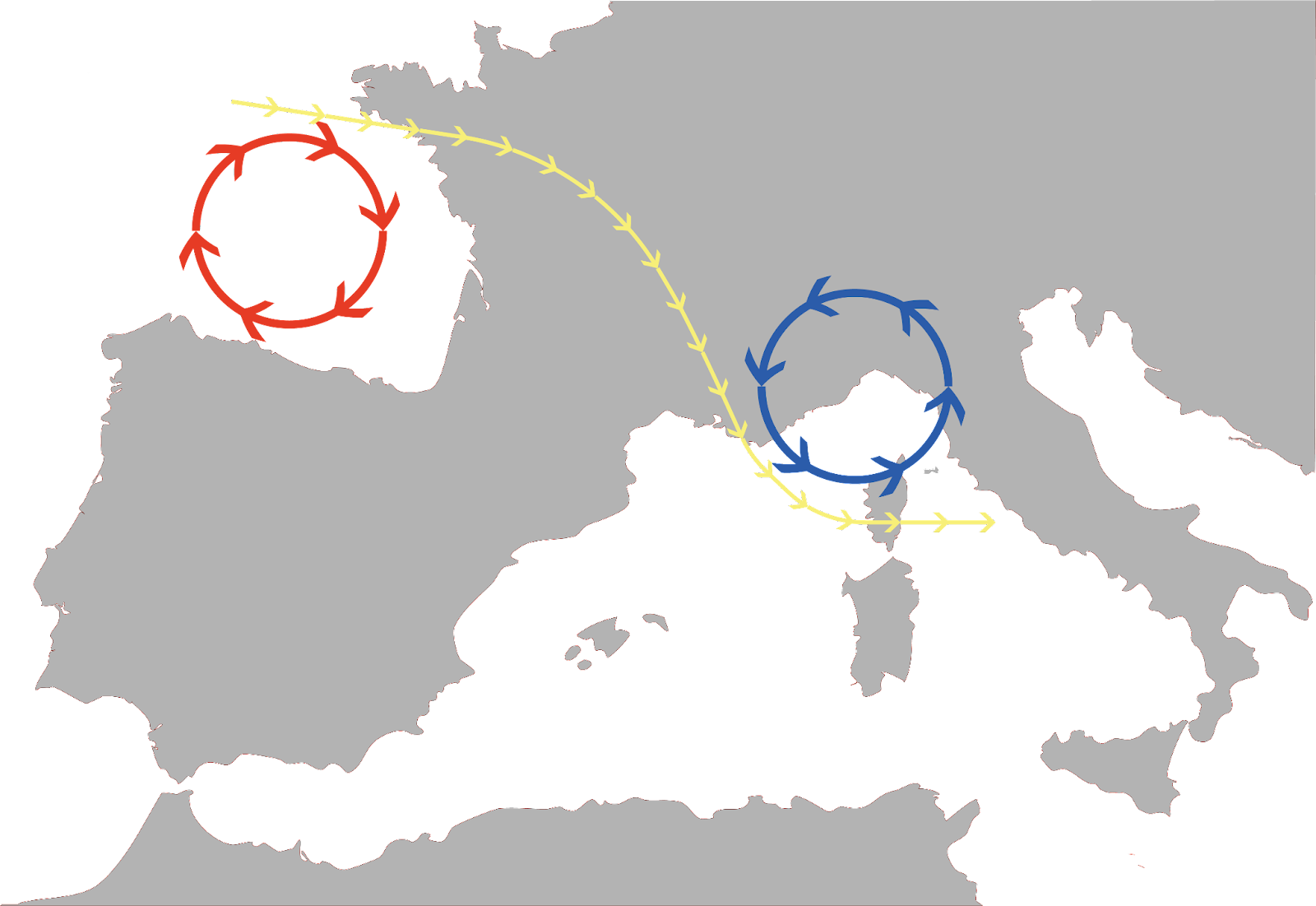 Although it starts off as an Atlantic wind, by the time it reaches the South of France and Porquerolles, it's a dry wind, having lost most of its moisture along the way. Porquerolles is sort of croissant-shaped, and on the map is a short distance east of where the yellow Mistral arrow meets the sea, near the edge of the Genoese depression. The north shore, facing the continent and wafted by northern winds, slopes very gradually up from sandy beaches into north-facing gently sloping plains. These slope continuously upward pretty much right up until the sea and the southern coast, where waves crash into 30m-tall cliffs, interspersed with small calanques (karstic Mediterranean, a bit like "fjords"). These tall cliffs keep the island protected from any aggressive sea-winds from the south (the Mistral, while dominant and blowing nearly every other day, is not the only wind in the area!)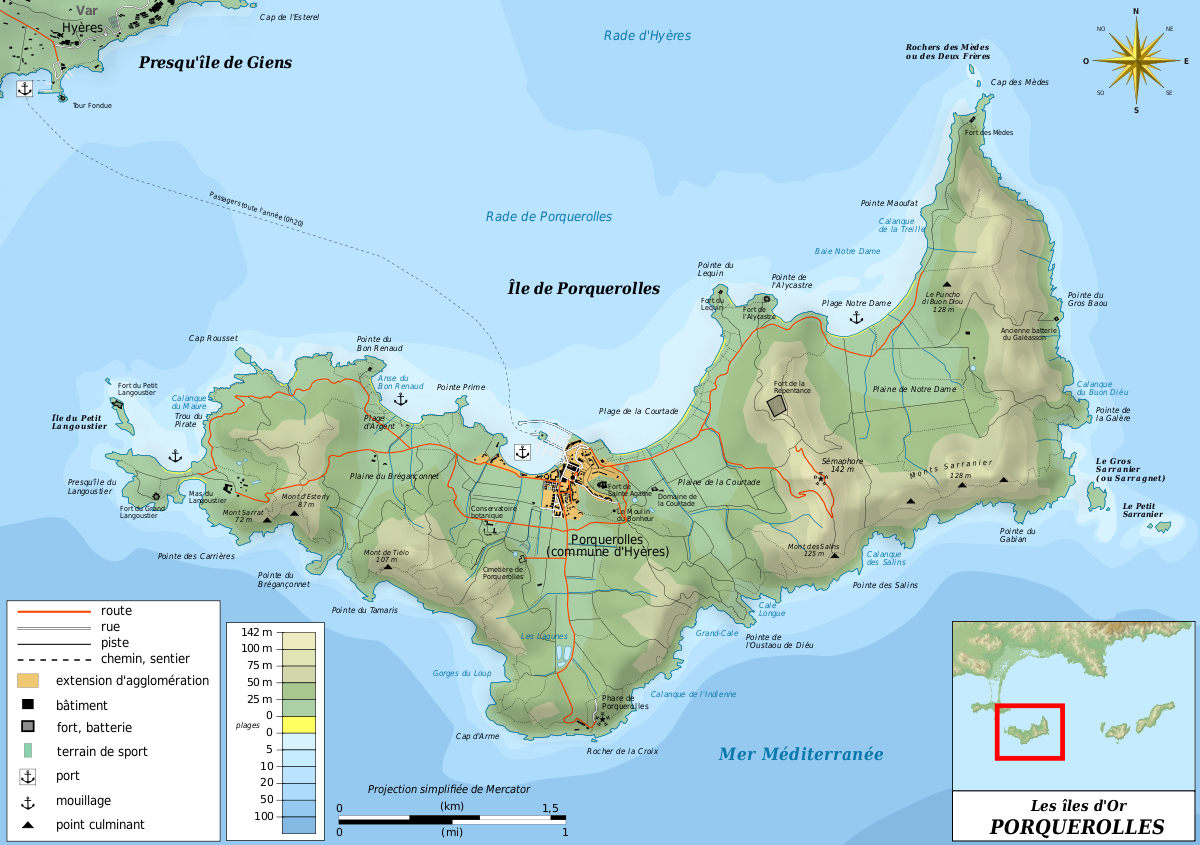 As well as the steep southern cliffs, the map also shows north-south running ridges within the island that break it up into four plains or valleys. These ridges are outcrops of a continuation of the Massif des Maures and the schiste of La Londe (Porquerolles is technically part of the La Londe sub-appellation of Côtes de Provence, although rarely promoted as such), while the plains are primarily sedimentary and made up of weathered schist and quartz. The island's vineyards are exclusively planted in these valleys. None of the two (formerly three) estates produce single-vineyard wines, so I can't say how distinctive they are viticulturally, and whether similarities are more evident by "plain" or by altitude-within-the-plain. (note: I think "valley" is a more positive word in the wine world, as well as feeling more accurate as these plains are not particularly flat, but there are no rivers carving their way through them, so we'll stick with plain for now for clarity)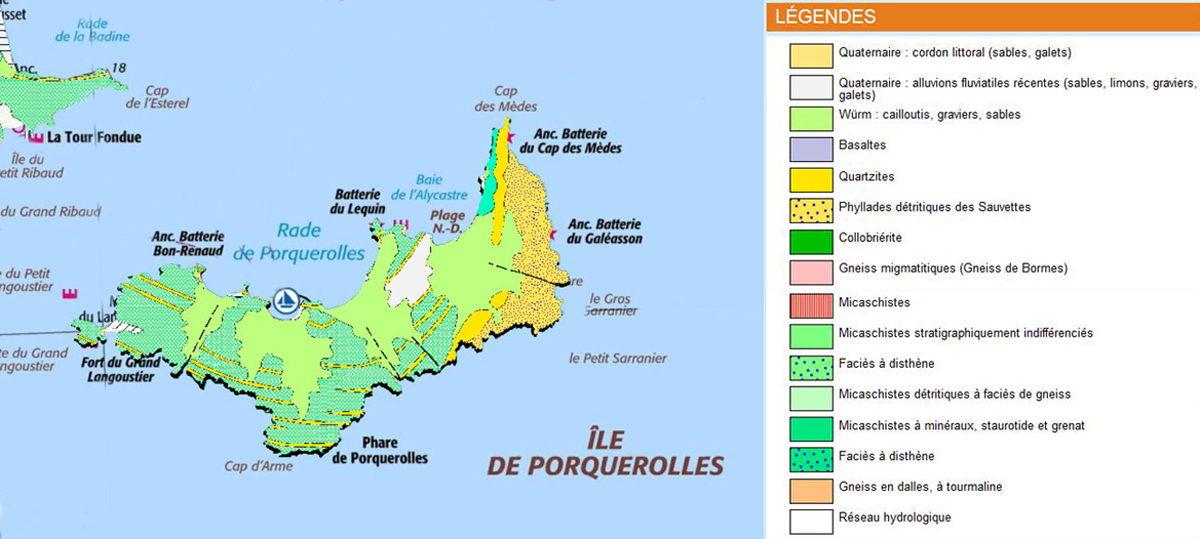 The western-most three plains (Breganconnet, Village, Courtade) are all relatively similar geologically, while Notre-Dame in the east has a slightly different makeup and rises more steeply. The gentle slope keeps them sheltered from harsh winds rushing up from the sea, and the vines are never visible from the sea (except a small corner of Notre-Dame). This is quite important, and is I think a major difference between island vineyards that must be protected from the sea's excesses, and coastal vineyards on the mainland that can afford to face it full-on, as is the case for much of La Londe across the Rade d'Hyeres.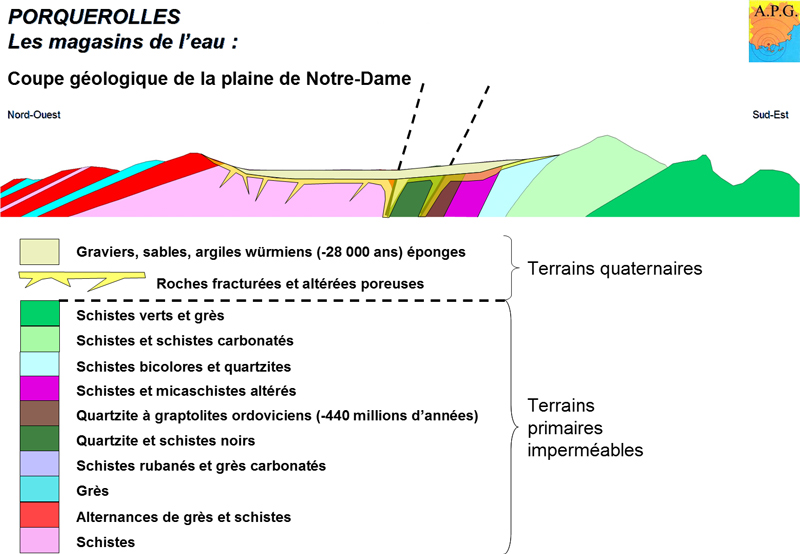 "On ne voit jamais les vignes de la mer" - Nicolas Audebert, winemaker at Domaine de l'Ile
One particularly interesting aspect of the island's terroir, and one that sets it apart from the Provence mainland, is the water situation. Even in the height of summer, the grass and weeds surrounding the vines were relatively green. Vines weren't evidently stressed and grapes weren't shrivelling. (note that "plentiful water" means something different to a Mediterranean vineyard than it does to a tourist resort - the town gets 400 tons of water delivered by boat to cope with the requirements of up to 6,000 tourists a day!) Two phenomena are responsible for this plentiful water. The first is quite simply incredibly humid air, where evaporation from the sea becomes condensation on land every morning. The second is far more interesting: the formation of a bubble or "lens" of freshwater floating on top of the seawater, soaked into the island's rocky crags and soil.The following graphics explain it far better than words can: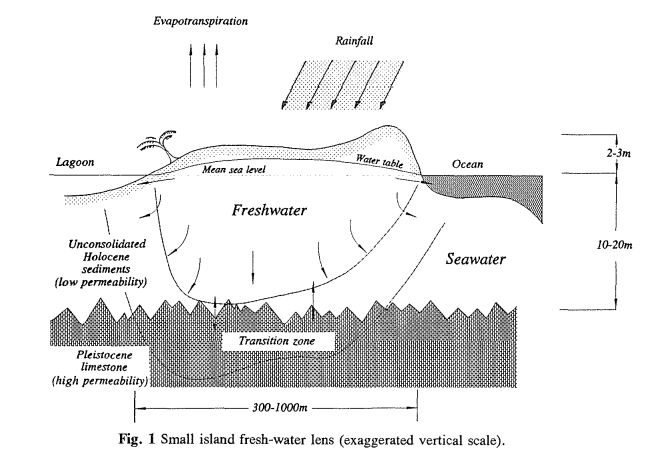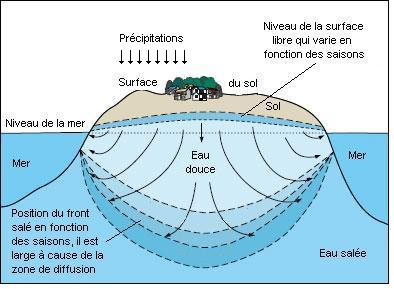 The peculiarity of Porquerolles is that it has not one but four of these freshwater lenses - that match up to the four valleys we spoke of earlier. These valleys, full of cracked rocks and a shallow topsoil, are porous sponges that can easily hold enough water to keep the vines hydrated throughout the summer.A geological cross-section shows this quite well - and also explains why the vines are where they are! We've also drawn up a north-south cross-section diagram that shows the water bubble from a slightly different perspective.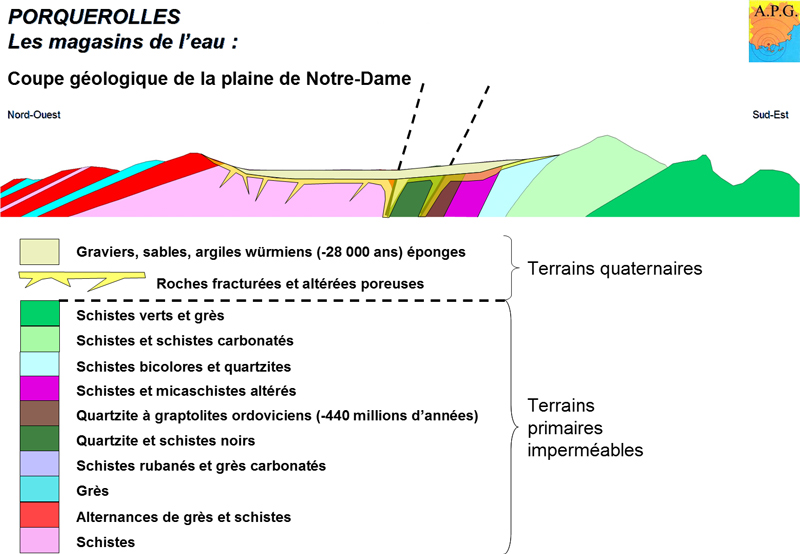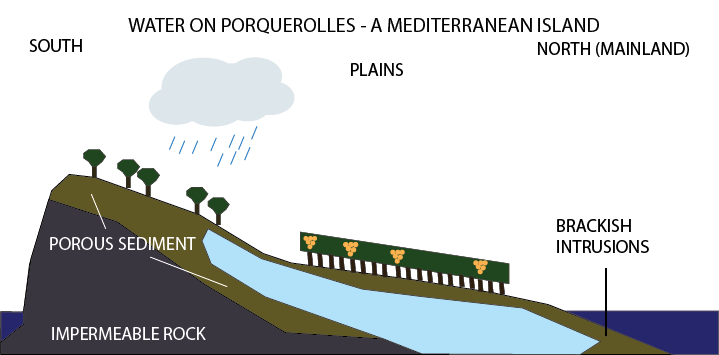 Domaine de l'Ile Rosé 2020, AOP Côtes de Provence
A little rich red fruit, jammy, hints of jammy biscuitiness and a whisper of sweet exotic fruit. Lovely creaminess, good acidity, round rich, ripe, creamy. Really quite nice and a good use of the island's Tibouren and usual suspects of Cinsault, Grenache, Syrah and Mourvedre. Definitely shows off the excellent phenolic ripeness achievable from this terroir.
Back in the 1980s, I remember Richard Auther, the rising star winemaker arriving at Domaine de la Courtade, and producing red wines which left everyone asking for more. Richard recently left to make wine in Ethiopia and very kindly gave me some of his old bottles of rosé.
Domaine de la Courtade Rosé 2006, AOP Côtes de Provence
Yes, you read that right - 2006, tasted August 2020. A little pink fruit, strawberry, surprisingly overt after decanting for half an hour. Good acidity, body a little decayed but still surprisingly fresh and still cuts a bit of an edge. Fat, oaky butteriness, not much red fruit on the palate and a hints of sweet violets. Served with some creamy fresh goat's cheese the honeyed, ripe warmth of the wine came to the fore, the high lactic acidity of the cheese making up for any lack of freshness. A fatty aged Sardinian pecorino also brought out the honey, but also really helped the Courtade seem young and fresh and elegantly fresh and delicate - a complete turnaround.
Domaine Perzinsky Rosé 2016 AOP Côtes de Provence
Tasted August 2020. This vineyard has now been purchased by Domaine de l'Ile.A little peach, mineral, almost figgy and port-oxidative at the back. At first it feels old and forgotten, with chalky, saline oxidative figs and Seville oranges dominating. Very different, really has dry sherry notes. Totally different and unexpected - I like it a lot. Doesn't have the juicy fruit and acidity of a younger wine but still absolutely delicious. Grows on me to reveal outstanding pink-sherryness. Can see this going with not-too-sweet shortbread, or maybe some simple pasta with cime de rapa and a little ricotta. Tried with some fresh goat's cheese bûche - but the wine was sadly completely drowned out. Proof that high-end, aged rosé does not need food to shine, and just how important decanting can be.
Corsica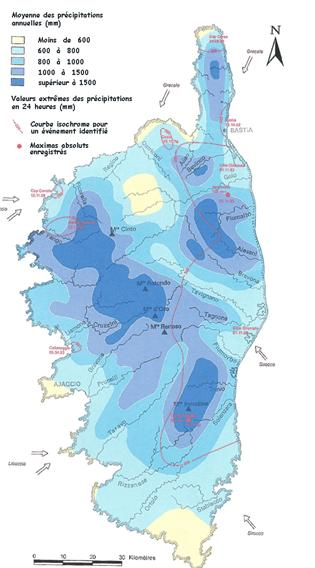 For those who need a refresher on Corsica: it's a mountainous, Mediterranean-esque terroir. Main rosé grapes are Nielluciu (Sangiovese), Sciaccarellu, and Vermentino (Rolle). 60% of production is rosé. Most vineyards in Corsica are near the coast rather than the mountainous interior. "Near" however doesn't mean what you might think, and a look at the appellation map shows a thin strip of coastal land (often quite flat) between the vineyards and the sea.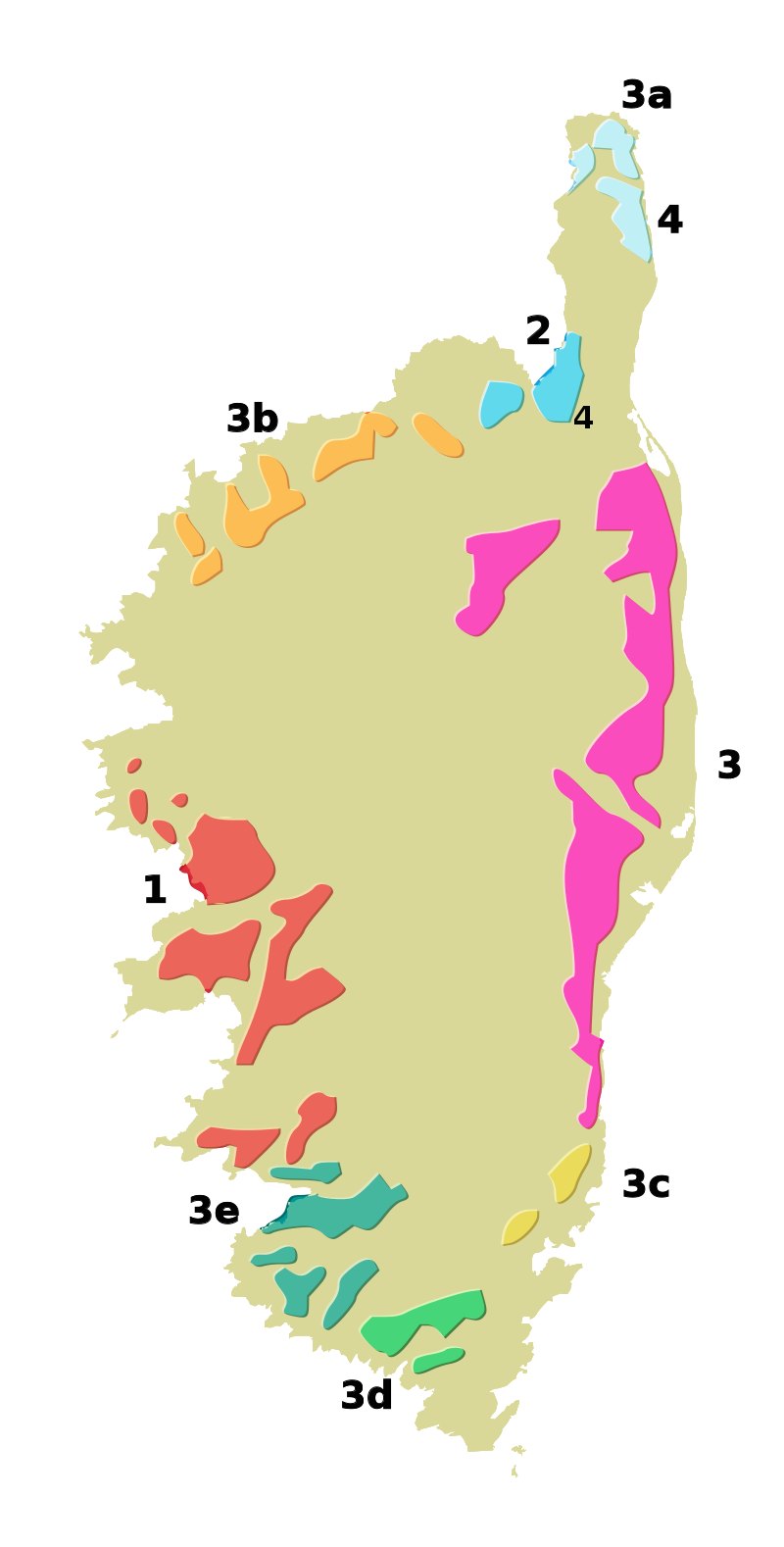 In some cases (the big pink 3 zone, AOP Corse), the vineyards are almost entirely on the large eastern coastal plain, nestled at the base of the mountains rather than on the beaches. This keeps them relatively sheltered from the sea, and like on Porquerolles, vines are usually not visible from the sea, and as such maritime impact is limited other than from ambient humidity. There is one exception to this rule: Patrimonio. One of Corsica's more prized appellations, the vines here are really quite close to the sea, but being recessed in a deep inlet away from the open sea, it is also one of the island's drier spots. Rosés here are Nielluciu (Sangiovese) dominant, with Grenache and Sciaccarellu occasional blending partners of up to 20%. This is a common pattern throughout the northern half of the island. Nielluciu rosés tend to have ripe cherry fruit, with intense weightiness on the palate.
Clos Alivu AOP Patrimonio rosé 2020
100% Nielluciu. Very pale pink. Delicate peachy perfume aromas. On the palate ripe redcurrants, cherries and black currants. Quite a surprise as with colour and nose I expected the same delicacy- but a real explosion of fruit which just keeps going with long fine minerality and beautifully balanced under ripe peaches and ripe crisp green apples acidity. Structured, round. Lovely intense, phenolic finish with good extraction. Weighty, extracted, well-thought out with great ripeness and body. Lip-smackingly good balance.
Sciaccarellu-dominant rosés generally have higher acidity and more floral peche-de-vigne notes. They're dominant in the south of the island.
Domaine de Peretti della Rocca Cuvée Colette AOP Figari 2020
100% Sciaccarellu but definitely not typical of Corse Figari! Pale salmon pink. Butterscotch and creamy aromas. Oxidative nuts, honey, bruised apples, ripe peaches, touch of mango - YUM. Continues on the palate with saline mineral acidity. Gorgeously nutty, honeyed, vanilla, creamy, structural. Definitely not a wine for everyone, but loving the unusual character - try with salty cheese. Acidity crisper than I might expect given the darkness and jamminess of the fruit. Definitely has weight and structure, crisp acidity, and gentle fruit. My style of wine, absolutely, but it might go a little bit too far and upset a few people along the way.
Before moving on from Corsica, it's worth briefly mentioning Elba, the small island between Corsica and Tuscany, made famous by Napoleon. Although Elba Rosato DOC only produces about 40,000 bottles of rosé a year, it's a Sangiovese-dominant blend like its neighbour. More importantly however is the fact that it lies in Corsica"s rain shadow - take another look at the Mistral map we talked about earlier.

Average rainfall 1970-2001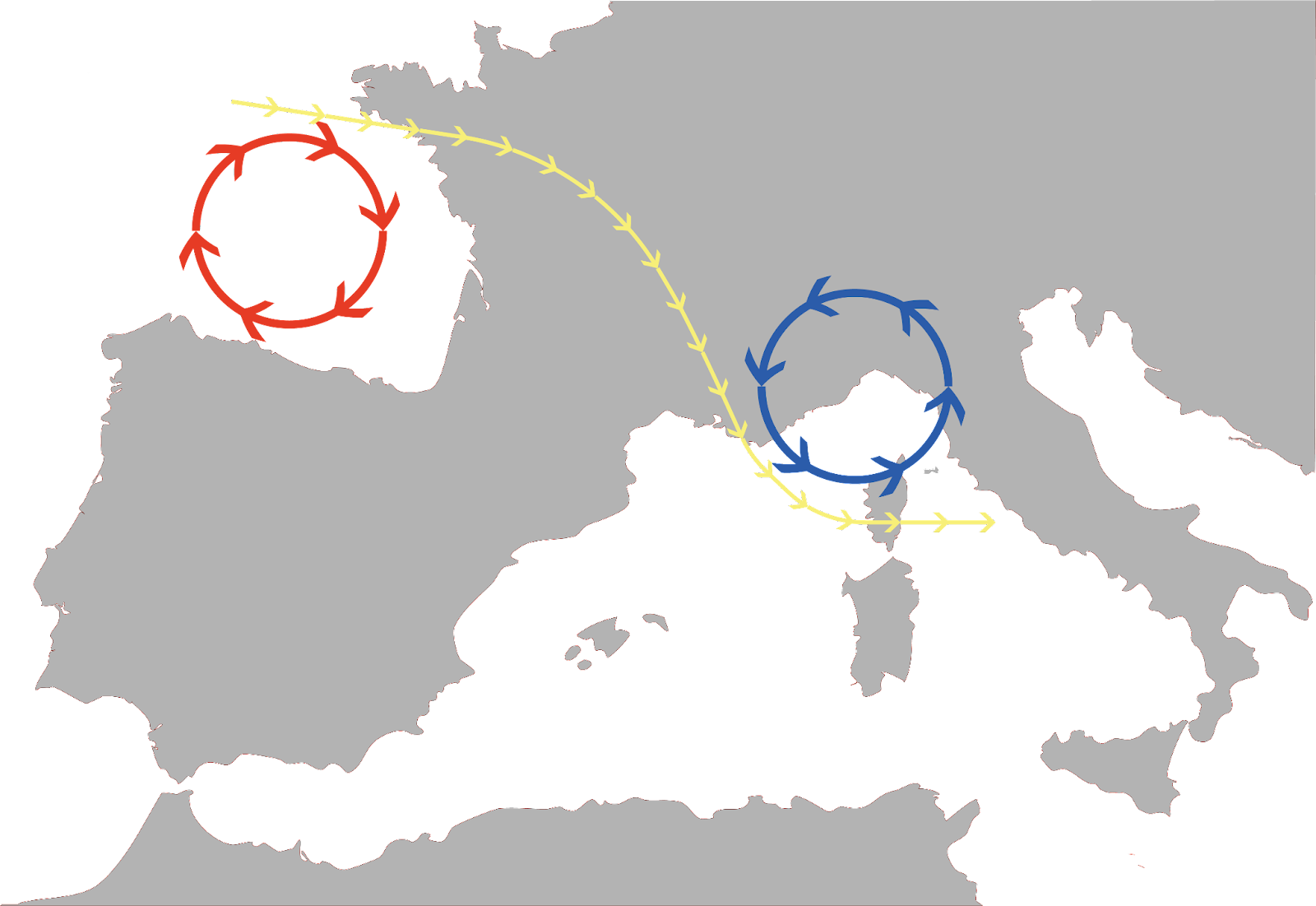 Sicily
Sicily is a very large island, by far the Mediterranean's most populous and narrowly largest, a little ahead of Sardinia. So big, in fact, that it has far more in common with the mainland than it does the other islands we're talking about today. It is an island nonetheless, so it deserves its spot, especially as its island-ness is more apparent and relevant in some spots than others. Looking at you, Etna. As Mediterranean rain clouds blow over the island, they are pushed upwards by Mt Etna, which causes them to rain.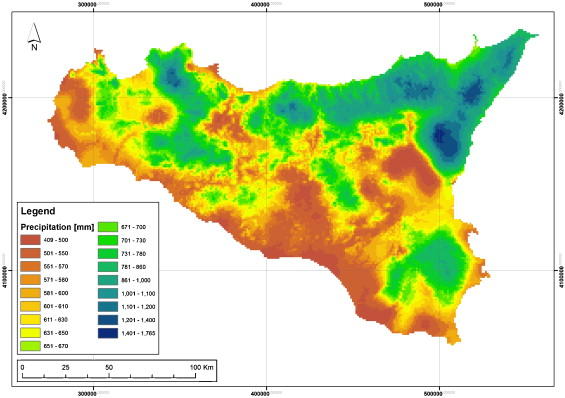 The brutality of the contrast between sea and high mountain pushes the whole "island precipitation" model to an extreme, a bit like how the volcanoes of the Hawaiian archipelago are the wettest places on earth.This is most evident on the South-East slopes of the volcano, where it is closest to the sea, and along which the vineyards of the Etna DOC are arranged in a crescent moon shape - to maximise exposure to the sea. Before we say any more, here is an exceptionally good article about maps of the Etna DOC, and here's a decent article here that presents the background really quite well too.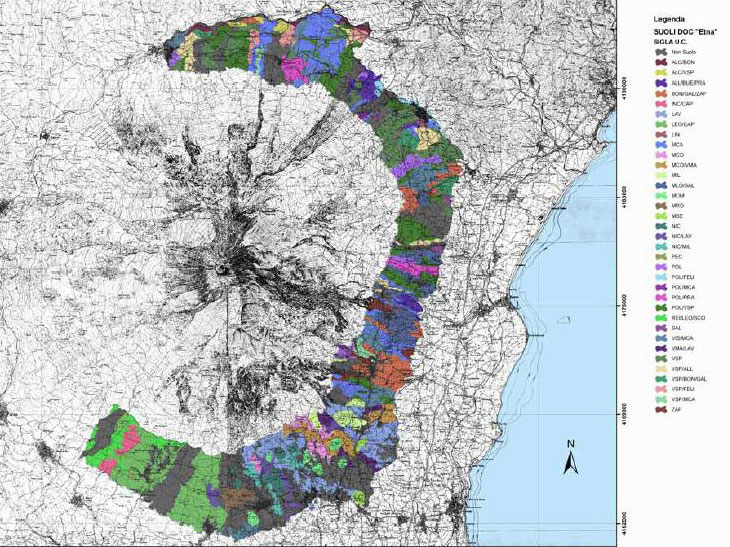 With such a variety of expositions and soils (more complicated than simply "volcanic"!), it's difficult to establish typicity and a consistent style here, but a few characteristics jump out across producers and vintages: excellent ripeness of fruit with lots of ripe red berries, good acidity and fantastic weighty structure.
"I have this iconoclastic feeling Etna will one day make better rosé than red wine" - Wojciech Bonkowski
Donnafugata and Dolce & Gabbana Sicilia DOC Rosato 2019
Nerello Mascalese and Nocera, Sicilia DOC although from vineyards around Etna. Restrained aromas with a hint of minty herbal character. On the palate, restrained, austere salinity with notes of spicy chocolate and orange and the minty freshness continuing. Great acidity, well balanced and fairly flawless. Worth noting the gorgeous presentation from teaming up with Dolce & Gabbana - as with [the rest of their range](https://www.donnafugata.it/en/wine-type/sicilianwhite-wines-donnafugata/), every bottle is a work of art.
Donnafugata Sul Vulcano Etna DOC Rosato 2020
Nerello Mascalese. Delicately floral red fruit aromas. On the palate juicy ripe red and black fruit, cherries and juicy redcurrants with a creamy richness. Quite a surprise after the paleness of colour to taste the concentration of black fruit, the intense minerality and saline stoney finish. Mouthwatering freshness, delicate but with the weight to match food.
Tenuta Terre Nere Etna DOC Rosato 2020
Old vine Nerello Mascalese and Nerello Cappuccio grown between 600-1000m on the northern volcanic slopes of Mt Etna. Amazing weight and ripe peach and raspberry fruit extract with long fresh citrus minerality. A very serious rosé, although it almost looks like white wine.
Feudo Cavaliere Millemetri Etna DOC Rosato 2016
100% Nerello Mascalese. Comes from one of the highest vineyards (1000m) on the southern slopes of Mount Etna. The 2016 was the current vintage in 2019! 12 months battonage in tank. Pale copper colour. Lovely creamy weight, lees, creaminess. Red berries, ripe cherries, hints of spice and orange. A serious gastronomic rosé. Weight of white wine with red fruit. Have to admit one of my favourite rosés, and one which converted non rosé drinkers at the GoVolcanic! festival in Budapest in December 2019.
We wanted to talk about Pantelleria here as one of the most famous winemaking Mediterranean islands, but until they start making rosé, that'll have to wait!
Instead we're going to briefly talk about Malta.
According to Rosé: Understanding the Pink Wine Revolution, "Malta's best rosés are nearly always surprisingly delicate and well-balanced, and never strongly alcoholic. This is remarkable from an archipelago located south of Sicily and much closer to hot Tunisia than to Provence (Tunis is 400 km to the west, Marseille 1,100 km to the north-west). Some of the most suitably adapted grape varieties grown in Malta since the mid-1990s are Grenache Noir and Shiraz. Ġellewża Frizzante is a popular semi-sparkling style, to many drinkers synonymous with Maltese rosé, created by the Delicata winery. Ġellewża is a native red-skinned Vitis vinifera variety. Delicata's Lifestyle frizzante is made from vines found sprawling across 100 hectares of vineyards, the last surviving stocks of old and often ungrafted vines of indeterminate age, largely dry-farmed in tiny rubble-walled blocks, on poor soils, and trained in the sprawling bush method."
Like Elba, Malta's climate is directly affected by another island, rather than simply depending on the sea or the mainland for its climate. Consider the following maps and diagram from Maltese Islands Weather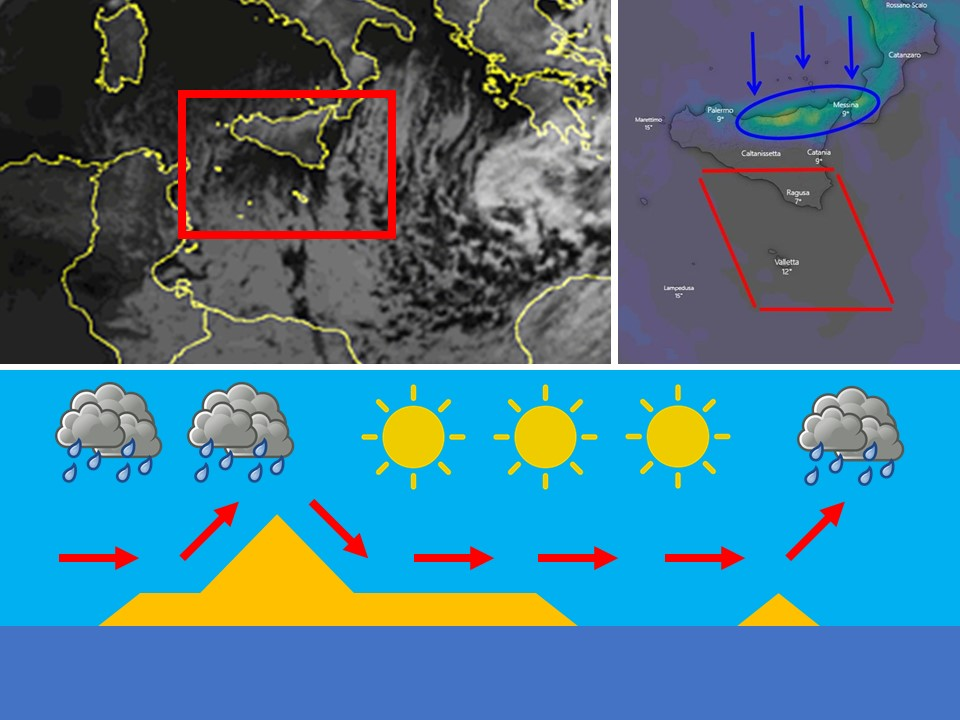 The top-right map is a zoomed-out version of the Sicily rainfall map we've already looked at. From a distance, it shows quite well how northern Sicily is slightly rainier than the mainland nearby, and just how well Etna blocks rain clouds from travelling through the island. So well, in fact, that after drying out over Mt Etna, that the clouds don't have "time" to re-hydrate in the short distance between Sicily and Malta.This is shockingly evident in the top-left map, where the large black splodge South of Sicily really actually looks like a rain shadow. It extends just about as far, or a little further, than Malta. In other words, Sicily's terroir directly impacts Maltese terroir!
I'd also like to touch very briefly on the most often forgotten part of any terroir - the human element. All of these islands benefit from the tourism-led influx of cash and customers. This, in addition to the isolation provided by the sea, is what, I believe, has allowed each and every one of the islands we've talked about to preserve their unique set of autochthnous varieties whilst still making modern style of rosé - precisely what makes them so interesting today.