Israeli Rosé Evolution
Eighteen years ago, in May 2002, at a dinner in London, I met Israeli winemaker Eli Ben Zaken from Domaine du Castel, and I was impressed by his wines, grown on the Judaean Hills. Looking back at my tasting notes at that vertical tasting of vintages throughout the 1990s, it was possible to see how his wines had evolved.
I did not know much about Israeli wine until January 2015, when I was able to spend ten days touring round Israeli vineyards. With an image in many foreign markets for only producing sweet religious wines, it came as a shock to taste fresh whites and serious dry red wines and to learn about the enormous advances in the quality of wine being produced. The four main vineyards – Carmel, Barkan, Golan Heights and Teperberg – control 70% of the local market and wine exports, and there are about fifty commercial wineries.
Rosés were not so visible on my 2015 visit. I learnt that in the 1970s and 1980s, Grenache rosé was a big brand, a deep-coloured, semi-dry, verging on semi-sweet, wine. By the 1990s, with the start of the boutique winery boom, tastes began to change and wine making improved. Victor Schoenfeld, a UC Davis graduate, arrived at the Golan Heights Winery in 1991 and helped pioneer a wine making revolution in Israel. However, it was not until around 2007 that rosé started, in a small way, to be taken seriously, even if only as a simple light, fresh, summer wine.
By 2017 when I was researching my book Rosé: Understanding the pink wine revolution, a growing number of rosés were appearing. The majority were increasingly lighter in colour and structure compared to the heavier, sometimes off-dry traditional style. A wide range of varieties is used, including Barbera, Cabernet Franc, Carignan, Cinsault, Grenache, Malbec, Marselan, Merlot, Mourvèdre, Pinot Gris, Pinot Noir, Sangiovese, Syrah, Viognier and Zinfandel. As production increases, some winemakers are looking at more complex styles, with a few ageing in oak. The styles are extremely diverse, as each producer makes rosé in his own style, searching for the best rosé to suit terroir and varieties and an Israeli rosé style is still evolving.
An Israeli rosé even made it to my selection for premium rosés for Decanter On-Line May 2019.
HaNadiv Rosé 2018, Bar Maor, Made with 100% Marselan (a Cabernet Sauvignon x Grenache cross), the wine has attractive ripe raspberry red fruit which develops into rich red fruits with tropical notes as it opens out in the glass. A creamy structure with a chalky mineral backbone and a hint of tannin on the finish. Long fresh acidity and well-balanced structure.
Although there are no regional appellations in Israel, and wine can be blended from around the country, there are three regions which stand out as being successful at producing high quality wines, with their focus on higher elevations (from 500 to 1,200 metres)
Judaean Hills
Golan Heights
The Upper Galilee
For every elevation increase of 100 meters, temperature decreases by 0.6°C with a corresponding increase of one percent Ultraviolet radiation. This leads to thicker skins and greater concentration of flavour. Higher altitude vineyards usually have a larger diurnal temperature variation (a large difference in day/night temperature). During the day the grape accrues carbohydrates via photosynthesis in the leaves, then at night during respiration the vine borrows back from the berry some of these stores. The lower the night-time temperature, the less the vine needs to borrow during respiration - resulting in more intensity in the grapes. [See also post on Rioja Rosados with Altitude]

The following are just a small representative of the Israeli rosés available, tasted in July 2020, showing some of the diversity and the encouraging evolution of more serious rosés.
The Judaean Hills
This region is the home to The Judaean Hills Quartet of four wineries: Tzora Winery with Israel's first Master of Wine, Eran Pick as winemaker, Domaine du Castel, Sphera (which specialises in white wines) and Flam Winery. The Judean Hills wine region lies between the Mediterranean Sea and Jerusalem. The central coastal plain south east of Tel Aviv, 40-50km away, leads to the rolling hills of the Judean Foothills. After the town of Beit Shemesh, the elevations rise sharply and continue to rise until Jerusalem.
I continued my friendship with Eli, even if only at fleeting moments at various wine fairs and chatting on Facebook. My son, a mere toddler when they first met, has even spent time at the vineyard in the Judaean Hills.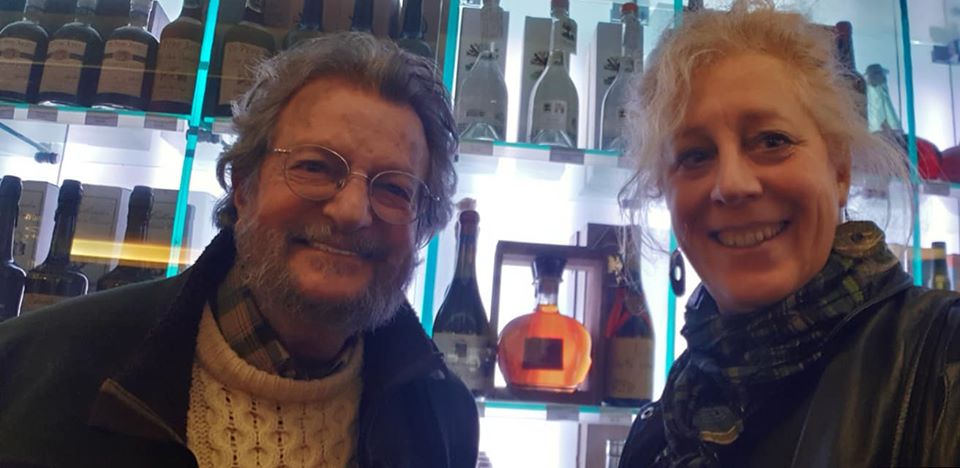 Meeting for lunch on a cold wet December day in Paris[/caption]
Eli's estate, Domaine du Castel, is located in the Jerusalem Hills. He already had a rosé made from a blend of Merlot, Cabernet Franc and Malbec, from plots not used for red wine. The grapes were harvested early to retain acidity, minimum skin contact and fermented in tank at a low temperature, but already in 2016 Eli mentioned he was thinking about an oaked rosé.
"The idea of barrelled rosé was intriguing me. In November 2018 I visited Château d'Esclans [in Provence] and I was very lucky to meet again, and unfortunately for the last time, my friend Patrick Léon. It was a very long and comprehensive visit that included lunch at the château with Sasha Lichine. Patrick was very frank and volunteered a lot of information and we tasted all the wines including Garrus. So this is my inspiration..."
Eli made the 2018 from a blend of Syrah, Carignan and Mourvèdre (although for the 2019 is considering replacing Carignan with Grenache), from good vineyards.

[caption id="attachment_4267" align="" ]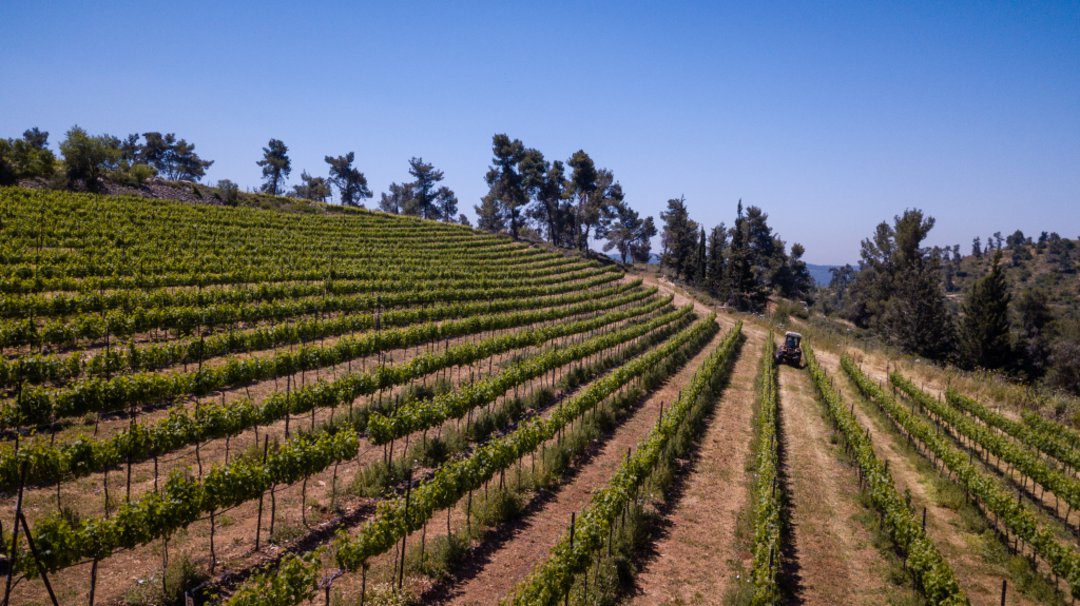 The Razi'el vineyards[/caption]
There is still some question over the optimum time and maturity for the harvest. The wine is fermented in demi-muids barrels at a low controlled temperature, blended and then aged in barrels for 6 months. Only 1,700 bottles were made for the 2018 vintage, with more planned for 2019.,
This month I was able to taste the first vintage of the oaked rosé, Razi'el, and the latest vintage Rosé du Castel. Eli asked me to be honest in my comments. So, as with many rosés sent to me for tasting, I chilled them in the fridge, and took them out half an hour before tasting. Both wines seemed lacking in fruit and charm. Disappointed, I put them to one side and then tasted a second time a few days later at a warmer room temperature but still cool. Having been opened a few days, the effect was similar to the aeration gained from decanting and they tasted excellent. What an enormous difference!
This is an important lesson. Serious rosé should not be served as a chilled light refreshing swimming pool rosé, but treated with the respect normally given to red wines.
Notes below are from the second tasting.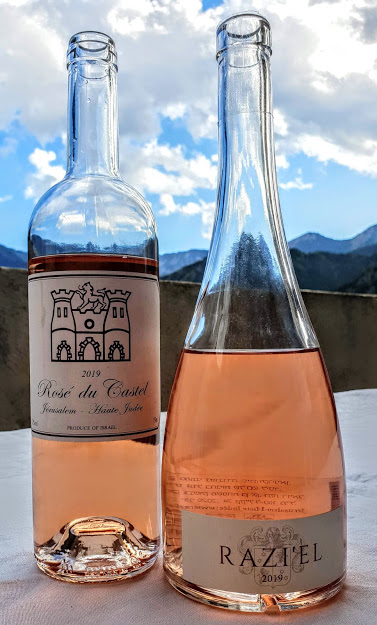 Rosé du Castel 2019 60% Merlot, 20% Malbec, 20% Cabernet Sauvignon. Ripe creamy acidity, red berry fruit, good redcurrant acidity supplemented by a long mineral core. Overall, impression is of lots of ripe strawberry and cherry fruit, almost voluptuous ripeness, with the firm mineral and slight tannin finish restraining and giving backbone. Serious weight.
Razi'el 2019 50% Syrah, 25% Mourvèdre, 25% Carignan. Creamy, white peach, intense white fruit, raw hazelnuts. New oak is still very much there, giving very firm structure and a slight tannic finish. The ripe fruit gives weight countered by very fresh acidity stretching back on the palate and exploding with a discrete burst of juicy raspberries. Still very young - this rosé will certainly continue to involve and improve over the next 2 to 3 years. A serious gastronomic rosé worthy of its inspiration.
The Golan Heights
This is the coldest region in Israel. The vineyards on this volcanic plateau rise from 400m to 1200m and there is enough snow for skiing in the winter.
Golan Heights Winery Victor Schoenfeld is the head winemaker here.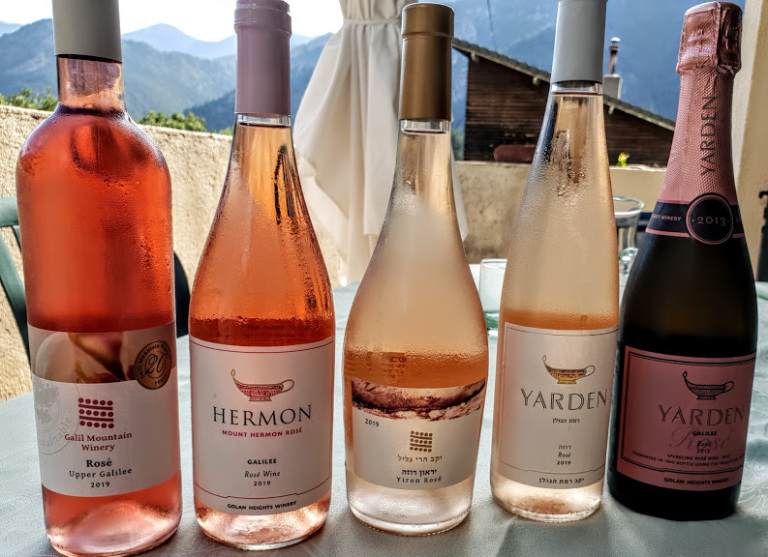 Mount Hermon 2019 Syrah, Tempranillo, Tinto Cao, Pinot Noir and Sangiovese. 12.5% abv. Salmon pink. Soft creamy ripe raspberry and strawberry fruit with long, red currant acidity and mineral core and dry finish. Pleasant easy drinking
Yarden 2019 Tinto Cão. Salmon pink Creamy fruit with sour red berry acidity with hints of bitter almonds. Long acidity and phenolic finish. As the wine warmed up it opened out to reveal delicious fruit structure and was delicious with food.
To find out more about the Yarden Tinto Cão, it will be presented on #iloverocknrosé instagram live on Sunday 9 August 17.30 CET on my Instagram account elizabeth.gabaymw. For more details see the website rocknrose.wine
Yarden Brut 2013 66% Chardonnay and 34% Pinot Noir grown in the cool northern part of the region. Ageing sur lees for five years. Pale onion skin colour with fine bubbles. Evident rosé character with red fruit and cherry character, long mineral fresh acid structure with hints of richness and autolysis.
Upper Galilee
Galil Mountain Winery in the Upper Galilee, from vineyards between 420 to 800m makes the following two rosés.
Galil Mountain Rosé 2019 57% Sangiovese, 33% Syrah 10% Grenache. 13.5% abv. Dark coral pink. Red fruit and roses. Very pretty, floral, ripe cherries and red fruit balanced by a vibrant sour red currant. A small percentage of saignée has created a rosé which would appeal to red wine drinkers and has enough body and structure to go with food.
Yiron 2019 67% Grenache 30% Syrah 3% Viognier. Shell pink, creamy broad mouthed southern French style. Creamy white peach fruit with Syrah giving a black fruit inner core for structure. Hints of saffron spice, fresh red currant acidity. Very good, classic. Great for summer drinking.
With so much going on with development of new styles of Israeli rosés, I think maybe it is time to return and do a rosé tour.