Languedoc rosés coming up roses
When I was researching my book in 2017, I was overwhelmed by the sheer scope and variety of rosés coming out of Languedoc, ranging in quality from basic entry level quaffing wines upto some truly exciting and high quality rosés. The range of styles also made it hard to define a 'Languedoc' character. In 2018, Languedoc produced nearly 2.5 million hectolitres of rosé, an increase of 25% in two years and represents 16% of the region's production, up from 10% in 2008, The region is now the largest producer of rosé in France with 30% of the total, much of that falling into the IGP category, double that of Provence, and now, with almost 70% of rosé production sold in bottle moving it beyond the basic jug wine image. With such a dynamic growth in production and quality, having the opportunity to taste is always interesting. So I leapt at the chance when Rosemary George MW, author of the recent book on the Wines of Languedoc, invited me over to taste seventy-four rosés from the 2018 vintage from around Languedoc (which stretches across the Mediterranean south west of France), in a tasting organised for by Estelle Nijhof of the Comité Interprofessionnel des Vins AOC du Languedoc (CIVL). Emma Kershaw of La Maison de Rire also joined us for the tasting. We decided not to taste the wines blind, and tasted geographically from east to west, apart from the Crémant de Limoux, which we tasted first.
The many appellations of Languedoc All but the Crémant de Limoux were from the 2018 vintage - a troublesome vintage in many ways with frost, hail, rain and mildew, challenging many areas. However, due to the size of the region and the varied landscape, the microclimates resulted in many varied vintage reports. Enough rain fell to replenish some of the water table, and on the whole, berries which survived the plagues, were juicy and healthy. The following wines are my favourite wines, a third of the wines tasted, which I have roughly regrouped by the varieties included. TTC prices were provided by producers.
Cremant de Limoux
Vintage Rose 2017, Chateau Rives-Blanques, Crémant de Limoux. Chardonnay, Chenin Blanc, Mauzac and 3% Pinot Noir. This classic sparkling wine with a whisper of a hint of pink, had spent 24 months on the lees and was disgorged in March 2019. I particularly liked the crisp apple character of the Mauzac on the nose and palate mixed with softer, ripe bruised apple notes and a long saline, mineral acidity. 13.50 euros TTC Le Rose No. 7, J. Laurens, Crémant de Limoux. 60 % Chardonnay, 25% Chenin, 15% Pinot Noir with 12 months on the lees. Equally pale melon pink and with far more evident lees character with toasty aromas. On the palate, rich, creamy, biscuit fruit and long fresh acidity. 11.10 euros TTC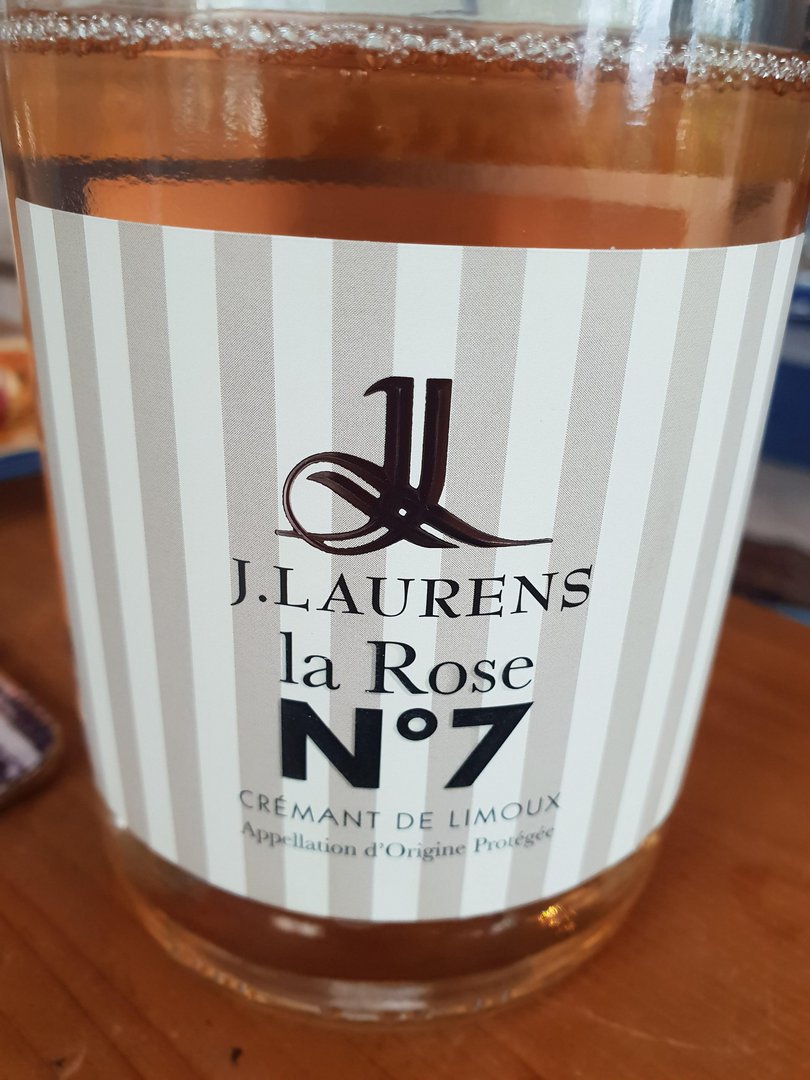 Perfume-style packaging for J Laurens
Still Rosés
Grenache and Cinsault
Le Rose 2018 Chateau Signac IGP Coteaux du Pont du Gard. A blend of 70% Grenache and 30% Cinsault, this wine had a lovely melon pink colour. Pretty peachy floral fruit showing some nice Cinsault character with ripe Grenache fruit and fresh acidity. 5 euros TTC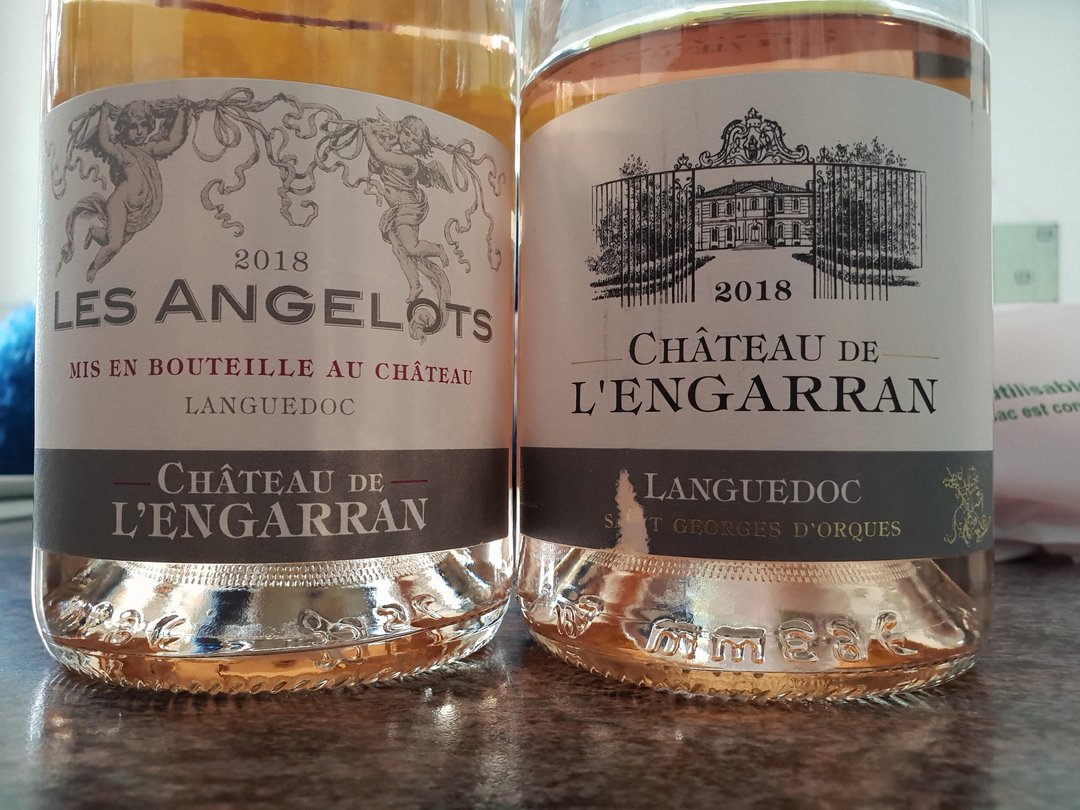 Les Angelots and le Rosé from Chateau de l'Engarran Rosé 2018, Chateau de l'Engarran AOP Languedoc Saint Georges d'Orques. 80% Grenache, 20% Cinsault. A serious rosé with weighty, savoury, yeasty notes, sleek mineral backbone and beautifully textured layers. 9.50 TTC Les Angelots 2018 Chateau de l'Engarran, AOP Languedoc, 89% Grenache 11% Cinsault. A serious, saline and beautifully mouth-watering rosé. 8 euros TTC Des Si et Des Mi - Rosé 2018 Mas Combarèla AOP Languedoc 45 % Grenache, 45% Cinsault, 10% Mourvèdre slowly fermented with ambient yeast was a delicious combination of creamy peach ripe fruit with hints of yeasty notes and fresh saline acidity. 10 euros TTC Cuvée des Jumelles 2018, Chateau de Luc, AOP Corbieres. 75% Grenache, 30% Cinsault. The lighter Cinsault had longer maceration giving emphasis to the floral character of the variety. Crisp, fresh and lively with elegant delicacy. 9 euros TTC Emocion 2018 Domaine Monplezy AOP Languedoc 40% Cinsault, 40% Grenache, 20% Syrah, Aged for one month in French oak barrels, the wine still had pronounced oaky aromas and oak dominant, but very fresh long acidity and good weight of fruit structure show that this wine is still very young, and that with time the oak character will subside and the fruit character come to the fore. 12 euros TTC Rosé 2018 Chateau de Treviac, AOP Corbieres, 60% Cinsault, 40% Grenache. With slightly longer than usual maceration of 4 to 6 hours to extract more flavour, resulting in a rosé with good weight and abundant wild berry fruity freshness and mouth-watering acidity with attractive Cinsault floral notes, almost Parma violets. 7.50 euros TTC Kalys'é 2018 Khalkhal Pamies, AOP Minervois 80% Grenache, 20% Cinsault saignée. With juice bled off the must giving extra structure, to delicious, elegant peach fruit and perfumed floral notes with a balanced mineral core and vibrant acidity. 14 euros TTC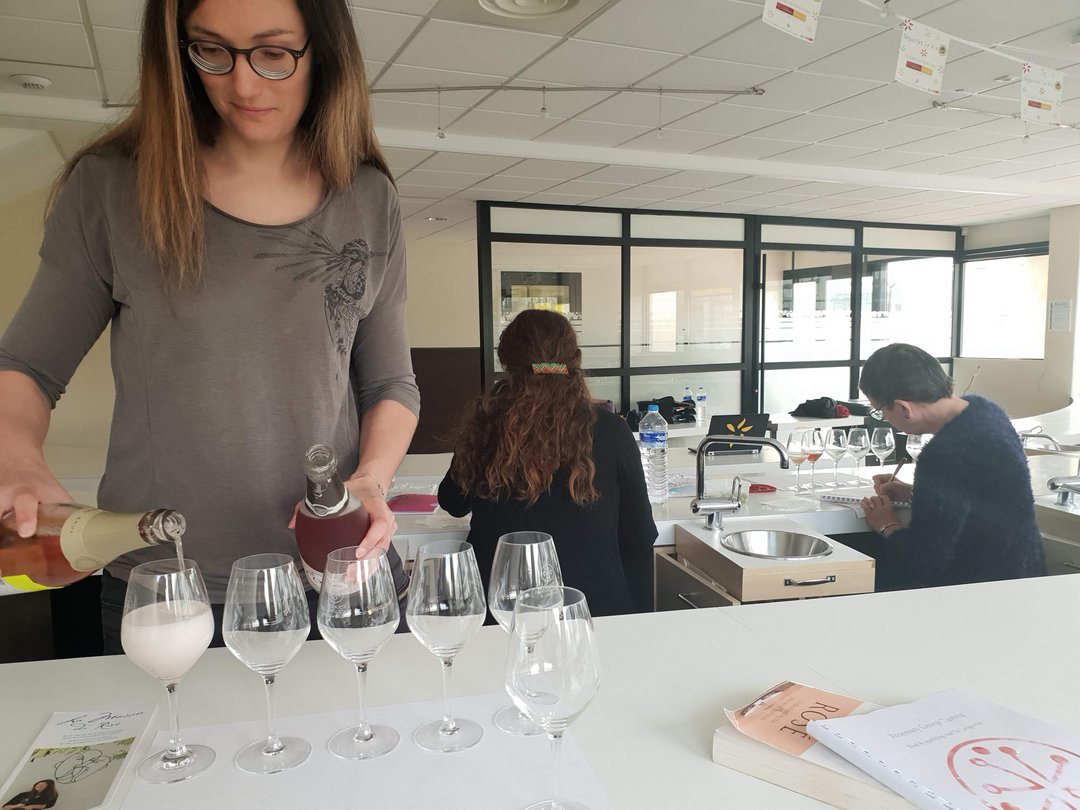 Estelle pouring with Emma and Rosemary tasting
Grenache dominant
Cuvée "Mathilde " 2018 Domaine Savary de Beauregard IGP Pays d'Herault. 100% Grenache. Amazing Grenache fruit character. I loved the intense wild raspberry fruit, saline minerality and crisp, fresh acidity. 7.50 euros TTC Oros 2018, Vignobles Bonfils - Capitoul AOP Languedoc 80% Grenache, 20% Syrah. Round and creamy, with ripe, succulent raspberry fruit and long fresh acidity.  15-20 euros TTC Rosé 2018 Vignobles Bonfils - Capitoul AOP Languedoc 80% Grenache, 20% Syrah (including juice bled off the red wine must to give added structure). Wild hedgerow berry fruit with vibrant mineral acidity and a hint of herby savoury notes and a long fresh finish. 12 euros TTC La Villa 2018, Chateau la Sauvageonne, (Gerard Bertrand) AOP Languedoc. A Provence style blend including some white varieties: Grenache, Mourvèdre, Viognier and Vermentino. The wine is made from free-run juice resulting in the very pale colour and is aged in barrels. Smooth, silky texture with red berry fruit and fresh mineral acidity, the oak is barely evident other than giving beautifully balanced weight and structure. A seriously classy rosé. 45 euros TTC
High percentage of Syrah
Mescladis 2018 Domaine Clavel, AOP Pic St Loup. This cooler north east appellation focuses on Syrah dominant reds, with a strong northern Rhone influence. Made with 70% Syrah, 15% Grenache, 15% Mourvèdre and three months ageing in in cement tank. Candied red fruit aromas opened out on to delicious ripe, red berry fruit, held in restraint by a long saline finish.  A lovely wine with texture (from the cement tank?) and layers of complexity. 9.60 euros TTC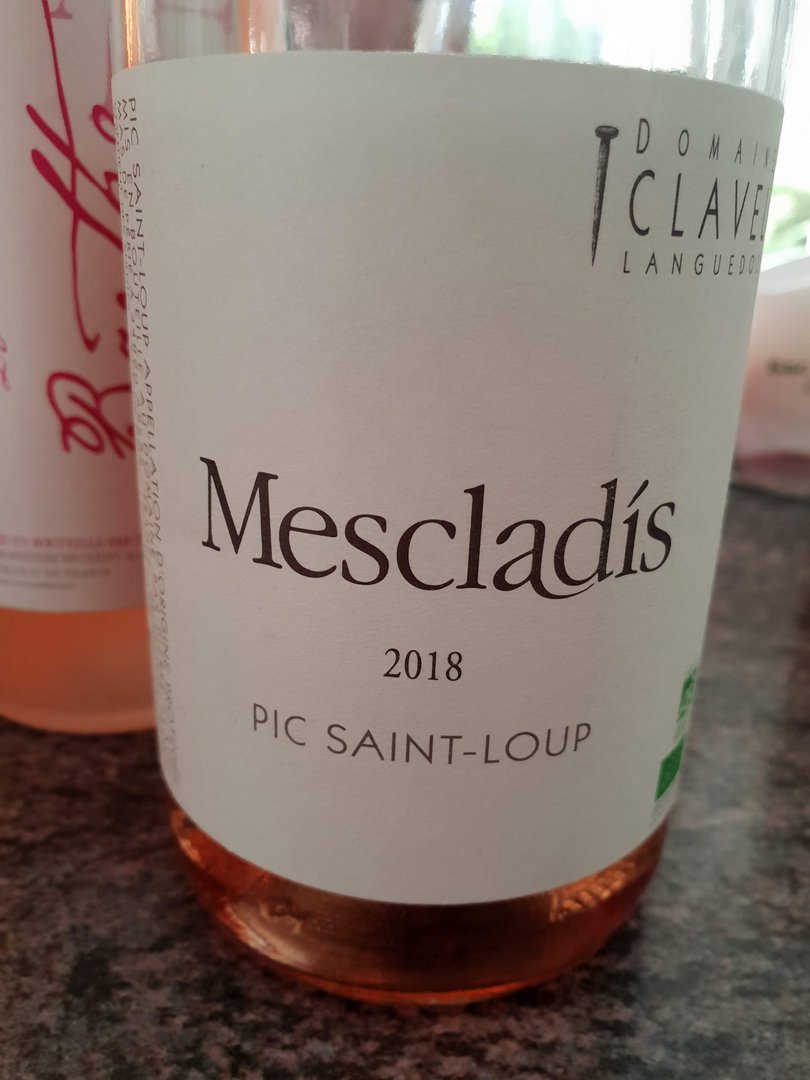 Mecsladís, Domaine Clavel Maé 2018, Domaine du Pin, IGP Saint Guilhem le Desert 100% Syrah. The Syrah fruit shines through with red fruit aromatics leading on to structured wild red berry fruit, hints of savoury tannins and a delicately mineral, garrigue herb finish. 7 euros TTC Rosé, 2018 Domaine de la Barthe IGP Coteaux de Beziers 100% Syrah, saignée. Pronounced Syrah character with creamy ripe fruit texture, dark red berries, juicy acidity and a blue-black mineral core. 6.50 euros TTC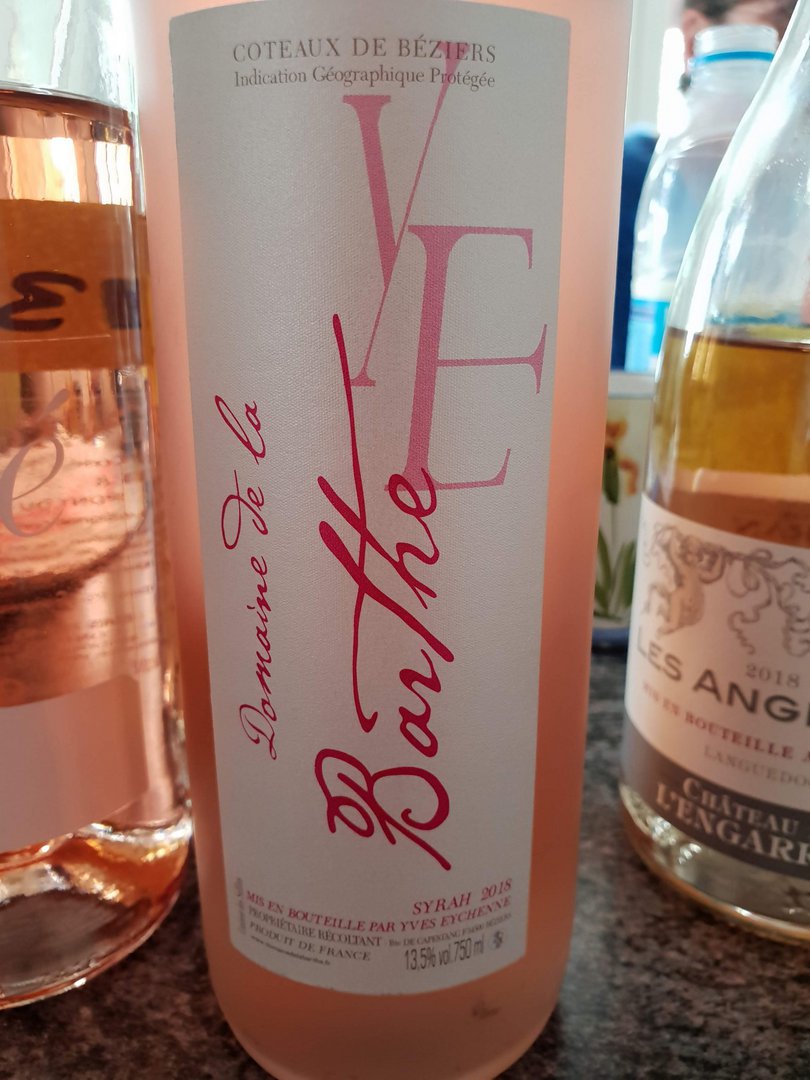 Domaine de la Barthe Virginie 2018 Domaine Costes Rouges AOP Languedoc, 50% Syrah, 50% Grenache. Aged on the lees in barrel resulting in creamy red fruit. Use of saignée gives some extra weight and serious saline structure. 6.25 euros TTC Col de l'Orb 2018, Cave de Roquebrun, AOP St Chinian 65% Syrah, 35% Grenache. Was a darker red pink colour, hinting at its fruity character, which was fresh, vibrant and full of red berry fruit with hints of sour wild raspberries. Taut structure with firm, long mineral and saline acidity made this a serious rosé. 7.20 euros TCC Chemin des Olivettes 2018, Cave de Roquebrun, AOP St Chinian, 50% Syrah, 35% Grenache, 15% Cinsault. A vibrant, juicy, wild hedgerow berries. Quite joyful, with lively fresh acidity. euros? TTC Campana 2018, Château Beauregard Mirouze AOP Corbieres 50% Cinsault, 40% Syrah, 10%  Grenache. Fermented in cement tanks, this rosé showed its high percentage of Cinsault with pronounced creamy white fruit, white peach, and floral character balanced by vibrant, white fruit acidity. 8.5 euros TTC
Local Variety
Pie Grieche 2018, Domaine Campaucels, IGP Pays d'Herault. Piquepoul Noir, a local variety, related to the Piquepoul Blanc of Picpoul de Pinet. Juicy black berry fruit up front counterbalanced by saline mineral acidity and going on to a long austere finish with wild blackberries lingering in the mouth. 7 euros TTC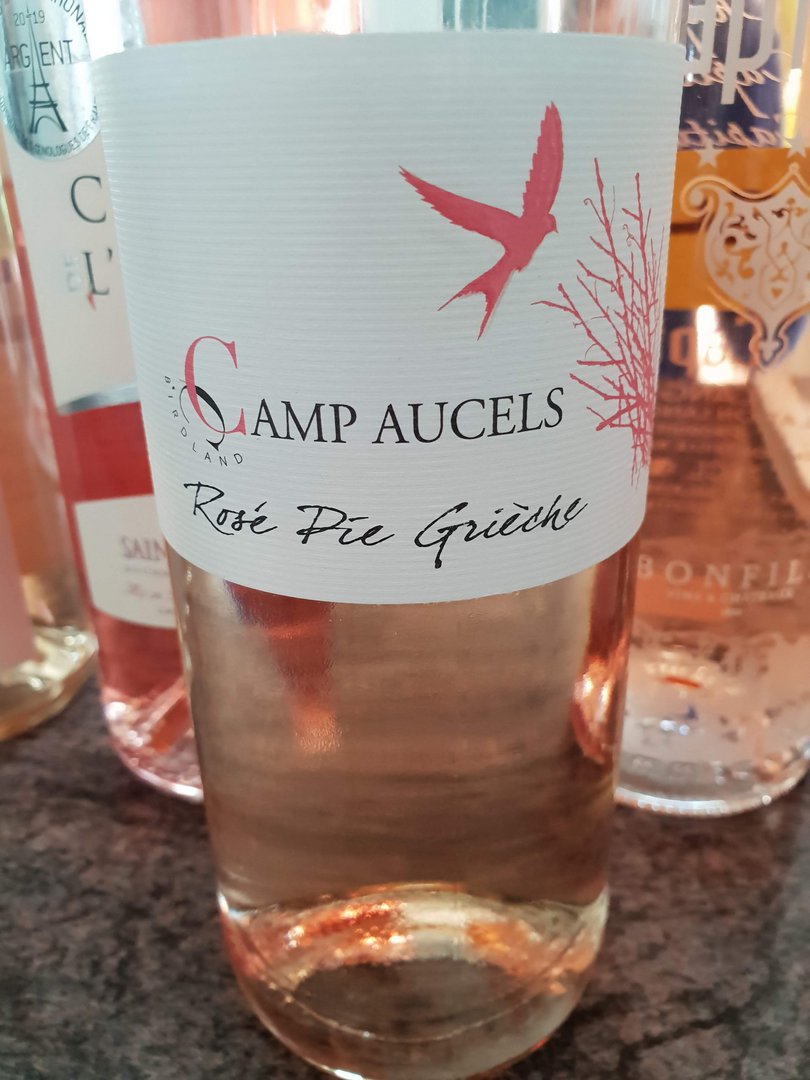 Rosé Pie Grieche de Campaucels
Mourvèdre
Le Secret 2018 Clos Bagatelle, AOP St Chinian 50% Mourvèdre, 40% Cinsault, 10% Grenache. Some saignée and aged in oak for 3 months with battonage. Not a fruity style, but a serious, creamy and complex rosé. Good structure, lees character and a slight oaky tannic finish.  13 euros TTC
Bordeaux-Mediterranean blend, typical of the north-west appellations
Cuvée Diane 2018, Maison Ventenac, AOP Cabardes 30% cabernet sauvignon, 20% Cabernet Franc, 20% Grenache, 20% Syrah, 10% Malbec. light and elegant with restrained juicy fruit and fine mineral length.  8.50 euros TTC Classique 2018 Chateau de Pennautier,  AOP Cabardes 40% Merlot, 30% Grenache, 20% Cinsault, 10% Syrah, with some saignée Rich red berry and peach fruit. Rich but with good vibrant acidity and long fresh mineral length 7.50 euros TTC With thousands of rosés from Languedoc, this tasting was evidently just a small snapshot of what is available, but the range of styles and quality emerging are seriously impressive. It was impossible to identify any clear regional styles, but with more Languedoc tastings throughout the month of May, I will come back to reassess my thoughts on regional styles.