Le Nid Restaurant, Flayosc
Once upon a time, when I first started visiting Provence seriously, back in the mid 1980s, Flayosc was a rural medieval hilltop village, some 7km west of the sleepy town of Draguignan. Then the by-pass was built, which saved the village from the horrors of cars snarling up its tiny main road, but it suddenly become quiet and nearly died. Cars whizzed by – going on to Salernes, Lorgues, Aups…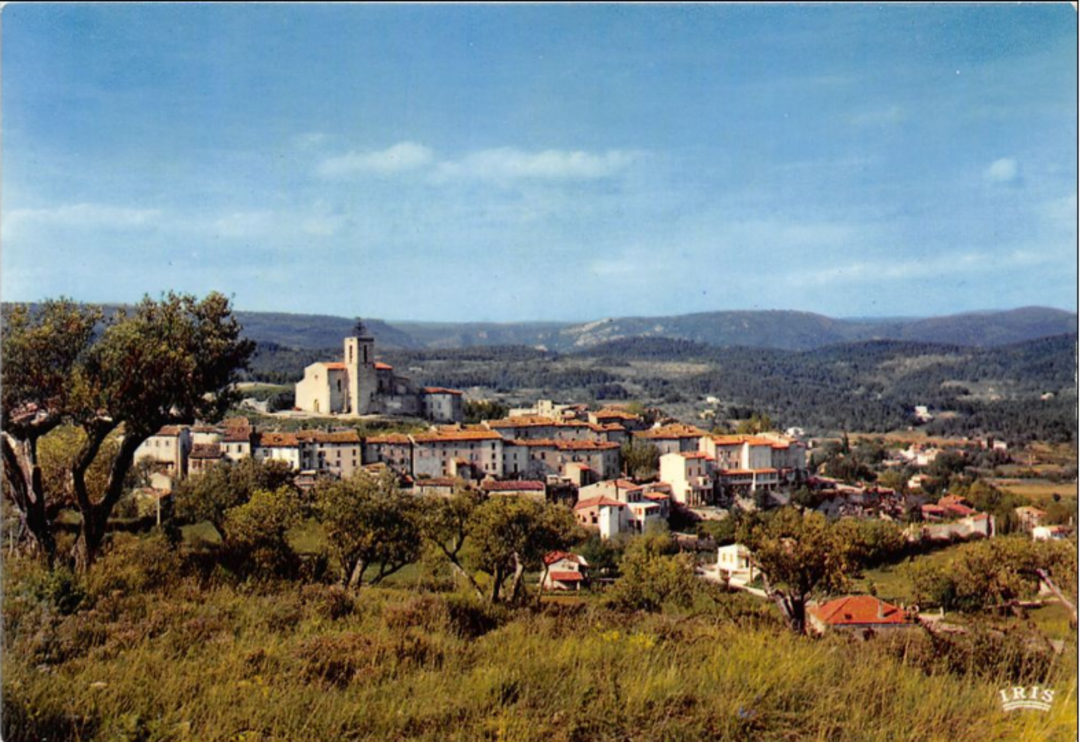 The hills around Flayosc Slowly, the inhabitants realised they now had a pretty and peaceful village, so restaurants and cafés sprang up round the square, and began attracting visitors again, this time to dawdle rather than rush through.  Though the numbers and quality of restaurants have ebbed and flowed, depending on their owners and other outside forces, the summer months from June to September supply a constant flow of holiday-makers who make the village thrive and bustle. Flayosc has now become part of the aire urbaine (urban area) of Draguignan, though still distinctly a village. Suburban housing is growing along the road between town and village. The local wine co-operative La Flayoscaise merged with that of Draguignan to become the highly successful Le Cellier des Trois Collines, and relocated to outside Flayosc, with a prime position by a key roundabout. I wrote about their Carignan last year. Nearer Draguignan, Domaine Rabiega is reached via a lane between villas.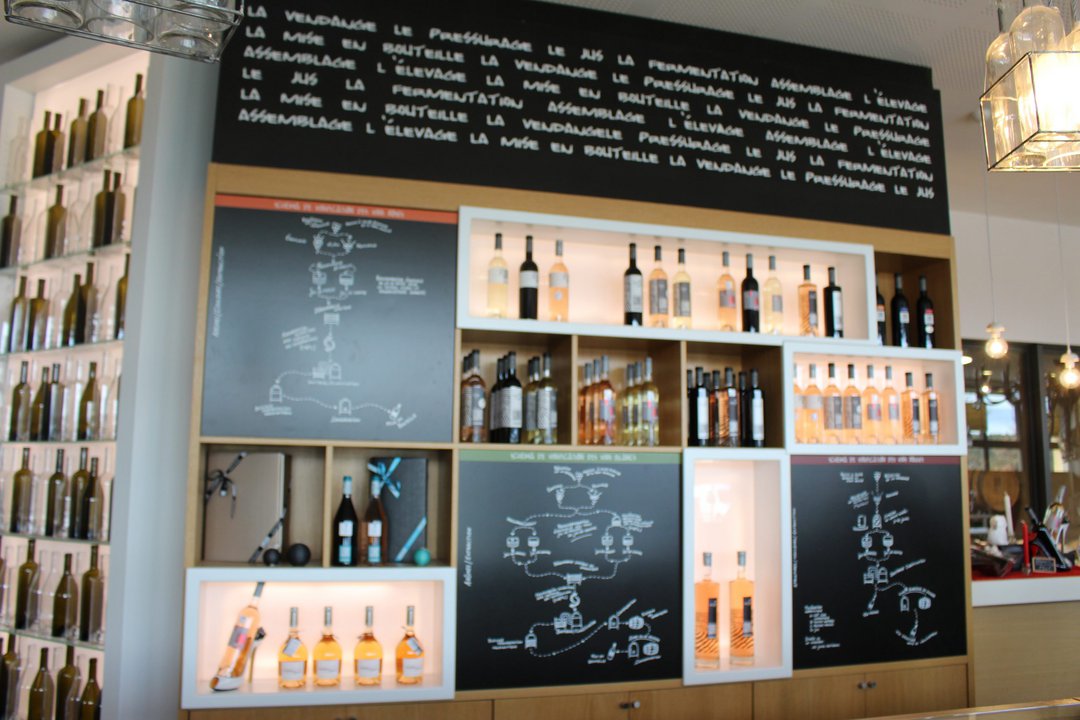 The impressive shop and showroom of Le Cellier des Trois Collines One restaurant in particular has stood out: Le Nid (37, boulevard Jean Moulin, 83780 Flayosc,  tel 04 94 68 09 96), located opposite Flayosc's old wine co-operative on the main street. It opened on 23 May 2015 and has already developed a loyal following throughout the year, and good reviews. Run by a young couple, Davy and Emilie Jobard – he cooks, she serves – with around 20 covers, spilling out onto the pavement in summer months, Davy was previously a chef at Jacques Chibois's Michelin-starred restaurant, La Bastide Saint-Antoine in Grasse.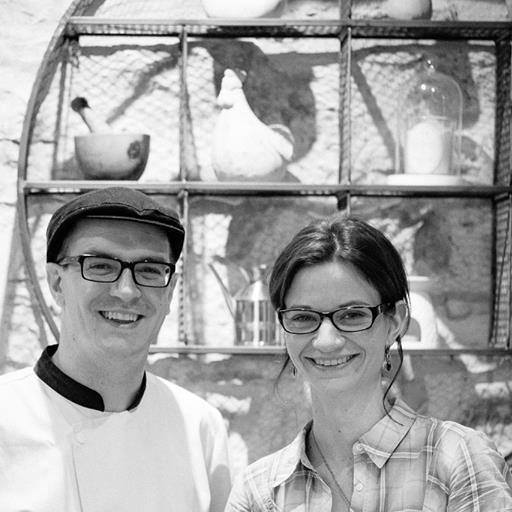 Davy and Emilie Jobard of Le Nid The freshly cooked dishes are imaginative, beautifully seasoned and works of art. As all the food is freshly prepared in the open kitchen at the back of the restaurant, this is not a fast food venue. The subtle flavourings are there to be appreciated at leisure: the hint of hibiscus in the jelly with the tuna, the delicate notes of saffron with the peach… Sit back and savour every mouthful. This, for me is a lovely expression of Provençal cuisine, which savours the flavours of vegetables and fruit, without the northern additions of cream and cheese or the overly fanciful fashion of foam. The decoration is attractive but does not detract from the meal. The wine list is simple, with a good selection of local wines. Our bottle of Font du Broc rosé, went beautifully with our meal. Le Nid's menu changes regularly, making the most of what is in season and available that week. Standard three-course menu: 29 euros. Below are photos from my excellent last meal there on 24 July. Not all dishes were for me! Some were for my dinner companions.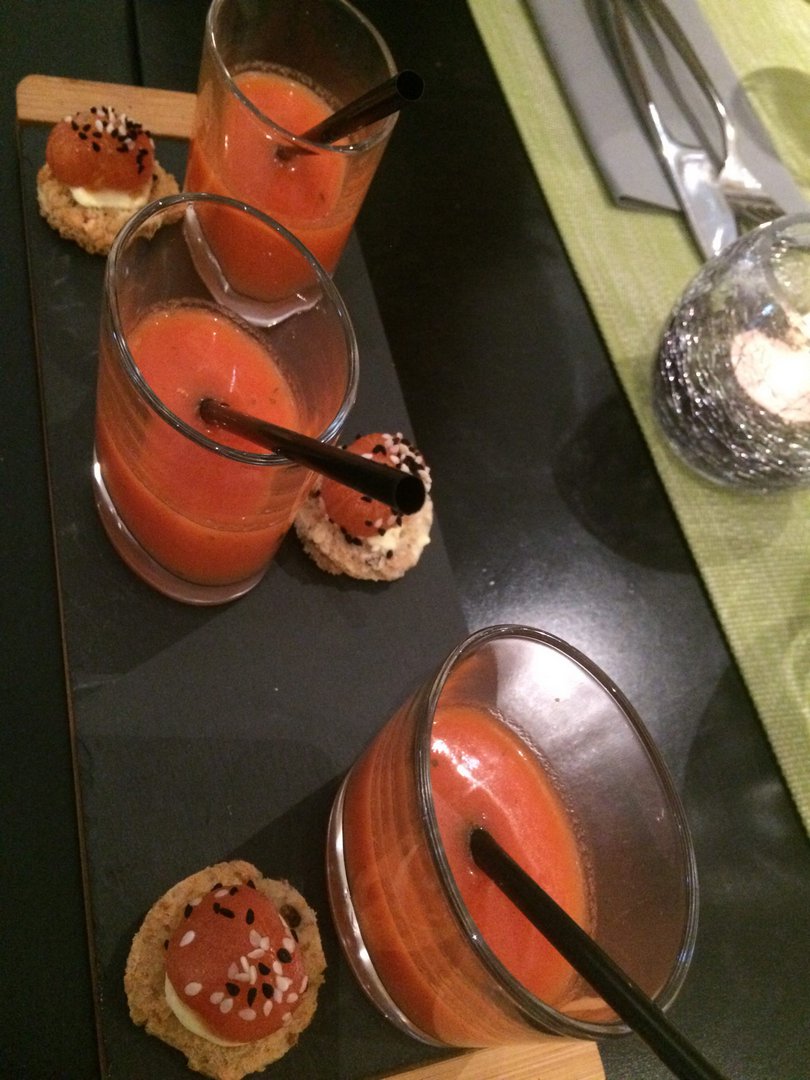 Amuse bouche - watermelon gazpacho with poached cherry-tomatoes on toast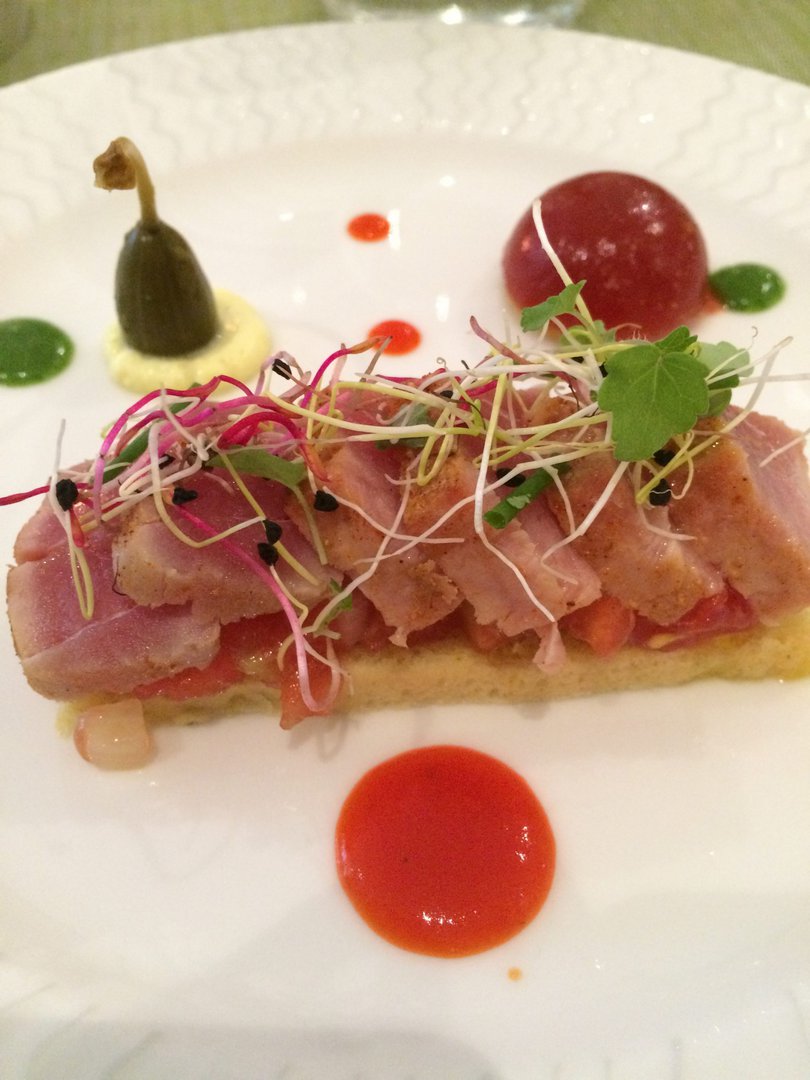 Tuna mi-cuit on a bed of tomatoes and a jelly relish of tomato and hibiscus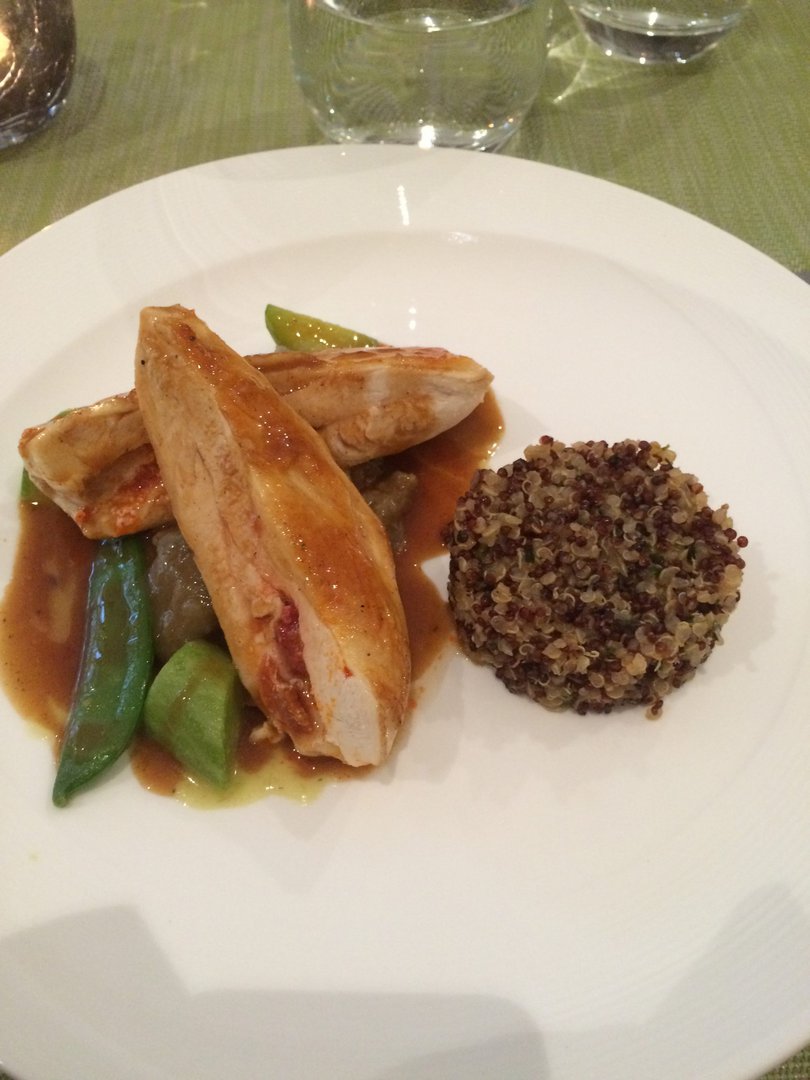 Chicken with quinoa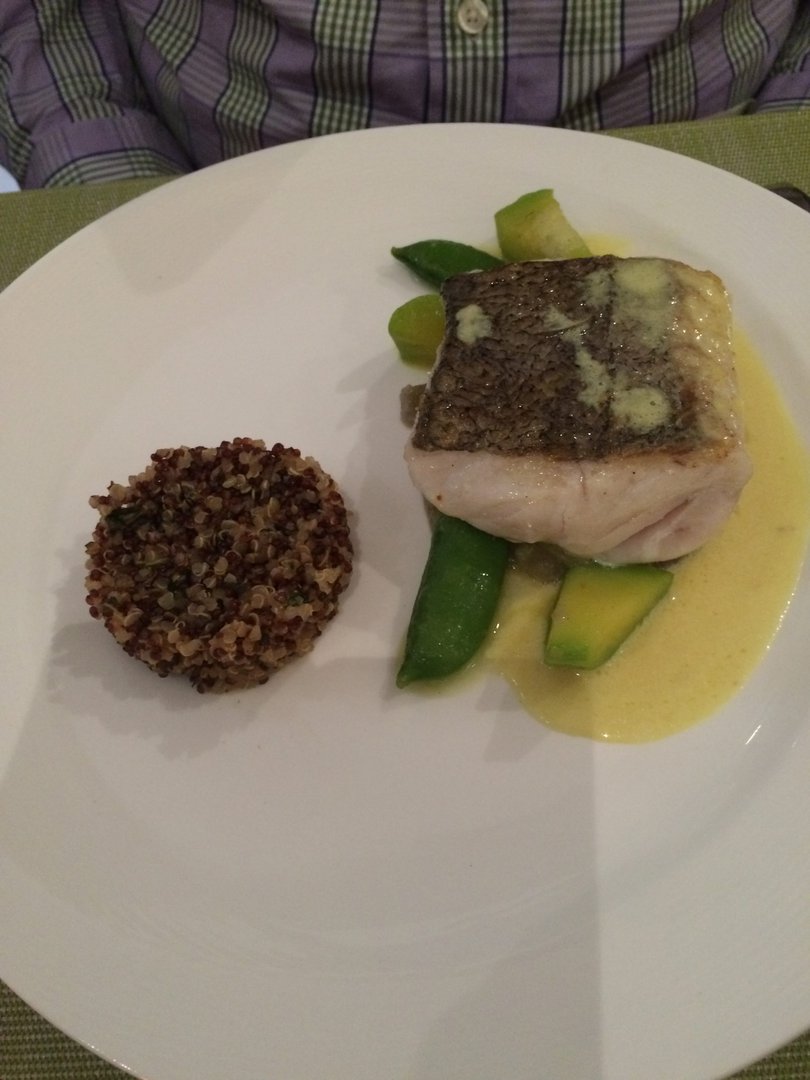 Perfectly cooked Coley steak on bed of green vegetables
Peaches poached in saffron and basil, with raspberry sorbet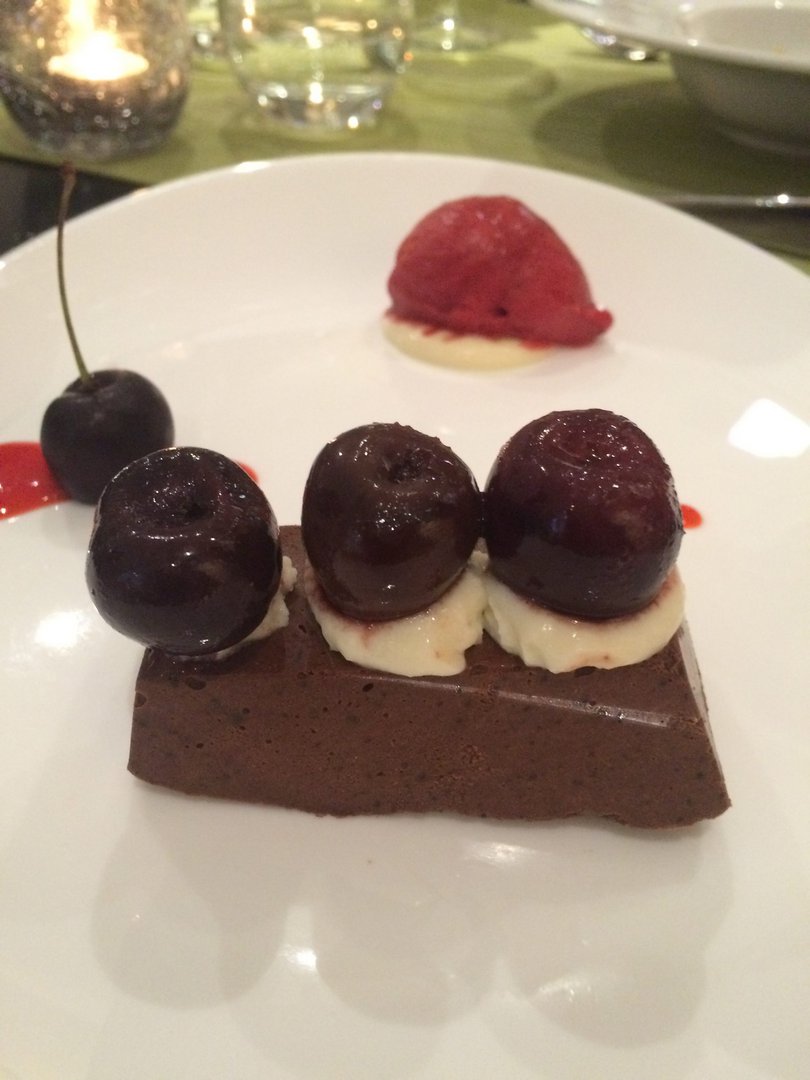 Chocolate mousse cake topped with poached cherries The restaurant is also amazingly adaptable for allergies and vegetarians (though best to give advance warning). We much appreciated the care Emilie took to make sure allergy-sufferers could relax, giving a clear indication of what could and could not be eaten, then – certainly no given in restaurants – giving them no forbidden products. She made sure the coeliac had gluten-free bread, the poached tomato for the amuse bouche was served on a spoon (to touch no flour) and the chocolate mousse cake was served without the gluten-containing cake-base. And the nut-allergy sufferer had his poached tomato without sesame seeds. I have now been to this restaurant a few times over the past year, and have enjoyed every meal, savouring regional variations and the innovative cuisine.