Moving Greek Rosé Forward
One of the most difficult tasks for the modern rosé winemaker appears to be how can you make a rosé which stands out from the crowd without changing what is taken to be the essence of rosé? While writing my book on rosé, one of the most important questions which arose was almost philosophical. How do you define rosé wine? Pink – but ranging from creamy white to pale red.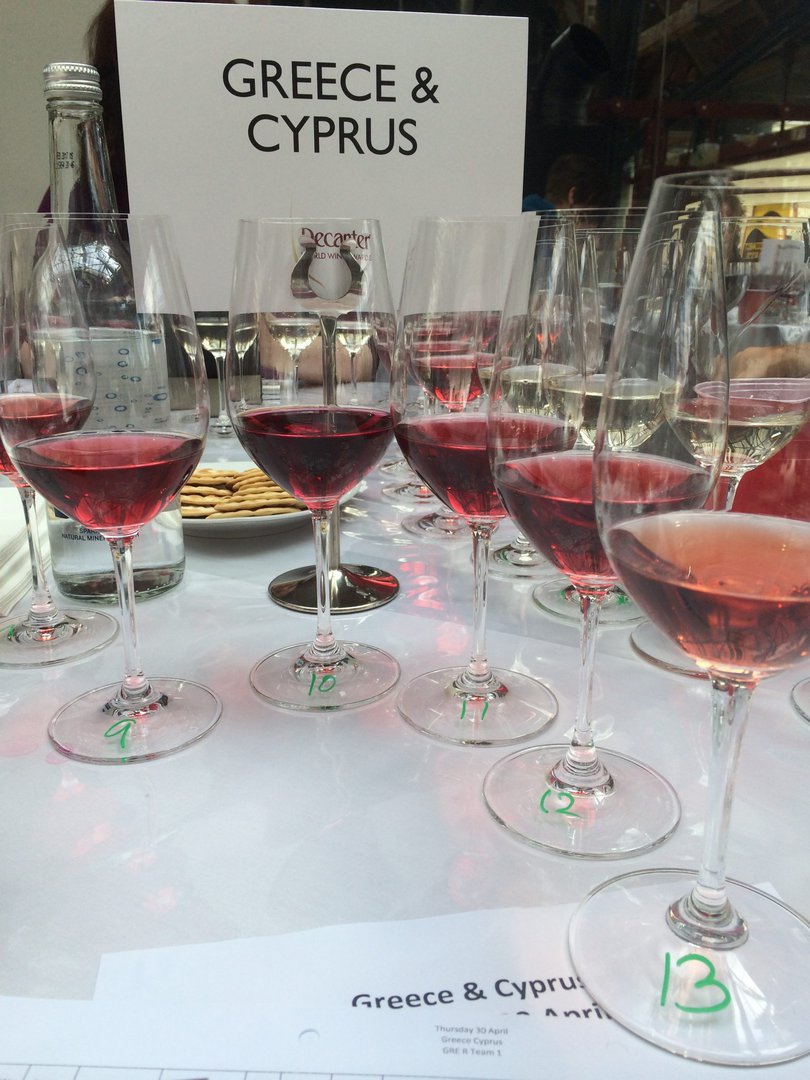 Judging Greek and Cypriot rosés at Decanter 2016 Fermented as white wine – except when involving longer skin maceration, like orange wine, and no fermentation on the skins. But wait! a number of rosés do start their fermentation on the skins before withdrawing the juice.... Winemakers have attempted to make upmarket rosés aged in oak – many of which I think are fantastic, but are often decried by purists that they are no longer the light airy wines which have made the style so popular. Indeed, I was questioned about this in a number of interviews. Surely my book was going against the very essence of what made rosé successful – that it was a wine which did not need great knowledge or tasting ability to enjoy, that it was a simple wine solely for pleasure on hot summer days.  The market for easily quaffable rosé will continue to exist, although whether with such success as in recent years or not, was a matter for debate.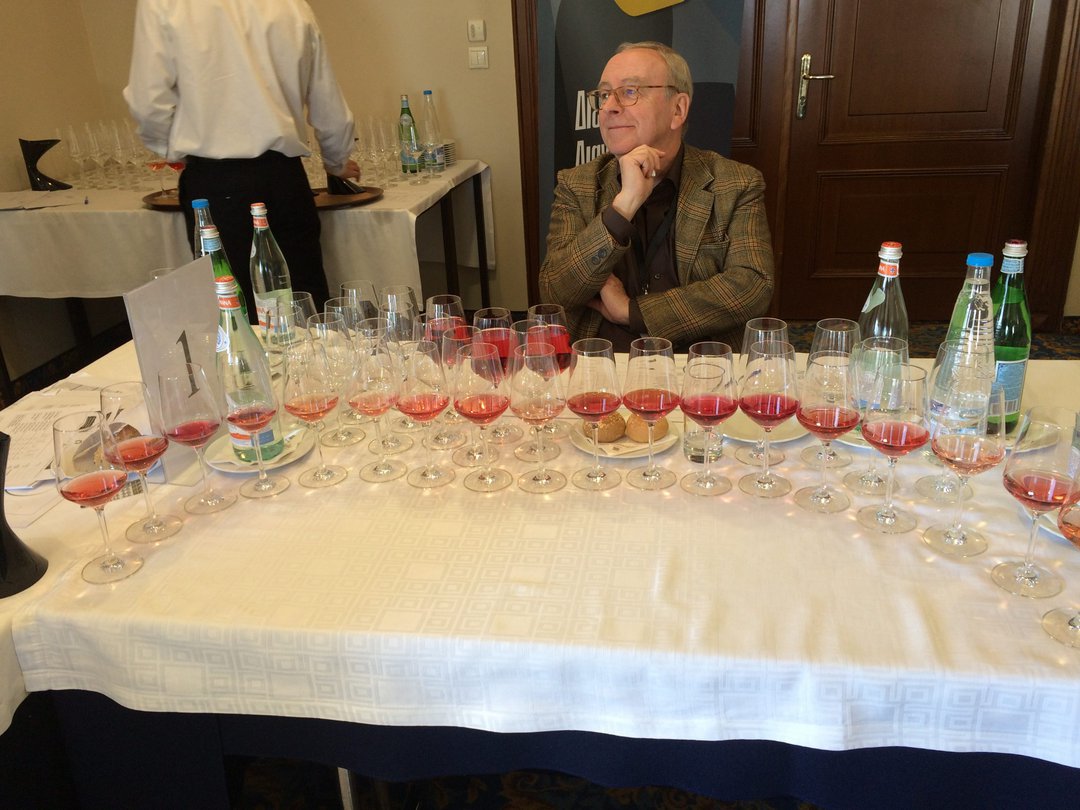 Judging Greek and Cypriot rosés at the International Thessaloniki Competition 2017 But, as winemakers are often also artists, they will seek to re-interpret any style and I try to explore and understand these different rosé styles. There is certainly more than one type of rosé and there is enormous scope for rosé to become textured, complex and interesting, using a variety of methods. Which comes to the wine in question:
In my book, in the introduction to Greek rosés I stated:
A tenth of Greek wine production is rosé, but this is slowly growing, driven by its popularity amongst women drinkers and tourists. The pink trend in Greece appears to have initially been driven by female drinkers, with ouzo preferred by men. Until six or seven years ago, most rosés were a pronounced pink-red colour with vibrant fruit, but, with the fashionable trend for very pale rosés, over half the production is now pale.
Peplo rosé has a classic pale pink colour. The front label immediately proclaims that there is something different about this wine. It is aiming to be a serious wine. High Altitude, barrel, tank and amphora are all announced.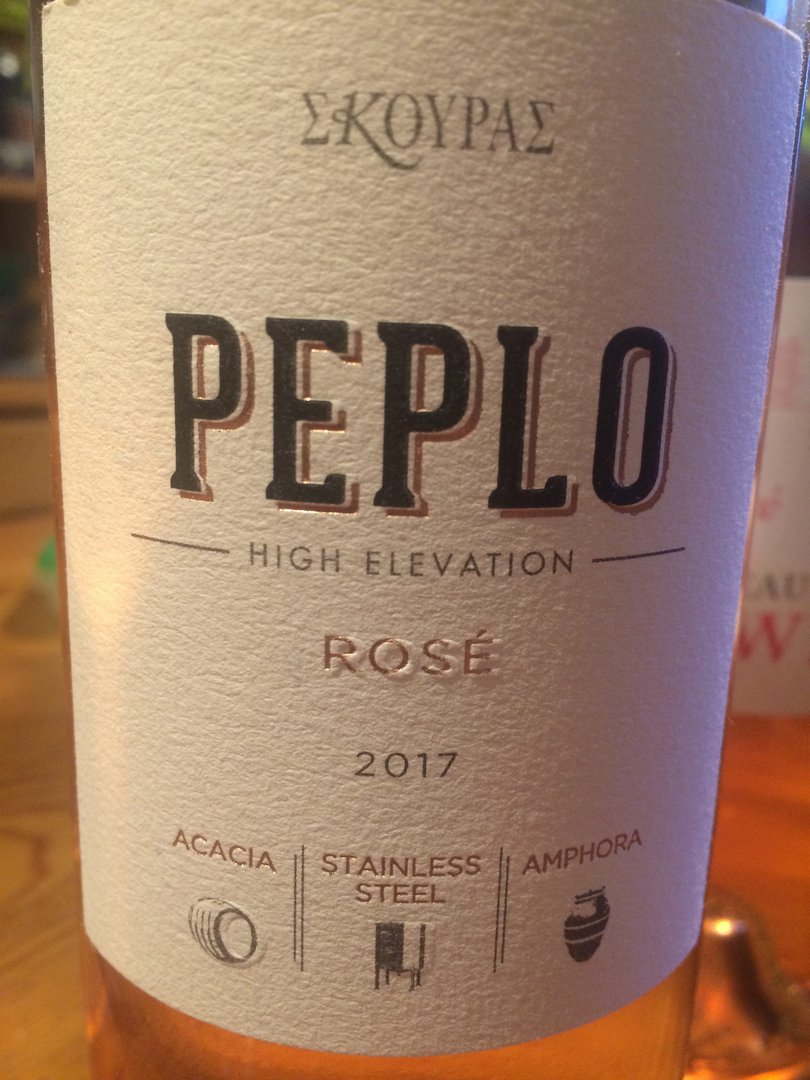 Peplo front label The back label explains more. 'Three varieties. Three high elevations. Agiorghitiko in Acacia barrel, Syrah in stainless steel, Mavrofilero macerated in amphora. Layered. Textured. Elegant.'My curiosity was instantly piqued. Here is a wine which is not only playing around with different varieties to give complex flavours, but also looking at site selection and methods of vinification to maximise the different flavours. A fusion of styles and ideas.
Barrels and amphorae So, let's break it down a little to see the component parts. My tasting notes for the 2017 vintage are:
Skouras Peplo 2017
Floral rosewater aromas, almost Muscat character, which carries onto the palate. The floral notes are prevented from becoming sweet or dominating by the fine mineral core which runs through the wine and the vibrant red fruit acidity coming through on the finish. Long, clean and fresh with firm structure subtly integrated into the finish.'

First of all, the high altitude. In the hot climate of the Peloponnese, high elevation allows the wine maker to retain acidity without harvesting so early that there is little fruit character.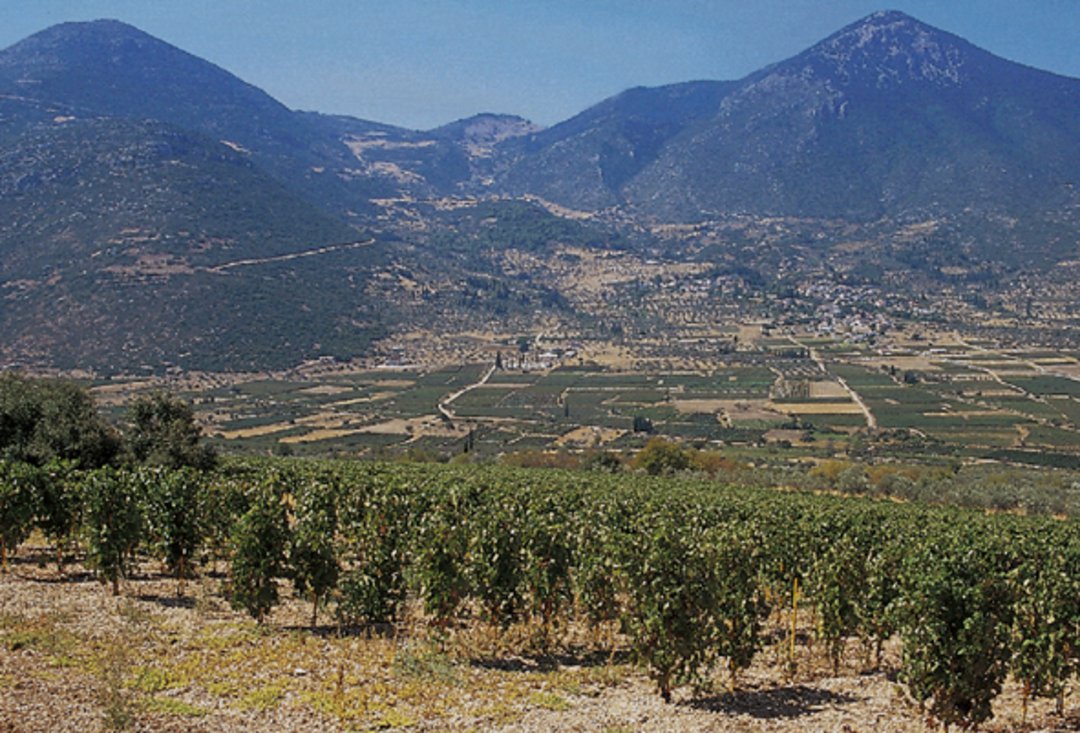 The mountainous vineyards of Domaine Skouras The use of Mavrofilero gives the pronounced floral character to the wine, with maceration in amphora adding to the weight, structure and persistence of the varietal character.
Mavrofilero macerating in amphora Fermenting the Syrah in tank could provide some of the darker fruit and mineral elements to the blend while the Agiorghitiko gives the fresh red fruit acidity. Acacia can give a soft, sweeter character than many woods and in this wine, contributes to the ripeness of fruit and the weighty structure on the finish. All in all, a very exciting wine, with intriguing nuances, and one I would certainly like to experiment with to see how to match it with food.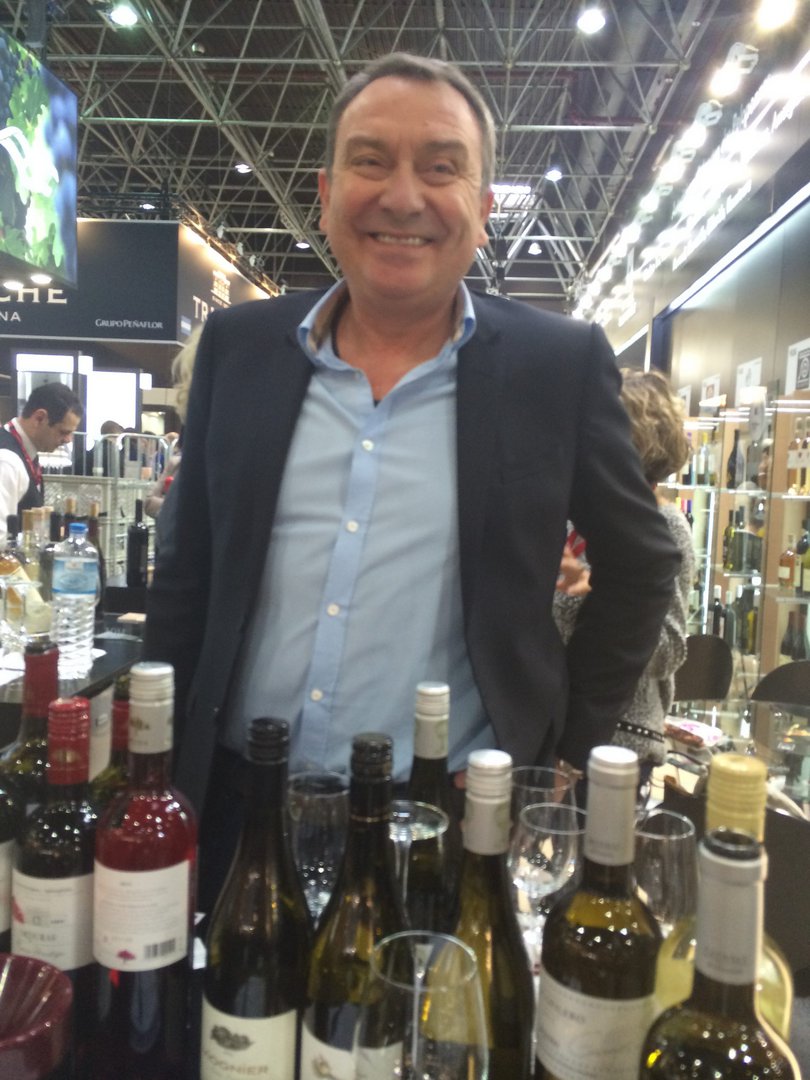 George Skouras I asked George and Dimitris Skouras about Peplo:
We wanted to make a serious rosé wine. Something similar to our big reds or whites. We saw a lack of those wines in the international market of rosés and we worked hard on this project experimenting for three full years. We believe that the Greek varieties can make great rosés. Thus our purpose is that Peplo will elevate the perception of Greek rosés around the globe. Overall a wine made with a lot of work.
I would say they have succeeded. A serious rosé, made largely with native Greek varieties, combining freshness and elegance.