My top 16 sparkling pinks of 2021
My selection of sparkling pinks for a bubbly end to 2021!
The sparkling pink world is such a diverse world, and I have yet to meet anyone (except my husband!) who can say no to a glass of chilled pink bubbles?
Strangely though, it can be a struggle to find a real diversity of styles, so Ben and I trawled through our notes from this past year to find the pink bubbles that stood out from the crowd, that made us smile, sit up and think, brought a touch of glamour to the end of year two in the Covid era.
Some of these pink bubbles overlap styles:
Pet Nat
Weird grapes you've never heard of
Off-dry pinks
Charmat
Méthode champenoise
NV Champagne
Prosecco
Vintage Champagne
Pink & tonic
And one of the great thinks about pink bubbles, is that the market is so much more accepting of any shade of pink - from creamy shell pink to dark pink.
Here's an interesting selection of sparkling pinks, in descending order of funkiness
Pet Nats
Top marks here for bringing a smile to our faces. There was some debate on whether an MW would actually say the name on film...
Fizzy Bum Bum, England
Unfiltered, gentle fizz. Cloudy, fluorescent pink, Sour cherry and raspberry fruit. A dry fruit bomb with fine acidity and a hint of exotic fruit. Redcurrants, cranberries. A touch of leesy nuttiness. A little fraise des bois, cherries, bitter almonds. tasty, great acidity, crunchy. Fresh.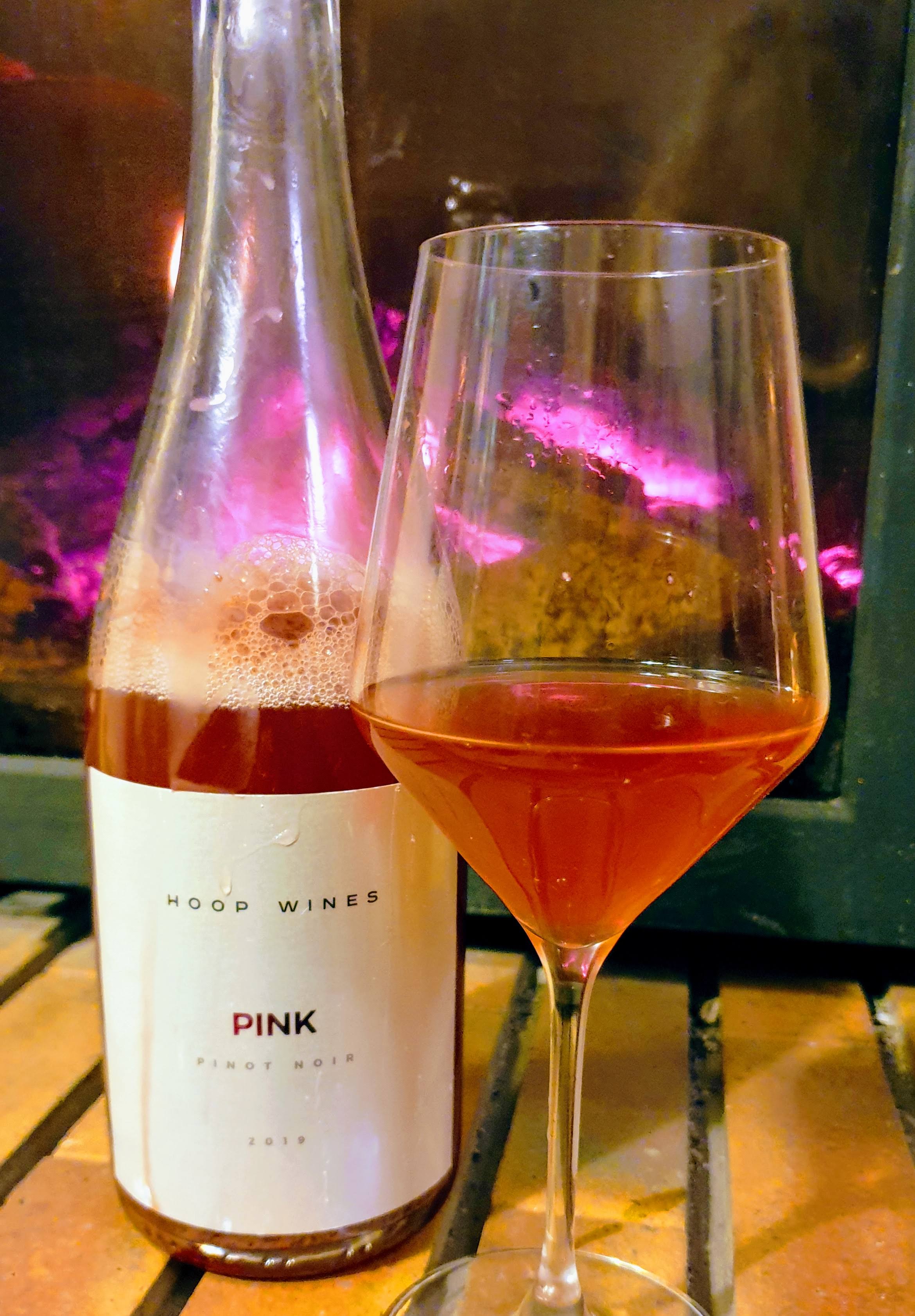 PINK 2019, Hoop Wines, Hungary
One of a great round up of Hungarian rosés for a Decanter article which included my first pink pet nat from Hungary! Unfiltered, gentle fizz. Purple ruby red. Creamy red fruit aromas. Fresh fruit on the palate, Lots of ripe raspberry, a little confected raspberry, some under ripe sour berries. Good acidity, simple and elegant. Opens up in the glass.
Unheard of Grapes
Egiodola
Not just unheard of, a bit of tongue twister too! But there are so few Egiodola vines planted that you can probably be pretty sure you are the only one to have ever tasted the variety!
Perles de la Noé, Vignobles Drouard
Egiodola from the Loire Atlantique. Absolutely stunning pink colour - rich and opulently golden-pink. Lots of raspberry and raspberry blue-fruit. Some artificial cherry and more artificial raspberry. Cherry-ade cough medicine. Not unpleasant, really gorgeously ripe juicy berry fruit. Crisp acidity a little on the low side given the bubbles, gentle grapefruit citrussy acidity. Lacking a little depth and complexity. Fruity and refreshing, no autolysis, just simply accessible fruit.
Marselan
Marselan is a cross of Cabernet Sauvignon and Grenache and we tasted over 50 Marselan from around the world for a series of articles earlier this year and were seriously impressed by the variety's potential from big reds to pink sparkling.
Terre & Mer sparkling Marselan, Cave de Richemer, Languedoc
Pale copper salmon colour. Dry, apple fruit, textural, chalky acidity. Moderate acidity but good fresh length. Typical acidity of the variety. Dry but very fruity - apples and peaches, hints of fraise de bois. Fresh, simple, fruity.
Charmat
Lady Frosyni, Domaine Glinavos, Greece - semi-sweet
More unknown grapes here - Debina and Bekari from north west Greece. Was not to sure what to expect from this wine but loved the amazing complexity of flavours and its ability to bridge a number of social occasions. Beautiful cherry colour. Not too aggresively effervescent. Delicate nose with redcurrants, sour cherries, pears and plenty of white flowers. Lovely richness on the palate from the sugar, but a ripe, candied grenadine fruit rather than apples or autolysis. Balanced with just enough candied pears, orange peel and rosewater for this to be incredibly refreshing. Bridging a really fantastic gap between seriously fruity and crisp. Has some gentle red tannins towards the finish without excessive phenolic extraction. Would happily serve this at an event before hearty red-wine food, but just as easily to placate the teenagers at a relaxed barbecue. Cheerful wine to keep everyone happy, but maybe don't go looking for searing acidity and structure.
Zaz, Casa di Vinuri Cotnari, Romania
An unknown blend of grapes and was served with a note of caution because made using the Charmat method ie carbonated in tank. Once upon a time that would have been the kiss of death sealed with the suggestion of a touch of residual sugar. But this was a pleasure to sip on, and proof that technology is striding ahead in winemaking. A pretty shell pink set off by the snazzy jazz label with lovely fine consistent bubbles. Really loved the touch of residual sugar here which softened any potential aggressive edge. Instead lovely ripe honeyed fruit, mellow and sun-kissed red currants, and fresh balanced acidity.
Méthode Traditionnelle
Cavodix pink, Domaine Brégeon
Also from the Loire Atlantique, this copper-red blood bold Egiodola looks like a red wine. Completely different from the earlier Egiodola, but the pronounced fruitiness and dark colour are common factors. An austere salty, steely, nose that continues onto the palate almost dominating the opulent blue-red fruit character of boiled sweets. Raspberries, dark cherries and cassis with some leafy acidity and ending with salty minerality. Interesting complexity, intriguingly different and overall very pleasant. The distinctive style is possibly one I would recommend with food rather than as an aperitif.
NV Champagne
Paul Louis Martin
Pale red. On the nose very winey, red wine. Bone dry, cranberry, red currant, fruit, pithy apple, tannic finish. Almost a sparkling red wine. As served in a dark bottle, the clue of the style in the darker colour, is not evident and I think this wine could come as a shock for a consumer anticipating a paler rosé Champagne. The wine is similar to the Bouzy rouge - both to me are interesting but do find edging towards a more traditional slightly rustic style. The bubbles here emphasise the more tannic wine character. Good acidity and I think I would like a touch more fruit or maybe more residual sugar rather than extra brut to give added charm. As such, a special style - a gastronomic dark pink champagne.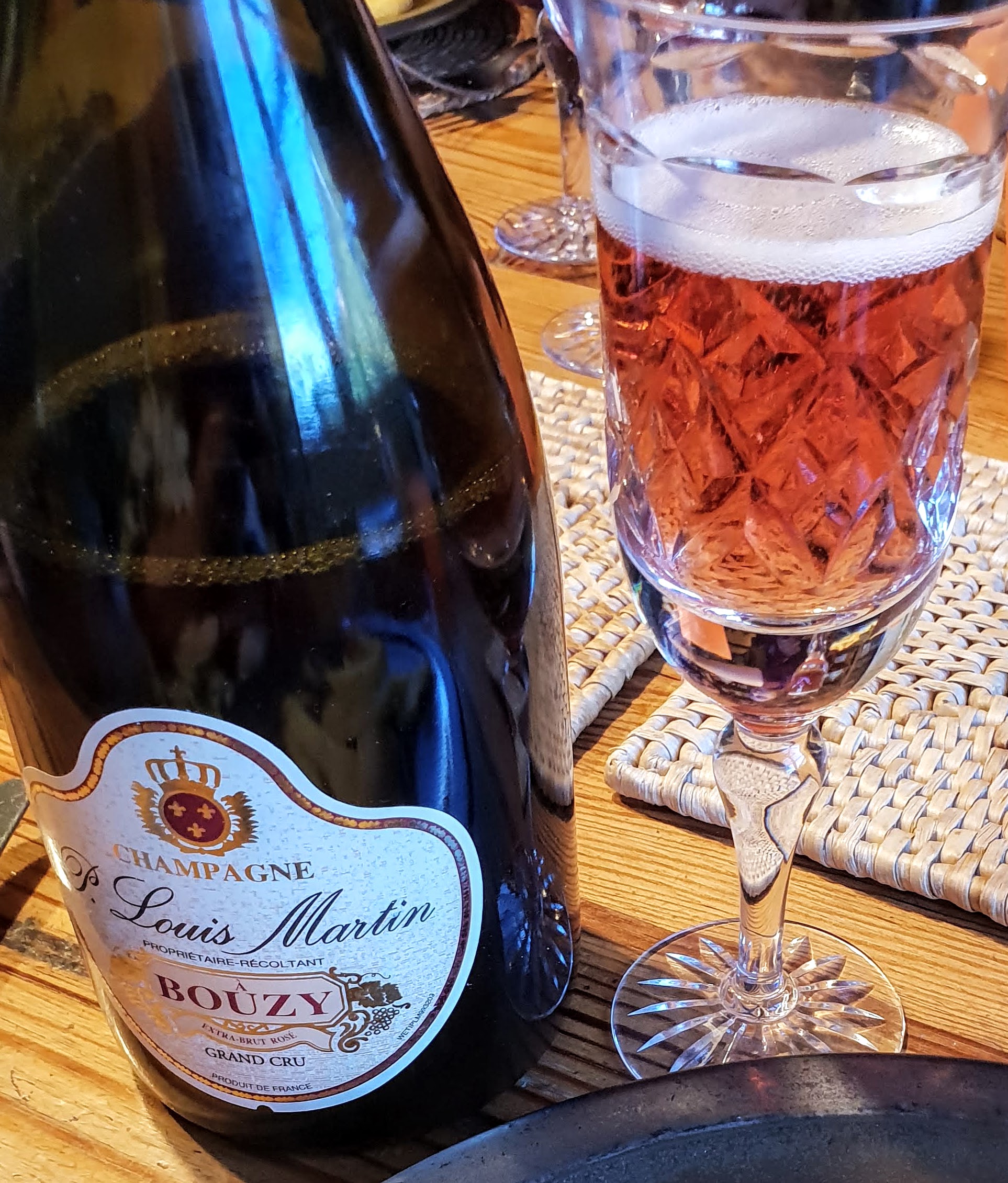 Huré Freres
Huré Freres beautiful cherry pink, real explosion of red fruit as soon as the cork is popped. Intense cranberries, gentle redcurrants. Hint of cassis, ribena, touch of cinnamon and nutmeg towards the finish. This isn't a sparkling Provence rosé, it's a pink champagne with beautifully ripe cool climate red fruit. Cinnamon intensities as it opens up really rather gorgeously. Delicate, elegant. Blood orange. Would go with food too - duck a l'orange or toasted brioche with foie gras and dried cranberries, but it's rather delicious just on its own.
Champagne Cossy Extra Brut Rosé
"17% red wine dosage leading to a gorgeous colour. Brioche, red fruit, cuvee elegance. Great breadiness, clean red fruit, perfect balance. A little mineral, saline. Puts the rest of the tasting to shame. Wonderful malty, salty, ripe, bursting red fruit. Not tannic or heavy not wonderfully weighty. I'm a convert. BB
Prosecco
My approach to pink Prosecco is so far extremely cautious. They're not the first northern-Italian appellation to jump on the recent rosé bandwagon, and they wouldn't be the first to sacrifice their identity by doing so. Prosecco itself (at the price point at which its rosé version is relevant) was still only shakily defining itself, and I can't see its rosé finding a unique, quality style for years to come - it never happens overnight.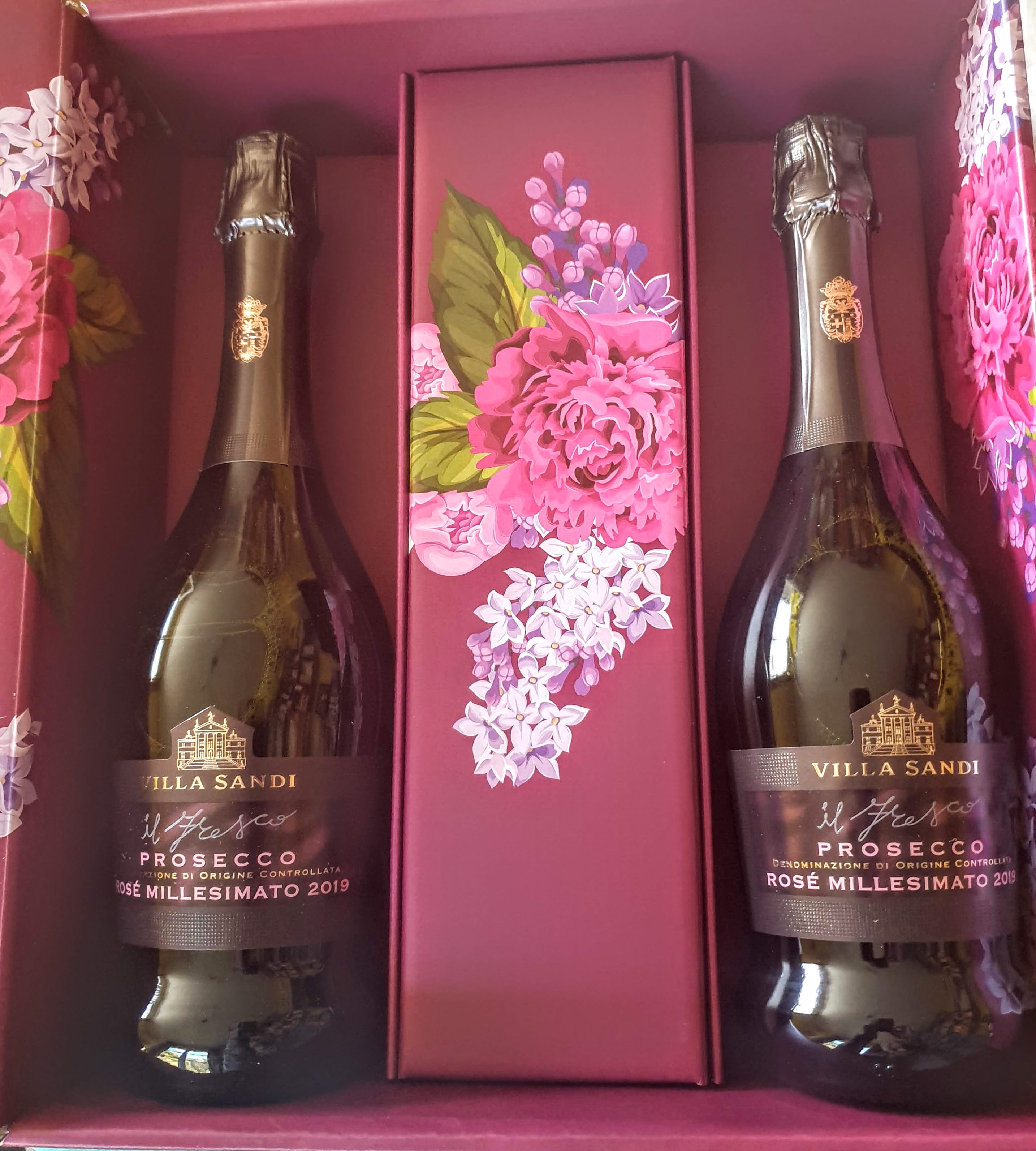 Villa Sandi Prosecco Rosato Millesimato 2019
A blend of Glera with some Pinot Noir to give the pale pink colour. Clean, fruity, hint of peach, fair amount of berry fruit. Not big and complex and yeasty but fresh and clean and easy-drinking. Lovely orange, citrus. Round body with a sharp, orange drop edge. Lovely acidity, easy-drinking while still maintaining a premium body and chalky structure. This went particualry well with a salty mustard risotto with kale which really brings out the sweetness – seemed dry but the 12g/l really shine with a creamy salty veg dish.
Vintage Méthode Traditionnelle
Quinta da Barca Pontas Soltas Espumate do Douro 2016
Rich, juicy, jammy, tomato juice fullness. Slight yeast, fresh, eager, juicy apricot. Rich, but not ripe fruit sweet rich or brioche yeasty rich. A little austere on the finish - despite the already extensive lees ageing, this has a few years ahead of it to soften out the acidity and let the timid fruit start to shine. This could be the Brut Nature side, but it could also reflect the blanc-de-noirs style that this wine is technically labelled as.
Coolhurst Vineyards Lady Elizabeth, England 2016
England strikes again with this classy Pinot Noir rosé (they also make a classic Provence rosé under the Coolhurst name) Autolysis on the nose opening up to red berry fruit. On the palate ultra crisp fresh crunchy redcurrants and intense, ripe strawberries and cherries with fresh leafy green tea acidity. Vibrant, fruity, intense and distinctively English sparkling rosé.
Non-vintage-but-vintage-influenced Champagne
Brad Pitt and the Perrin's Champagne Fleur de Miraval is a non-vintage blend designed to emulate a very old vintage wine, which sounds strange, but it works.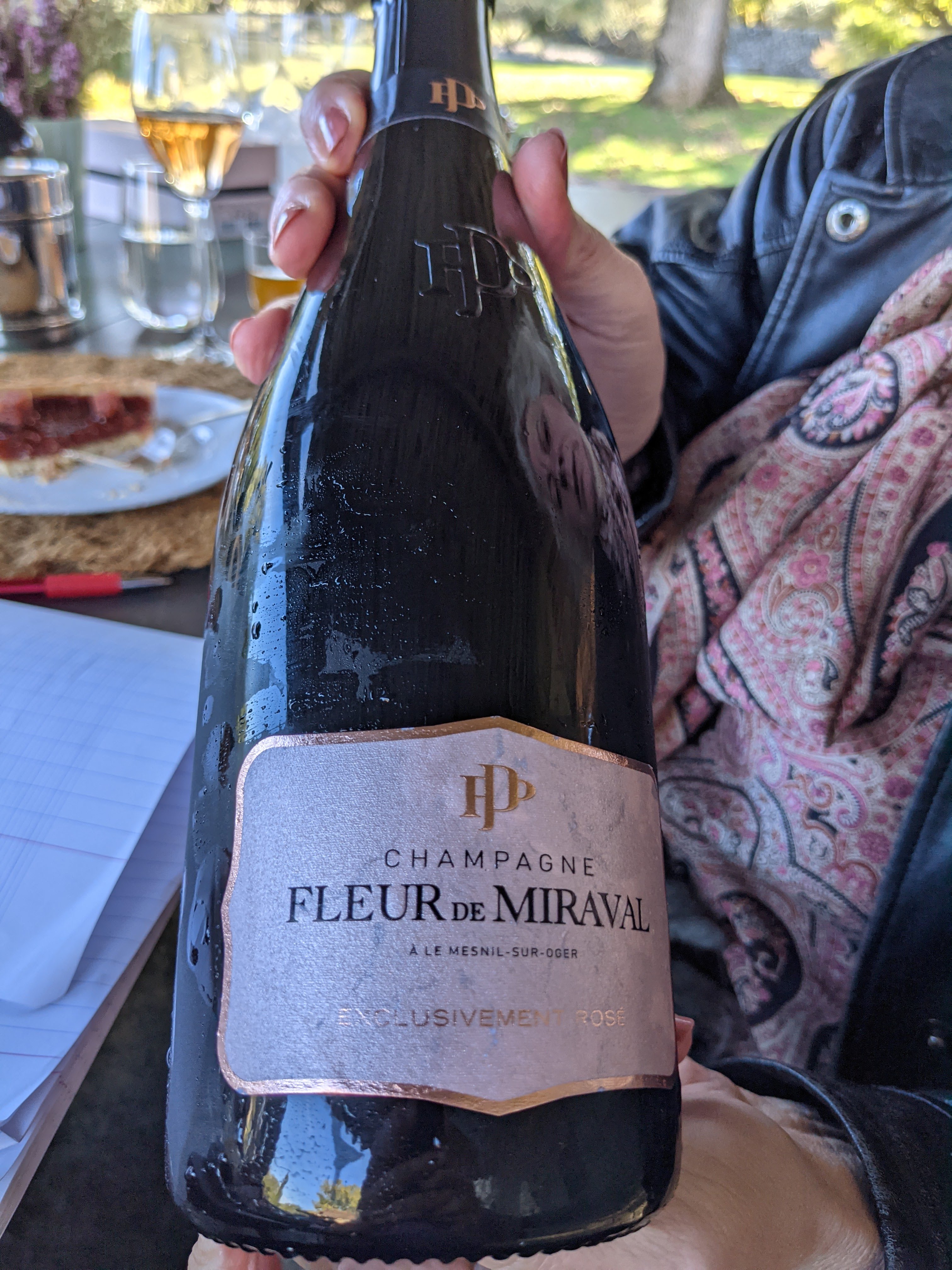 Fleur de Miraval ER2
Pale pink red in colour. Very restrained autolysis aromas with firm, structural, mineral notes. On the palate, tight mineral structure, dark, black cherry fruit and some almond notes. Initially tasting very young and unyielding, but with time in the glass it opened up to reveal beautifully open fruit and charming richness. Dare I suggest it, maybe a Champagne not to be served straight from the ice bucket, but even consider decanting to get the full fruit.
Find this wine on Pix.wine
I wrote about their second release for Decanter here: https://www.decanter.com/premium/first-taste-fleur-de-miraval-er2-470108/
Vintage Champagne
Cuvee Elisabeth Billecart-Salmon 2008
Golden copper salmon pink, fine mousse. Creamy buttery notes with some intense red berry notes – fresh raspberries and lingonberries, a hint of orange peel and yeasty details. On the palate - this is a perfect rosé - abundant, ripe cherry and raspberry fruit - this is a rosé after all. Raspberry white chocolate. Just a hint of orange peel, progressing into lemon-and-lime marmalade. Gentle cloves and ginger spice, creamy complexity, perfect balance. Fabulous long fresh sherbet acidity, vibrant and mouthwatering. Mouthfilling weight, extreme elegance and some gorgeous complexity from some maturity - definitely not showing its age, but there is a beautiful integration of fruit, structure, some yeasty notes of age. Even my husband liked this fizz! While Fleur de Miraval tasted mature, this wine is older but tastes younger and fresher preserving more of its red fruit and youthful acidity. Really elegant and ticking all the boxes one would expect of an archetypal vintage pink Champagne.
Find this wine on Pix.wine
Pink & Tonic, Croft, Portugal
This sparkling pink in a can was a complete mystery and is an advanced tasting for an article due for early 2022 on sweet pinks. Made with Port varieties Tinta Roriz, Touriga Franca, Touriga Nacional and tonic water, the colour is a surprise when you pour - a glorious dark ruby pink. The tonic quinine character is quite evident on the nose, my first thought was Lucozade (or Chinotto for Italian readers!) - but I think that was the shock and later thought it reminded me more of a Negroni. Indeed, if you find Negroni too bitter, this may be your solution as the wine is softer and riper. Bitter orange, sour cherry and gentle fizz. In summer it is recommended with ice - but I started thinking post Christmas duck and cranberry canapés by the fire and a festive pink bubbly and an admirable 5.5% abv to help you pace the evening!