Rioja Rosados with Altitude
'Two is company, three is a crowd'. Tasting one or two fresh, high altitude rosados from Rioja is interesting; tasting three or four, and a theme starts to appear.  While Rioja may be best known for its red wines, its rosado revolution is showing great promise. Rioja lies just over 100km south from the cooling maritime influence of the Bay of Biscay and the Atlantic Ocean, around 200km (or less) to the south-west of the Pyrenees mountains. Its proximity to France has meant that its wines have had a wider international historical prominence, especially during the early years of phylloxera, when it supplied wines to replace the devastated French vineyards. In 1925, it became the first region in Spain to receive an official designation of origin. Since 1991 the region, its varieties, vinification and methods of ageing, for red, white, rosado and clarete have been defined.
The Rioja appellation regulations include four ageing levels for red, white and rosado wines.
joven - young, fresh and no oak
crianza rosado have a minimum ageing of 6 months in barrel
reserva rosado have a total time of 24 months ageing in oak barrels and bottles, with a minimum ageing period of six months in oak barrels, such as the rosado from Contino (CVNE) in the Rioja Alavesa, made from Graciano (33%), Garnacha (63%) and Viura (4%) aged for 8 months in oak. (£16.67 The Wine Society, Field and Fawcett)
gran reserva with ageing in oak barrels and bottles for a total period of at least forty-eight months, with a minimum ageing period in oak barrels of six months. Tempranillo can add to the structure. Bodegas López de Heredia in Rioja produces possibly the most famous traditional rosado, Viña Tondonia (£35 Berry Bros. & Rudd). Made from 30% Tempranillo, 60% Garnacho and 10% Viura, it is aged in barrels for four and half years. López de Heredia choose to keep the wine for longer and the next vintage to be released will be the 2009. Through long ageing, the colour has become a light orange-pink while on the palate a seamless blend of red cherry and raspberry fruit, round full body, fresh acidity and added oak complexity (and is on my 'top ten rosé' list.)
While the red wines of Rioja, with their ripe fruit, fresh acidity and ageing potential, often aged in American oak, with its sweeter flavours, charmed consumers in all price brackets, the more oaked white and rosado wines struggled. The oak-aged white wines had a unique style, typified by the wonderful almost oxidative style of Marqués de Murrieta. This perplexed younger drinkers becoming used to the primary fresh fruit wines of Australia and New Zealand. Unable to compete against the growth in popularity of the bright, fresh fruit flavours of modern wines, the old style white and rosado slowly disappeared. Traditionally rosados were much darker. However, the growth in popularity in recent years for the modern, pale pink, rosé has led, in many regions, to a change to paler, lighter styles, as shown in this chart issued by the Conseil Interprofesional des Vins de Provence.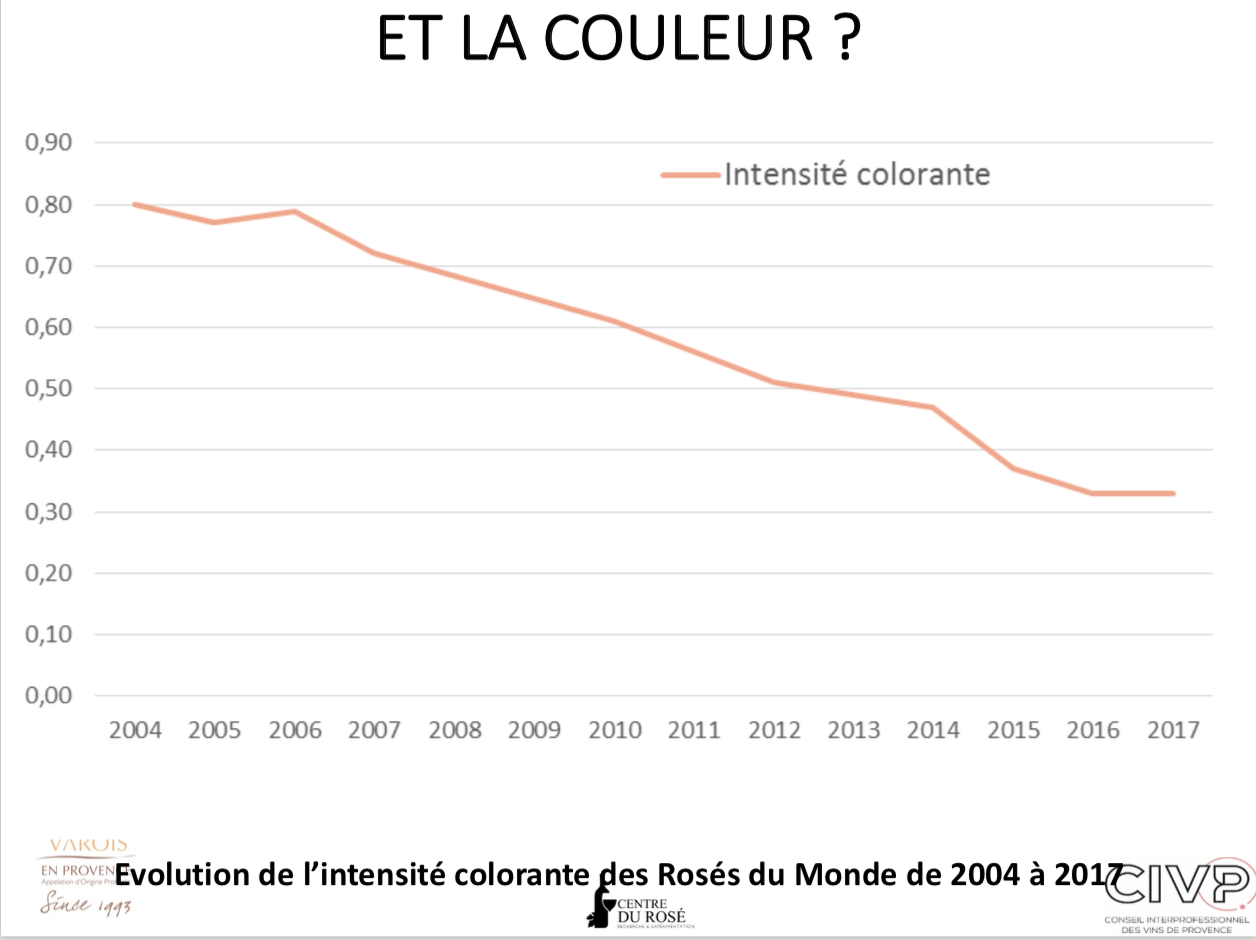 According to Tom Perry, formerly of the Rioja Wine Exporters' Association,
"Rioja wineries wanted to take advantage of this increase in demand for very pale rosés but were forbidden from doing so because the Rioja Regulatory Board defined rosé as having higher colour intensity. It took some time before wineries were able to get the definition changed. Today, the rule for the minimum colour intensity of a Rioja rosé is .1UA/cm, measured as the sum of A420+A520+A620. This allows very pale rosés to be made. For the non-tech minded, basically it's using photospectrometry to measure the wine's capacity to absorb light at three wave levels: 420, 520 and 620 nanometers. A lighter intensity will have a lower number and vice-versa. For example, in Rioja, the minimum colour intensity for a red is 3.5 UA."
This modern pale rosado is increasingly being made, especially in the classical, fruit-driven, fresh young wines, with no ageing. Another historic style found in Rioja is clarete, a blend of red and white grapes, originally field blends, with longer maceration of one to two days, with maybe the start of fermentation on the skins. They could be dark pink to pale red, depending on the vintage and the percentage of red and white grapes, with a minimum of 25% red grapes. With modern pale rosado often including white varieties, there is a poetic blend of old and new traditions.
At the market preference for lighter fresher rosé styles has grown, there has been a move away from the traditional Rioja style of blending grapes from around the region, towards greater emphasis on terroir and single vineyard wines. In 2018, the Regulating Council released new classification rules for Rioja, attempting to encourage the promotion of regional microclimates, and put a greater focus on singular vineyard sites. Add climate change into the equation, and we can see a move towards new Rioja rosado from cooler, high altitude sites (defined as 500 metres+) with the highest Rioja vineyards at 750 metres.
The Regions and Valleys of Rioja
There are three regions in Rioja: Rioja Alta, Rioja Alavesa and Rioja Oriental (formerly Baja). The appellation principally follows the Ebro River Valley, with vineyards also along the valleys of the many tributary rivers. Each valley is different, with geographical features that result in considerable biodiversity.
Rioja Alta
Rioja Alta is located on the western edge of the region. This is situated higher up the Ebro River Valley, toward the headwaters. That's where the term alta ('high') comes from, not from the altitude. Almost half of the vineyards in the DOCa Rioja are in Rioja Alta. Calcareous clay soils plus cool air from the Bay of Biscay in the Basque country creates wines with greater ageing ability. The greatest concentration of wines in Rioja is in the Najerilla Valley with a large number of older vineyard sites planted with 80–100 year old Tempranillo and Garnacha vines. While some soil are calcareous-clay, where the Najerilla River meets the Ebro, the majority are iron-clay based. Originally, claretes were made mainly in the upper valley of the Najerilla river in Rioja Alta around the villages of San Asensio, Cordovin, Badarán, Azofra and Alesanco.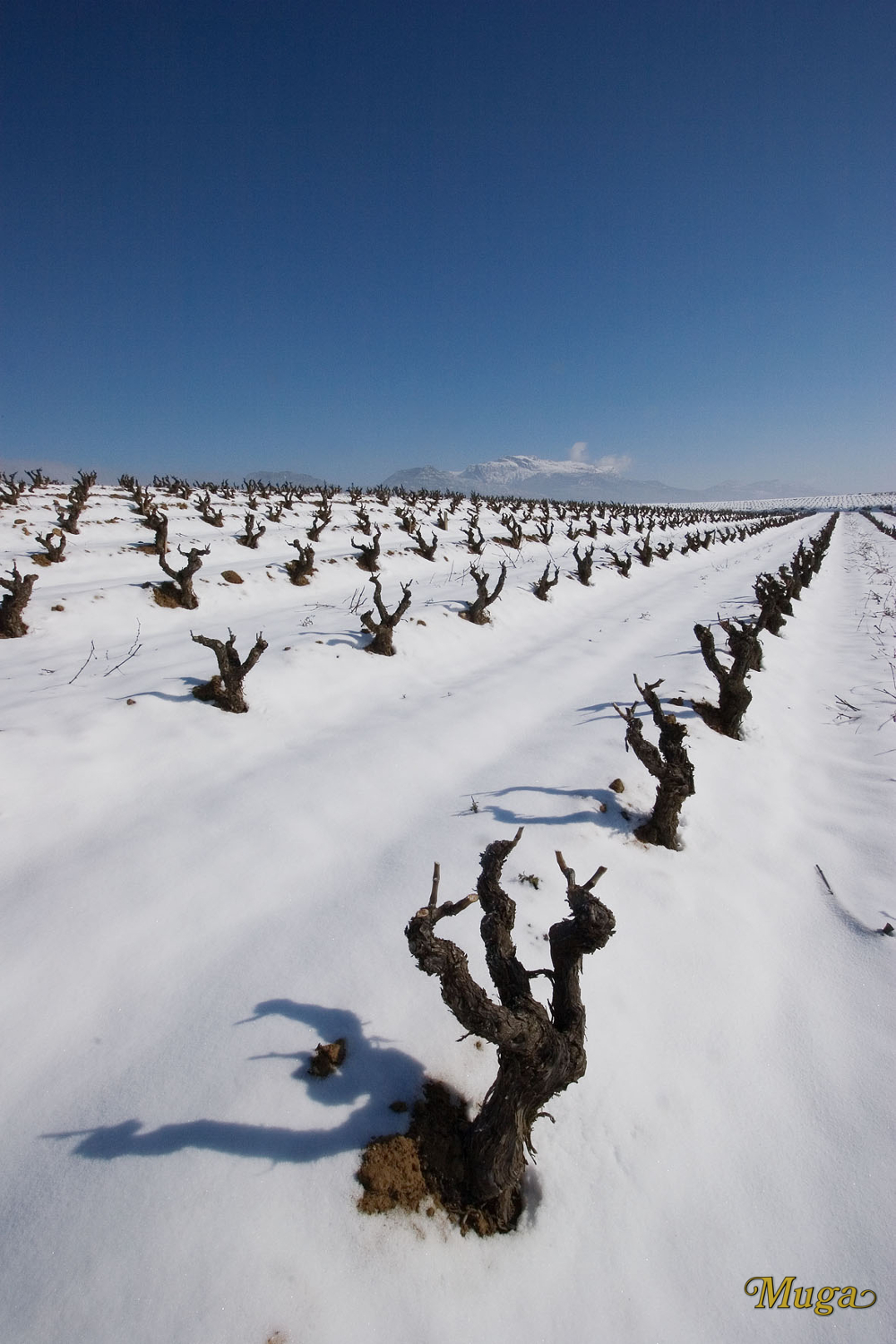 High altitude vineyards have cold winters Bodegas Muga made its first clarete here in 1932, and using the same varieties have continued to make their classic rosado (around £10) with a blend of 60% Garnacha, 30% white Viura and 10% Tempranillo. The grapes are pressed, macerated for 12 hours and barrel-fermented for twenty-five days, giving extra richness and complexity, with notes of toast and rich apricots. The modern rosado gains extra freshness from Garnacha sourced from north-facing vineyards at 600 metres altitude. This gives the wine very fresh acidity and contributes to the long, mineral structure, while the red berry fruit has cool-climate austerity. In April 2017, Muga launched a second rosado called Flor de Muga (around £20), which is 100% Garnacha from specially selected plots of 70 to 90-year-old bush vines grown at an altitude of 600 to 750 metres, also in the Najerilla valley on clay-limestone and red iron-clay soils. Made with 50% skin contact and 50% free run juice fermented in oak. The pale pink wine has creamy red fruit, lovely long acidity and mineral backbone.

Bodegas Ramón Bilbao's chief winemaker, Rodolfo Bastida since 1999, appears to be one of the first to make high quality fresh rosado from high altitude vineyards when he made his new rosado (£10.95 Great Western Wines) in 2012. The 2018 is the 6th commercial release. The grapes, 80% Garnacha and 20% Viura, come from the Alta Najerilla, in the foothills of the Sierra de la Demanda from vineyards planted between 500-700 metres. This is one of the coolest sites in the region with big diurnal temperature. An idea of how cool the region is, is the harvest dates during September and October. The long slow ripening creates fully ripe grapes whilst retaining their fresh acidity. This rosado is creamy white with barely a hint of pink, at the extreme end of being a rosé. Aromas of white flowers and hints of saffron. Creamy silky structure with white stone fruit and fresh nuts up front with fresh citrus acidity, wild red berry and stony minerality on the length.
Rioja Alavesa
The smallest region, Rioja Alavesa, along the norther edge of the region, has a similar climate to the Alta region, and produces wines with a fuller body and higher acidity. It is part of the Basque Country, Euskadi.
Rioja Oriental
Unlike the more continental climate of the Alta and Alavesa, the Rioja Oriental (formerly Rioja Baja) is strongly influenced by a Mediterranean climate, which makes this area the warmest and driest of the Rioja. In the summer months, drought can be a significant viticultural hazard, though since the late 1990s irrigation has been permitted. Temperatures in the summer typically reach 35ºC. Traditionally the home of Garnacha and Mazuelo (Carignan), especially in the older, higher vineyards, Tempranillo has been increasingly planted in the last 50 years.
Murrieta Primer In the north-west of the region, Mazuelo from higher altitude vineyards has been used since 2015 by Bodegas Marqués Murrieta for their Primer rosado (around £25-30 Maison Marques et Domaines). This was a radical move for the estate, who had stopped making their oaked rosado in 1987, saying it was expensive to make, and few were prepared to pay for oaked rosés. From 2012, Murrieta's winemaker, Maria Vargas, started to experiment with a new style rosado, working with Tempranillo, Viura, Garnacha and Mazuelo (Carignan); he finally decided on a single-varietal Mazuelo rosé, grown at 500m from a plot called La Plana, the same plot as for their top red wine Castillo Ygay, which also includes a high percentage of 19% Mazuelo. The colour was important to Vargas, who was aiming for a pinker tone rather than the more salmon colour of Garnacha wines. The grapes undergo a short maceration in the press for three hours, before being fermented at a cold 10ºC, followed by some ageing on the lees, creating a pale, dry rosé, with wild red berry fruit and whisper of a firm tannic finish on the end. Typical of this variety at altitude, it tends towards austerity and fresh acidity, while the ripeness gives balanced white peach fruit and cream ripeness, with the fragrant peach character becoming more evident with age. As the first 100% Mazuelo rosado from Spain, it reflects the experimental nature of these higher altitude rosados.
The Ygay estate, Bodegas Murrieta
In the south-east of Rioja Oriental, almost on the border with Navarra, Ramón Bilbao have purchased 90ha of vineyards on the Monte Yerga at 520-720 metres. While mountain viticulture is 25% more expensive than vineyards on the valley floor, Bastida says the benefits of the high-altitude vineyards are worth the extra cost. The greater diurnal temperature differences result in long slow ripening, which achieves good fruit and retains acidity and freshness, with fewer extreme heat days. While this extra freshness is good for all wines, the extra light intensity, an increase of 4% for every 250 metres additional altitude, with more UV, can be a problem for rosé. It results in thicker grape skins, which in turn enhances colour and anthocyanin levels. The grapes can be protected with different canopy management. Free run juice can reduce the colour and tannins extracted. Mountain vineyards have thinner topsoil, fewer nutrients, and better drainage, reducing berry size and lowering the pH of the grapes. According to Bastida, this gives a more stable colour from the start, a greater capacity for ageing, higher levels of acidity and microbiological stability in the wines, allowing lower amounts of SO₂. The drier air and winds help keep the vineyards healthy.
Monte Yerga vineyards, Ramón Bilbao Ramon Bilbao bottle these wines under under the Lalomba name, as Monte Yerga had already been registered by another winery, starting with a rosado in 2015, released 2016, then the 2017 red in 2019. Detailed maps of each plot have been recorded by drones showing temperatures and growth patterns of the vines. The cooler sites on Monte Yerga are used for the rosados, leaving the more concentrated berries for red wines. Lalomba rosado (£23.50 Great Western Wines) comes from 700 metres high vineyards, with 35-year-old Garnacha vines planted on stone clay and limestone. Hand-harvested, chilled, sorted, stemmed, gently pressed in a cold inert atmosphere for free-run juice, cold-stabilised on the lees for 3 days. Fermented in concrete eggs at cold temperature and aged on the lees for four months. The 2018 is pale shell-pink, made with free-run juice and no maceration. It is more structured with a tight phenolic grip on the finish, which made it great with food. Smooth creamy red fruit with peaches and spice and long redcurrant acidity and a central core of minerality and fruit concentration. The wine took on a greater richness as it warmed up over a few hours – served fresh from the fridge it had a tight, mineral austerity, suggesting that it will improve with a bit more age.
An impressive range of terroir driven and unique rosados from Rioja are emerging, combining tradition and innovation. However, I would say these wines are being drunk far too young, well before their prime - the promise of greater intensity of fruit and depth is there. Having these wines available on the market from earlier vintages would be amazing, especially for the on-trade. After all, the market is happy to buy Tondonia's ten-year-old rosado. In the meantime, I am getting itchy feet to climb up into these hills and see these vineyards.....