Rosé 2015 Tasting from Coteaux d'Aix-en-Provence
On a cold grey blustery day in early April, I made my way to the Salon du Millesime 2015 Coteaux d'Aix-en-Provence held at the Hotel Renaissance in Aix-en-Provence. This is the only one of the repertoire of Provence tastings which takes place in the evening, from 4 to 9pm. In my post last year of the rosé 2014 vintage, I summed up the different regions of Coteaux d'Aix and noted how the four different terroirs had an impact on the styles of Coteaux d'Aix rosés. This year, the tasting table clearly indicated from which region each wine came from, which help tasters recognise regional styles. Sommelier Nadine Rosier was on hand to discuss the wines.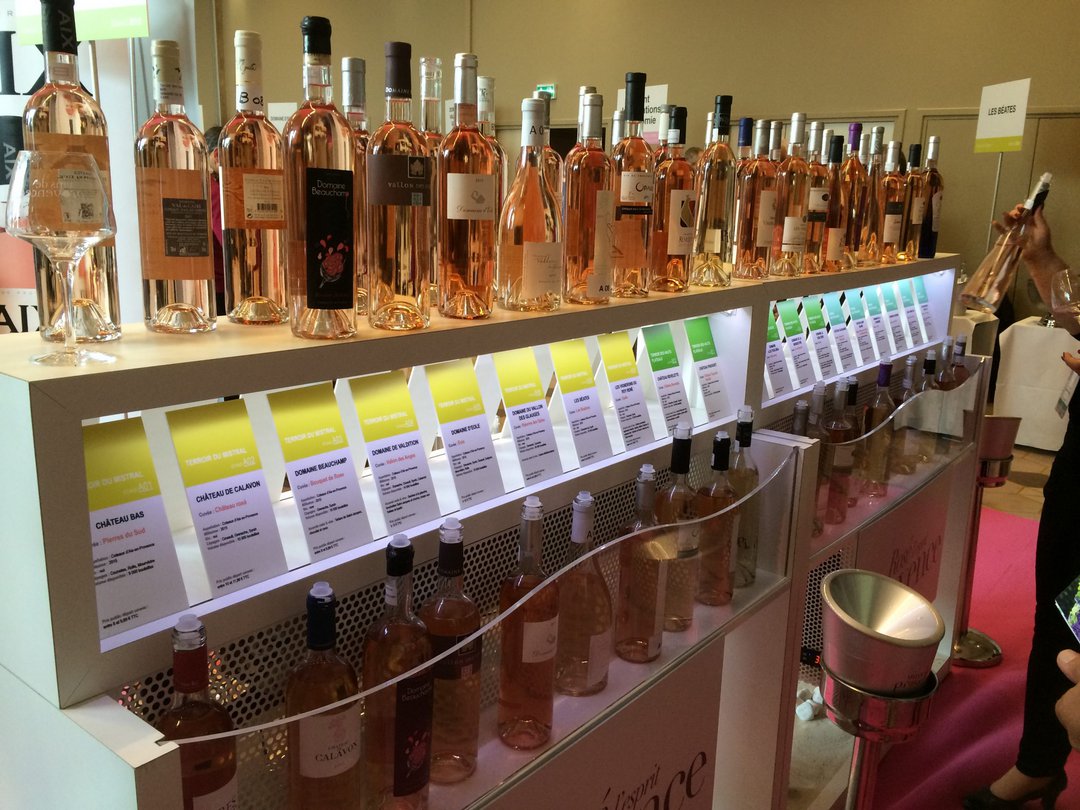 The rosé tasting table with colour-coded labels to indicate regions A high proportion of rosés from Coteaux d'Aix have in their blends both Rhone variety Syrah and the Bordeaux Cabernet Sauvignon alongside the typical Provence varieties of Grenache and Cinsault. Other parts of Provence do not share these two imports. Syrah tends to become jammy in hot vintages, so picking earlier to make rosé wine probably suits it, contributing to the lovely ripe red fruit character evident in many of the Aix rosés, observed last year as well. The Cabernet Sauvignon, especially in the higher altitude vineyards, would appear to contribute to the more structural style of the wines. Georges Brunet, from Château La Lagune in the Médoc, Bordeaux was instrumental in making the Bordeaux variety Cabernet Sauvignon a key variety in the Coteaux d'Aix. Believing this would make a great Provence 'claret', he brought cuttings of high quality Cabernet Sauvignon from Château La Lagune to Château Vignelaure in the 1960s, which he bought for its location on the cooler side of the Provence. Confident the wine would have good ageing potential, he invested heavily in massive underground cellars. His first vintage Provence 'claret', made almost entirely with Cabernet, in 1970 had a big impact and made people realise good wine in Bordeaux style could be made in Provence. Brunet was interested in the work of pioneering viticulturists like Dr Jules Guyot (the creator of the Guyot method of vine training), who advocated blending Cabernet Sauvignon with Syrah. Though today this may not seem outrageous, then the idea of using vines from different regions was seen by many as anathema and caused a stir.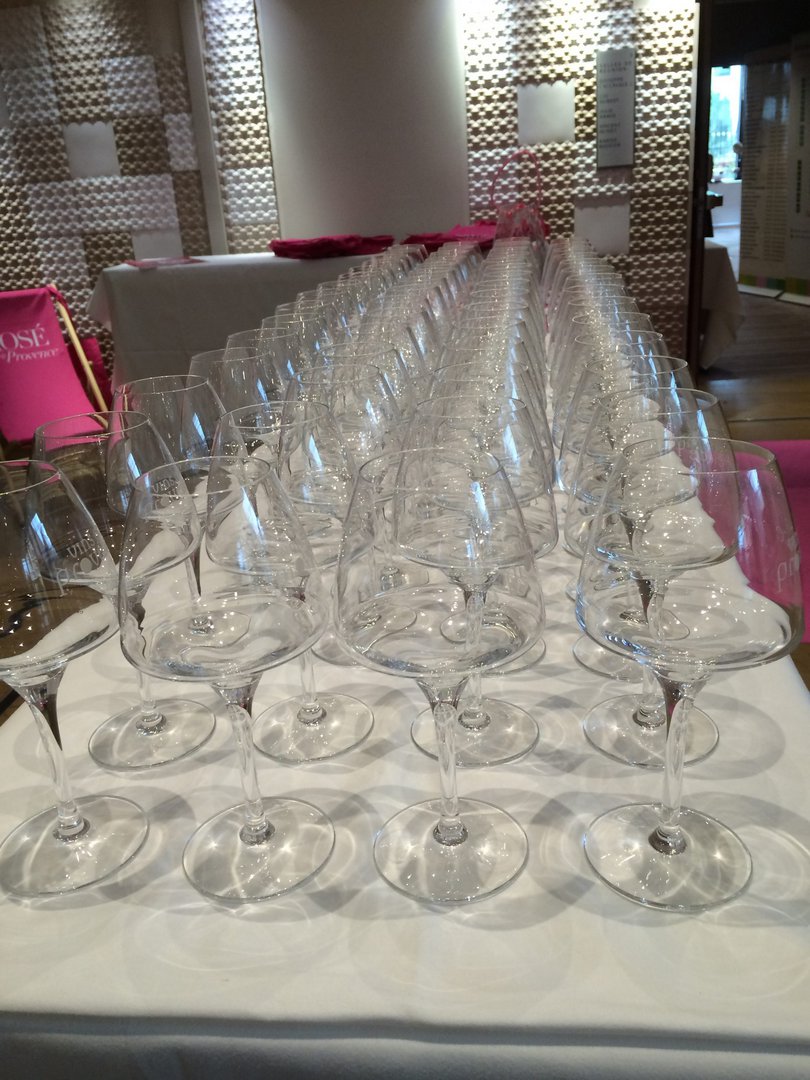 Rows of clean tasting glasses - before the tasting 2015 was a hot vintage, ideal for perfect reds (according to winemakers and barrel samples tasted), but not always easy for achieving the perfect balance for rosés of fresh fruit and bright acidity. Of the forty-four rosés tasted, half stood out. Ten of these 25 wines were over 12 euros (local recommended retail price), so might be described as premium rosés.
Tasting Notes by sub-region
Most of these wines were tasted at the central tasting table. Though I was able to visit a few stands, I could not get round all, so gleaned information from their websites or on the internet. Interestingly, many domains provide little information; perhaps food matching guidance or saying that the grapes were hand-harvested – hence the irregular quality of information.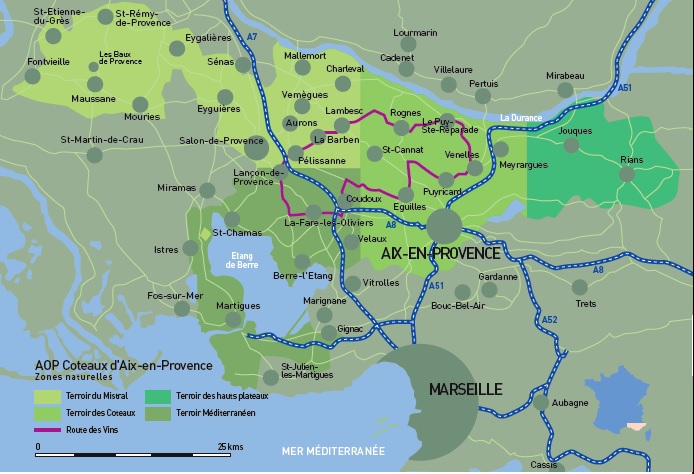 Map of the regions of Coteaux d'Aix-en-Provence
Terroir Mediterranean
Stoney limestone soils plus a cooling maritime breeze, this is an area where the wines often reflect their proximity to the sea with a saline mineral note. Six wines tasted.
Château Calissanne. Grenache, Cinsault. Full of ripe, peachy and red fruit giving the wine good fruity weight with added complexity of some lees ageing, balanced by long mouth-watering acidity.
Domaine de Suriane, '1882'. Grenache, Syrah, Cabernet Sauvignon. White peaches and red currants with crisp acidity and a lean mineral streak.
Château St Hilaire, One Limited Edition (5000 bottles). Grenache, Syrah. A very crisp, mineral style with a salty edge and vibrant grapefruit acidity.
Hauts Plateaux
All of the rosés tasted from this high altitude, cool region, illustrated to good effect the double benefits of altitude and hot climate to achieve long slow ripening and good acidity. Eight wines tasted.
Château Pigoudet, 'Insolite' . 400m altitude on clay, chalk and gravel. 20% Syrah, 25% Cabernet Sauvignon, 25% Grenache, 25% Cinsault, 5% Rolle. Very pale, crisp mineral grapefruit zest balanced by creamy red fruit which contributes charm. 'Really want to drink this' I noted amongst my tasting notes. Added complexity from leaving the wine on the lees for a few days at 0°C.
Château Pigoudet, 'Chapelle'. 400m altitude on clay, chalk and gravel. 48% Grenache, 29% Syrah, 20% Cabernet Sauvignon, 3% Grenache Blanc. Creamy fruit giving luscious charm with fresh red fruit ripeness and mineral structure. On lees for 7 days at 0°C.
Château Pigoudet, 'Grand Pigoudet' 2014. Darker pink. Oak notes on the nose and full of ripe red currents, strawberries and raspberries, with fresh vibrant acidity. Delicious. Bottled in a green bottle because of the darker colour, which is less popular commercially.
Château Vignelaure. 380-450m altitude. 30% Syrah, 30% Cabernet Sauvignon, 40% Grenache. Creamy ripe red berries fruit with good mineral core and balanced acidity.
Château Revelette, 'Château'. 330-400m altitude. 70% Grenache, 10% Syrah, 5% Carignan. A beautifully balanced wine of crisp red berry fruit and long mouth-watering acidity.
Château Revelette 'Pur' 2014, 100% Carignan (with exclusively this variety, the wine is not appellation controllée). Made using saignée and fermentation in cement eggs. Slightly darker rosé than the other rosés. Mineral, dry structure with and fresh red fruit with long clean acidity.
Domaine de la Réalitière 'Pastel'. 450m altitude on clay and chalk soils. Cinsault, Grenache, Cabernet Sauvignon. Peachy perfumed fruit, sun-kissed ripeness with balanced acidity. Biodynamic since 2010.
Domaine de la Mongestine, 'Cuvée Maman'. 250-400m altitude on slopes facing the Durance river and the Luberon to the north. Syrah, Cabernet Sauvignon, Cinsault. Fresh, vibrant red currant fruit, balanced with zingy grapefruit and mineral acidity.
Terroir du Mistral
This is the most westerly region of Coteaux d'Aix, stretching almost to the Rhone valley and also overlapping the area of the Les Baux-de-Provence appellation. Domaine d'Éole is within the Les Baux appellation, but for historic reasons, makes only Coteaux d'Aix wine. Valdition lies just outside of the Les Baux appellation on the eastern slopes of les Alpilles. Ten rosés tasted.
Château Bas, 'Pierres du Sud'. Mourvedre, Counoise, Syrah, Rolle. Saignée. Good weight of ripe wild red currant fruit, fresh acidity and mineral backbone.
Domaine d'Éole. Grenache, Syrah, Cinsault, Carignan, Mourvedre, Rolle. Hints of red fruit, waiting to open out as this wine ages over the summer, balance this dry roses with mineral structure, grapefruit acidity and long elegant dry finish.
Domaine d'Éole 'Caprice'. 60% Grenache, 30% Syrah, 10% Carignan. Barrique aged. The oak is still evident in this young wine, but not dominating and is delicately balanced by fresh red fruit, crisp mineral core and a dry, oak finish.
Domaine de Valdition, 'Vallon des Anges'. Grenache, Cinsault, Syrah, Cabernet Sauvignon. A delicate rosé with ripe red fruit.
Domaine Beauchamp, 'Bouquet de Rose'. Grenache, Syrah. Full of ripe red fruit contributing body with good mineral structure, good fresh acidity and a dry finish.
 Terroir des Coteaux
This was the largest group, with eighteen rosés tasted.
Hostellerie des Vins Rognes 'Cuvée 20'. Grenache, Cabernet Sauvignon, Cinsault. Red fruit with lovely mouth-watering acidity. This was the only one of their 7 rosés on show, and was very impressive. Worth looking out for the others.
Château La Coste, 'Grand Vin'. 90% Grenache, 10% Syrah. Red berry fruit with mineral structure and long fresh acidity combine to make a classic Provence rosé.
Le Cellier d'Eguilles, 'Le Sieur d'Eguilles'. Syrah Grenache. Delicate wild red berry fruit, with mineral notes and crisp, clean, long acidity.
Château Paradis, 'Chateau'. 60% Syrah, 40% Grenache. Firm red fruit, dry, balanced acidity.
Domaine Camaïsette. Syrah, Cabernet Sauvignon, Grenache. Ripe red fruit backed by grapefruit minerality and finished with charming creamy acidity.
Les Quatres Tours, 'Signature'. 40% Syrah, 30% Grenache, 10% Cabernet Sauvignon, 10% Cinsault, 10% Rolle. Some time spent on lees. Peach-pear aromas followed by ripe red fruit on the palate and backed by dry stoney structure and fresh acidity.
Domaine Frédavelle 'Cuvee Prestige'. 300m altitude. Syrah, Cabernet Sauvignon, Grenache. Solid structure, red fruit, mineral backbone.
Domaine de Belambrée, 'Les Ephémeres'. Grenache, Cinsault, Carignan. Balanced red fruit and fresh acidity.
Château de Beaupré, 'Chateau'. 90% Grenache, 5% Syrah, 5% Cinsault Good weight and sweet, ripe fruit with balanced acidity, ideal iced on a hot summers day.
Maison Saint AIX. Grenache, Syrah, Cinsault. Creamy red fruit, crisp, good weight. I briefly tried this in their special Riedel rosé wine glass, and will be trying out more rosé wine glasses to test the taste difference.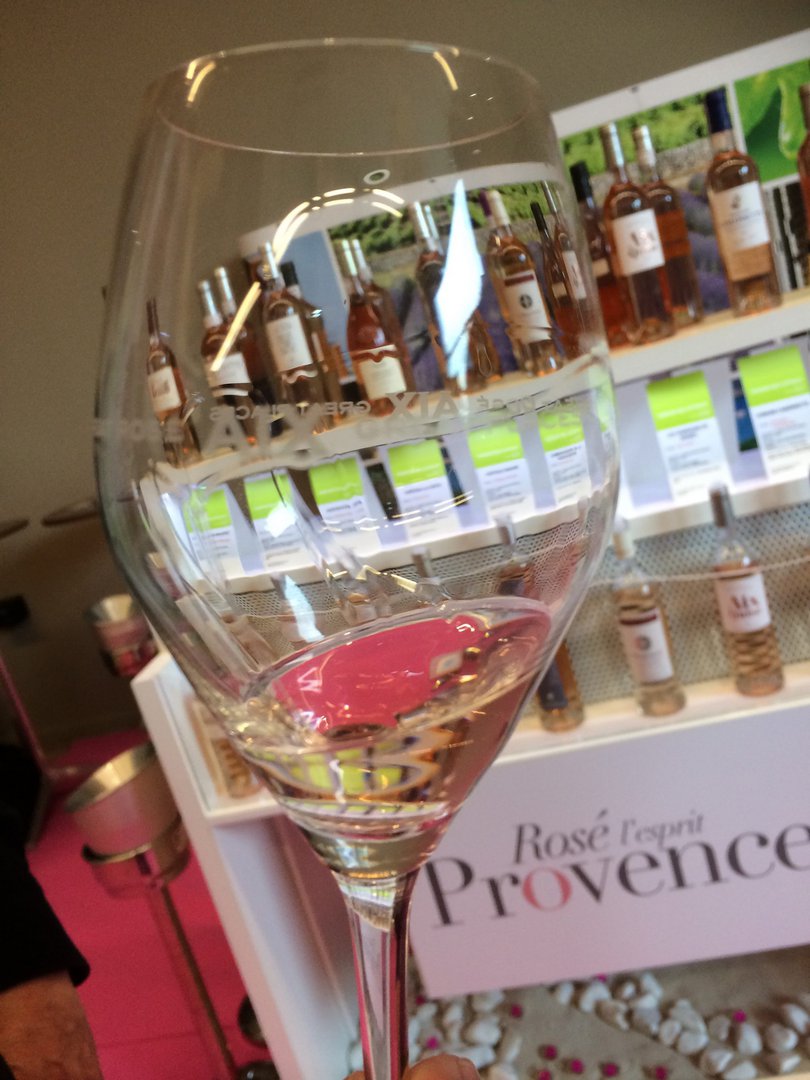 Riedel glassware designed for AIX rosé Food was served throughout the tasting and, right next to the main rosé tasting table, a chef from the Hotel Renaissance was preparing fresh sushi to show how this cuisine matches well with rosé wine. The fresh acidity with fresh red fruit and minerality of the wines complements the delicate flavours of the sushi with notes of sweet and salty flavours.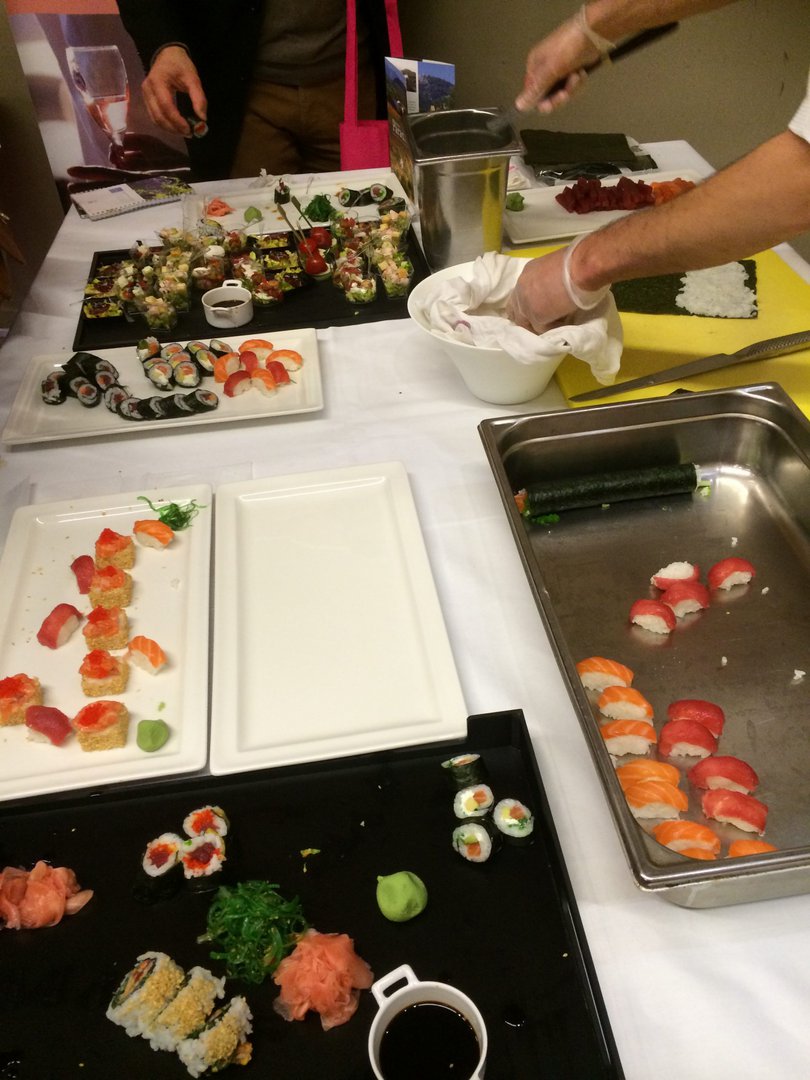 Chef creating fresh sushi to match with the rosé wines