Rosé in restaurants
I am often asked how I see rosé developing. Is it just a fashion? Will the market soon become bored of neutral pale pink 'lifestyle' wines, drunk icy cold by the pool and move on to something else?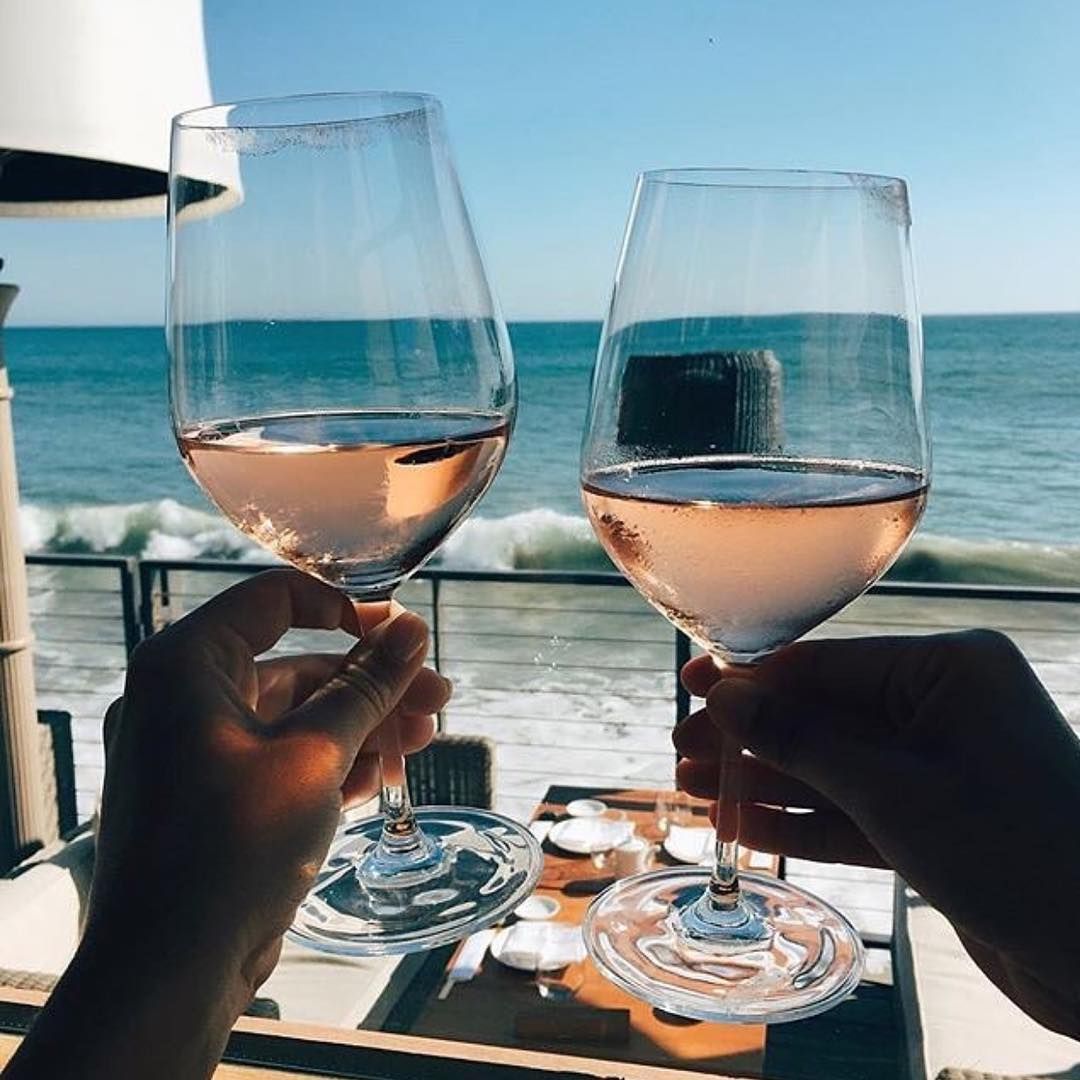 Pinterest rosé lifestyle My answer is yes ... Pinot Grigio, simple rosé - both styles have been overdone by volume, mass appeal and lower prices. Cheap watery Chardonnay, light grassy Sauvignon Blanc went the same way. My opinion only, I am not selling wine and I am probably nowhere near the average consumer. If anything, I am a rare wine geek searching for wines which catch my attention. I do not think this light, simple style will disappear, but I do feel that there is a growing number of very exciting rosés being produced with more and more wine merchants are listing some fabulous wines. Kermit Lynch, The Wine Society, Les Caves de Pyrene, Yapp Brothers, to name just a few, have some great examples. Wine trends is a subject of hot discussion between wine merchants, producers, marketers and writers on twitter. Robert Joseph, radically fighting for wines which appeal to the wider market, unhampered by some more restrictive views, and with an eye on what works commercially, frequently throws out ideas and watches the debate escalate. Recent discussion focused on education. Does the market want to know more? Despite formal wine education through organisations such as WSET and numerous independent wine tasting groups, websites and articles, the number of people seriously interested in wine is still small. The discussion moved onto restaurant wine lists. How often we are faced with such minimal detail on a list that even the most knowledgeable has no idea what wines are listed.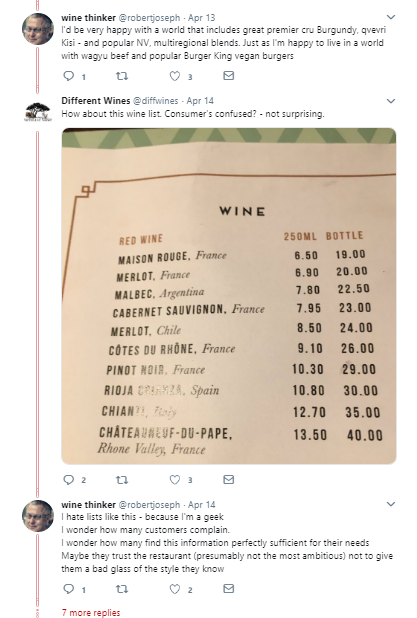 @robertjoseph - The Wine Thinker - on twitter Within hours Jamie Goode wrote a post on poor wine lists. If red and white wines are poorly described on wine menus, rosés are barely present. Back to my question on where do I see rosés going. In my dreams, I hope to see a range of rosés available on restaurant wine lists. Not the usual two or three, almost identical styles, at three different price points. I have written about gastronomic rosés, and know that there are restaurants who work at matching rosé with food. Cue an evening in Montpellier with friend Louise Hurren of The Outsiders group of winemakers in the Languedoc. She suggested we meet up for dinner in a small wine bar-restaurant in the old town, Comme un Dimanche sous un Figuier.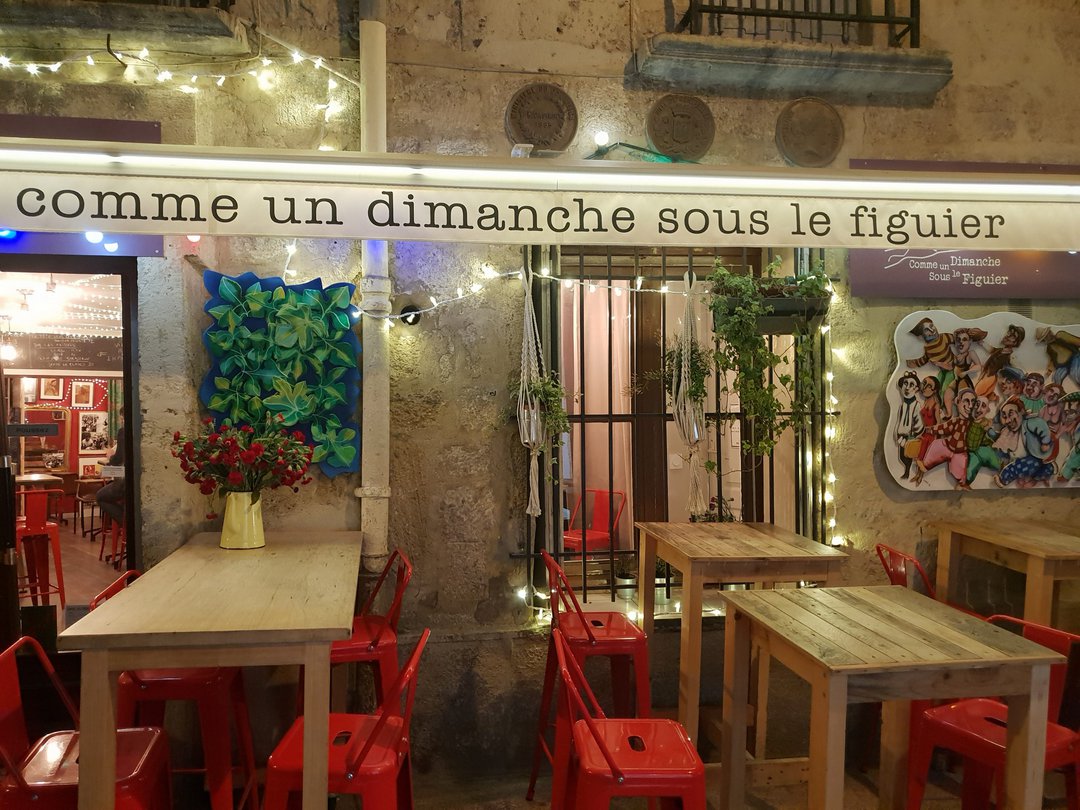 Comme une dimanche sous la figuier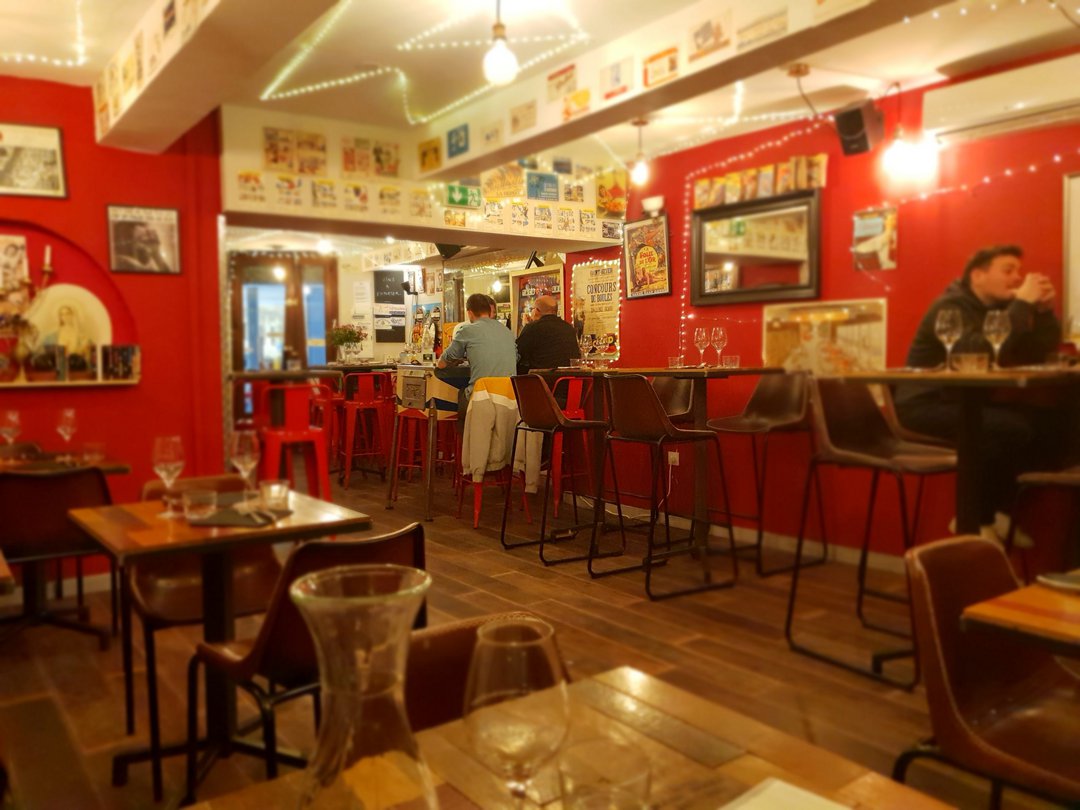 At the beginning of the evening - it soon became crowded The twenty post wine list, including two posts of wine by the glass, was a treasure trove of quirky and curious wines from around the Languedoc-Roussillon (and a few from outside the region) had me salivating. We needed a crowd of ten to enable us to try more than one bottle! A glass of Mauzac rose 'Champêtre' from Laurent Cazottes, vin de pays Tarn - fresh crisp and beautifully aromatic with pears, apples and quince fruit, served as a great aperitif to the evening. But what wine with dinner? Imagine my excitement to discover there were not just two or three rosés, but a list divided into styles!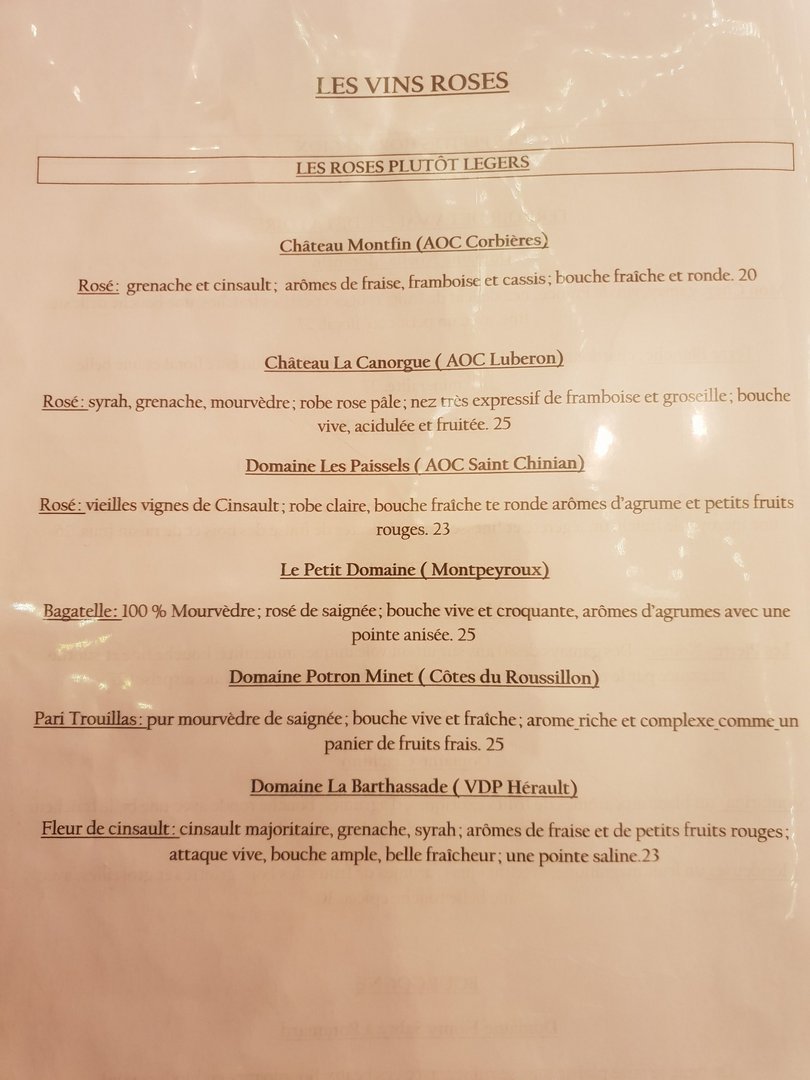 Lighter rosés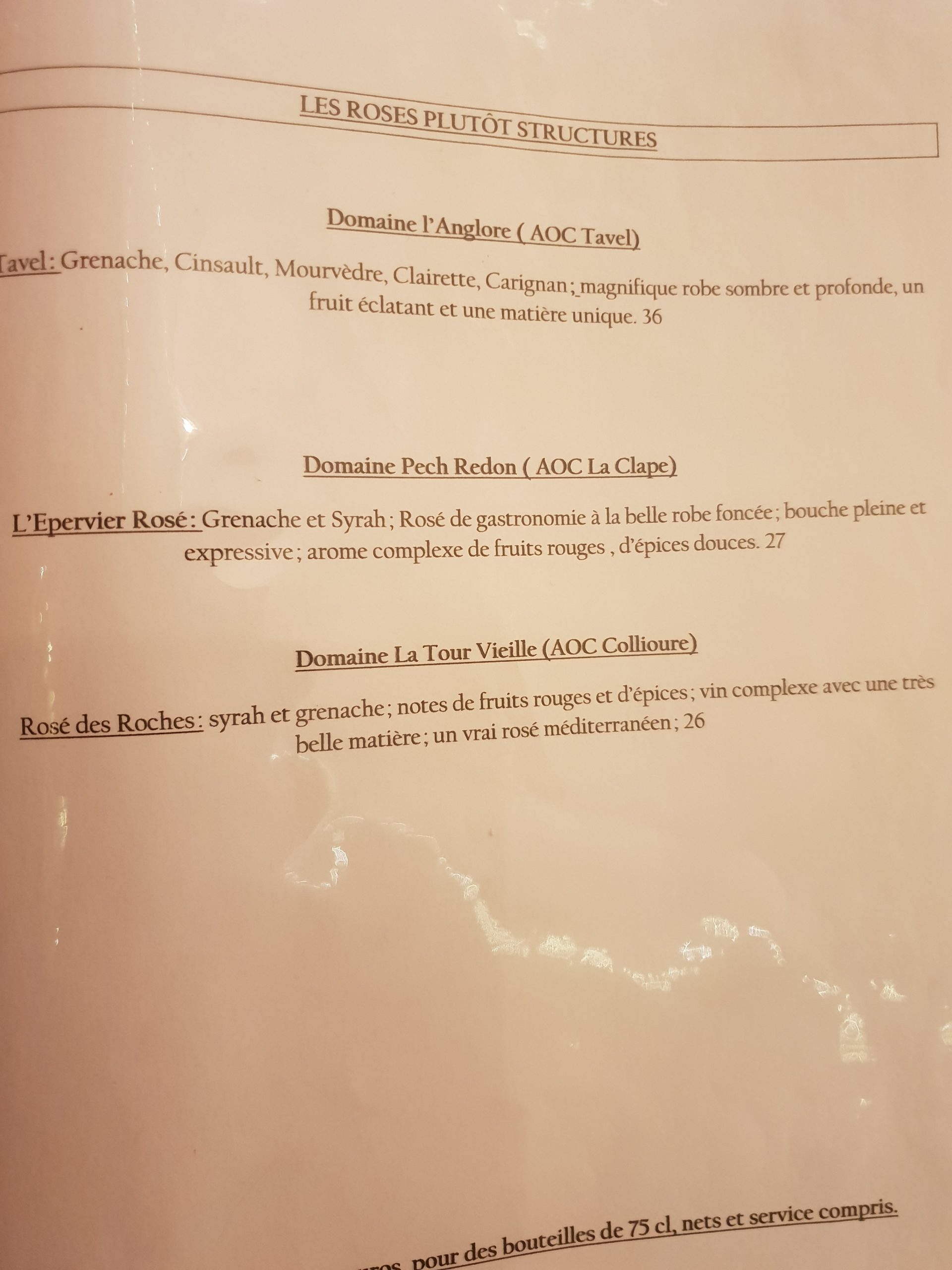 More structured rosés A gastronomic rosé was the evident choice with our mixed selection of tuna, pork spare ribs and magret du canard. We chose Rosé des Roches 2017, Domaine la Tour Vieille from Collioure on the French-Spanish border.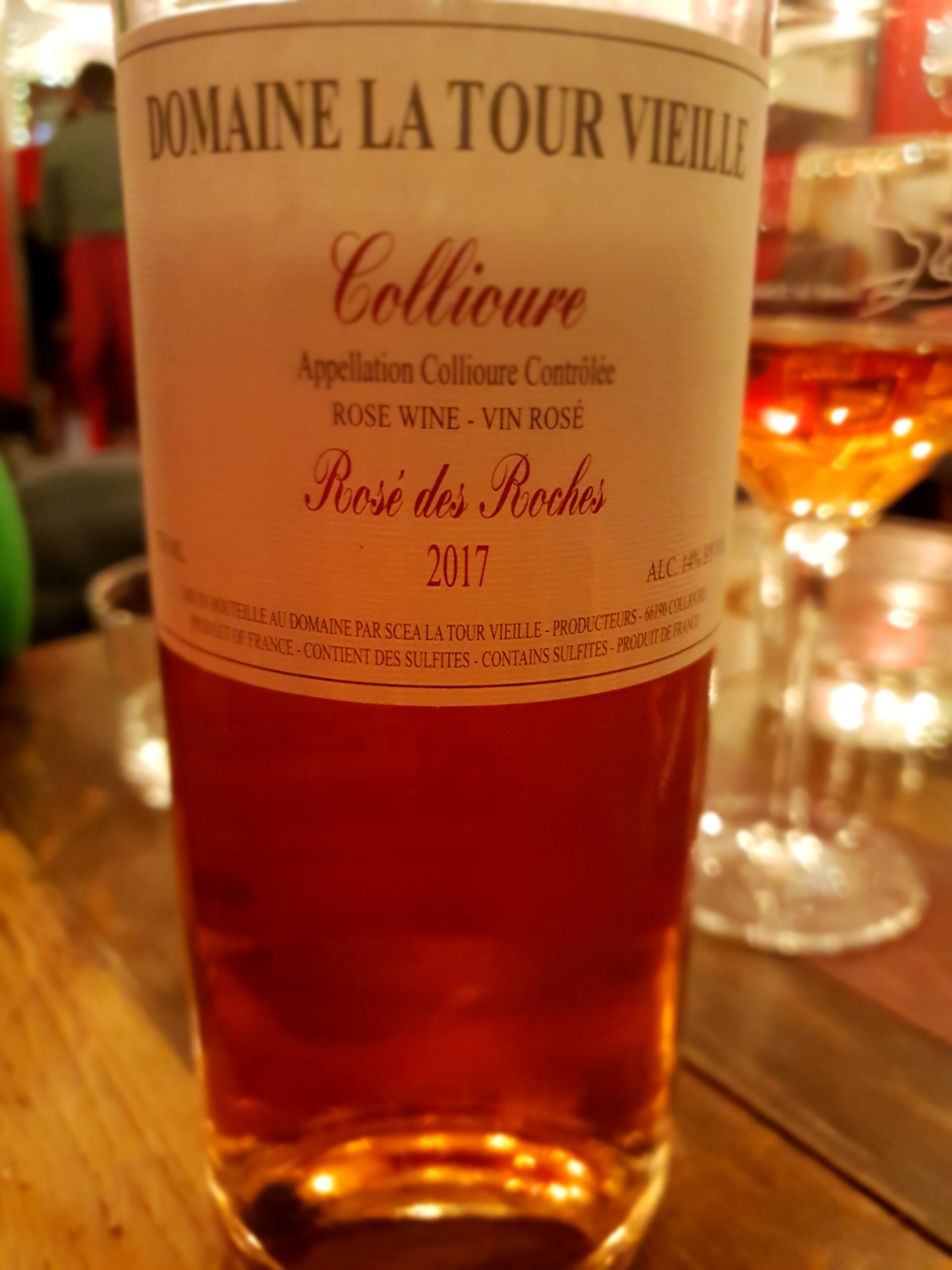 Rosé des Roches, Domaine de la Tour Vieille Made with 40% Syrah, 30% Black Grenache, 30% Grey Grenache, with different lengths of time for the skin contact and maceration contributing to greater weight, fruit and colour. With two years age, the wine had developed round rich flavours which beautifully matched the food. Dessert was two banofee tarts (so French!) and a cheese board giving us the opportunity for two more wines. 'Macceau' from Jean-Louis Tribouley (no website) vin de pays Côtes Catalane was a 100% Maccabeu. With long, fresh, saline minerality went beautifully with the cheeses. A fresh, sweet, grapey 'Classique' Muscat de St Jean de Minervois from Domaine Barroubio had the ripe, soft freshness to support the sweet tart without overloading the sweetness.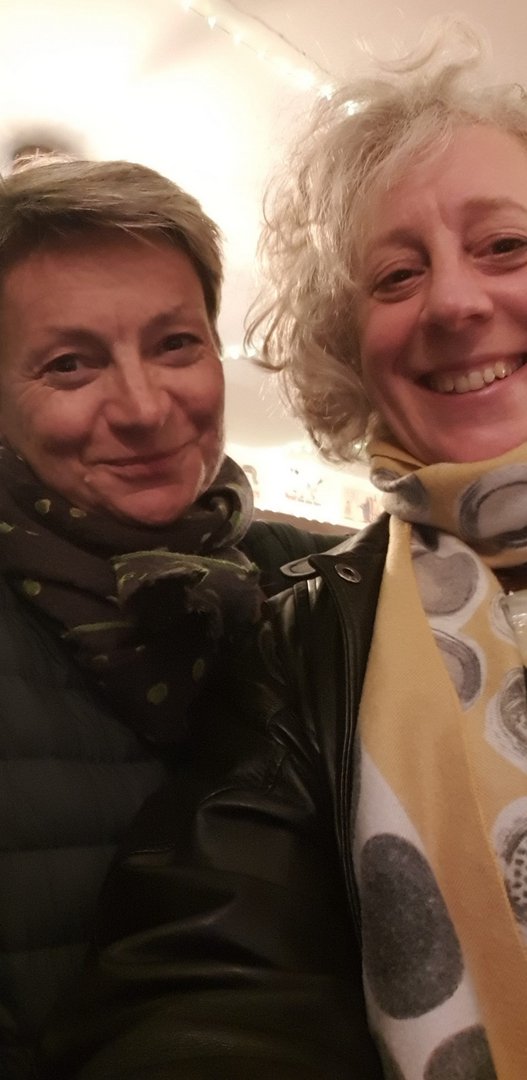 with Louise Hurren