Rosé Wines from Liguria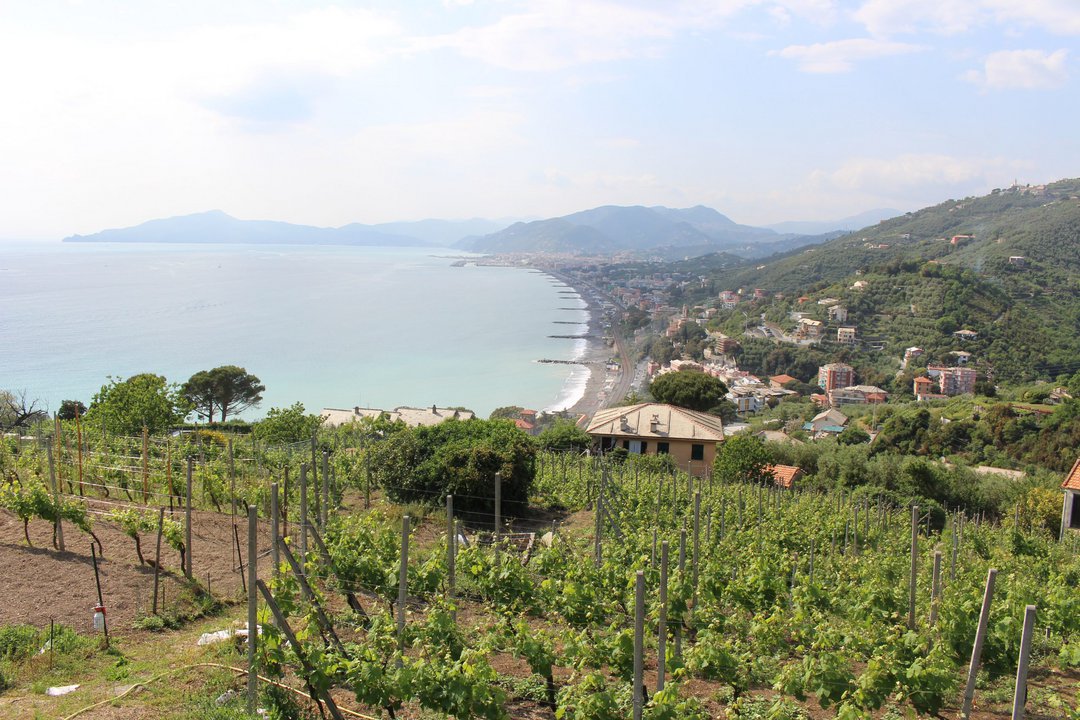 Cantine Bregante vineyards up in the hills overlooking the sea The wine region of Liguria is beautiful, with rocky hillside vineyards, overlooking the sea as well as higher up in the valleys. What makes it so attractive to the casual visitor, does make it more difficult to explore – and interesting – for the wine lover. Small narrow roads meander up amongst the vineyards, the length of the region from the French border to Tuscany, discouraging access for the faint-hearted. The large number of grape varieties unique to Liguria can be confusing, but research, visiting and tasting in such a picturesque region is worthwhile.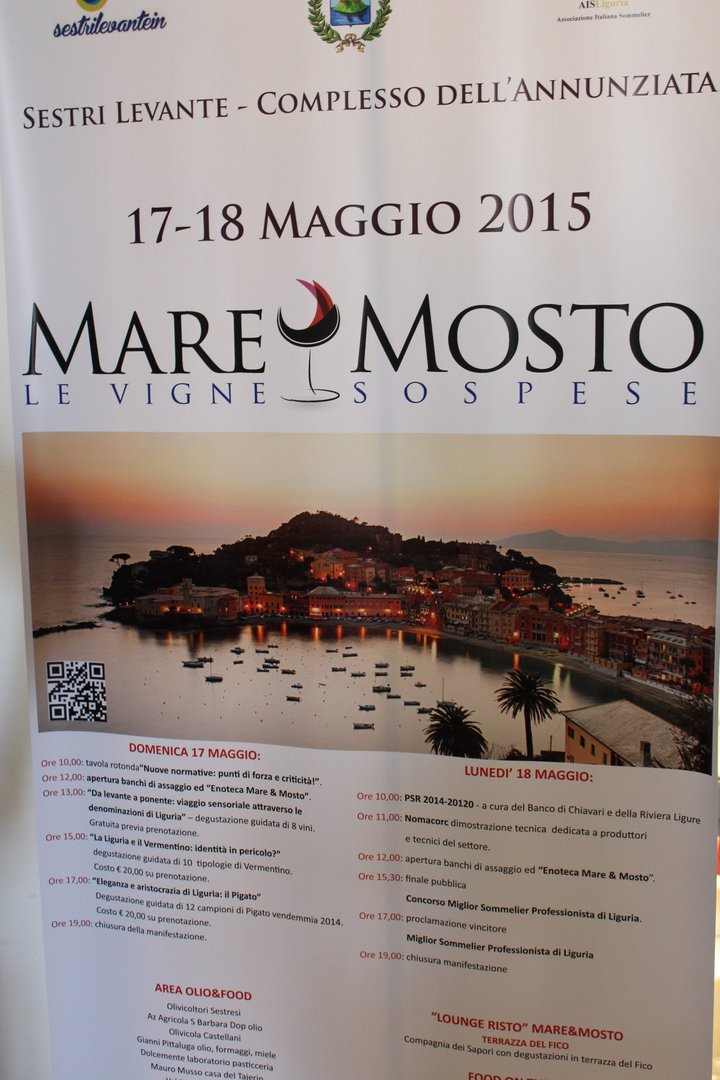 At Ligurian food & wine festival Mare&Mosto in Sestri Levante, I was able to try a large number of wines and talk to producers, and discover more about the growing number of rosé wines (rosati) produced in response to growing popularity. Many of the rosati are more akin to a light red wine, with a touch of dry tannins on the structure and finish, making them more suitable to accompany a meal than for light easy drinking. The best examples had good ripe fruit which balanced this slightly tannic finish. Here is a brief list of some of the best.
Vermentino Nero
Cantine Lunae Bosoni 'Mea Rosa' Rosato 2014. Ruby colour. Intense redcurrants and strawberries with creamy structure and hints of mineral and white pepper, all balanced by long crisp acidity.  (Thanks to Ligurian MW student and wine consultant, Jacopo Fanciulli for help with this tasting note.)
Ciliegiolo (related to Sangiovese)
Il Monticello 'Serasuolo' Rosato 2014. Dark pink colour. Ripe cherry and rose-hip fruit. Off-dry, fruity and long fresh acidity. Bisson Vini Rosato 2014. Dark pink colour. Red cherries and fresh strawberries. Dry, with long fresh acidity. Dry on the finish.
Ormeasco
Casa Lupi Rosato 2014. Bright pink. Wild red berry fruit, red currants and hints of ripe strawberries. Good fresh acidity, long dry finish.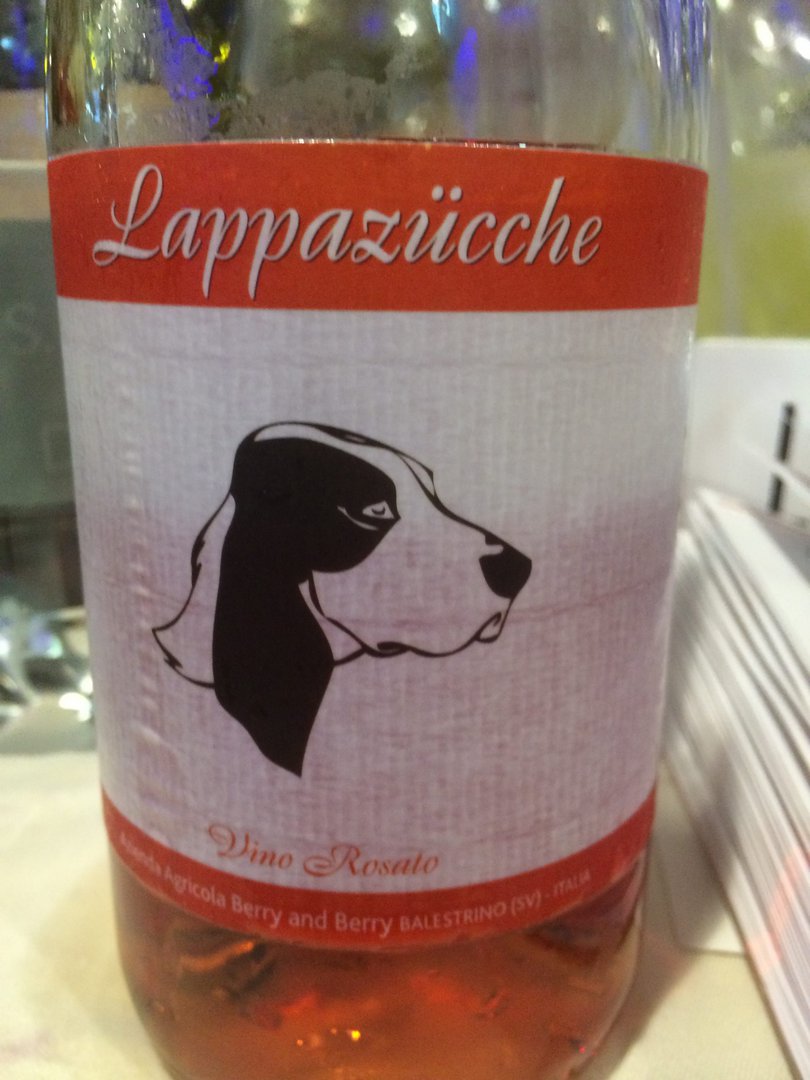 Berry & Berry's Barbarossa - with a portrait of their beagle
Barbarossa
An old Ligurian variety with a pink skin. Berry and Berry 'Lappazuche' Rosato 2014. Bright salmon pink. Dry with fresh acidity and lots of luscious ripe, strawberry fruit.
Rossese
From the red wine DOC of Rossese di Dolceacqua in the far western end of Liguria. Ka Manciné Rosato 2014. More of a light red wine, with strawberry fruit, fresh acidity, firm structure with a dry tannic finish. (Have to say that this was delicious with a strong English Cheddar! The fruit and acidity matched the fat and saltiness perfectly.) Tenuta Anfosso 'Sciacau' Rosato 2014. Salmon pink. Soft ripe red berry fruit, good weight balanced by long fresh acidity and dry finish. Maccario Dringenberg Rosato 2014. Dark pink. Raspberry and strawberry fruit, firm dry finish.