Southern French Carignan Revival
Hiding away in southern French blends, Carignan is often unnoticed by wine drinkers. However, an enthusiastic trend amongst a few growers in southern France, Spain, Chile, California and Israel to produce this variety in all its glory, has captured my imagination. The more I taste this variety, the more I enjoy it - from the fresh zippy bramble wines to wines which are deep, black and velvety - this is a variety well worth looking out for. If you see it bottled as a single variety, the chances are it was made by a true lover of this grape.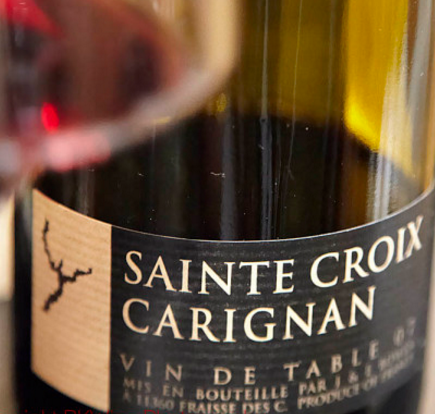 An almost finished bottle of Carignan! This spring I tasted a few wines – not as many as I would have liked – made from Carignan in southern France, from vineyards located from far in the south west, in the eastern end of the Pyrénées on the Spanish-French border, across Languedoc, to the western side of Provence.
Carignan old vines Why do bottles of Carignan have the variety written, often prominently, on the label? With no French appellation approving high percentages of this variety, winemakers can either include Carignan to its maximum limit and blend in other varieties, or choose to bottle the wine as a vin de France under the name of the variety. These wines, fall outside of the scope of marketing efforts by appellation boards. They are not included in promotion of the appellation's wines, cannot be shown at events hosted by official appellation organisations, nor when producers share an official appellation stand. They can also fall under the radar when it comes to articles about the regions' wines in Europe (outside of Europe this is not a problem). Journalists have complained of being invited by the official appellation organisation and being unable to taste all the wines from the producers unless they bear the local appellation. This makes publicity, sometimes word-of-mouth, all the more important for these wines. The association Carignan Renaissance was formed in 2004 to help producers promote Carignan wines, by Nicole and John Bojanowski of Clos du Gravillas. Its energetic efforts continue to gain new members, although none yet from Provence. A few other Provence Carignans were tasted last year, see the earlier post: Provençal Carignan. To help visitors locate producers of these elusive Carignan wines at Vinisud, Bojanowski  put together a wonderfully imaginative map, based on Tolkein's Middle Earth. Their number was daunting. Millésime Bio, the week before, also had a large showing of Carignans.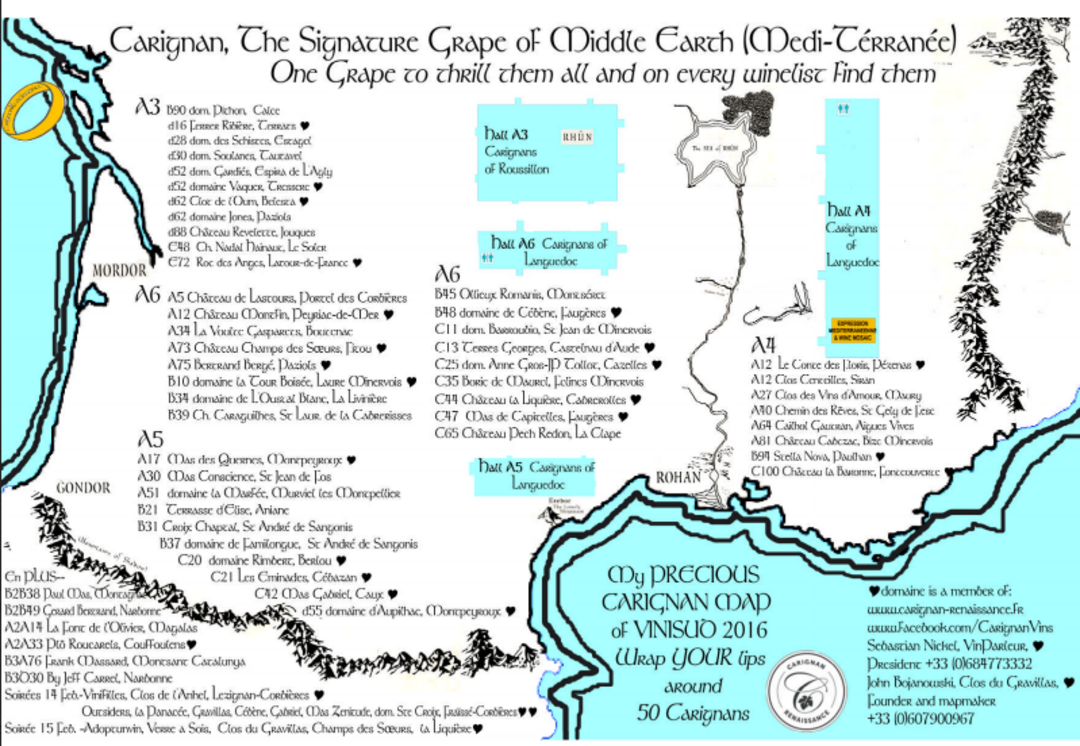 Map of Carignan producers at Vinisud 2016 Carignan has been a traditional grape of the area for some time, although, it must be acknowledged, not as a producer of high quality wine. In 1834, James Busby wrote in his  Journal of a recent visit to the principal vineyards of Spain and France that Grenache and Carignan were both planted in Roussillon:
'The vines were never manured. The wine sometimes remains in the fermenting vat so long as 30 days. Like the wine of the plain, it is seldom drank in its pure state, but is sent to Paris, with an addition of 7 ½ to 10 per cent of brandy, in order to be mixed with the lighter wines of Burgundy and Orleans, to give them strength and colour.'
Carignan's ability to produce high yields made it invaluable when, after phylloxera hit in the 1880s, farmers looked for vines which would produce volume and help recoup their losses. Vast volumes of cheap - but ordinary - wine poured into the market, transported to the industrial centres of the north. However, when by the 1970s the 'wine lake' led to excess wine being turned into industrial alcohol, vinegar or even poured away, the EU began paying growers to grub up vineyards of high-yielding varieties, causing a dramatic fall in the area planted with Carignan and other high-yielding varieties. As a result, those vines which survived, are old and relatively rare. When winemakers discovered that old Carignan, lower yielding, dry-farmed vines made good wine, enthusiastic producers − where possible − preserved the remaining vines. Some has even been replanted. Bojanowski says that 'a few growers, such as Fadat, are now making young Carignans, with great results.' Some vineyards make 100% Carignan in their best years only, as the variety ripens late, needing long hot summers and autumns to achieve full rich ripeness. Bojanowski believes 'Carignan is not difficult as long as your grapes are ripe.' He advocates reduced yields, though not necessarily as low as 10hl/ha, noting that 'Sylvain Fadat at Domaine d'Aupilhac makes great Carignan at 35-40hl/ha'. Bojanowski advocates 'waiting for the skins and seeds to get totally ripe … as ripe as your terroir allows. It's all about the grapes!'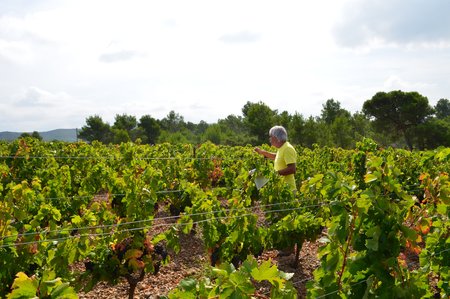 Carignan vines at Ferrals-les-Corbieres Given the growing interest in Carignan as a variety, the Chambre d'Agriculture has been testing Carignan clones on different rootstocks to help ensure that any new plantings will be the best, avoiding the reputation of cheap, cheerful, high-yielding, high acid, rough tannin wines. A visit in 2014 to their Conservatoire du Carignan, created in 1998 in Ferrals-les-Corbières, by members of Carignan Renaissance,  looked at the research into the relative impact of the rootstock and clone on the vegetal growth of Carignan. In the "rootstock" part of the vineyard, each rootstock was used in 10 groups of 10 plants, placed randomly (to remove the effect of the soil). The rootstocks Rupestris Lot, Ruggeri 140 and Richter 110 achieved the best ratings (vigorous plants, regular strains, little or no signs of growth fatigue), while Riparia, SO4 and 101 14 MGT seemed systematically to weaken the strain (plant height and low strain, erratic behaviour, vegetation marked by drought). The "clone" part of the vineyard surprised them, by the 'inability to differentiate the productivity and plant behaviour of different clones grafted onto the same rootstock', suggesting 'there is little difference between the productive potential of the clones'. Nevertheless, some 25 different Carignan clones are currently approved in France. The Carignan Association is involved in events to promote and educate producers and consumers about the variety. Their next event is a Carignan Day conference on 26 May 2016 at SupAgro Montpellier. Details of the Carignan Day conference.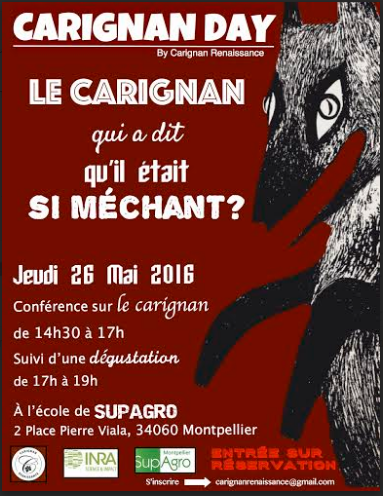 Carignan Day
Tasting Notes
The wines below are made from entirely or mainly from Carignan , and were tasted between February-April 2016. Most were made organically, with natural yeast and no or limited use of SO2. The range of vintages illustrate how well Carignan ages. The example from 2010 was still full of youthful fruit and freshness, reflecting the quality of the vintage with its cool, damp start, hot summer and long autumn; the long growing season was ideal for Carignan. Old bush vines, low yields, high altitude, south facing, poor soils, including schist, granite, chalk and clay, and careful and creative winemaking – all contribute to make some stunning 100% Carignan wines with concentrated fruit which balances the high acidities and tannins. Ageing in old wood barrels can serve to mellow the tannic structure. When the Fitou appellation was created in 1949, it was traditional to age the Carignan-based reds for at least 9 months in barrels to soften the aggressive tannins. Some of the richer, black fruit wines in tasting line-up below were aged in barrel. Fresh, ripe red berry fruit with crisp acidity and sometimes with more mineral and herbal notes showed another style, which was generally un-oaked. The tannic structure and high acidity of the variety lends itself to tasting notes which lean towards wild hedgerow fruit, especially when young, rather than opulent notes, giving the wines great freshness. This simple, fresh, juicy style can be made using carbonic maceration (which is used to make fresh, juicy Beaujolais Nouveau).
2015 vintage
Albera Vins d'Altitude Carignan 2015, IGP Côtes Catalanes. Vieilles Vignes 110 years old. Granite soil at 545m. 14% alcohol. Harvested October 6th 2015. Excellent tannic structure, smooth and silky, inky-black. Fresh, wild berry and raspberry fruit with lively acidity. Fresh, ripe and smooth. La Realtière, 'Cul Sec' 2015, Coteaux d'Aix-en-Provence. Carignan (Grenache and Syrah). Yields 35h/ha. Carbonic maceration for the Carignan. Ripe buttery, raspberry fruit. Wild berries, vibrant, juicy and lively fruit.
2014 vintage
Château Revelette, PUR Carignan Rosé 2014.  6-8 hours maceration and fermented in cement eggs. Dark pink, mineral freshness with red berry fruit, light and crisp – reminiscent of a schiller, the pale red rosé of southern Germany and Austria. Château Revelette, PUR Carignan 2014.  Aromas of herbs and thyme. On palate, vibrant crisp acidity and fresh, wild red berry hedgerow fruit.
2013 vintage
Mas Zenitude, Carignan 2013, vin de France, Languedoc. Vieilles Vignes 100 years old. Good fresh acidity supporting fresh, ripe, red berry fruit: raspberries, loganberries and hints of strawberries. Domaine Jones, 'Les Perles de Jones' 2013,  vin de France, Languedoc. Vieilles Vignes over 100 years old. 14.5% alcohol. Wild hedgerow fruit with fresh acidic notes up front, followed by very ripe, rich berries and herbal garrigue complexity. Domaine Sainte Croix, 'Pourboire Nature' 2013,  vin de France, Languedoc. Carignan Vieilles Vignes 70 years (25% Syrah). 150m altitude. 20hl/ha. Tank-fermented with wild yeasts at 26°C lasting 6 weeks, 10% crushed whole bunches. Ageing on fine lees in tank for 10 months. Spicy richness, supple tannins with mineral notes. Ripe red berry fruit and fresh acidity. Domaine Ste Croix, Carignan 2013, vin de France, Languedoc. Carignan Vieilles Vignes, 110 and 85 years old (10% Syrah). Limestone, sandy quartz. 200m altitude. 20hl/ha. 3 weeks maceration; punching down. 100% matured on the lees in 400 litre French oak barrels (4 - 6 wines old), for 16 months, with some lees stirring at the start of élevage. Malolactic fermentation in barrel. Un-fined, lightly filtered. Perfumed black fruit aromas and taste balanced with a dry, almost salty, mineral finish. Domaine Comelade, 'Carena' 2013,  vin de France, Roussillon. Vieilles Vignes 130 years old. Schist soil. 2ha, 40hl/ha. Black fruit and notes of wild berries. Smooth, supple tannins, rich and velvety voluptuousness, with long fresh acidity.
2012 vintage
La Realtière 'Cante Gau' 2012,  Coteaux d'Aix. Carignan Vieilles Vignes 100 years old (plus some Grenache and Syrah). 450m. Rich, ripe black fruit, with dry firm tannins, the greater weight and structure possibly contributed by the addition of the Grenache and Syrah.
2011 vintage
Domaine Singla, 'Les Quatres Vents' 2011, Roussillon. Planted on red schist. 18hl/ha. 4 weeks maceration, punching down. 15% alcohol. Mouth-coating, mineral tannins giving firm structure with intense, rich, black fruit body. Aged in Nadalie French oak barrels.
2010 vintage
Domaine Singla, 'La Crignane' 2010, Roussillon. Vieilles Vignes, 50 years old. South-facing near Spain on chalky clay soil, with lots of gravel 16 hl/ha, 15% alcohol. 3 week maceration, punching down, aged in barrel. Very concentrated and rich, with smokey notes, rich, ripe red fruit and powerful black chocolate tannins.