Strawberry Fields on Schist... forever
Mention the Douro, and it is not rosé that immediately springs to mind. Most wine lovers will immediately think of rich, dark,  powerful port. For many, the first Portuguese rosé which springs to mind is Mateus rosé. But this is not just a story of discovering a new rosé, but also a story of chance meetings, and how, by travelling and talking to people, our knowledge of wine expands. It can be difficult for buyers and journalists to find new wines of interest amidst the plethora of estates vying to attract our attention. Trade fairs such as Prowein have over 6 000 exhibitors, making it impossible to taste more than a fraction of the wines on offer over the three days. Regional trade shows are easier to for defining in trends and styles. Paid-for trips to the region can only show a finite number of wines and wineries. I travel a lot for work, visiting wine regions, wine fairs, conferences and competitions. In the autumn of 2014 I started work with the Israeli winemaker at Tzora vineyards, Eran Pick, in the final stages of his Master of Wine exams. In the January of 2015, Eran arranged for me to be part of a press trip visiting Israel for the annual wine fair, Sommelier, and to tour the wine regions.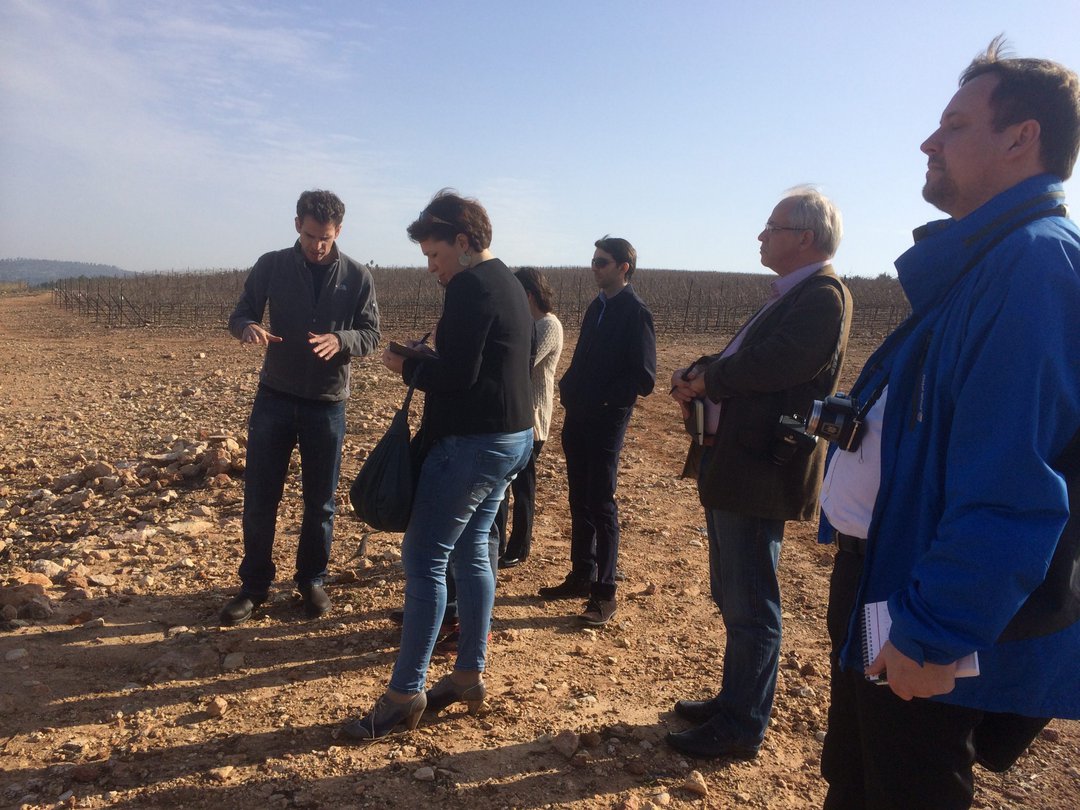 At the Tsora vineyards with left, Eran and Romana, and Michal Bardel far right Members of the trip included Romana Echensperger, also in the final stages of her MW exams, and the Polish wine-writer and editor of the wine magazine Czas Wina, Michal Bardel, who had featured the wines of the Golan Heights winery in his magazine. Eran went on to pass the Master of Wine exams to become Israel's first MW, and I remained in touch with Michal. Fast forward to December 2016, when I was commissioned to write a book on rosé and my world turned pink! Michal invited me to be the president of the jury for the new International Rosé Championship in May 2017 in Kraków. Here I met George Meekers who introduced me to rosé wines from Malta. In November 2017 I returned to Kraków for the annual international wine fair, to present the winning rosé wines in a masterclass. At the wine fair I tasted a number of Polish rosés (see my previous post), took part in a round-table chat of women in wine chaired by Monika Bielka-Vescovi, sommelier and Master of Wine student, and was in the audience for the results of a wine bloggers competition held by Czas. One of the winners was Piotr Wolkowski, who later joined me tasting the Polish rosés and talked to me about exciting Portuguese rosés which he would arrange to have sent to me to taste.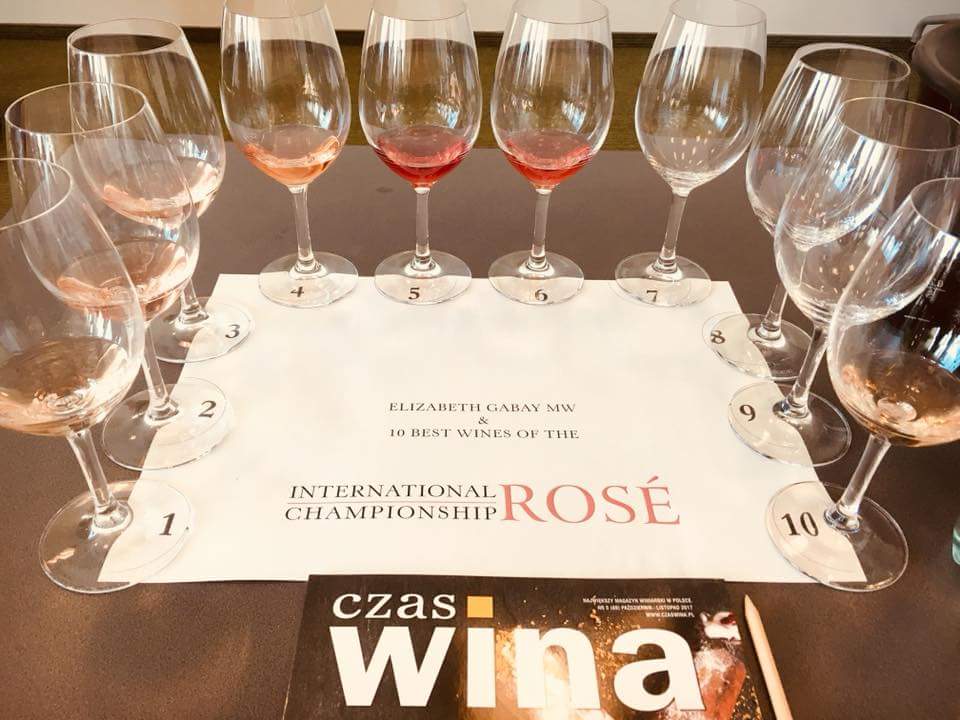 Tastinge the rosé champions Curious as to how a Polish wine blogger discovered these rosés, I asked Piotr to tell his story.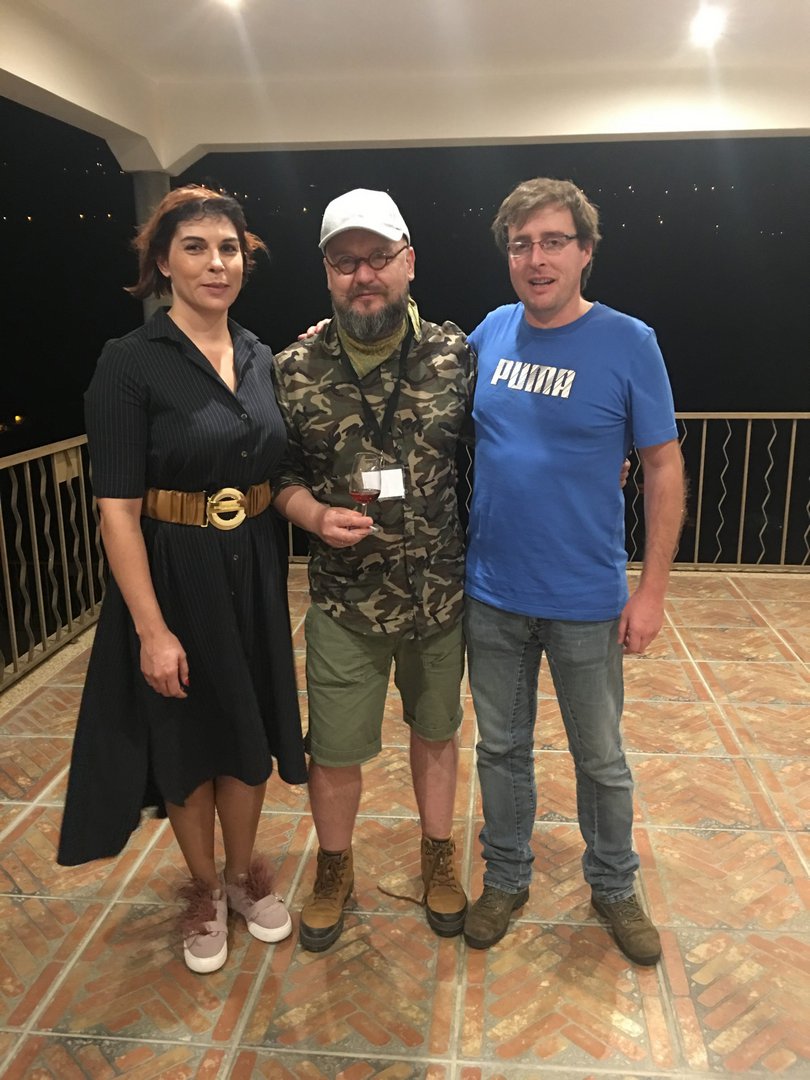 Justine Teixeira left, Piotr Wolkowski centre, Pedro Teixeira, the wine-maker, right "I first met Justine Teixeira in June 2016 during a Portuguese wine tasting event in Warsaw. Justine herself seemed to me a bit quiet and shy, but the wines she offered to me for tasting set a new direction in my career as a wine blogger. At that time, I was still unaware of the fact that her parents are the owners of a small Portuguese wine estate named Quinta da Barca. During my short holiday in Portugal I visited Justine in Douro. I had an opportunity to taste her wines once again. All of them were mineral with a strong acidic structure. Out of them, I paid particular attention to Busto Rosé 2015 which reminds me metaphorically "Strawberry fields on Schist (for ever)". Sometime later, I also tried Busto Rosé 2014 which was even more complex and still fresh. So, it has been a year and a half since we met each other.  Over that time, the wines of Quinta have become popular and highly appreciated. Justine has achieved a success in her winemaking career and my blog: has gained recognition thanks to the award I received last year. " Piotr has loved working with Justine; I now have two new people in my global wine network. Justine wrote to me about her rosés at the end of January 2018, explaining that because these were not in a pale international style, and that she and her husband Pedro had a vision of the rosés they wanted to make. Wines which reflect the estate, and not a bland international style. They decided they wanted to make a rosé wine to be drunk all year and to go with food. It has been difficult to sell, and the market has struggled to understand the style. However, they remained convinced that the style they were making would find its niche. Justine has noticed that slowly, and with perseverance, over the past two years, the market is changing, and she is increasingly finding consumers, and buyers, who understand and appreciate her wines. This is great news after hearing of far too many producers despairing at their inability to sell their traditional, darker rosés. Justine is now receiving excellent feedback from Poland, Germany, the UK. And other countries in northern Europe who see that this style of rosé can be sold all year round and that the wine's structure means it is good served with food and appeals to the restaurant trade. She put the 2016 vintage in clear glass because previously the dark pink colour of the wine in green glass made the wine look red. Now buyers can straight away see the colour. The vineyards are young in relation to many of the much older vineyards in the area, about 18 years old, in the westerly Baixo-Corgo region of the Douro, with good sun exposure. 300 metres with strong maritime influences. The estate is on the border of Duoro and Vinhos Verde.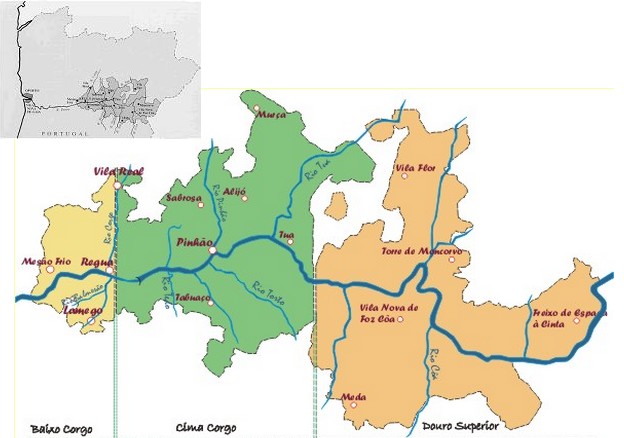 The Douro Valley in Portugal The grapes planted are 50% Touriga Nacional, 20% Tinta Francisca, 20% Tinta Roriz and 10% Touriga Franca. Although the base of every wine is always Touriga Nacional, there are some changes from vintage to vintage to balance vintage variation. To make the rosé, selected vines are harvested earlier, at the same time as the white grapes, usually from younger vines of about 18 years age. The freshness in the rosés is apparently typical of all their wines (reds, whites and rosés). The grapes have around 24 hours skin contact and then undergo a long slow fermentation in small tanks with temperature control.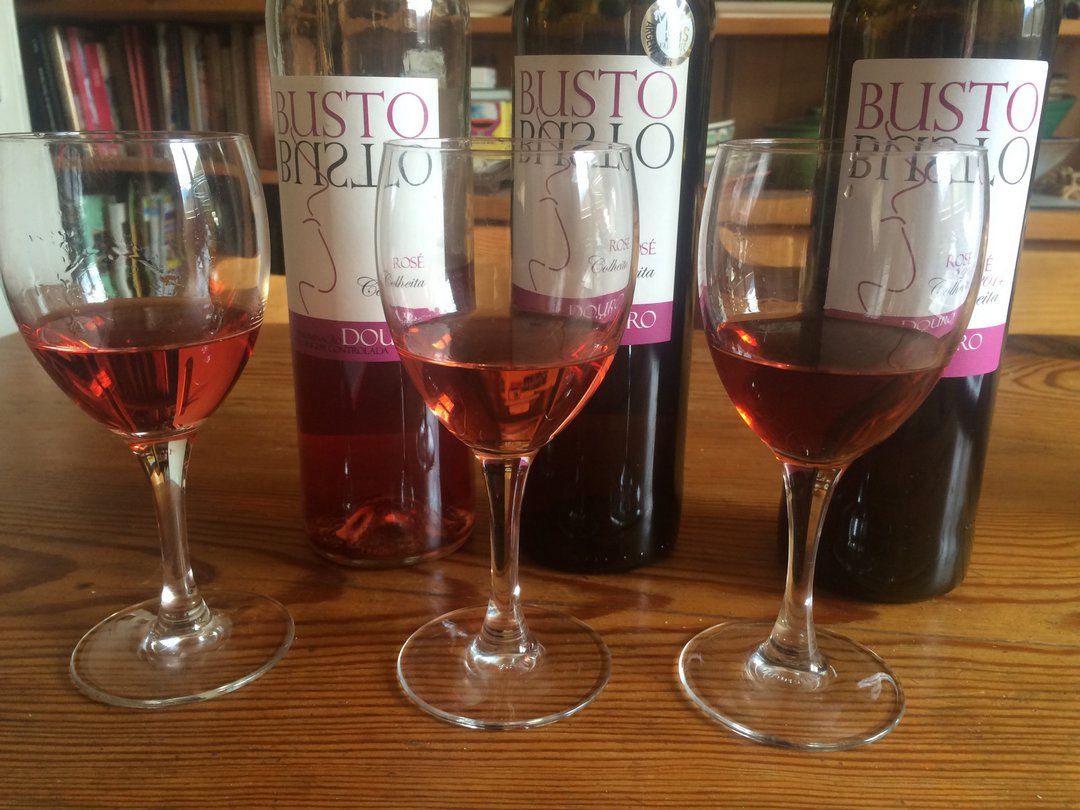 Vertical tasting of Busto Rosés from Quinta da Barca Here are my tasting notes (March 2018): Busto 2016 Vibrant scarlet pink colour. Full of summer fruit: cherries, strawberries and raspberries and long mouth-watering mineral acidity with a touch of bitter almond tannic dryness on the finish. Reminds me of the Italian Cerasuolo d'Abruzzo in style. Very fresh and vibrant and fruity. Stood up to a very spicy dinner with graceful ease. Busto 2015 A slightly darker red. Ripe, mellow cherry fruit. Beginning to mellow but still vibrant with a firm dry finish. This wine seemed to be going through a closed phase in the light of the fullness of fruit on the other two wines. Busto 2014 Darker red-pink. Justine commented that the wines get darker with age. Fruit mellow, hints of dried fruit and nuts giving secondary complexity to the ripe cherry jam fruit. Long fresh acidity with nutty tannic finish. I have tasted other, excellent, and very different rosés, from the Douro valley, suggesting this is an area with interesting potential quality. In my book, Rosé, Understanding the pink wine revolution, I commented on rosés from two other Douro estates. Niepoort's Redoma, primarily from the local grapes Tinta Amarela and Touriga Franca, from old vines grown at 200–400 metres altitude, fermented in new French oak barrels, followed by malolactic fermentation, and aged for 6 months in stainless steel and Quinta Nova  owned by Amorim,who realized that the market for premium whites also likes premium rosé.  In 2015, they experimented and created two rosés, one with partial oak fermentation and one fully oaked and aged in cask.
There is no homogenous Douro rosé style, other than a fresh acidity, and Justine feels that maybe for such an established red wine region it is still far too early to talk about a Douro rosé style. Different varieties and terroirs plus varied house-styles are creating a diverse range of pink wines and Piotr now tells me he has now tasted a Douro rose made from the variety Mourisco... This is an exciting rosé region!