Tasting of Coteaux Varois en Provence Rosé 2015
Mid April saw the round of tastings introducing the new 2015 Provence wine vintage came to a close with that for Coteaux Varois en Provence. Held in a beautiful location, it is the prettiest and most enjoyable of all the tastings.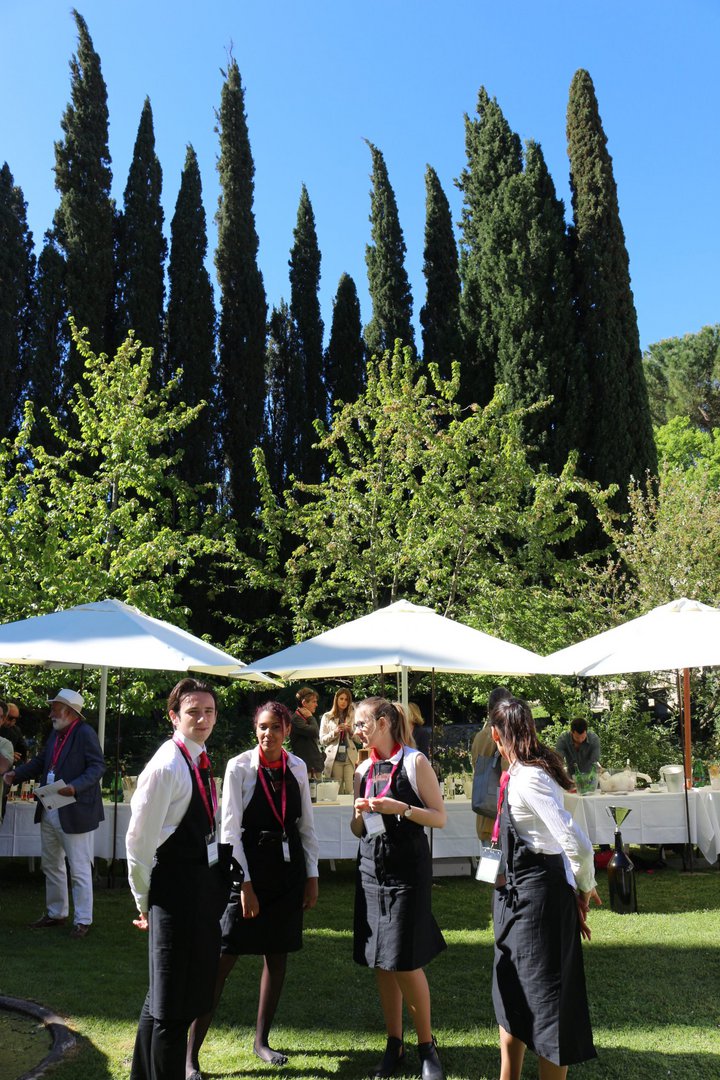 Student sommeliers ready before the start of the tasting As usual, the tasting  was set in the courtyard garden of the Abbaye de Celles in Brignoles, home to both the Maison des Vins des Coteaux Varois en Provence and one of Alain Ducasse's restaurants, l'Hostellerie de l'Abbaye de la Celle. Indeed, lunch made by the restaurant is a big attraction for many visitors.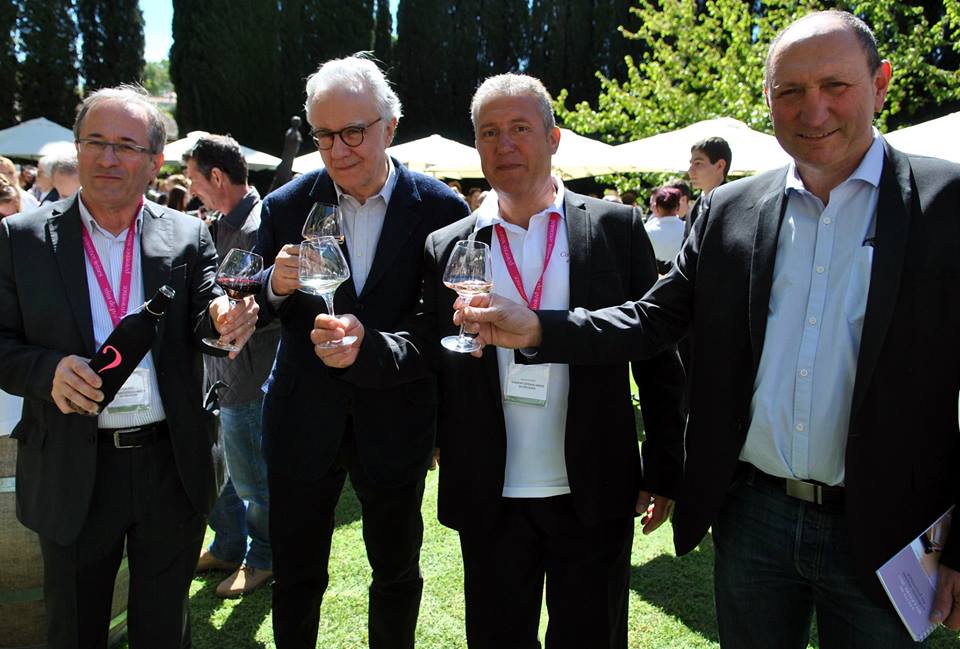 left to right: Philippe Bréban, director of the Syndicat des Vins Coteaux Varois en Provence; Alain Ducasse; Pascal Cortez, president of the Syndicat des Vins Coteaux Varois en Provence; Alain Baccino, président du Conseil Interprofessionnel des Vins de Provence The number of vineyards present – 49 stands – made it is possible to taste all of the rosés and visit a good number of individual stands during the tasting, as well as providing a good number of interesting wines. For the past few years, a central table show-cased one rosé from each vineyard to tasters, but this year a new feature on this table was greatly appreciated by many – the rosé bottles were covered, so tasted blind. With no prejudice from vineyard name or bottle shape, we worked our way round the 49 rosés before visiting stands. Next year a tasting table for white wines is promised, to further add to the attraction of this tasting.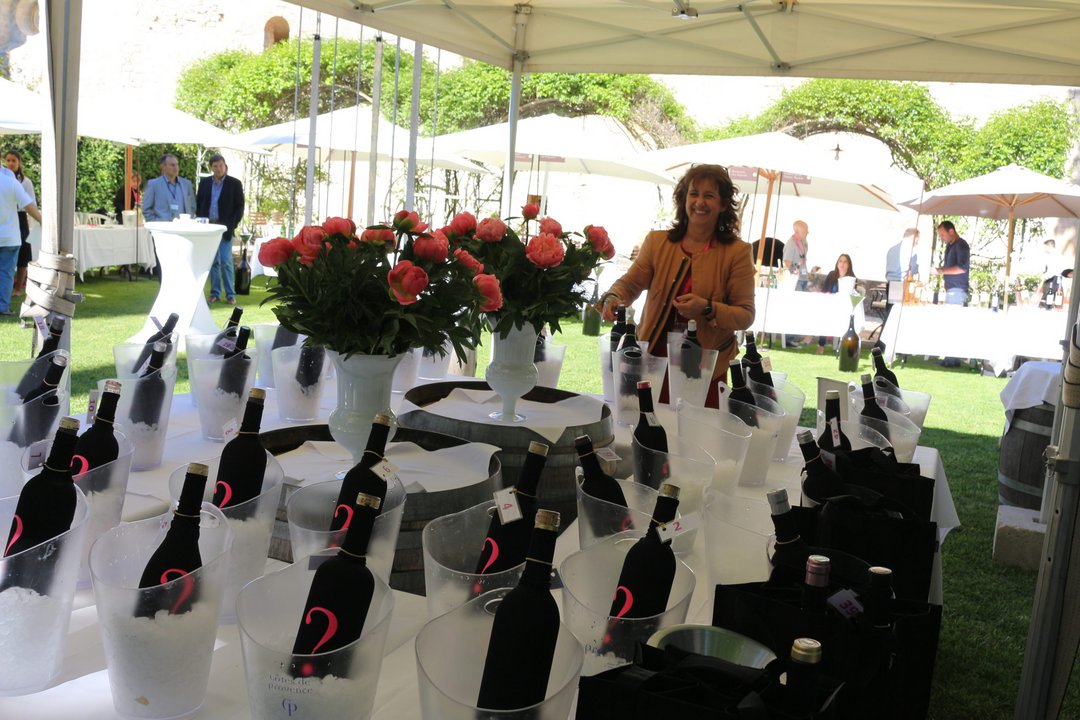 Rachel Renault of the Maison des Vins organising the rosé blind tasting The appellation of Coteaux Varois en Provence borders the region of Pierrefeu to the south-east (with the Barres de Cuers and the Massif des Maures acting as barriers to the warm Mediterranean climate), Ste Victoire to the west (where the mountains of Ste Baume and Ste Victoire have a moderating influence on the climate) and Côtes de Provence to the east. The northern stretches of this appellation, beyond the Bessillon mountain, mark the most northerly limits of wine production in the Provence region. The northerly half of the region has hotter drier summers and colder winters compared to many other Provence regions. Harvest dates can vary between two to three weeks between the north and south of the region.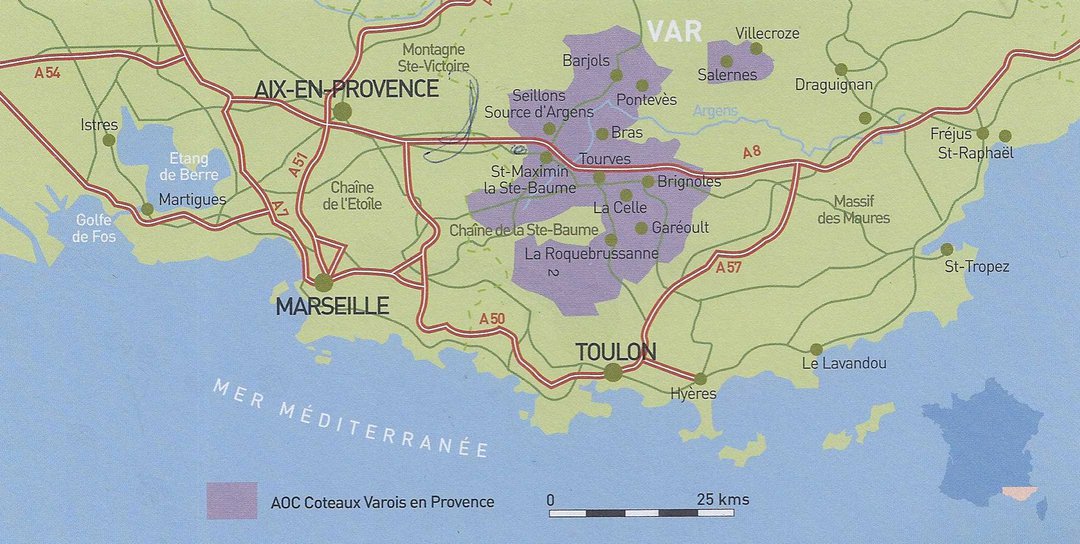 The AOC Coteaux Varois en Provence region The average altitude of vineyards in the region are over 350m with some parcels at around 500m, amongst the highest in Provence. The soils are largely limestone soils and clay and limestone mix. There are also areas with gravel and flint. The combination of limestone and altitude gives the rosés of Coteaux Varois en Provence good fresh acidity, vibrant fruit. They are very different from the more mineral structured rosés of Pierrefeu and la Londe from more schist soil, apart from Domaine du Loou in la Roquebrussanne, in the south of the appellation, bordering Pierrefeu. Below are a selection of my favourite rosés tasted at the blind tasting at la Celle.
Southern Coteaux Varois-en-Provence
Garéoult
Château des Chaberts 'Chaberts' rosé 2015. Old vine Grenache and Cinsault and a very small percentage of Rolle. Perfumed, floral aromas with juicy ripe red fruit and fresh, zesty acidity. Vineyards at 300m+ altitude on stony, chalky, clay soil, protected from strong winds by the surrounding hills.
Harmonie des Arpents rosé 2015. Grenache, Syrah. Attractive perfumed floral character with hints of roses and strawberries backed by gentle acidity.
Bastide des Oliviers 'Justine' rosé 2015. Grenache, Cinsault. Fresh, crisp fruit – redcurrants, wild raspberries and sour cherries with lively crisp acidity.
La Celle
Domaine la Gayolle 'Anne Flore' rosé 2015. Cinsault, Grenache, Syrah. Floral aromas continuing on palate with a lovely floral freshness, hints of summer garden and roses.
Nicolas Paul of Domaine de la Gayolle
St Maximin La Sainte Baume
Domaine St Mitre 'Cuvée M', rosé 2015. Syrah, Grenache, Cinsault, Rolle. Perfumed red fruit. Ripe red fruit, attractive, ripe, dry, with a slight dry lift on the finish. Vineyards at 3-400m altitude.
Brignoles
Château de Lieue 'Tradition' rosé 2015. Cinsault Grenache. Quite weighty, chewy acidity, with ripe, delicate red berry.
Dutch Provence specialist, André Sauerbier (left) tasting the rosés
Tourves
La Roquebrussanne
Domaine du Loou 'Rosée de Printemps' rosé 2015 50% Grenache (on gravel soil), 40% Syrah and 10% Cinsault (on hotter soils). Mineral, stoney fruit, quite lean, but fresh acidity, balanced and refreshing. Vineyards at 300+m altitude on limestone and clay with high gravel content.

Northern Coteaux Varois
Tavernes
Château la Curniere 'Château' rosé 2015. Cinsault, Grenache, Syrah. Ripe raspberries and redcurrants with gentle peachy notes – Pêche Melba in a glass. Delicate and attractive. Vineyards around 300m+.
Pontevès
Domaine St Ferreol rosé 2015. 40% Syrah, 30% Grenache, 30% Cinsault. Ripe red fruit – raspberries, sour cherries and red currants complementing the fresh acidity.
Châteauvert
Château Margüi 'Perle de Margüi rosé 2015. Cinsault, Grenache, Syrah, Rolle. Full of red fruit and wild berries with mouth-filling chewy acidity. Vineyards at 250m. In process of conversion to biodynamic.
Villecroze
Domaine St Jean de Villecroze 'Cuvée Speciale', rosé 2015. Cinsault, Grenache. Juicy with lots of red fruit – raspberries, redcurrants and hints of strawberries with balanced acidity.
Château Thuerry 'Les Abeillons', rosé 2015. Grenache, Cinsault. Fresh and fruity, with red berries and cherries and balanced acidity.
Domaine de Valcolombe 'Grande Cuvée', rosé 2015. 40% Cinsault, 40% Mourvedre, 10% Grenache, 5% Syrah, 5% Rolle. Fresh red fruit, strawberries and raspberries with supple acidity.
Seillons
Cave St André 'St André' rosé 2015. Grenache, Cinsault, Syrah, Rolle. Subdued red fruit character, dry with good ripe weighty structure and chewy acidity. More of a food rosé. Vineyards around 200-300m altitude.