Tasting of IGP Alpes Maritimes wines
The tasting, hosted by ASNCAP at Chateau de Crémat had been a year in the planning, sourcing some of the more obscure and often private domaines which make up the patchwork of burgeoning wine culture in the Alpes Maritimes. There were some domaines missing - but all in all it was a good introduction to the wines of the region and hopefully this will become an annual event - maybe to one day include all the wines produced in the department.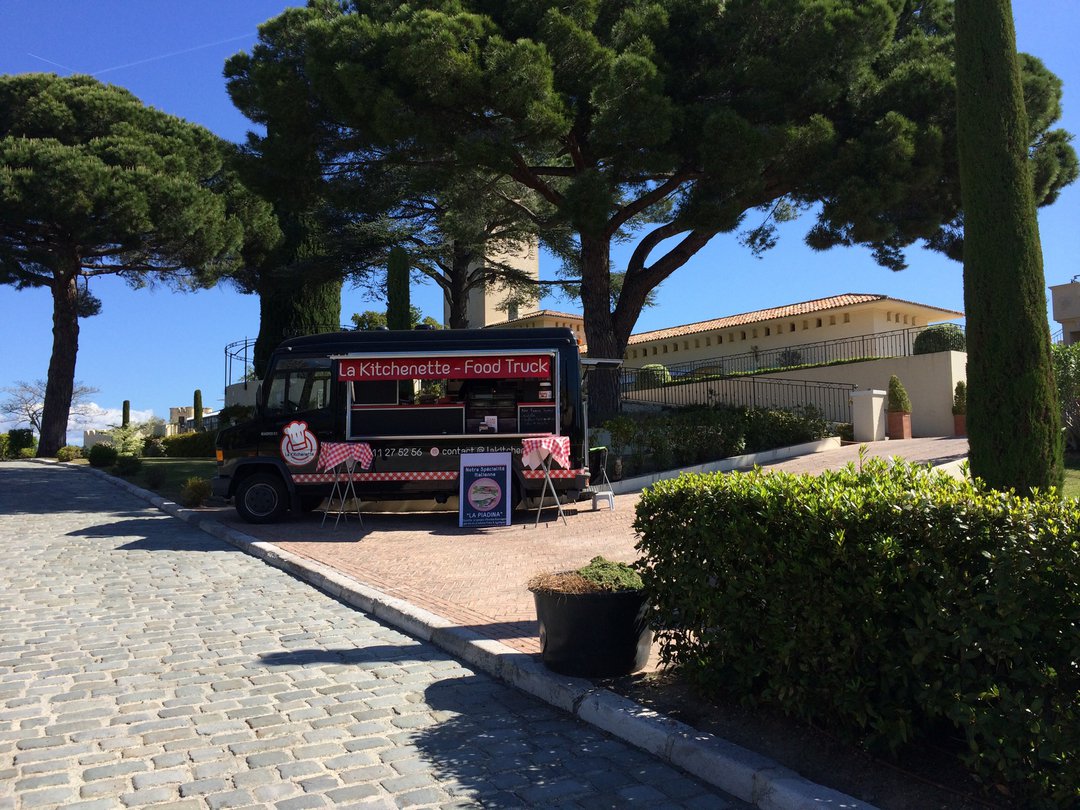 The tasting was finished with a lunch served by La Kitchenette. Of the seven domains showing their wines, only one producer was from the Bellet appellation, the remaining six domains, one came from Menton and five came from west of the Var river, from St Jeannet, Tourettes sur Loup, St Paul de Vence, Mougins and Mandelieu. Of these, only the vineyards of Les Vignobles des Hautes Collines de Cote d'Azur, were long established. The others were showing wines made from either young vines or vines outside the limits of the appellation. The youth of the vines on the rest of the domaines (apart from a small amount of 'old vines' included in blends) showed their immaturity in the wines with a generally light fruit character and fresh acidity. But, judging by the enthusiasm of the winemakers and vineyard owners, these are definitely vineyards to watch as the wines of the Alpes Maritimes develop. No clear regional style has yet been developed, with vineyards being planted with a wide range of grapes including classic Provencal varieties (Grenache, Cinsault, Carignan, Mourvedre, Tibouren, Rolle, Clairette, Ugni Blanc) Rhone varieties (Syrah and Viognier); Bellet varieties (Folle Noir and Braquet) and other varieties (Chasan (Listan x Chardonnay), Semillon, Sauvignon Blanc, Muscat à Petits Grains, Chardonnay, Merlot, Cabernet Sauvignon, Marselan (Cabernet Sauvignon x Grenache) and the unknown Grassenc (possibly a synonym for Folle Noir) and Malunvern. Domaine Toasc from Bellet showed their red and rosé Lou vin d'Acqui. The rosé had lovely Braquet red fruit with fresh acidity. The red, with a good proportion of Folle Noir had spicy tannins, black fruit and fresh green leafy hints. Domaine de Barbossi from Mandelieu showed three white wines, two rosé and a red from their range. All the wines showed a great fresh acidity due to the cooling sea breezes, morning dew and the minerality of the rhyolite bedrock of the Esterel. The vines were only planted three years ago, and the wines still showed very simple fruit character – the Riviera rosé with some old Grenache showing more character. More vineyards are being planted over the next four years. The Riviera white made from Rolle and Chardonnay was beginning to show a classic creamy spice character. A delicate Muscat with grape and honey aromas, from the 2011 vintage and only just released was maybe a little old? The red 'La Mando', made with older Grenache and young Carignan was a 'vin de soif', its fresh fruit character making it ideal to be drunk fresh and lightly chilled in the summer. La Vigne de Pibonson in Mougins, a small (1ha) vineyard owned by a Norwegian couple Arve and Dominique Nyhus which produced its first vintage in 2006, showed its rosé Cuvée Christopher 2012 – 100% Grenache. The wine may have been showing its age as it lacked freshness and fruit. Domaine St Joseph has vineyards in both Tourettes and St Paul de Vence, with each site having different soils, altitude and climate and is planted with a range of varieties to suit each place. The grapes were vinified parcel by parcel and blended but in 2012 this was changed to vinification by variety and mixing parcels. One white and three red wines were shown. The white 2013 made from Rolle and Clairette had attractive apple and spice fruit and fresh acidity with the Clairette offering some perfumed charm. All three red wines showed good tannic structure, my favourite being 'Les Claus' 2011 made with Mouvedre and Folle Noir, with dark black fruit and ripe tannic and fruit structure and benefitting from a few years ageing. The Marcellan and Merlot blend had good expressive blackcurrant character, but needed a little more weight. Le Petit Vigneau, also in St Paul de Vence, also is a small 1ha property which started making wine recently and currently produces 3000 bottles of wine. The varieties planted have a strong acknowledgement to Bellet with Folle Noir, Braquet and Grassenc. A white, rosé and red were showing simple, lightweight fruit. Les Vignobles des Hautes Collines de Cote d'Azur in St Jeannet, the largest and most established vineyard in the this part of the Alpes Maritimes. Up to 30 different varieties are used, but the biggest distinguishing feature of these wines are the method of vinification in 'Roman' style, with some of the red and rosé wines aged in glass jars out in the sun where a protective layer of flor develops on the wine. Two rosés, two whites and two reds were shown. The Pressoir Roman rosé made with Grenache and Mourvedre had lots of ripe red fruit character balanced with crisp acidity. The Pressoir Roman 2012 made largely with Rolle and Chardonnay was heavily oaked, the fresh lemon fruit just showing through and needing some time to mellow. The Prestige white 2010, only made in the best years, had been aged in barrique and was already showing mature oaked honey and nut character. The red Pressoir Roman 2009 was showing austere firm dry tannins. The two wines, Rosé Tuilé and the red Longo Mai, both aged in the glass jars showed less fruit and freshness. Trusfigus (Trois Figuiers), owned by Fanny Gérard, were the only wines not available commercially. These wines were amongst the best of the small producers. The rosé 2013, made from Mourvedre, Cinsault, Rolle had good fruit, structure and acidity. The Cabernet Sauvignon 2010 was very mineral, lean and green and the Merlot-Syrah 2005 had very good rich, ripe black fruit with firm mineral tannins. The small vertical vineyard at the Annociade in Menton is run by volunteers, including members of ASNCAP and includes the interesting (and unknown variety Malunvern). The 2012 had light red fruit with firm dry tannins.