The 2019 Coteaux Varois Tasting
Tasting the wines of Provence has been a bit erratic this year. While Côtes de Provence had a stand at both WineParis (11-13 February) and Prowein (17-19 March), the 2018 vintage had often only just been bottled and were still quite young and closed. My preferred time for tasting the new vintage rosés is later in the spring, often at the generic appellation tastings, usually in April. However, for various reasons, the appellations of Côtes de Provence and Coteaux d'Aix-en-Provence, have chosen not to hold their annual tasting in 2019, leaving only Coteaux Varois to present their wines.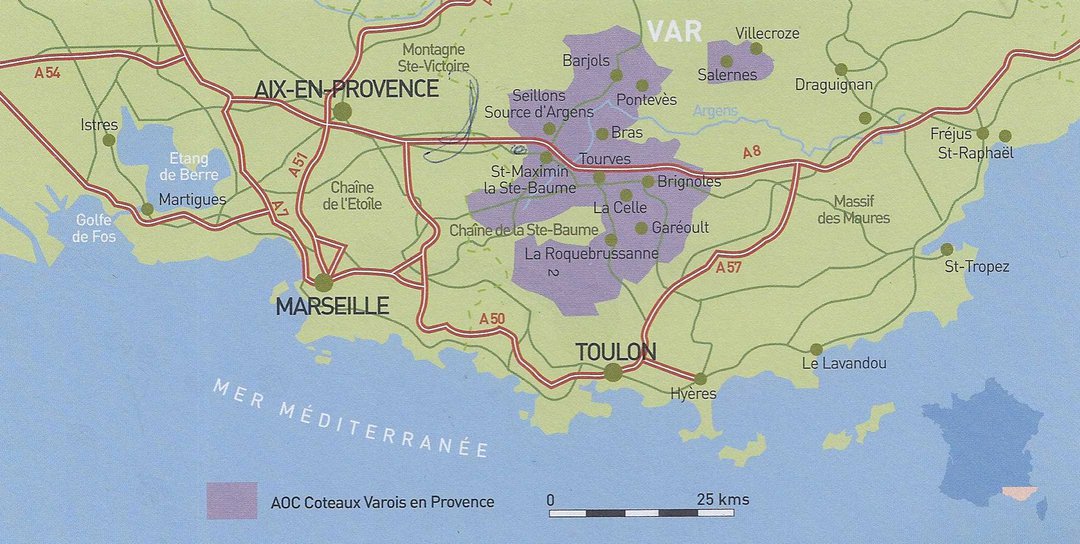 The appellation of Coteaux Varois The Coteaux Varois annual tasting is always held in the gardens of the Alain Ducasse restaurant at La Celle in Brignoles, due to the fact that the Maison des Vins is in part of the same old monastic building. In past years, the tasting has fitted neatly into the small garden in the corner of the old monastery, giving it a neat back drop and a certain elegance, with colour co-ordinated ice bags and bunches of flowers, giving the tasting fantastic visual appeal. See earlier posts. However, over the past four years the number of participating vineyards has grown significantly, and the small garden was becoming increasingly crowded. So this year, for the 19th edition of the event,  the stands were moved to the field behind the garden, where the Maison des Vins has a small vineyard planted with rare varieties. A large circle, of fifty-three white-clothed stands under white parasols was erected in the middle of the vines, with a tasting table in the centre set out for a blind tasting of the white and rosé wines.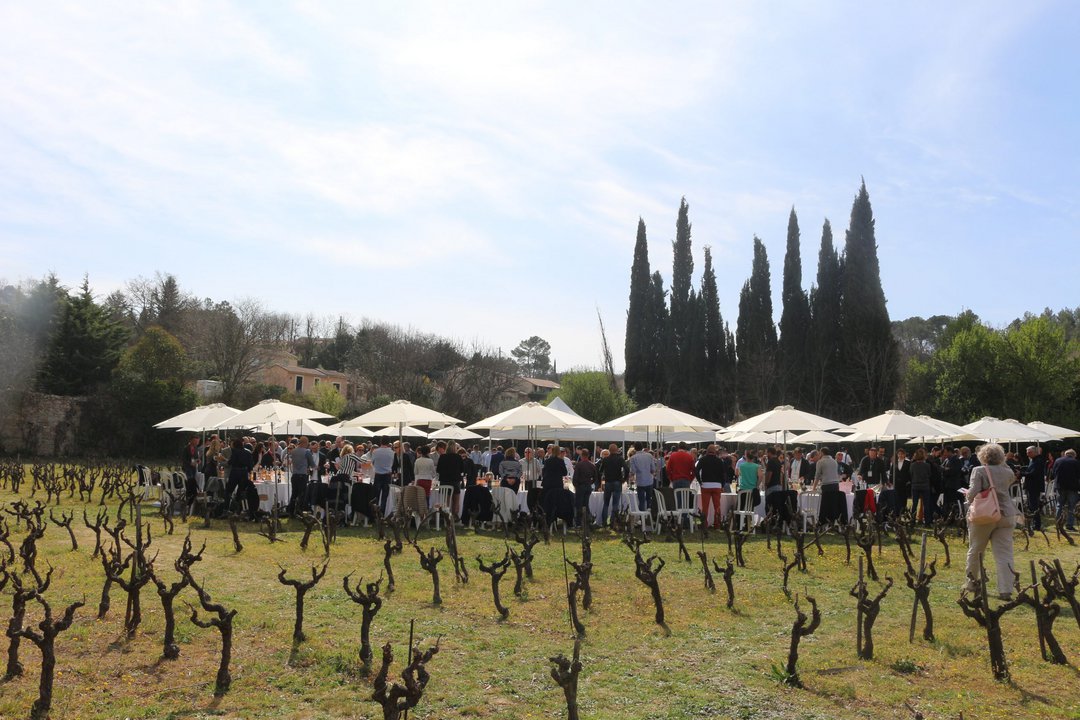 Coteaux Varois tasting in a vineyard Tasting in a field, surrounded by vines in bright spring sunshine and being served canapés from a Michelin starred restaurant is quite idyllic, but from a professional point of view, leaves a lot to be desired with, by 3pm, temperatures rising to 29C.
Slightly chaotic organisation for the blind tasting: hunt the wine
Presenting Provence Wines to the World
The events attract many local restaurant and shop owners, who sell a large amount of these wines locally. One local wine merchant said the regional tastings were good for him because, although he had tried to introduce rosés from elsewhere, his clients – 50% French and 50% foreign (tourists or living in the area) – refused to buy any but Provence rosés, although happy to try red and white wines from elsewhere. There were very few members of the international trade, Dutch négociant André Sauerbier being one of the few present, or press, which is surprising considering the success of Provence rosé on the international market.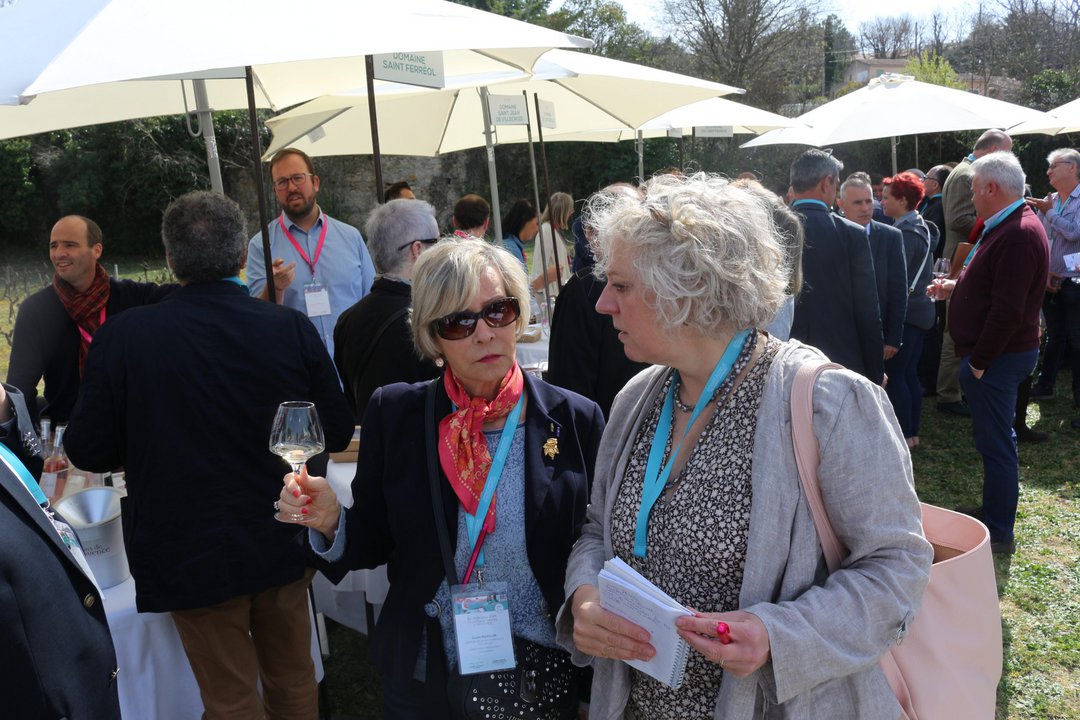 Discussing the 2018 vintage with Gisele Marguin-Raffin, former president of the Association of Sommeliers of the Bouche du Rhone
Red or Rosé?
With over 90% of production being dedicated to rosé, sales rely on a good rosé vintage. Long, perfect autumns are too late to contribute to the quality of rosé wines, although good for red wines. While long, hot summers can result in heavier fruit and higher alcohol, when delicacy and freshness is required. The market pressure for rosé has resulted in winemakers making rosé wine from varieties and terroirs which they feel are better for red wine production. Although I concentrated on the rosé wines at this tasting, the few reds I tried were exceptionally good. The 2015's showing more restraint and structure and needing some more time, while the 2016 and 2014 vintages were showing more opulent fruit and are ready for drinking now.
Enjoying the tasting with Nathalie Longefay and discussing terroir for red and rosé Château Duvivier Located in the north of Coteaux Varois at a slightly higher altitude and sheltered from the Mediterranean heat by the small Besillon mountain. Unusually, this domaine produces more red than rosé.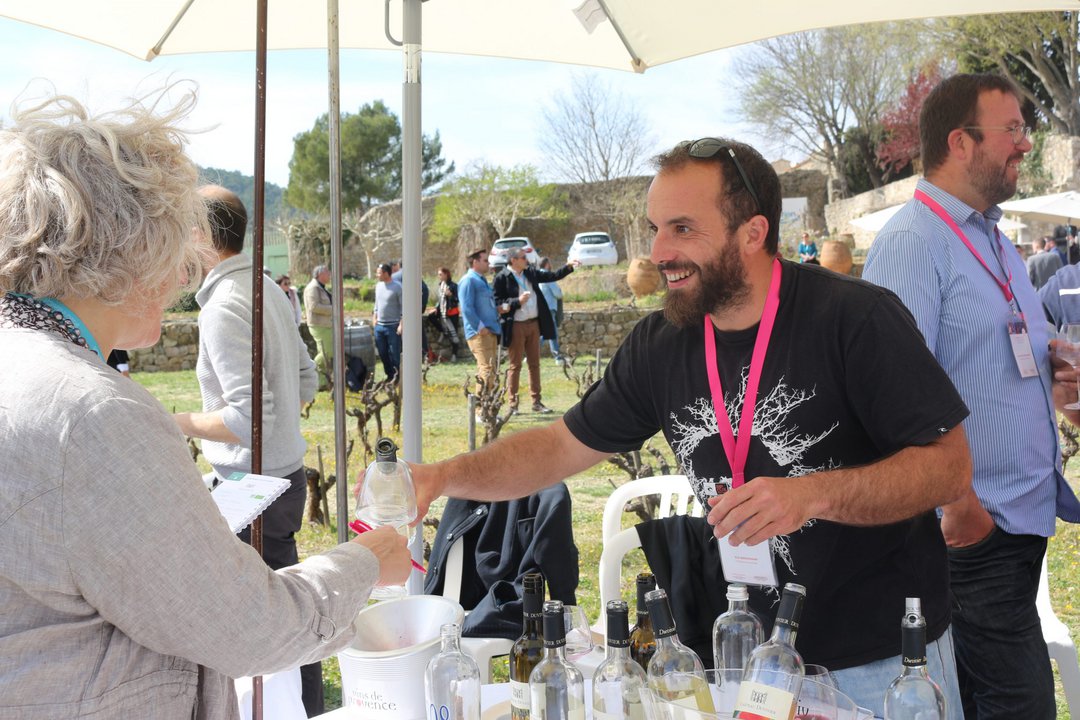 Tasting with the delightfully enthusiastic Erik Bergmann of Château Duvivier Muriers 2016 Approximately half and half Syrah and Cabernet Sauvignon, with some Grenache. Intense black and red fruit, almost jammy richness and opulence, more forward drinking than the 2015. Muriers 2015 Approximately half and half Syrah and Cabernet Sauvignon, with some Grenache, 80% in barrel. Beautiful fresh red fruit with fine mineral structure and long acidity.
Château Margui
Recently bought by George Lucas as part of his Skywalker family of vineyards, the red wines date from the previous ownership of Philippe Guillanton. The winemaker, Choukri Garoui, has remained the same. These vineyards are towards the north, but south of the Besillon, with a very small percentage of red wine.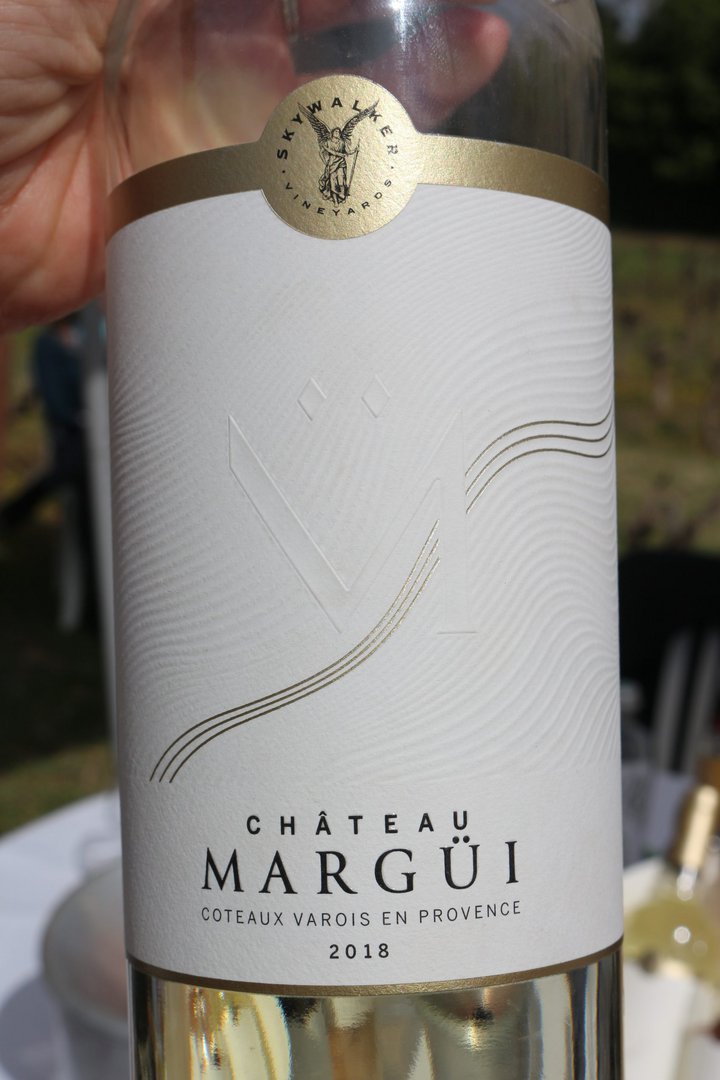 The new label for Château Margui, with delicate pattern portraying the contours of the hills. Red 2015 Syrah and Cabernet Sauvignon. Firm, dry tannins with serious 'chewy acidity' and lovely balance of black fruit. Despite being in decanter it was still quite tight. Red 2014 Syrah and Cabernet Sauvignon. Supple fruit, almost juicy opulence, balanced by good tannin and acidity.
In the warmer, central area of the appellation near Brignoles. A small percentage of their production is red wine. Fesse Mathieux 2016. Syrah and Grenache. Very ripe fruit with spice and black fruit from the Syrah and ripe raspberry fruit fruit from the Grenache combining to make a round, supple, fruity wine with good structure. Festin de Seigneurs 2015. Syrah and Grenache aged in barrique. Fresh, elegant, less obvious fruit, more structural and complex.
Coteaux Varois Rosé 2018
One sommelier commented that she would like more clear definition of regional styles and was struggling to identify what made the rosés of Coteaux Varois different. This was a difficult question because inevitably the character of the vintage plays its part. However, for me, this year's crop of Coteaux Varois rosés had, more or less, a delicate peaches and cream character with fresh acidity. The best with good ripe fruit and floral notes, the worst, simply delicate and acidic. As with all tastings, it is not only tasting wine, but talking to other attendees, and this tasting is particularly good because of the number of oenologues (technical winemaking consultants) who come, and the possibility to discuss with them how they see the vintage. All the winemakers I spoke to agreed that the 2018 vintage had been incredibly difficult across Provence for red, white and rosé. High humidity levels caused increased mildew, resulting in higher levels of copper sprayed. This in turn led to higher copper residue which dumbed down some of the aromas. Many of the rosés tasted were indeed slightly less aromatic than usual. Rain during the summer had resulted in a dilute crop, leading to some wines being very delicate in flavour. For some reason, the rosés' colour was less stable and by December winemakers noticed the colour was dropping out more than usual. During the tasting it was very noticeable that most rosés were almost pearly white.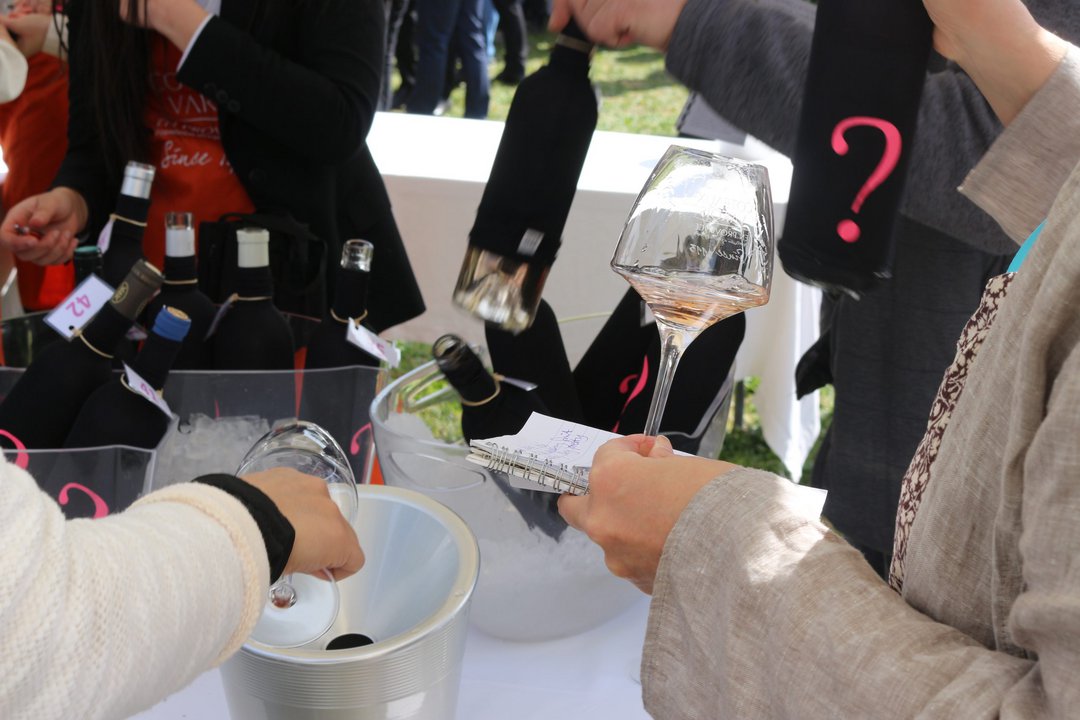 A glass of pale pink My favourite rosés stood out for being aromatic and with good fruit. Noticeably, all included some Cinsault, whose floral character I always appreciate. 'Coquelicots' Château Duvivier. Grenache, Syrah (tiny amount of Cinsault). Aromas of ripe peaches and floral notes. On the palate ripe red fruit balanced by fresh acidity. 'Les Abeillons' Château Thuerry. Grenache, Cinsault. On nose and palate, pretty, charming peach and perfumed fruit. 'Auguste' Château Lafoux. Cinsault, Grenache. Pretty floral aromas with ripe creamy fruit and fresh acidity. 'Chaberts' Château des Chaberts. Grenache, Cinsault, Rolle. Creamy, silky, fruit and quite luscious. 'Suives Mois Jeune Homme' Domaine des Annibals. Grenache, Syrah, Cinsault, Rolle. Lots of ripe raspberry fruit and crisp acidity. Very pretty and fruity. In conclusion, 2018 was a difficult vintage, but there are some very pretty rosés – and don't forget the reds!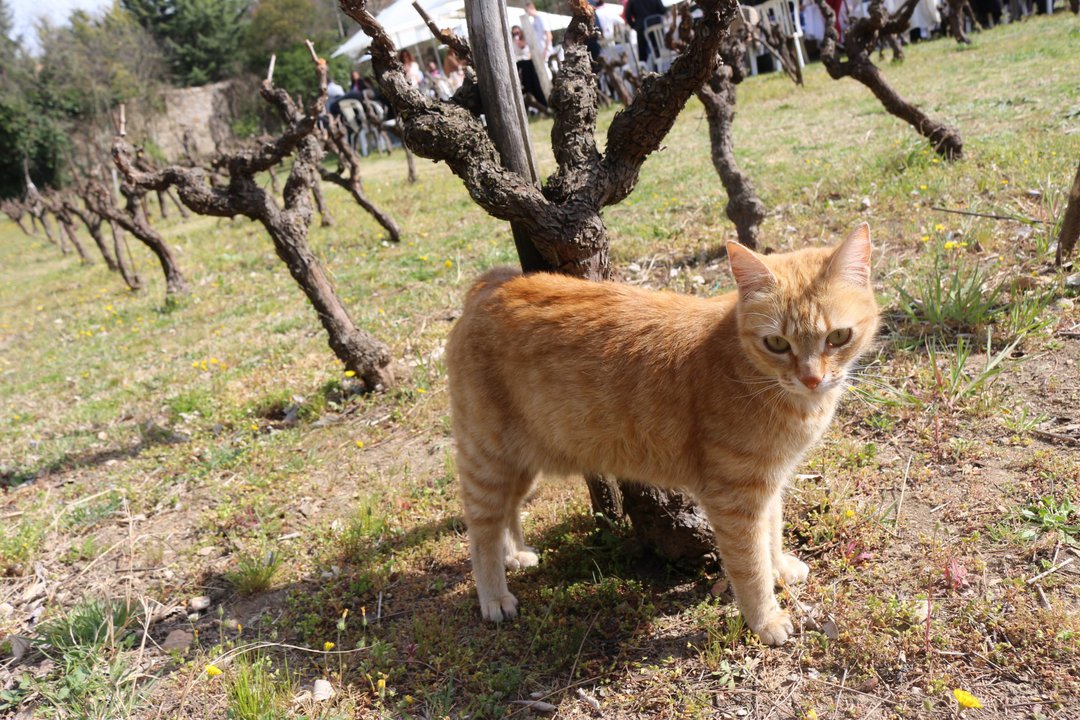 Credits:  photos by Rosie Bernheim