Twenty-four Gamay Rosés from the Saône and the Loire
While researching rosés for the Rosé book, Gamay stood out as a variety which was particularly attractive for pink wines. Good fruit, acidity and light colour make wines which range from fresh crisp and fruity in cooler climates to rosés with greater depth and intense fruit while retaining a lighter colour in warmer climates. Styles range from simple and fresh to more complex. The following French rosés, all made with Gamay, have been tasted at various times over the past year.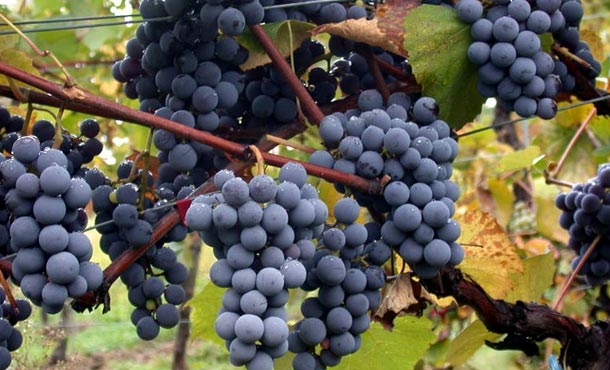 Gamay (Gamay noir à jus blanc)
Varietal characteristics include cherry and raspberry fruit with mineral notes and balanced acidity, which can be high enough to allow for partial malolactic fermentation giving an extra creamy character. Different soils and climates contribute different profiles ranging from the round almost opulent fruit from southern Beaujolais and Coteaux Lyonnais, to the vibrant fresh acidity of the cooler Loire. Considering the varietal characteristics of Gamay, which can include luscious jammy fruit, fresh mineral acidity and silky tannins, it is surprising this variety is not used more for rosé wines around the world. Gamay can be found in many regions around France.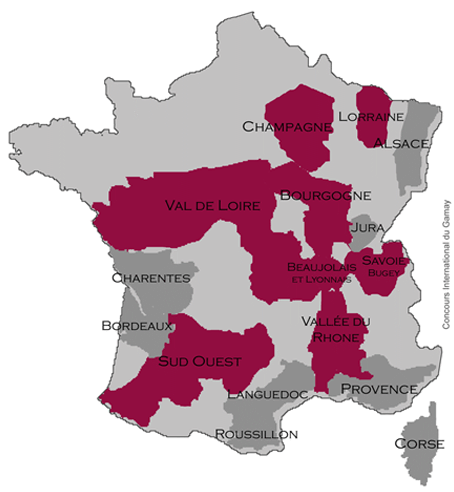 Gamay can be found in most vine growing regions of France
Beaujolais
Gamay Noir is now known to be a cross of Pinot Noir and the ancient white variety Gouais from Central Europe, which was probably introduced to north eastern France by the Romans. The grape is thought to have first appeared in Beaujolais in the village of the Gamay, in the 1360s. Gamay's original success was possibly due to its early ripening, two weeks earlier than Pinot Noir, and thus less susceptible to autumn bad weather, because it is easier to cultivate and high yielding. However, within apparently thirty years of its introduction, in July 1395, Philippe the Bold. Duke of Burgundy outlawed the cultivation of the grape,  referring to it as the 'disloyal Gaamez' that in spite of its ability to grow in abundance was full of 'very great and horrible harshness', and because it was becoming more popular than the more 'elegant' Pinot Noir. It would appear that the benefits of high yields and easy cultivation continued to ensure the variety's success and sixty years later Philippe the Good issued another edict against Gamay. Gamay survived, if not in the Pinot Noir stronghold of Burgundy, and made the southern region of Beaujolais its home. Pink Beaujolais has been made since at least the 1930s. The American writer, Frank Prial wrote in his column 'Wine Talk' in the New York Times on 15th July, 1992, wrote that 'One of the best known of all rosés is Beaujolais rosé.' which he described as being 'made like the traditional Beaujolais, entirely from the Gamay grape. Beaujolais rosé retains all the fruitiness of the traditional wine but can be lighter and fresher, particularly when served quite cold.' Although relatively rare, rosé production is currently on the rise. with Beaujolais Villages producing roughly a quarter of the amount of straight Beaujolais rosé. Beaujolais rosé is made principally from Gamay, although up to 10% Gamay de Bouze Noire and Gamay de Chardonnay Noire can be included.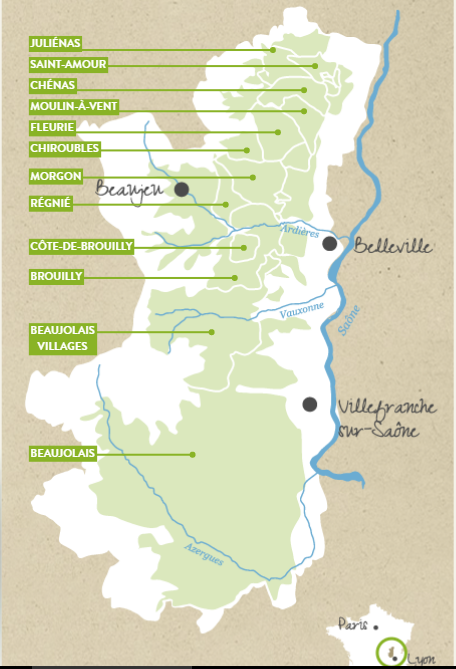 Map of the appellations of Beaujolais. Beaujolais AOP runs from the south and up the eastern side along the river. More information can be found here.
Although only 55km in length, the soils of Beaujolais divide the region into a northern and southern half, with the town of Villefranche serving as a near dividing point. The northern half of Beaujolais, where most of the Cru Beaujolais communes are located, includes rolling hills of schist and granite-based soils with some limestone producing more structured, complex red wines. On hillsides, most of the granite and schist is found in the upper slopes with the lower slopes having more stone and clay composition. The southern half of the region, also known as the Bas Beaujolais, has flatter terrain with richer, sandstone and clay-based soils with some limestone patches, producing lighter, more fruity red wines. The steep hillsides of the northern Beaujolais allow for greater sun exposure, and grapes can be harvested earlier than the more southern and warmer vineyards in the south. Gamay tends not to root very deeply on alkaline soils, resulting in pronounced hydrological stress on the vines over the growing season with a correspondingly high level of acidity in the grapes. The acid levels of the grape grown in the golden limestone, or pierres doreés, of the south are high which can be softened through carbonic maceration.
Rosés from warmer sites, old vines or harvested slightly later, show charming, opulent fruit character with peaches, sour cherries, redcurrants, strawberries and wild strawberries. Some of them have a broader creamy acidity, some are more vibrant and citrus-y but all have a fine mineral core. Differences between the styles in weight and intensity are due largely to different lengths of maceration and malolactic fermentation. The vibrant youthful fruit of bright crushed strawberries and raspberries with darker floral notes of lilac and violets transforms in rosés, harvested earlier, to lighter flavours, often with wild red berry and red cherry fruit, and the floral notes translated into darker mineral notes. The vibrant fruit is often further emphasised by cool fermentation in tank. 2016 was a difficult year climate-wise. Those who risked harvesting later than usual show rosés with opulent fruit character. 2017 was a small vintage due to frost and hail earlier in the season. A hot dry summer led to very ripe fruit.
One of the largest producers with 10% of the production of Beaujolais, based in the southern part of the region. Strawberry and redcurrant fruit aromas. Crisp red currants and sour cherry and wild strawberry fruit with a mineral core giving an extra flip to the dry finish and crisp citrus acidity. August 2017
In the south west of the Beaujolais region. Muted red fruit aromas. Lovely intense sour cherry fruit, juicy and succulent, with mineral core and mouth-watering acidity. Chewy and mouth-filling. (August 2017)
Jean Paul Brun, Domaine de Terres Dorées, Rosé d'Folie 2016
Just to the east Chermette. The name of the domaine refers to the glorious golden colour of the local stone. Indigenous yeast. Slightly longer skin contact for a dark pink. Lots of red fruit, strawberries, cherries, raspberries and hints of violets with fresh silky. Creamy acidity and a hint of salt on the finish. Beautiful wine. 12% abv. (November 2017)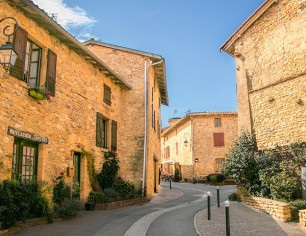 The golden stones (pierres dorées) of the village of Oingt
Domaine Romy Imperial Rosé 2015
In southern Beaujolais, also in the region of the pierres dorées. Salmon-melon pink. Hints of tomato leaf and stony notes on the first aromas with extra toast, nuts and leesy character coming in with aeration. On the palate, the vibrant fruit has red berries and cherries with hints of creamy exotic fruit. The mineral core blends with the orange and grapefruit mouth-drying fresh mineral acidity the dry, slightly grainy tannic finish. 13% abv. (November 2017)
Domaine Romy Imperial Rosé 2016
Pale onion skin. Slightly floral and creamy but no red fruit - almost a white wine. Toasty, creamy fresh citrus grapefruit acidity and a mineral, stony core. 12% abv. (November 2017)
In the region of Morgon, in northern Beaujolais. Old Gamay vines, with an average age of 40 years. From a single parcel, Clos de Vieux Bourg with granite, clay and limestone soils. Longer skin contact results in a strong pink colour and with pronounced strawberry and cherry fruit aromas. On the palate it is has intense red and black fruit with notes of wild strawberries. The structure has a firm mineral core, excellent, mouth-watering acidity with hints of tannin on the finish. A full bodied and serious rosé. (August 2017)
The Bailly family, the original owners of Domaine Piron, were apparently producing wine made with Gamay in the 16th century. On 17th December 1723, the Canal de Briare, (one of the oldest canals in France) which connects the Loire to the Seine was inaugurated, and Philibert Bailly fulfilled an order for a Paris merchant and shipped his Beaujolais by canal. Within thirty years more than 500 wine barges a year were in use, bringing wines from the Auvergne, Mâcon, Beaujolais, Sancerre, and Languedoc regions to Paris.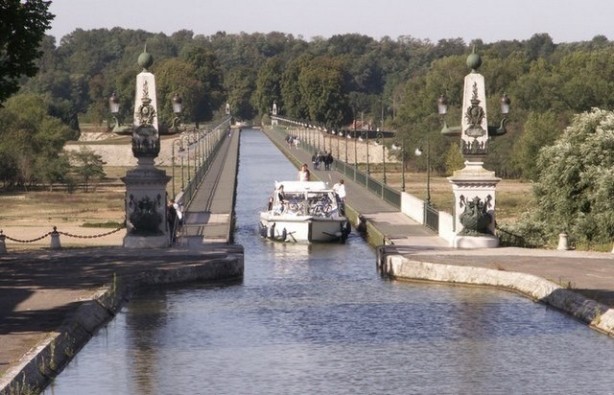 Canal de Briare
Beaujolais Villages
Northern Beaujolais Villages region. Dark melon pink. Zesty, redcurrant aromas. Creamy peach fruit with hints of redcurrants, sour cherry fruit, mineral core and fresh acidity. (August 2017)
From the region of Brouilly and Cote de Brouilly, in mid Beaujolais. Red fruit aromas. On the palate the red fruit is deep, intense and quite structured, with gentle tannins. A serious, intense, rosé. (August 2017)
Beaujolais Nouveau Rosé
The early history of Beaujolais Nouveau can trace its roots to 19th century when the first wines of the vintage were sent down the Saône to the early bistros of Lyon. The international popularity of red Beaujolais Nouveau, started in the 1950s, reaching its height of popularity in the 1980s, when, in 1985, the third Thursday in November was declared as the official release date for the wine. Its popularity may have diverted attention away from rosé with its fresh, juicy, easy drinking wine, it was clear competition for rosé. Beaujolais Nouveau rosé is developing a market presence in France, Japan and Britain. In 2015 Marks and Spencer introduced a Beaujolais nouveau rosé. Their winemakers Sue Daniels and Thierry Coulon worked with local winemakers to produce a refreshing, mouth-watering example, with no oak, that was full of flavour with no hard edges. Le Pere de Grolle 'Les Conscrits' 2017 Very pale pink. Cherry fruit with cranberry, strawberry and hints of vanilla, almost like candy floss aromas. On the palate, cherry fruit, a little confected with a dry mineral core and very high acidity, almost like preserved lemons. Light weight structure. 13% abv. (November 2017) Pisse-Dru 2017 (Castel négoce) Darkish pink. Slightly gamey, dark chocolate nose with hints of nuts and browned butter. Dark cherry fruit on the palate gives a full fruity character in good balance with the fresh acidity. Although the acidity is high it is almost lactic-creamy giving a buttery, Chardonnay like mouthfeel. I would be tempted to say the wine had gone through malolactic fermentation. 12.5% abv. (November 2017)
IGP Comté Rhodaniens
This wide-ranging region includes vineyards in the Beaujolais, Loire, Rhone, Auvergne, Coteaux Lyonnais, Savoy and Bugey. Because of this large area, there are over 150 permitted varieties! The varieties used generally reflect the local style, so it is worthwhile noting where the producer is based. The rosés were traditionally slightly darker colour than the fashionable pale pink and are made using direct press and cool temperature fermentation to create a simple fresh wine with lively acidity. Four Gamay varieties are permitted: Gamay Noir, Gamay de Bouze, Gamay de Chaudenay and Gamay Fréaux.
Gamay grown on granite soils, fermented at low temperature in stainless steel. The fermentation was arrested at 10% abv. to retain some residual sugar. Red fruit, off dry, mineral core. (August 2017)
In Burgundy's southern neighbour some vineyards fall between two appellations, resulting in a few non-appellation Pinot Noir and Gamay rosés. Coteaux Bourguignons and Coteaux du Lyonnais, both IGP, make Gamay rosés.
Coteaux Bourguignons
This appellation was created in 2012, replacing the former name 'Bourgogne Ordinaire' or 'Bourgogne Grand Ordinaire.' This new appellation covers the departments of Yonne, Côte d'Or, Saône-et-Loire and Rhône, a total area of 135ha under vines of which the majority, 110ha (6,735hl) are for red and rosé wines and 25ha (1,495hl) for white wines. Eight different varieties can be used to produce Coteaux Bourguignons red and rosé appellation wines, including Pinot Noir, Gamay, César and Tressot.
Very pale creamy pink. Neutral nose but with delicate hints of peach. On palate, intense peach fruit, redcurrants and creamy fruit. Fresh leafy acidity, hints of cassis on the finish. Long grainy citrus acidity and a mineral finish. (August 2017)
Coteaux du Lyonnais AOC
Located on the slopes of the Monts du Lyonnais, a mountain range to the west of Lyon, in the eastern part of the Massif Central. AOC status was granted in 1984 (it had been Coteaux du Lyonnais VDQS since 1952). The vineyards spread across two main areas, both about 10km Lyon, and are centred on L'Arbresle in the north and Brignais in the south. To the east flows the Rhône and the Saône rivers, to the west rises the mountains of the Monts du Lyonnais. It lies between the wine regions of Beaujolais (to the north) and the northern Rhône (to the south.) The appellation covers approximately 370ha, shared by 49 wine-growing communes in the Rhône department, and between them they produce approximately 22,000hl of wine. Red and rose wines are made with Gamay and the whites are made with Chardonnay or Aligoté. The climate is very similar to that of the Beaujolais wine-growing area, except that there is a stronger Mediterranean influence.
Louis Tete 2016
Pale salmon. Creamy, peachy fruit with lively minerality. Intense chewy acidity, Love the creamy peachy character, balanced with the minerality (similar to Mischief and Mayhem). (August 2017)
The Loire
Côtes Roannaises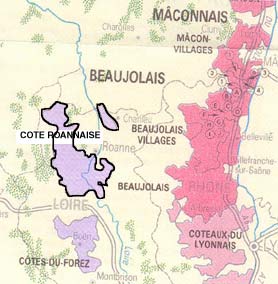 Cotes Roannaise showing proximity to Beaujolais and Coteaux Lyonnais
Situated less than 70 km to the west of Beaujolais, on the upper reaches of the Loire, and probably the route taken by Gamay, as it spread from Beaujolais, north up the Loire river. This appellation (200ha), is on granite and porphyry, similar to that of Beaujolais, at altitudes between 350 and 550m, considerably higher than Beaujolais. The climate is temperate, sheltered to the west by the Massif Central. Its southerly position makes it the warmest of the vineyard regions on the river Loire.
Biodynamic producer, hand harvested and a mix of direct press and saignée. Fresh cherry fruit with a creamy note from partial malolactic fermentation and fresh mineral acidity with a slightly textural edge from fermentation in cement tanks. (March 2018)
'Enjoleûr' 2017 Domaine Serol IGP d'Urfé
16g/l residual sugar. Lovely off-dry cherry fruit with enough sugar to give a juicy fruity character with good, balanced acidity. (March 2018)
'Turbullent' Sparkling methode ancestrale Domaine Serol
Darker pink with cherry cream fruit and balanced acidity. (March 2018)
Nearby Côtes du Forez is the southernmost of all the Loire Valley vineyards. Similar to the Roannais, with granite soils, moderate continental climate and sheltered vineyards but slightly lower altitude, Gamay is also the predominant variety with rosés made in a similar dry and off dry style.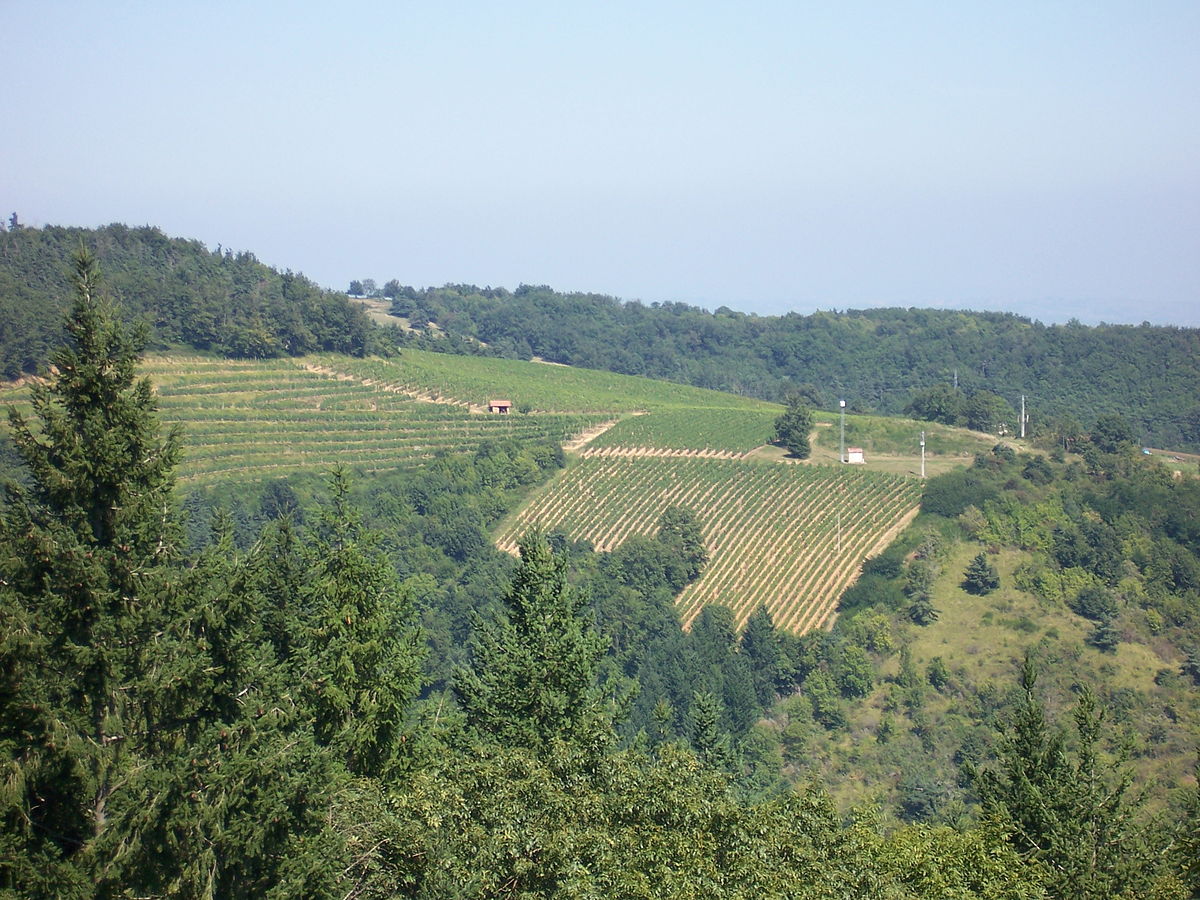 The hills of Côtes du Forez
Saint Pourçain
Situated around 70km north west of the Roannais, near the Allier river (which eventually flows into the Loire), this region also grows Gamay on sandy granite soils. Vin gris rosé is also made. There are no direct rules on vinification, and some allow full or partial malolactic fermentation. Until at least 2008, producers were more likely to use saignée in weaker vintages, when the red wine needed concentrating. In 2008, rosé accounted for 21% of the total production, up from 16% in 2007. The rosés are dry in style (under 4g/l sugar).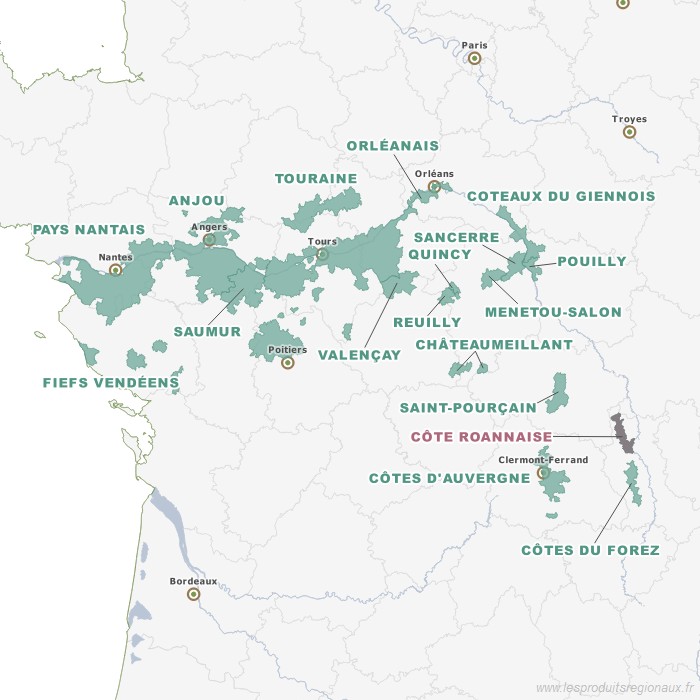 Vineyards of the Loire. Beaujolais is just to the east of Roannaise. In April 2018 I participated in the Loire Millésimes event and was able to taste more Loire rosés made with Gamay. Gamay also frequently appears in the blends of Rosé de Loire with Grolleau, Cabernet Franc and the range of other varieties permissible under this appellation.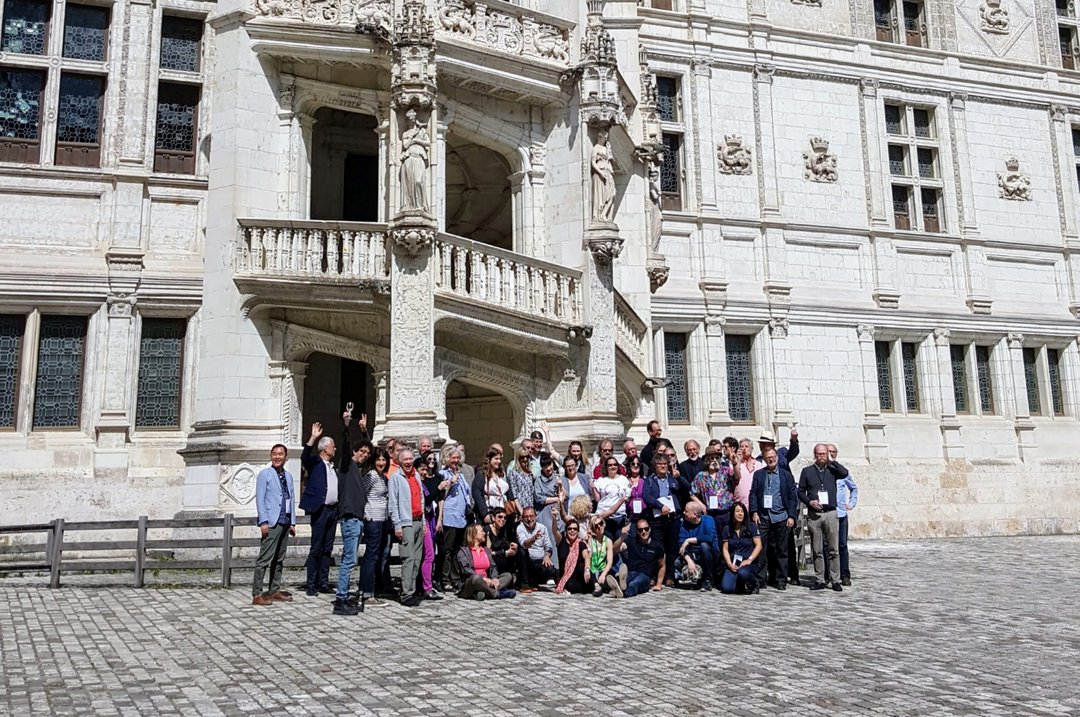 Group photo of participants in the Loire Millésimes 2018. I am centre left in light blue
Touraine Mesland
Moving 250km north west of St Pourcain to the Loire river, lies Touraine Mesland where, in 1838, the winemakers were the first area in the region to plant the Gamay grape. This appellation (105ha), lies on the right (south) bank of the Loire, upstream from Ancenis, facing the Château de Chaumont. The soil is rich in flint and silica sand suitable for red wines; some flinty clay and chalk soil for whites. Fifteen per cent of the production is rosé. The climate is semi-oceanic, thanks to the Loire, which tempers the continental climate in this small region.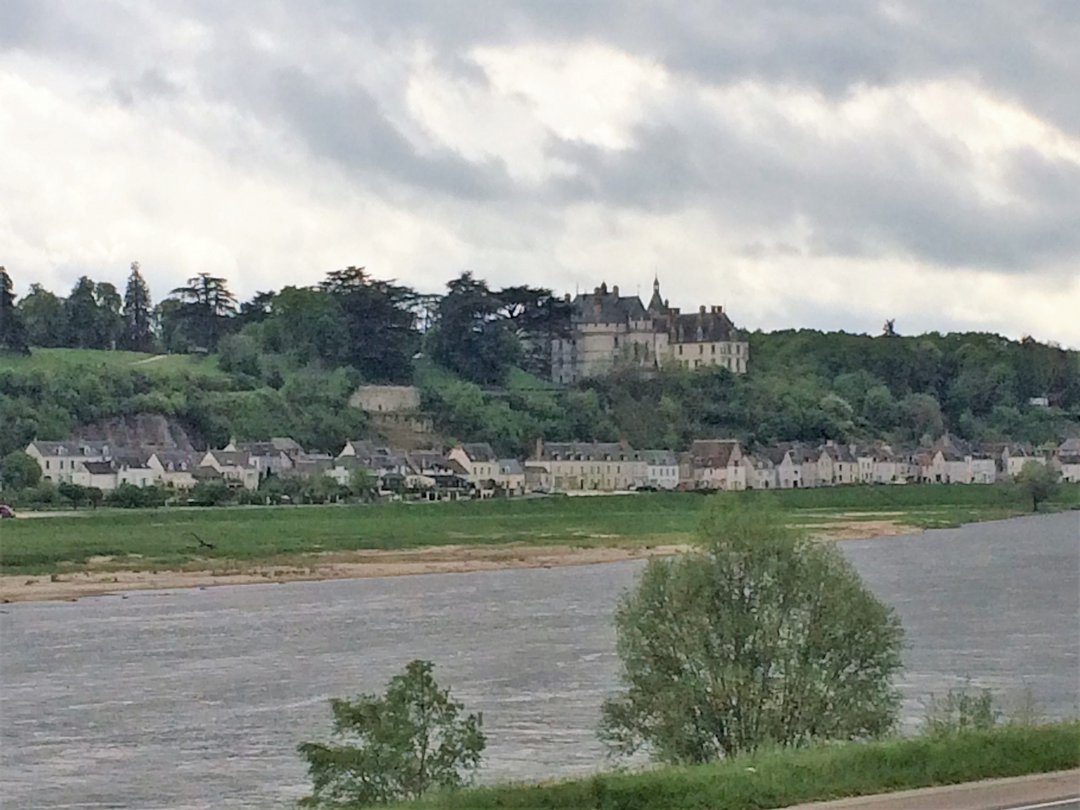 Looking across the Loire to Chateau Chaumont
As the name suggests, this rose is 'tendre' with some (7g/l) residual sugar to balance the acidity of this cool region. The good southern exposure and flint soils gives ripe cherry fruit, with extra opulence from the residual sugar, a fresh mineral core and long fresh acidity. (April 2018)
Domaine de Rabelais 2017
From Gamay planted on sandy, silt and clay soil. Again with 7g/l residual sugar to balance the high acidity. Sour cherry fruit, firm minerality and vibrant fresh acidity. (April 2018)
Coteaux d'Ancenis AOP
Moving 200km downstream along the Loire, this small region of 220ha, is named after the eponymous named town in the centre of the region. The vineyards are located on both sides of the Loire, east of Nantes, covering a dozen communes in the Loire-Atlantique and Maine et Loire departments. The soil is predominately mica schist and greenstone. A temperate, maritime climate, Coteaux d'Ancenis gets significantly less rainfall than most of the vineyards in Nantes. Many producers have vineyards in Muscadet, Ancenis and Anjou. The region primarily produces refreshing rosé and light-bodied red wines.
Domaine de Haut Fresne 2017 Salmon pink. Creamy, cherry and red berry fruit, mineral core and fresh acidity. (April 2018) 'Les Deux Fillettes' 2017 Domaine des Galloires With a few hours skin maceration to obtain extra fruit character, this wine is salmon pink with red cherry fruit, crisp mineral and cherry fruit core and long vibrant acidity. (April 2018) Domaine de la Camboise 2017 Crisp, fresh mineral acidity. Fresh lively cherry fruit. Very quaffable with long fruity finish. (April 2018)
Val de Loire IGP
The following three come from Muscadet producers in the area around Nantes. Domaine de l'Oliviére Vieille 2017 Salmon pink colour. Good structure and weight, tending towards solidness rather than elegance with red fruit and delicate tannins on the finish and long fresh minerality. (April 2018) Domaine de la Potardière 2017 Pale salmon-peach pink. Quite perfumed on the nose. Peach, creamy fruit with good weight and mineral core. Hints of mineral grapefruit pith on the finish. Prettily balanced. (April 2018) Domaine de la Papinière 2017 Salmon pink. Creamy, peachy, redcurrant fruit with smooth creamy texture and a gentle mineral core. (April 2018)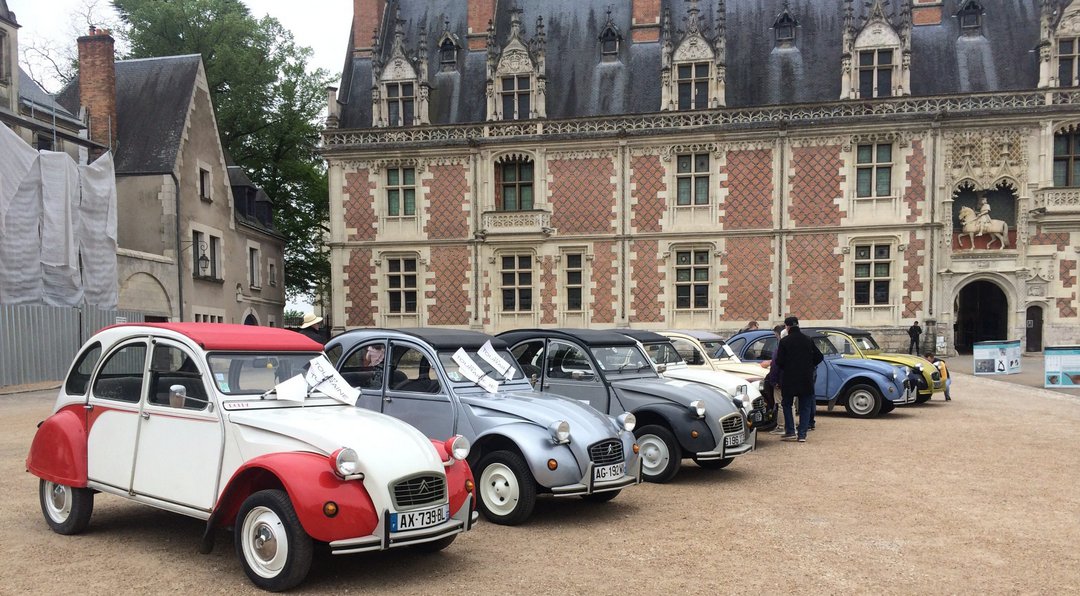 We travelled around the vineyards of Touraine in these great cars during the Loire Millésimes. Mine was the blue car at the back from 1948!