What are thiols and why do they matter for rosé?
Thiols are a family of chemicals that contribute to the way wines smell. They are what make New Zealand Sauvignon Blanc grassy and tropical, and what make rosés smell like grapefruit and boxwood. Jamie Goode has an interesting article about the chemistry behind thiols that is worth a read. For the most part, they are only talked about by winemakers and wine geeks, but they are increasingly spoken about publicly. This article aimed at winemakers discusses encouraging thiols in white wine winemaking and viticulture.
They are increasingly present in rosé, with many of the recently developed techniques in Provence designed to emphasise them and encourage greater concentrations in wines. Ten years ago at a blind tasting of rosé wines, Provence rosés were already universally full of grapefruit aromas, a big move away from the heavier, garrigue aromas of the previous decade. The thiol style possibly gained popularity by appealing to Sauvignon Blanc drinkers. This link between Sauvignon and rosé drinkers continues.
One issue with the move towards excessive thiols is a desire to make wine that more closely matches consumer expectations, trends, and desires. Whilst this may make excellent commercial sense in the short-term, producing wine to the specifications of uneducated, inexperienced (and, in rosé's case, often ill-informed) consumers is not sustainable, and will not lead to great wines or a long-term reputation - the fashion will, after all, eventually change. Are Provence rosés a consumer-driven trend (Julian Faulkner compares the category's love of thiols to IPAs), or are they aspiring to becoming terroir-driven fine wines? Can they be both or must there be a split?
"Provence rosé stands out in a blind tasting. It's always the one with the grapefruit thiols" - MW student
At their best, thiols offer citrus freshness and a touch of fruitiness. At their worst, it's cat pee, grassiness and body odour. Professional opinion is divided as to what consumers actually want, and how far is too far. The consensus among educated, experienced professionals (especially based in Provence) is that they detract from the overall qualities of most rosés, and that consumers are not necessarily looking for them either. Most end-consumers we have spoken to (unscientifically) struggle to recognise or identify thiols in rosés unless they have significant wine tasting experience.
In our experience, however, many less-experienced professionals often value thiols as a sign of quality and typicity, much as they mistakenly value pale colour. As the rosé category matures and rosé education becomes more widespread, I expect (and hope!) that this approach will disappear. How much of their appeal is a misunderstanding of the popularity of "citrus-fresh rosé", distorted to "aggressive grapefruit"? Winemakers often encouraged thiols to give what they perceive as freshness and delicacy. As Julian Faulkner of Grand Cros commented, his customers prefer wines with the thiol character, as he discovered after running an online quiz on Instagram and Facebook that asked consumers to rank their 'fruit profile preference' from:
Fruit salad where no particular fruit dominates (31% of first choices)
Grapefruit dominance (28%)
Anything but grapefruit dominance (41%)
While his study clearly shows a preference for grapefruit, I would like to see a study based on a similar selection of consumers actually presented with the wines in a blind tasting - can this expressed preference for grapefruit aromatics be translated into a practical preference for thiol-heavy wines?
Other producers are less enthusiastic. On asking Jean Francois Ott of Domaines Ott* on his opinion of thiols, he expressively shuddered with a "quelle horreur!"
Highly noticeable thiol notes are increasingly common in entry-level Provence rosés, especially in wines which have no other discernible fruit notes. Thiols can camouflage uninteresting wine, which is what often leads to their overuse in inexpensive wines, and did seem quite evident in the more delicate 2020 vintage, but less so in the more robust 2019. They are, as of 2021, not so common outside of Provence or in Provencal high-end wines. It's worth pointing out that Sauvignon Blanc rosés from New Zealand (95% SB and 5% of a red grape usually) are more similar in their winemaking to white Sauvignon than to rosé - at least as far as thiols are concerned.
Villa Maria[ ]()Sauvignon Blush 2020
A gorgeously flamboyant example of Sauvignon Blush, full of exotic, ripe fruit. Passion fruit, mango and a little grassy gooseberry note in the background. The Merlot is also evident with hints of violets, sour cherry and dark fruit through the inner core of the wine, making this clearly a rosé. The 6g/l of sugar is well balanced by the fine, slightly chalky acidity, and adds to the ripe fullness of fruit. Quite a serious wine with a surprising amount of depth.
Yealands Sauvignon Blanc Blush 2020
A very different take on Sauvignon Blush with a greater emphasis on the grassy, gooseberry fruit and the exotic fruit taking a back seat. Elegant mineral structure with very pretty floral (including elderflower) notes gives a pleasing complexity. The ripe gooseberry fruit is balanced by long crisp citrus acidity subtle layers of orange, grapefruit, and lime. The red fruit character is less evident, but does give a subtle, darker fruit weight in mid palate
Sometimes thiols are accompanied by depth and character too, which is a shame because they can overpower an otherwise perfectly pleasant wine. They are not always a tool of the winemaker looking for shortcuts to expressive fruit - unbelievably, they are sometimes actively sought out, considered a desirable addition to a wine and a sign of quality and typicity. So much effort is put into achieving the perfect aromatics that it is easy to forget that the mark of a great wine, and therefore a great rosé, is structure, body and balance - not exclusively primary aromas. Of course, it should be noted that not all thiols and thiol concentrations are equal - some perfectly natural, pleasant aromas in wines are thiol-related, and in low concentrations they can all add to a wine. These are not, however, the ones most people mean in a rosé context, and are why we prefer the term 'grapefruit thiols' or 'excessive thiols' over simply 'thiols' in tasting notes.
Chateau d'Esclans, Cotes de Provence 2020
The Chateau d'Esclans cuvée is a good example of a wine with noticeable grapefruit thiols on the nose that is still pleasant and balanced. Here's a shortened version of what we published in our rosé guide: Creamy pink. Perfumed, sweet, hint of oak vanilla notes, some peachiness, gentle red fruit and thiols. Oak structure giving some textural tannins. Long mouth-watering acidity. Loads of crunchy red fruit. Power, lengthy and textural, saline finish. Overall, although it is definitely overt and expressive, it's gentle and restrained and careful. Classic, elegant, and accessible. Highly Recommended.
Domaine le Galantin, Bandol 2020
Bandol's Galantin's rosé is a good example of a well-made wine let down by ever so slightly excessive thiols. Here is our tasting note from the guide: Very pale peachy white. Slight thiol, hints of marmalade blood oranges, ripe white peaches and a touch of pineapple and exotic fruit on the nose. On the palate - complete surprise with so much weight and structure. Joyful silky peach creaminess and nuts with perfumed oranges, orange blossom, moving on to ripe raspberry fruit balancing the long crisp acidity and fine mineral core. A saline umami finish with wild fennel, aniseed and garrigue notes gives a wow factor. The vibrant citrus mineral acidity has a touch of thiols and pink grapefruit on the finish which is a shame. Highly Recommended.
Chateau Sainte Croix, Cotes de Provence 2020
Chateau Ste Croix's wine was thiol-dominated, but well-enough made that we recommended it for consumers looking for grapefruity rosés. Pale pink. Strong thiol aromas. Slightly flinty, grapefruit thiol but elegantly pulled off. Floral, oranges. Lots of grapefruit thiols on the palate but again done with a light touch. Not my style but will definitely please as it is quite elegantly put together. Very creamy with fresh acidity. If you like thiols this is a nice wine - grapefruit and citrus with ripe red berry fruit. Recommended.
Chateau Saint Martin, Eternelle Favorite, Cotes de Provence Cru Classé 2020
Chateau Saint Martin was a prime example of a wine with potential (after decanting, its structure was exceptional), let down by excessive thiols, as you can see from a frustrated tasting note. Grapefruit thiols, ugh. Really excessive. Nice acidity but the grapefruit just takes over and ruins the wine. Very pale pink. Crisp red fruit, vibrant acidity, thiol dominant. Cherry fruit, more thiols. Commended.
Attributing the quality of a rosé to one irrelevant measurement (colour, cough cough) is all too common. 'Grapefruitiness' is the next most common measurement. Like colour, it has no indication on the general quality of the wine, other than occasionally proving a warning sign of a bad one.
"excessive thiols indicate a complete misunderstanding of what makes a rosé a rosé, especially a good one" - Ben Bernheim
It's also worth pointing out that thiols in an otherwise well-made rosé can be a telltale sign of a winemaker who has spent their entire career producing reds and whites. Without equivalent experience or education, grapefruit thiols can be an incredibly attractive shortcut to a commercially relevant rosé.
That being said, confusion is widespread as to just what exactly results in thiols in rosés. Winemakers themselves often do not know, and research (especially by Vidauban's Rosé Research Centre) has suggested multiple possibilities.
"Our winemaker says that thiols are an expression of terroir" - Château de Cancérilles, Coteaux Varois
Very few people attribute thiols to terroir, but it's not entirely impossible. Grape juice does not naturally contain thiols, although it does contain thiol 'precursors', chemicals that once transformed (usually by yeast), become thiols.
Each plot offers varying potential of the different families of aromatic precursors and mouth feel; our job is to identify their respective strengths and support it. Thereby, when we blend we have all the ingredients to make a perfectly balanced and interesting and complex wine to suit the palates of different customer segments. Julian Faulkner, Le Grand Cros
Research has however suggested that there is "no direct correlation between the level of precursors in juice and [the] concentration of thiols in wine".
"The amount of thiol precursor in juice is influenced by oenological practices. Despite this, no direct correlation between the level of precursors in juice and concentration of thiol in wine has been observed" - Federico Piano, Studies on the occurrence of thiol related aromas in wine
Thiol precursors can be encouraged during winemaking in a variety of ways. Some of the most common are:
Night harvesting
Night harvesting is common outside of Provence as well as within, and yet excessive thiols are very much a Provencal issue. Night harvesting is also much cheaper for mechanical harvesting than manual, which might explain why this is an entry-level problem.
"The Rosé Center, based in Vidauban in the Var, has confirmed the value of night harvesting by monitoring the concentration of a precursor in varietal thiols every 3 hours over 24 hours. An increase in the thiol potential of the wine is the main advantage." - Read Vitisephere's article on 'thiol o'clock' for more information, or the Centre du Rosé's press release here
Hydric stress and nitrogen fertilisation
This article discusses thiols in Touraine Sauvignon Blanc and this article, mentioned earlier, explores Gascon Colombard and thiols. Both suggest that high levels of nitrogen favour thiol production during fermentation, and that nitrogen additives in the cellar can have a similar, if lesser effect. Early fertilisation with nitrogen can however have a negative overall effect by encouraging vine vigour. We have yet to do a full statistical analysis to prove or disprove this, but it is not impossible that non-organic viticulture, with a greater tolerance for inexpensive inorganic nitrogen fertilisation, may result in higher levels of thiols. In our South of France Rosé Guide, 40% of wines with "grapefruit thiols" in the tasting note were organic or in some way eco-friendly, compared to 55% overall. This does not, however, take into account price and a whole variety of other factors. Many thiol-creating yeasts (see below) are designed to be effective even in low-nitrogen musts. Both sources also suggest moderate hydric stress post-veraison as encouraging thiols. This is something we would like to explore more before coming to a conclusion, especially as it becomes a significantly more common occurrence every year with climate change, and doesn't depend on the winemaker.
Copper
Recent research has questioned whether the use of copper in the vineyard results in higher concentrations of thiols, and this is one of the key areas I would like to see in greater depth in a few years - for now, there seems to be no clear answer. Copper is used even in organic viticulture, and is a heavy metal which can sink down to the water table - so thiols or not, there's good reasons to limit its use.
Cold stabulation
Cold stabulation, a relatively recent technique that involves chilling the must for up to several weeks before fermentation, is also widely claimed to result in greater thiol concentration by keeping the must in contact with thiol precursors for prolonged periods of time. Having tasted many wines that have undergone cold stabulation and not demonstrated grapefruit thiols, this is clearly not a guarantee. That being said, stabulation is much more common within Provence than outside, and so there is clearly some correlation. The correlation is widely accepted by industry experts, although some recent research is questioning this.
"Very famous for obtaining sauvignons with thiol aromas, recent work shows that stabling on cold lees would not be as effective as it seems." - La Vigne, June 2020, also see Vitisphere
Yeast
Excessive grapefruit thiols seem to be unheard of in spontaneously-fermented rosés, and yeast companies are extremely proud of the ability of their cultured yeasts to produce grapefruit-heavy wines. Yeast activity is the major transformation in musts, and is widely believed to be responsible for the transformation from precursors to thiols. In our opinion, yeasts are the major culprit of excessive thiols.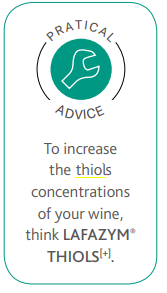 To a backdrop of many existing thiol-focussed yeasts, yeast producer Sofralab have recently released a new yeast Selectys Thiols, a saccharomyces cerevisiae yeast, selected for the "boxwood, tomato leaf and blackcurrant bud" character it brings to both Sauvignon Blanc and rosés fermented between 16 and 18°C. Fermentation temperatures are extremely important, but until we have conclusive evidence (or even opinion!) one way or the other, we'll skip it for now.
"Strong grapefruit thiols can be a symptom of uninspiring grapes and overly-aromatic yeasts." - Elizabeth Gabay MW
"Three new yeasts added to the long list of thiol-revealing yeasts."
"the aim was to select daughter yeasts possessing a double copy of the complete gene encoding beta-lyase, an enzyme revealing precursors of volatile thiols"
"During vinification process, yeast activity is responsible for their release from the cysteinilated precursors. The amount of thiol precursor in juice is influenced by oenological practices. Despite this, no direct correlation between the level of precursors in juice and concentration of thiol in wine has been observed" - Federico Piano, Studies on the occurrence of thiol related aromas in wine
Pectolytic enzymes
ŒNOZYM® THIOLS are just one example of the rarely-spoken about but widespread enzymes that help winemakers achieve consistent quality wines. Pectolytic enzymes help break down the grapes, liberating more juice from the skin (without requiring heavy pressing which would leach colour), and therefore liberating thiol-precursor chemicals. See academic articles and Laffort's page on enzymes for thiols.
Although enzymes are useful, most are clear that "[enzyme] use alone will not make up for the strain effect of high thiol producing yeast strains."
Reductive (non-oxidative) winemaking
Grenache is a highly oxidative grape, and modern Provencal rosé technique is very very focussed on limiting contact with oxygen during winemaking. Protection from oxidation can encourage more thiol aromas, rather than strawberry or red berry fruit.
Youth
Every year, rosés are rushed into bottles and supermarket shelves quicker than the year before. Throughout our tastings, previous-vintage rosés demonstrate far less overt thiols, and current-vintage oak-aged rosés never do. Research has confirmed that thiol levels "decrease dramatically during the first year of bottling".
"Uuuurgghhh" - me, tasting a not-to-be-named New Zealand Sauvignon Blanc
The presence of thiols, both beneficial and excessive, begs the question of how to define and assess the quality of a rosé. Most research conducted into the topic aims to maximise, not reduce them. There's no definitive answer as to what causes them, but it's clear that steps can definitely be taken to either encourage or avoid them. Whether or not consumers want them (and I do not believe that most drinkers do), winemakers should not let market trends tell them how to do their job, and should try and make the best wines possible without relying on superficial aromatics. In the meantime, I will continue to not recommend to customers rosés that demonstrate excessive grapefruit thiols.